Interview Questions
Logistics Management Job Interview: Key Questions to Prepare For
31 August 2023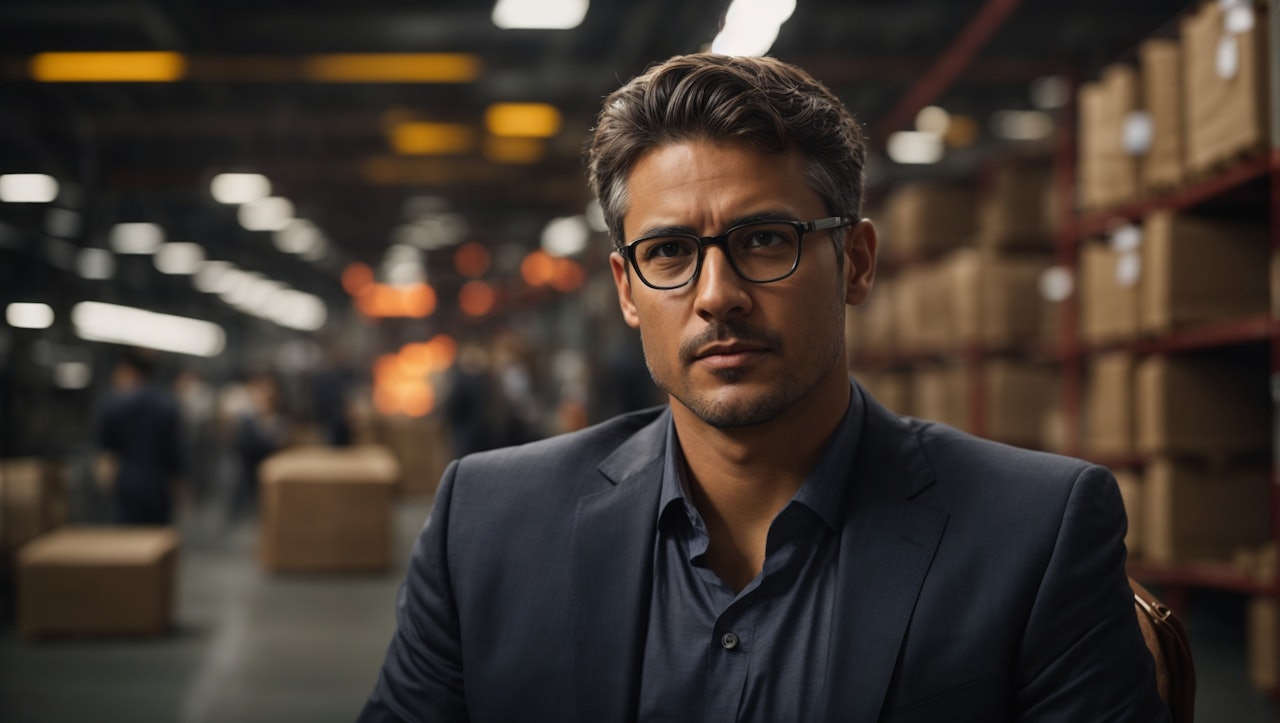 | Question Category | Sample Question | Intent of Question |
| --- | --- | --- |
| Basic & Experience-Based | How do you define logistics management? | To assess the candidate's understanding of the role and its responsibilities. |
| Basic & Experience-Based | Can you describe a challenging logistics project you managed in the past and how you handled it? | To gauge real-world experience and problem-solving capabilities. |
| Operational & Scenario-Based | How do you handle a situation where a shipment is delayed, and a client is getting impatient? | To evaluate ability to manage crises, communicate effectively and handle customer relationship. |
| Operational & Scenario-Based | Describe a time when you had to optimize a supply chain to reduce costs without compromising on delivery time or quality. | To test strategic problem-solving and cost efficiency skills. |
| Technical & Analytical | Describe a time when you used analytics or data to improve logistics operations. | To evaluate proficiency in data-driven decision making and optimization. |
| Interpersonal & Soft Skills | How do you handle disagreements or conflicts with team members or other departments? | To test candidate's teamwork and conflict resolution skills. |
| Interpersonal & Soft Skills | How do you communicate bad news, like a delay or an error, to stakeholders or clients? | To assess the candidate's transparency, tact, and problem-solving skills in difficult situations. |
| Forward-Thinking & Strategy | How do you see the future of logistics and supply chain management evolving in the next 5-10 years? | To understand the candidate's foresight and awareness of industry trends. |
| Technical & Analytical | What KPIs (Key Performance Indicators) do you consider most important in logistics management? | To understand the candidate's knowledge of key metrics in logistics management. |
| Operational & Scenario-Based | If there's a strike at a major port, how would you adjust logistics plans to mitigate impacts? | To gauge candidate's adaptability and crisis management skills. |
Logistics management is essential to global trade, ensuring products get from point A to point B efficiently, on time, and in the best condition. Whether you're interviewing for a role in logistics or hiring for one, it's crucial to understand what skills, experience, and insights are necessary for success. This article dives deep into the key questions that can be asked during a logistics management job interview, ensuring both interviewees and interviewers are well-prepared.
Related Course: Logistics Certificate Programs
Basic & Experience-Based Questions
1 - How do you define logistics management?
Logistics management involves planning, implementing, and controlling the efficient flow and storage of goods, services, and information from their origin to their final consumption. It encompasses all supply chain processes, ensuring timely delivery, optimal storage, and cost-efficiency.
Interview Question: Define Logistics Management?
2 - Can you describe a challenging logistics project you managed in the past and how you handled it?
This question gauges real-world experience. Interviewees might detail a project where they navigated customs regulations, coordinated with multiple suppliers, or addressed sudden disruptions.
Interview Question: Tell a Challenging Logistics Project?
3 - What logistics software or management systems have you worked with? Which do you prefer and why?
Different software caters to various logistical needs. An ideal answer might demonstrate proficiency with several systems and provide valid reasons for preferences, emphasizing efficiency, user-friendliness, or accurate reporting.
Interview Question: Used Which Logistics Software?
4 - How do you stay updated with the latest trends in logistics and supply chain management? 
Continuous learning is vital. Candidates might mention following industry news, attending seminars, or participating in relevant courses and workshops.
Interview Question: How You Track Logistics Trends?
Operational & Scenario-Based Questions
5 - How do you handle a situation where a shipment is delayed, and a client is getting impatient
Handling delays requires tact and communication. The ideal response would stress proactive communication with the client, transparency, and finding swift solutions.
Interview Question: Handle Delayed Shipment
6 - Describe a time when you had to optimize a supply chain to reduce costs without compromising on delivery time or quality.
This explores strategic problem-solving. Candidates might discuss renegotiating supplier contracts, optimizing route planning, or implementing just-in-time delivery systems.
Interview Question: Optimized a Supply Chain Story
7 - How do you prioritize tasks when you have multiple shipments that need attention?
Logistics often requires juggling many responsibilities. Responses should highlight organizational skills, perhaps mentioning tools or frameworks used for prioritization.
Interview Question: Prioritize Multiple Shipments
8 - If there's a strike at a major port, how would you adjust logistics plans to mitigate impacts?
Such curveballs test adaptability. Candidates could discuss diversifying shipment routes, pre-emptively moving goods, or working with alternative transport modes.
Interview Question: Strike at a Port. Your Plan?
Technical & Analytical Questions
9 - Describe a time when you used analytics or data to improve logistics operations.
Data-driven decision-making is pivotal. Look for answers that delve into using metrics to streamline operations, predict disruptions, or improve supplier relations.
Interview Question: Used Analytics in Logistics
10 - How do you measure the success or effectiveness of a logistics process?
Success in logistics can be multifaceted. Answers might revolve around metrics like on-time delivery rates, cost-efficiency, or customer satisfaction scores.
Interview Question: Metrics for Logistics Success
11 - What KPIs (Key Performance Indicators) do you consider most important in logistics management?
Different roles might prioritize different KPIs. Common ones include transportation costs, warehouse efficiency, or inventory turnover.
Interview Question: Top KPIs in Logistics?
12 - Explain the importance of route optimization in logistics.
Route optimization can lead to fuel savings, quicker deliveries, and reduced environmental impact. Candidates should discuss its benefits and perhaps the tools they've utilized for it.
Interview Question: Importance of Route Optimization
Interpersonal & Soft Skills Questions
13 - How do you handle disagreements or conflicts with team members or other departments?
Logistics involves many stakeholders. Answers should stress collaboration, active listening, and compromise.
Interview Question: Handle Team Conflicts
14 - Describe a time when you had to convince upper management to adopt a new logistics strategy.
This gauges persuasion skills. Candidates might discuss presenting data-driven cases, benefits, and potential ROI.
Interview Question: Can You Adapt to Logistics Changes?
15 - How do you communicate bad news, like a delay or an error, to stakeholders or clients
Transparency and tact are essential. Ideal responses prioritize timely communication, taking responsibility, and offering solutions.
16 - How do you ensure that all team members are aligned and working cohesively in the logistics process?
Team alignment ensures smoother operations. Answers might involve regular check-ins, clear goal-setting, or team-building exercises.
Interview Question: Align Team in Logistics
Forward-Thinking & Strategy Questions
17 - How do you see the future of logistics and supply chain management evolving in the next 5-10 years?
This question assesses industry foresight. Candidates might discuss automation, AI integration, sustainability trends, or geopolitical shifts.
Interview Question: Logistics Future in 5-10 Years
18 - What are the biggest challenges facing logistics today, and how do you anticipate overcoming them?
From global disruptions to sustainability demands, logistics faces many challenges. Good responses will offer a blend of proactive and reactive strategies.
Interview Question: Biggest Logistics Challenges
19 - How do concepts like sustainability or environmental considerations factor into your logistics planning and decisions?
With increasing emphasis on sustainability, logistics professionals should prioritize eco-friendly practices, from green transportation to reduced packaging.
20 - What role do you see emerging technologies, like AI, drones, or blockchain, playing in the future of logistics?
Technological advancements are reshaping logistics. Candidates might discuss real-time data analysis, drone deliveries in remote areas, or blockchain's role in transparent supply chains.
Interview Question: AI, Drones in Logistics Future
Culture & Company Fit Questions
21 - How do you adapt to rapidly changing circumstances or uncertainties in a logistics operation?
Adaptability is key. Look for answers that emphasize flexibility, continuous learning, and quick decision-making.
22 - What do you value most in a company's logistics culture?
Company culture fit can drive employee success. Responses could focus on collaboration, innovation, sustainability, or transparency.
Interview Question: Value in Logistics Culture?
23 - Can you describe an instance where you had to adapt to a significant change or new technology in your previous logistics role?
Change is inevitable. Ideal answers would discuss the challenges faced, the learning curve, and the eventual benefits of adaptation.
24 - How do you manage stress or pressure, especially during peak logistics operations?
Stress management is vital in high-pressure logistics roles. Candidates might discuss time management, seeking support, or employing relaxation techniques.
Related Course: Time Management Course Online
Related Course: Online Course Stress Management
Interview Question: How do you manage logistics stress?
Logistics management is a multifaceted discipline requiring a blend of hard and soft skills. These interview questions offer a comprehensive view into a candidate's experience, adaptability, and forward-thinking approach.
Whether you're gearing up for an interview or seeking the right candidate, understanding these questions can set you on the path to success in the dynamic world of logistics.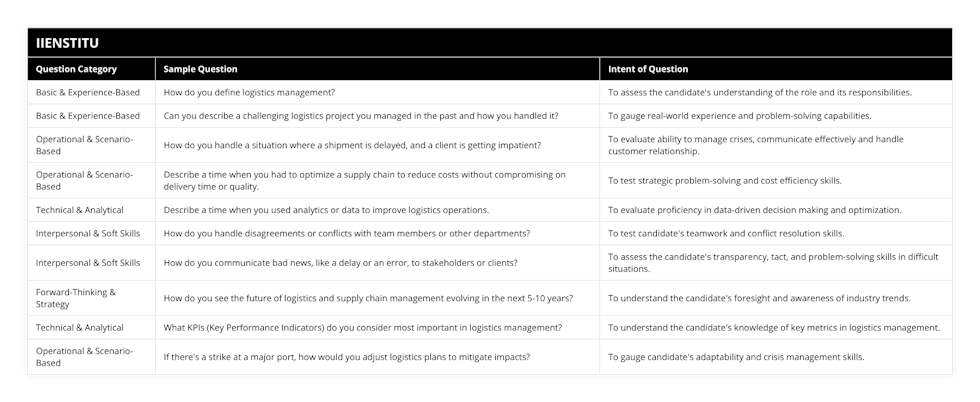 Stress management
Technology
Company culture
Adaptability
Blockchain
Drones
AI (Artificial Intelligence)
Environmental considerations
Sustainability
Strategy
Stakeholders
Route optimization
KPIs (Key Performance Indicators)
Data
Analytics
Port
Prioritize
Shipment
Software
Interview
Optimization
Cost-efficiency
Delay
Trends
Project
Supply chain
Experience
Skills
Global trade
Logistics management
Yu Payne
Blogger
Yu Payne is an American professional who believes in personal growth. After studying The Art & Science of Transformational from Erickson College, she continuously seeks out new trainings to improve herself. She has been producing content for the IIENSTITU Blog since 2021. Her work has been featured on various platforms, including but not limited to: ThriveGlobal, TinyBuddha, and Addicted2Success. Yu aspires to help others reach their full potential and live their best lives.
Related Posts
Our team of experts is passionate about providing accurate and helpful information, and we're always updating our blog with new articles and videos. So if you're looking for reliable advice and informative content, be sure to check out our blog today.