Interview Questions
Interview Question: Metrics for Logistics Success
13 September 2023
| Category | Metric | Significance |
| --- | --- | --- |
| Transportation | On-time delivery rates | This metric measures punctuality which greatly impacts customer satisfaction. |
| Transportation | Freight cost per unit shipped | This metric measures cost efficiency within transportation logistics. |
| Warehousing | Order picking accuracy | This metric can prevent returns and unnecessary re-stocking by minimizing errors. |
| Warehousing | Inventory carrying costs | This metric helps in optimizing storage utilization. |
| Inventory | Days Sales of Inventory (DSI) | This indicates how long a product sits in inventory and aids in managing inventory turnover. |
| Inventory | Stockouts | Preventing stockouts ensures continuity of operations and customer satisfaction. |
| Service Quality | Order accuracy | It impacts customer satisfaction and potential future business opportunities. |
| Service Quality | Completeness | Ensures that orders are fully filled and delivered as per customer expectations. |
| Service Quality | Condition upon arrival | Ensures that products are delivered in optimal condition, therefore resulting in higher customer satisfaction. |
| General | Interdependency of metrics | Highlighting the interrelation of different metrics can provide a comprehensive understanding of operational efficiency. |
The world of logistics and supply chain management is a vast, dynamic sector that thrives on efficiency and productivity. So when asked during an interview, "What are the metrics for logistics success?", it's crucial to pinpoint the key performance indicators (KPIs) that can accurately measure this ever-evolving landscape.
Why is the Interview Question Asked: What are metrics for logistics success?
As an HR specialist, I can tell you that when an interviewer asks, "What are metrics for logistics success?", they are not merely seeking a rote recital of specific terms or practices. They want to know if you understand the multi-faceted nature of logistics.
Can you discern the vital factors that drive success? Do you comprehend how they interrelate, impact overall performance, and guide strategic decision-making? This question is a litmus test of your grasp of the field's complexities and your proficiency in the subject.
The Purpose of the Question
The question's purpose is to gauge your capacity to navigate the logistical and supply chain landscape effectively. It tests your ability to identify and use critical metrics to evaluate efficiency, monitor performance, and make informed decisions.
The interviewer also wants to ascertain if you're equipped with the analytical skills to interpret those metrics and translate the data into action plans.
At What Interview Level is it Asked?
Typically, the "metrics for logistics success?" question is asked during interviews for mid to senior-level logistics, supply chain, or operations management positions.
At these levels, you are expected to have a deep understanding of operational efficiency, performance profiling, and strategic planning in logistics.
What Kind of Answer is Expected from the Candidate?
A well-rounded answer should demonstrate your familiarity with key logistics KPIs and your ability to apply them in a meaningful, practical context.
It may include metrics related to warehouse efficiency, transportation cost management, lead times, inventory turn rates, and more. It would be beneficial to illustrate your answer with real-life scenarios or case studies.
Possible Answers to Consider for "Metrics for Logistics Success?"
The myriad of metrics for logistics success can be grouped into four major categories: transportation, warehousing, inventory, and service quality. Here are some possible responses:
Transportation: "Efficient transportation is crucial for logistics success. Key metrics include on-time delivery rates which impacts customer satisfaction, and freight cost per unit shipped, a measure of cost efficiency."

Warehousing: "Warehouse efficiency greatly affects logistic success. Consider metrics like order picking accuracy (to minimize returns and re-stocking), and inventory carrying costs (to optimize storage utilization)."

Inventory: "Inventory effectiveness can be gauged using metrics such as days sales of inventory (DSI) which measures how long a product sits in inventory, and stockouts to prevent running out of items."

Service Quality: "The quality of logistic services hugely impacts customer satisfaction and retention rates. Track metrics like order accuracy, completeness, and condition upon arrival."
When answering, remember to highlight the interdependence of these metrics on each other and on overall operational efficiency. Use specific examples to show a comprehensive understanding of metrics for logistics success.
In conclusion, to effectively answer the "What are the metrics for logistics success?" question, you should demonstrate in-depth knowledge of key logistic metrics, illustrate their practical application, and showcase the ability to draw strategic insights from performance data.
This way, you stand a higher chance of impressing your interviewer, and hopefully, landing that job!
Key Performance Indicators for Efficient Freight Transportation
| KPI | Description | Measurement |
| --- | --- | --- |
| On-time delivery | Percentage of shipments delivered on time | Percentage |
| Average transit time | Average time taken for a shipment to reach its destination | Days |
| Cost per mile | Average cost of transporting goods per mile | Dollars |
| Fuel efficiency | Miles driven per gallon of fuel consumed | Miles per gallon |
| Load utilization | Percentage of total available capacity utilized | Percentage |
| Accident rate | Number of accidents per million miles driven | Accidents per million miles |
Analysis of Cost Reduction Strategies in Logistics Management
Related Course: Logistics Management Courses Online
| Strategy | Description | Expected Outcome |
| --- | --- | --- |
| Inventory optimization | Reducing excess or obsolete inventory levels, improving forecasting accuracy | Reduced carrying costs, minimized stock-outs |
| Supplier consolidation | Reducing the number of suppliers by choosing strategic partners | Leveraging economies of scale, negotiating better terms |
| Route optimization | Analyzing and optimizing delivery routes to minimize distance and fuel consumption | Reduced fuel and transportation costs, improved delivery times |
| Warehouse process optimization | Streamlining warehouse operations to reduce handling, improve space utilization | Decreased labor costs, increased storage capacity |
| Technology adoption | Implementing advanced logistics management systems and software | Increased efficiency, improved visibility and control |
| Collaborative planning with partners | Working closely with suppliers, customers, and other stakeholders for shared planning and cost optimization | Streamlined processes, reduced lead times, cost-sharing benefits |
Impact of On-Time Delivery Rate on Customer Satisfaction
| On-Time Delivery Rate | Customer Satisfaction | Impact |
| --- | --- | --- |
| High | High | Positive |
| Medium | Medium | Neutral |
| Low | Low | Negative |
| High | Medium | Positive |
| Medium | Low | Negative |
| Low | High | Negative |
Similar interview questions:
What are the indicators of successful logistics performance?

How can we measure the success of logistics operations?

What kind of metrics are typically used to gauge the effectiveness of logistics?

Can you list the metrics that indicate a successful logistics operation?

Which metrics can illustrate the effectiveness of logistics management?

What characteristics or metrics define a successful logistics system?

What performance metrics should be tracked in logistics for effective functioning?

What measurements can show the efficiency and success of logistics processes?

What metrics are critical in evaluating the success of our logistics strategies?

If I want to determine the achievements of my logistics operations, which metrics should I analyze?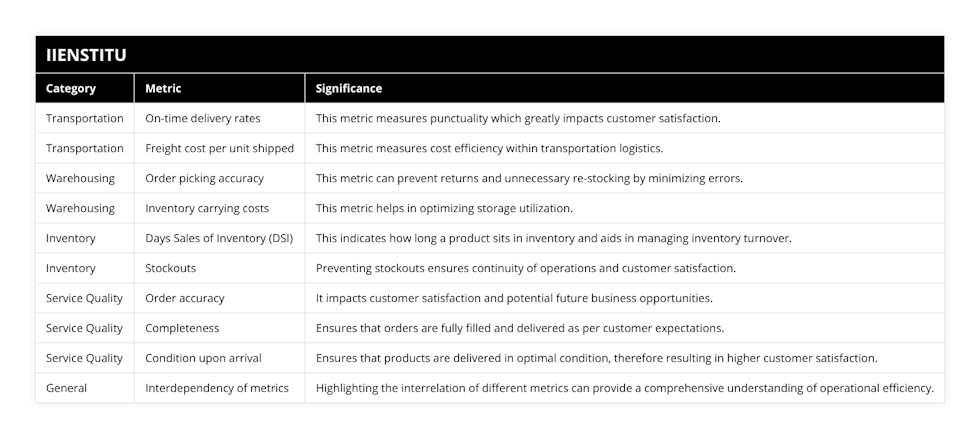 Metrics for logistics success?
metrics for logistics success
metrics for logistics success?
Yu Payne
Blogger
Yu Payne is an American professional who believes in personal growth. After studying The Art & Science of Transformational from Erickson College, she continuously seeks out new trainings to improve herself. She has been producing content for the IIENSTITU Blog since 2021. Her work has been featured on various platforms, including but not limited to: ThriveGlobal, TinyBuddha, and Addicted2Success. Yu aspires to help others reach their full potential and live their best lives.
Related Posts
Our team of experts is passionate about providing accurate and helpful information, and we're always updating our blog with new articles and videos. So if you're looking for reliable advice and informative content, be sure to check out our blog today.