Interview Questions
Interview Question: Tell a Challenging Logistics Project?
13 September 2023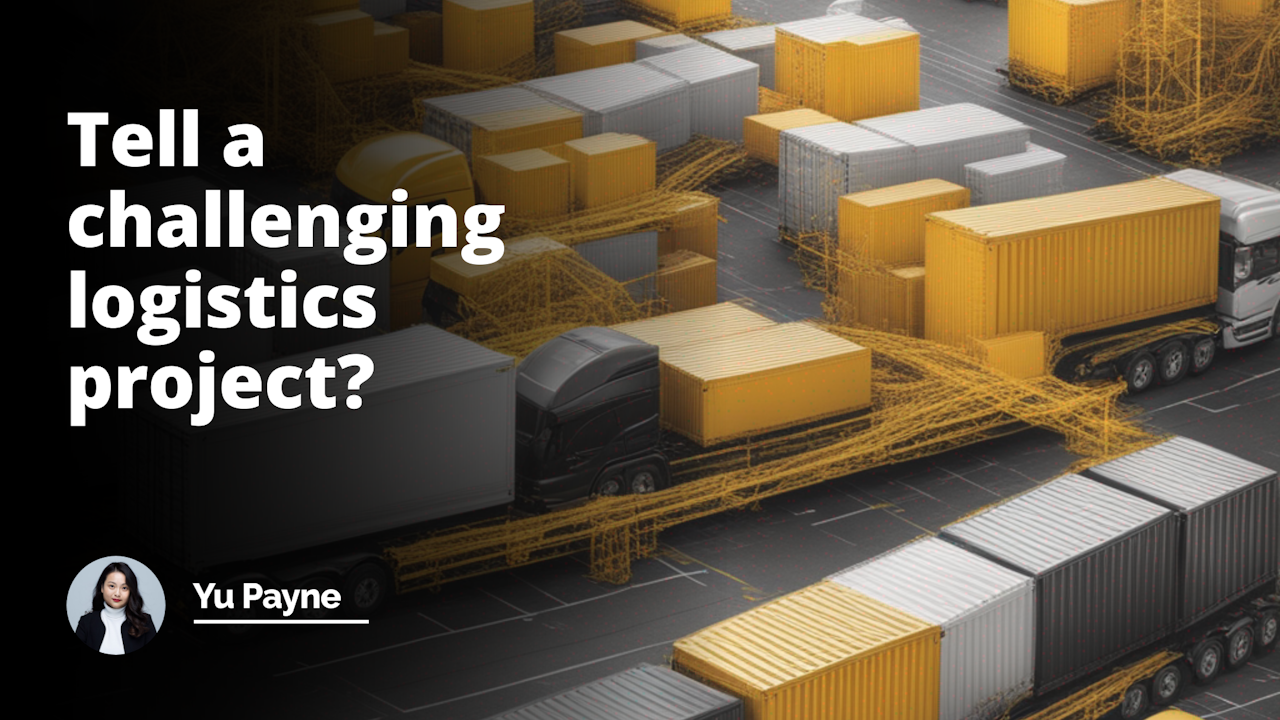 | Key Points | Insights & Expectations | Example Responses |
| --- | --- | --- |
| Purpose of the Question | Evaluates practical knowledge, capabilities, decision-making and resourcefulness in managing logistics complexities. | N/A |
| Interview Level | Question is asked during mid to late-stage interviews for roles related to logistics management, supply chain coordination or operational management. | N/A |
| Expected Answer | An honest account of a real project highlighting analytical, leadership skills, and technical knowledge; reflective learning. | N/A |
| Answer Framing | Using the STAR method for organizing the response, focusing on the situation, task, action, and result. | N/A |
| Skills Highlighted | Analytical capabilities, leadership skills, strategic planning, perseverance. | N/A |
| Situation | Describe an actual difficulty encountered in a logistics scenario | Managing a sudden enlargement due to a merger |
| Task | Specify the assignments expected from the candidate. | Amalgamation and optimization of two significantly different supply chain models |
| Action | Detailed steps taken to confront and resolve the challenge; communication and strategic planning. | Comprehensive analysis, development of a strategic integration plan |
| Result | The outcome of the actions; reflections on the experience | Seamless integration achieved within three months, efficiency raised by 25%, customer satisfaction levels boosted |
| Similar Questions | Alternative queries with similar intent. | Can you describe a logistics project that posed a significant challenge for you? Have you encountered any challenging logistics projects recently? |
| Key to Strong Response | Offer specificity in recounting the incident and in demonstrating the applied skills. | N/A |
From the perspective of an employer, an interview is a treasure trove of insights into a potential employee's skills, knowledge, and experience. The question "tell a challenging logistics project?" is no exception.
This kind of question is designed to evaluate an individual's problem-solving skills, technical expertise, communication, and leadership abilities in a real-world logistics context.
Related Course: Leadership Development Course
Interviewers want to understand how you have navigated, strategized, and executed logistics processes in a challenging scenario.
They are interested in your past actions and behaviors because these are indicative of how you might manage similar situations in the future.
The Purpose of the Question: Tell a Challenging Logistics Project?
The central purpose of asking you to "tell a challenging logistics project?" is to delve deeper into your practical knowledge and capabilities.
It helps interviewers ascertain your ability to handle the complexities related to supply chain management, warehousing arrangement, inventory allocation, and transportation optimization.
Additionally, it also allows them to gauge your resourcefulness, decision-making abilities, and how well you can work under time constraints.
This question plays a pivotal role in understanding the depth of your experience, resilience in overcoming hurdles, and importantly, your capacity for critical and innovative thinking.
At What Interview Level is it Asked?
This question is typically asked during mid to late-stage interviews, particularly when applying for roles that involve logistics management, supply chain coordination, or operational management.
Related Course: Logistics Certificate Programs Online
Having proved your basic qualifications and theoretical knowledge in the earlier rounds, this stage of the process requires you to demonstrate your on-the-job experience and problem-solving skills rooted in a tangible logistics context.
What Kind of Answer is Expected from the Candidate?
When asked to "tell a challenging logistics project?", the best answer would be an honest recounting of a real project you've handled. It should encompass the nature of the problem, the strategies you employed, the solution, and the results achieved.
Remember, it's crucial to focus on your role in the project. Highlight how you applied your analytical capabilities, leadership skills, and technical knowledge to resolve the issue at hand. Finally, your answer should reflect on the learnings or and improvements you've identified since the project's completion.
Your response should not only demonstrate a deep understanding of logistics processes but also exhibit adaptability, initiative, and perseverance in the face of adversity.
Possible Answers to Consider
While approaching this question, consider framing your answer using the STAR method - Situation, Task, Action, and Result.
Start by describing a difficult logistics *situation* you have encountered, then clarify the *task* that was expected of you. Detail the *actions* you took to confront and resolve this challenge. Don't forget to showcase your critical thinking, strategic planning, and leadership skills in this part of your answer.
Conclude by outlining the achieved *results*, the impact of your role, and any insights you acquired from that experience.
For instance:
"Serving as a logistics manager at XYZ Corp., I was tasked to manage a sudden enlargement in operations due to a merger. The major challenge here was the amalgamation and optimization of two significantly different supply chain models.
I initiated a comprehensive analysis to understand the best aspects of both models, communicated my idea to higher-ups, and enlisted coworkers for the project. We developed a strategic integration plan that included training for staff, increasing warehouse efficiency, and overhauling transportation plans.
The result was seamless integration within three months. Not only did we increase efficiency by 25%, but we also boosted customer satisfaction levels noticeably. This experience has reinforced my belief in the power of effective communication and strategic planning in the logistics arena."
Remember, specificity is key to a strong response. So, prepare to 'tell a challenging logistics project?' and you'll be ready to impress your interviewers!
So there you have it! A comprehensive guide to handle 'tell a challenging logistics project?' in an interview, told with the expertise that comes with extensive experience in Human Resources and recruitment. Good luck with your interview preparation!
Analysis of Complex Supply Chain Network Optimization
| Optimization Aspect | Challenges | Potential Solutions |
| --- | --- | --- |
| Inventory Management | Overstocking or understocking due to unpredicted demand changes | Use AI forecasting for better prediction of demand and supply |
| Logistics | Efficiency in transportation and storage of goods | Invest in smart logistics technologies to improve efficiency and tracking |
| Supplier Management | Managing relationships and ensuring reliability of suppliers | Implement supplier relationship management systems for better collaboration and transparency |
| Procurement | Ensuring timely purchase of raw materials and goods | Digitize procurement process for real-time visibility and control |
| Supply Chain Visibility | Lack of real-time visibility across the entire supply chain | Invest in supply chain visibility tools and integrate all systems |
| Risk Management | Identifying and managing risks across the supply chain | Implement robust risk management strategies and use AI for predictive analysis |
Detailed Study on International Logistic Project Challenges
| Challenge | Possible Impact | Solution |
| --- | --- | --- |
| Language and cultural barriers | Miscommunication and misunderstanding between project teams | Employing a diverse team knowledgeable in different cultures and languages |
| Political and regulatory environment | Delays and legal issues may arise from unfamiliarity with local policies | Conduct thorough research or find partners familiar with the local regulations |
| Logistical complexities | Potential problems with supply chain efficiency | Detailed logistical planning and use of robust supply chain management system |
| Exchange rate fluctuations | Unpredictable costs and expenditure | Hedging or other financial strategies to manage currency risk |
| Unfamiliar market conditions | Misjudgement of demand and supply, inefficient marketing | Extensive market research prior to entering a new market |
| Infrastructure limitations | Distribution and supply chain issues | Develop partnerships with local providers or invest in infrastructure development |
Evaluation of Cross-Border Transportation Issues in Commercial Shipments
| Issue | Potential Impact | Possible Solution |
| --- | --- | --- |
| Customs Regulations | Delays in shipment due to paperwork problems | Strict adherence to customs regulations and timely completion of all required documentation |
| Security Concerns | Possibility of theft or damage to the shipment | Invest in secure transportation systems and insure shipments |
| Language Barriers | Difficulty in communication and misinterpretation of shipping details | Employment of multilingual staff or use of translation services |
| Distance and Transportation Modes | Delays and increased cost due to long distances and dependance on multiple modes of transportation | Invest in efficient logistical planning and reliable transportation partners |
| Tariffs and Trade Agreements | Unexpected costs and barriers to shipment caused by tariffs | Thorough research on relevant trade agreements and tariffs before shipment |
| Foreign Exchange Fluctuations | Unpredictable changes in costs due to exchange rate fluctuations | Use of hedging strategies to manage foreign exchange risk |
Similar interview questions:
Can you describe a logistics project that posed a significant challenge for you?

Have you encountered any challenging logistics projects recently?

Can you provide an example of a logistics project that notably tested your abilities?

Could you share your experience on a most challenging project in logistics that you've handled?

Can you elucidate on a logistics project that pushed you outside of your comfort zone?

What has been your most challenging logistics project up to date?

What hurdles did you face in a particularly challenging logistics project?

Do you recall a particularly demanding project in the logistics sector that challenged your skills?

What has been one of the most complex projects in logistics you have worked on?

Could you describe a time when you had to deal with a challenging situation in a logistics project?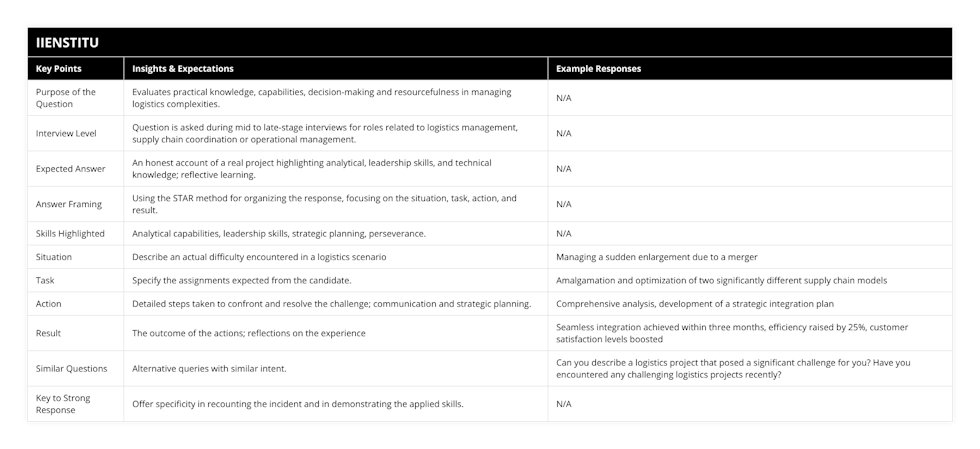 Tell a challenging logistics project?
tell a challenging logistics project
tell a challenging logistics project?
Yu Payne
Blogger
Yu Payne is an American professional who believes in personal growth. After studying The Art & Science of Transformational from Erickson College, she continuously seeks out new trainings to improve herself. She has been producing content for the IIENSTITU Blog since 2021. Her work has been featured on various platforms, including but not limited to: ThriveGlobal, TinyBuddha, and Addicted2Success. Yu aspires to help others reach their full potential and live their best lives.
Related Posts
Our team of experts is passionate about providing accurate and helpful information, and we're always updating our blog with new articles and videos. So if you're looking for reliable advice and informative content, be sure to check out our blog today.