Interview Questions
Interview Question: How do you manage logistics stress?
15 September 2023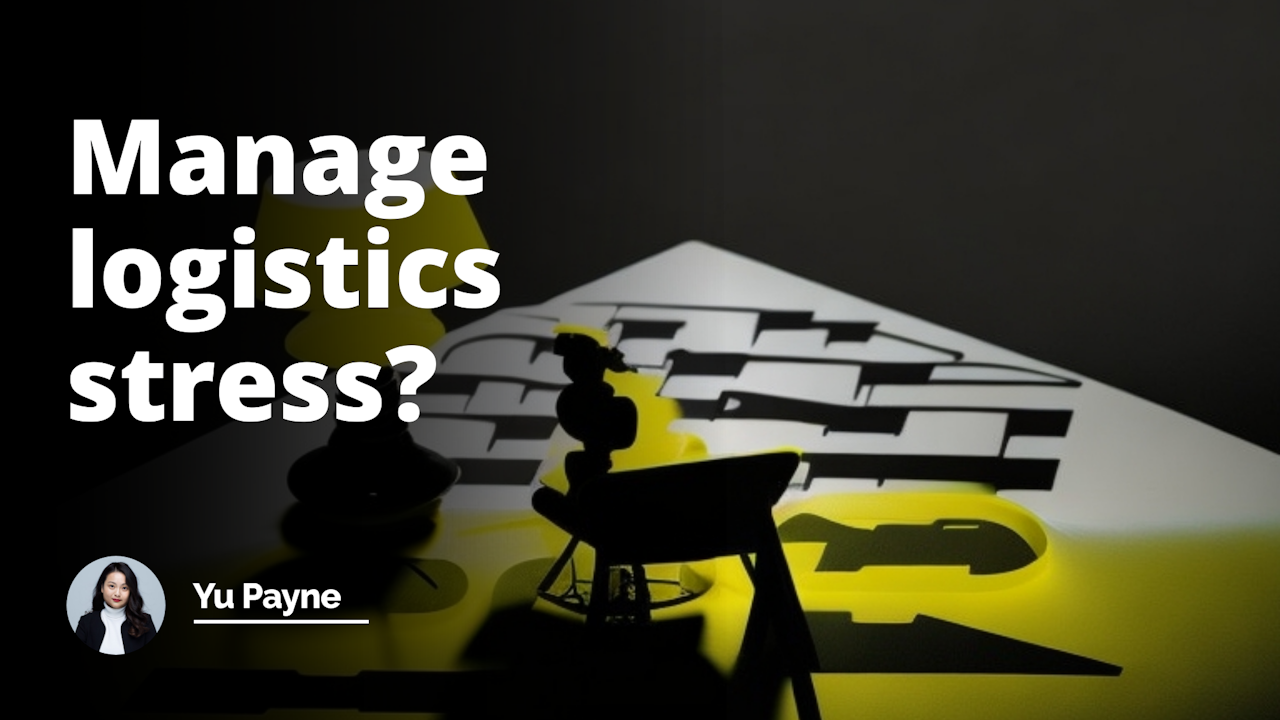 | Point Discussed | Explanation | Example |
| --- | --- | --- |
| Need For Stress Management Skills In Logistical Roles | Due to the high-pressure nature of logistics jobs, candidates are assessed for their ability to handle stress. | Logistics roles often involve meeting tight deadlines and dealing with supply chain disruptions. |
| Purpose of Stress Management Question | The aim is to evaluate a candidate's resilience and ability to remain efficient during high-stress periods. | Candidates must demonstrate they can still operate effectively under chaotic circumstances. |
| Suitability For All Levels | This question applies to all levels of roles in logistics due to the industry's intrinsic stress nature. | Roles from logistic coordinators to management positions all encounter high stress situations. |
| Expected Answer | The answer should demonstrate the candidate's ability to handle stress, their problem-solving abilities, and their mental toughness. | Show command over efficient communication skills, good time management, and the ability to convert stress into motivation. |
| Utilizing Technology | One optimal response can incorporate the use of technology to manage stress and reduce errors. | Candidate might talk about implementing an automated system to track vendor performances. |
| Prioritizing and Delegating | An effective stress management strategy might involve focusing on urgent tasks first and delegating tasks evenly. | Candidate might demonstrate how they triage tasks based on urgency and delegate effectively to avoid overwhelming a single team member. |
| Transforming Stress Into Motivation | A matured perspective towards handling stress might include converting it into a positive motivator. | Candidate can discuss how recalling past accomplishments during high-pressure situations helps to keep them focused and motivated. |
| Being Specific and Authentic | It is essential for candidates to give genuine, specific examples without embellishing or falsifying experiences. | The answers should be in the form of stories describing the situation, action taken, and the result. |
| Adaptability and Innovative Thinking | Candidate's stress management techniques should be versatile and show innovative thinking. | Candidates need to show how their strategies are adaptable and how they can use the stress to bring about innovative solutions. |
| Display Resilience and Problem-Solving Skills | The candidate should portray their resilience and knack for problem-solving effectively during the interview. | The candidate can discuss their unique strategies to manage stress, highlighting their ability to thrive despite pressure. |
When you're sitting in an interview for a logistics position, you might suddenly encounter an intriguing question—"How do you manage logistics stress?" But why is this question tapestried into the fabric of the interview?
Quite simply, the logistics industry is synonymous with pressure, be it meeting tight timelines or contending with unforeseen supply chain disruptions. Naturally, the question arises—how does one manage logistics stress?
This challenge, laden with pressure-cooker situations, asks for candidates who can stay calm under strain and still deliver impressive results.
The purpose of the question: How do you manage logistics stress?
The main intent behind this question is to analyze the candidate's stress management skills and resilience. It shows how well the candidate can continue to operate efficiently amidst chaotic scenarios.
Related Course: Stress Management Course
Logistics is a complex realm where unanticipated problems may pop up anytime—late deliveries, damaged goods, or miscommunication with distributors, and so forth. As a result, the question seeks to measure the candidate's ability not just to withstand but to thrive under pressure.
At what interview level is "How do you manage logistics stress?" asked?
The question, "Manage logistics stress?", is not reserved solely for senior roles. This vital query is relevant at every interview level in logistics—from logistic coordinators, supply chain analysts, to management roles.
Why? Because stress is ubiquitous in logistics; every role faces it—though, of course, the intensity might vary. The question measures the candidate's practical problem-solving skills and resilience, both crucial for any logistics position.
What kind of answer is expected to "How do you manage logistics stress?"
An ideal answer should portray your stress management techniques, mental toughness, and problem-solving capabilities. HR is looking for genuine replies based on real-life experiences, not canned responses.
Mere knowledge won't suffice; your ability to apply that knowledge in pressure situations is the real deal. Show them your stress management tools—be it good communication skills, time management, 'converting stress into motivation,' or using technology to streamline operations.
Related Course: Time Management Online Course Free
Possible answers to "How do you manage logistics stress?"
One possible answer could be, "In my previous role, handling multiple vendors was indeed stress-inducing. However, I identified technology as an ally and introduced an automated system to track vendor performances, which significantly reduced stress and errors."
Another desirable response could be, "I prioritize tasks and focus on what's most urgent. Delegating is critical to me, too. In my past role, I always made sure to distribute tasks evenly among the team members to avoid stress overload on a single person."
Or perhaps, "I believe in converting stress into motivation. Whenever faced with intense pressure, I remind myself of the accomplishments I've made in such scenarios before—this helps me remain unfazed and keenly focused on the task at hand."
Considerations when answering "Manage logistics stress"
Finally, when answering, remember to be specific with your instances—describe the situation, your action, and the result. Stories resonate well with interviewers as they provide tangible evidence of your abilities.
Also, while demonstrating how you manage logistics stress, ensure your strategies are adaptable and innovative. In logistics, one size does not fit all, and the interviewer will regard your adaptability and innovative thinking as an asset for the company.
Authenticity is important. Don't embellish or falsify experiences, and remember—free-flowing conversation is a tool to display your knowledge, ability, and persona. Be sure to convey your resilience, your knack for problem-solving, and, most importantly, your ability to manage logistics stress.
Remember, the purpose of this question is not to overwhelm you with stress, but to demonstrate your resilience and your ability to handle stress. It's your opportunity to show that not only can you handle stress, but you can thrive under it.
Take a deep breath, put on a confident smile, and go ace that question. After all, what is logistics without a bit of pressure? It's just another chance to shine!
Stress Management Techniques in Logistics Operations
| Technique | Description | Benefits |
| --- | --- | --- |
| Time Management | Prioritize tasks, set deadlines and schedules, and avoid multitasking to improve productivity and reduce stress. | Increases efficiency, reduces workload, and improves work-life balance. |
| Communication | Establish clear and open lines of communication between team members, superiors, and stakeholders to prevent misunderstandings and minimize stress. | Enhances teamwork, reduces conflicts, and improves information flow. |
| Delegation | Delegate tasks to capable team members and empower them to make decisions, freeing up time and reducing individual stress levels. | Increases productivity, enhances employee growth, and reduces workload for managers. |
| Problem-solving | Develop problem-solving skills and encourage employees to find solutions to challenges and obstacles, promoting a proactive approach and reducing stress. | Improves decision-making, fosters innovation, and reduces stress caused by uncertainty. |
| Self-care | Encourage individuals to prioritize self-care activities like exercise, rest, and relaxation, improving physical and mental well-being and reducing stress. | Increases energy levels, improves focus, and reduces the risk of burnout. |
| Training and Development | Offer training programs to enhance employees' skills and knowledge, boosting confidence and reducing stress associated with unfamiliar tasks. | Improves competence, increases job satisfaction, and reduces anxiety related to performance. |
Impact of Stress on Logistics Efficiency
| Impact of Stress | Logistics Efficiency | Explanation |
| --- | --- | --- |
| Increased | Decreased | Stress can lead to impaired decision-making, decreased attention to detail, and decreased productivity, all of which can negatively impact logistics efficiency. |
| Increased | Increased | In some cases, stress can act as a motivator and prompt individuals to work harder and more efficiently in order to meet deadlines or overcome challenges. |
| Unchanged | Unchanged | For some individuals, stress may not significantly impact their ability to perform logistics tasks efficiently. |
| Decreased | Decreased | Excessive stress can lead to fatigue, burnout, and reduced mental and physical capabilities, all of which can negatively affect logistics efficiency. |
| Decreased | Increased | In certain situations, stress can prompt individuals to find innovative solutions and work more diligently, leading to improved logistics efficiency. |
| Increased | Unchanged | Some individuals may experience increased stress without it significantly affecting their logistics efficiency. |
Strategies to Reduce Stress in Logistics Management
Related Course: Logistics Certification Courses
| Strategy | Description | Benefits |
| --- | --- | --- |
| Prioritize tasks | Identify and focus on the most important tasks, delegating or postponing less critical ones. | Reduces the feeling of being overwhelmed and helps manage time more effectively. |
| Effective communication | Ensure clear and timely communication with all stakeholders involved in logistics management. | Minimizes misunderstandings, delays, and errors, leading to smoother operations and reduced stress. |
| Implement automation | Utilize technology and automation tools to streamline processes, reduce manual work, and enhance efficiency. | Saves time and effort, reduces the chances of errors, and allows for better resource allocation. |
| Staff training | Invest in ongoing training and development programs for logistics employees to enhance their skills and knowledge. | Improves employee capabilities, reduces errors, and increases confidence, leading to reduced stress levels. |
| Establish contingency plans | Develop backup plans for potential disruptions, such as supplier issues or transportation delays. | Helps mitigate risks, ensures continuity of operations, and reduces stress associated with unforeseen events. |
| Promote work-life balance | Encourage employees to maintain a healthy work-life balance by offering flexible schedules and promoting self-care. | Reduces burnout, improves morale and productivity, and lowers stress levels in logistics management. |
Similar interview questions:
How can one alleviate stress associated with logistics management?

What strategies have proven effective in reducing stress in managing logistics?

What is your approach in managing stress in the logistics field?

Are there any methods that you have found to help manage the stress in logistics?

Can you provide any tips on how to reduce stress while managing logistics?

What should one do to manage the pressures and stresses often encountered in logistics management?

Are there any systematic approaches to control stress in the management of logistics?

What are some of the ways to handle stress within the logistics management sector?

Have you discovered any solutions for managing the stressful aspects of logistics coordination?

Can you identify any effective techniques for stress management in the field of logistics?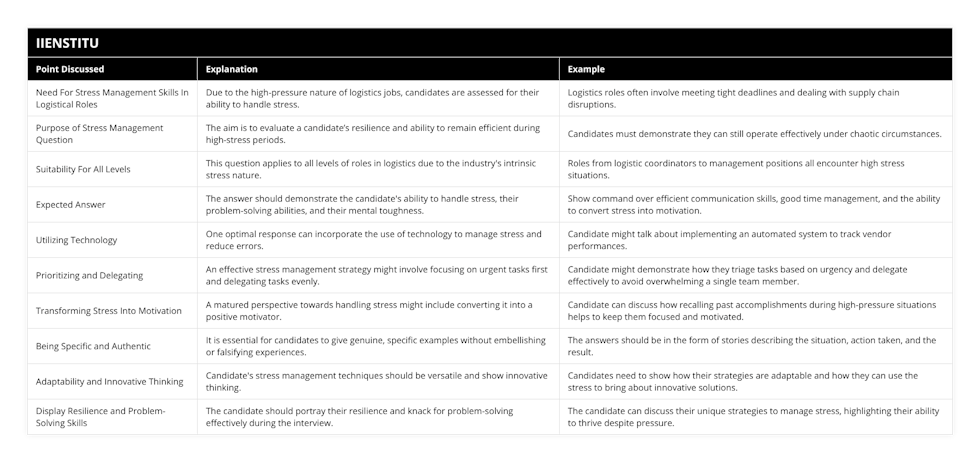 Manage logistics stress?
manage logistics stress
manage logistics stress?
Yu Payne
Blogger
Yu Payne is an American professional who believes in personal growth. After studying The Art & Science of Transformational from Erickson College, she continuously seeks out new trainings to improve herself. She has been producing content for the IIENSTITU Blog since 2021. Her work has been featured on various platforms, including but not limited to: ThriveGlobal, TinyBuddha, and Addicted2Success. Yu aspires to help others reach their full potential and live their best lives.
Related Posts
Our team of experts is passionate about providing accurate and helpful information, and we're always updating our blog with new articles and videos. So if you're looking for reliable advice and informative content, be sure to check out our blog today.