Interview Questions
Interview Question: Can You Adapt to Logistics Changes?
14 September 2023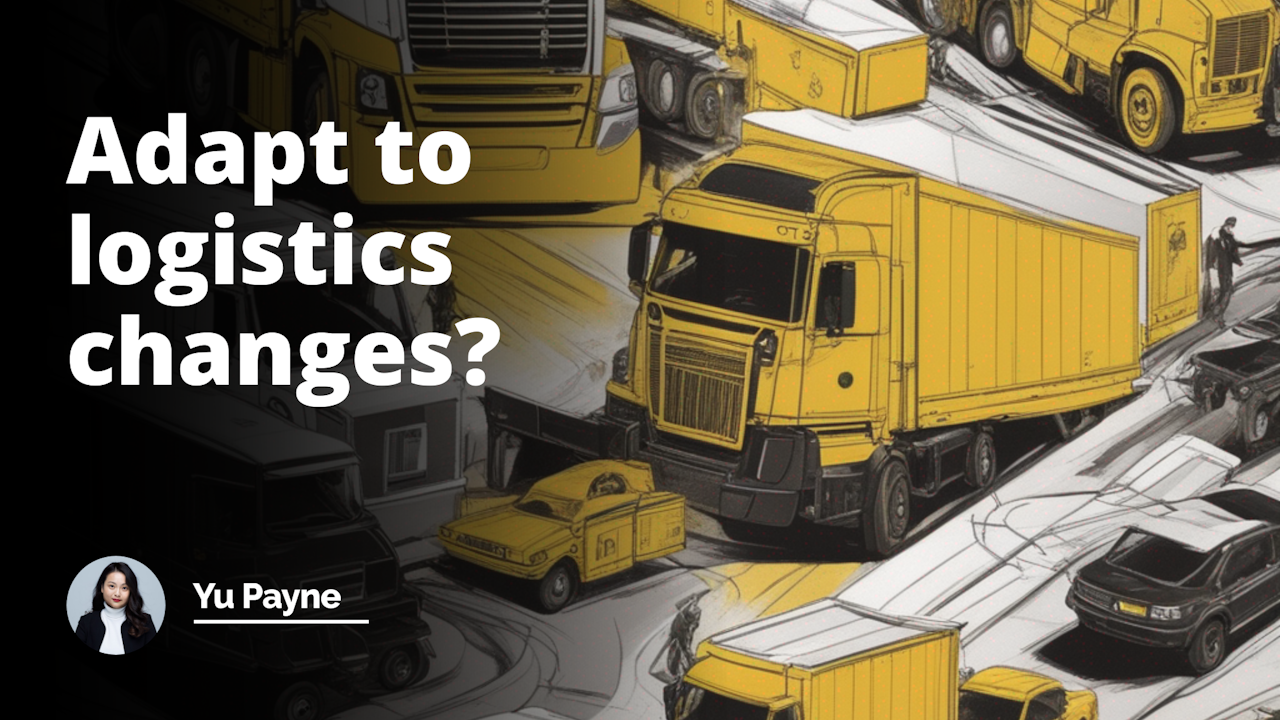 | Interview Question Aspect | Details | Examples |
| --- | --- | --- |
| Purpose | Measures a candidate's adaptability, problem-solving skills and perspective on change | Adapting to new software, overcoming logistics challenges, perceiving change as opportunity |
| Interview Level | Usually asked in middle to senior-level interviews, sometimes in entry-level too | Not specific |
| Expected Response | Candidate should demonstrate flexibility, problem-solving capabilities, and proactive attitude | Stories which demonstrate adaptability, illustrating ability to turn challenges into opportunities |
| Response Strategy | Reflect on past experiences, show resilience, problem-solving skills and eagerness to evolve | Discussing past scenarios of successful adaptation, asking interviewer for company-specific examples |
| Similar Interview Questions | There can be several variations of this same question | How would you adjust to alterations in logistics?, What is your ability to cope with logistics changes? |
| Adaptation Strategies | Potential strategies to handle changes in logistics | Continuous learning, proactive problem-solving, embracing new methodologies |
| Impact of Logistics Changes on Operations | Influences day-to-day working and overall business performance | Not specific |
| Case Studies | Examples of successful adaptation to logistics changes | Stories from past work experiences |
| Challenges | Potential obstacles when adapting to logistics changes | Adapting to new software, coping with unforeseen circumstances |
| Prerequisite Skills | Skills necessary to adapt successfully | Resilience, problem-solving abilities, willingness to learn |
The question "Can You Adapt to Logistics Changes?" is increasingly becoming an integral part of an interview process, particularly in logistics and supply chain sectors.
As businesses continue operating in a rapidly evolving landscape characterized by technological advancements, political upheavals, and global pandemics, more than ever, there is an imperative need for professionals to possess a high degree of adaptability.
The ability to adapt to logistics changes is a sought-after trait in potential candidates. The question tests a candidate's capacity to embrace new methodologies, adapt to unforeseen circumstances, and thrive amidst constant changes in the logistics industry.
The interviewer is interested in understanding whether you can manage the growing uncertainty and flux that is part and parcel of modern supply chains.
The Purpose of the Question: Can You Adapt to Logistics Changes?
The purpose of asking if you can "Adapt to logistics changes?" is multi-fold.
Firstly, it gauges the agility of the candidate to adopt new logistics software or strategies without difficulty.
Secondly, it judges your problem-solving skills, critical in navigating real-world, on-the-job logistics challenges.
Lastly, it helps understand your perspective on change - are you viewing it as a disruption or an opportunity?
At What Interview Level is it Asked?
This question is typically posed at the middle to senior levels of interview process, once the interviewer is through with assessing your basic skills and knowledge of logistics.
However, in some cases, it might also be asked at entry-level positions, considering entry-level roles are often crucial links in a logistics chain and hence require similar levels of adaptability.
What Kind of Answer is Expected from the Candidate?
The interviewer expects a candid response that demonstrates your flexibility, problem-solving capabilities, and proactive attitude. You need to convince them that you can not only survive but thrive amidst the logistics changes.
Recount instances from your past professional experience where you successfully navigated a change. Illustrate your skills in turning challenges into opportunities and advocating a culture of continuous improvement. It is also vital to show your eagerness to continuously learn and grow with the evolving industry trends.
Possible Answers to Consider
A well-thought response, reflecting on your past experiences, is a good starting point. For instance, you could relay, "In my previous role, when the company introduced a new inventory management system, I took the initiative to learn the system proactively. In fact, I even trained a few team members, mitigating the productivity loss during the transit period."
On the other hand, don't shy away from posing some questions back to the interviewer. You could ask, "Could you provide some examples of how logistics processes have evolved in your company? This will help me understand the sort of changes I could anticipate going forward."
To conclude, breezing through this question requires showcasing your resilience, willingness to adapt, problem-solving prowess, and eagerness to constantly evolve in the face of logistics changes.
It's not about proving that you are allergic to the old way of doing things, but demonstrating that you're eager to stay relevant, productive, and valuable despite changes in the logistics landscape. These qualities will not only impress your prospective employer but also pave your path to a successful career.
Strategies for Adapting to Changes in Logistics
| Strategy | Explanation | Example |
| --- | --- | --- |
| Technological integration | Embracing new technologies to streamline logistics operations | Implementing a warehouse management system (WMS) to automate inventory tracking |
| Supply chain diversification | Expanding the network of suppliers and distribution channels | Engaging with multiple suppliers from different regions to reduce dependencies |
| Collaborative partnerships | Building alliances with other logistics stakeholders | Forming a partnership with a transportation company to share resources and optimize routes |
| Flexible scheduling | Adapting delivery schedules based on changing customer demand | Adjusting delivery time slots during peak seasons to accommodate increased orders |
| Data-driven decision-making | Utilizing analytics and data to make informed logistical decisions | Using predictive analytics to forecast demand and optimize inventory levels |
| Continuous process improvement | Regularly evaluating and refining logistics processes | Conducting regular performance reviews and implementing efficiency-enhancing initiatives |
Impact of Logistics Changes on Business Operations
| Logistics Changes | Impact on Business Operations | Examples |
| --- | --- | --- |
| Implementation of new technology | Improved efficiency and transparency in supply chain management | Adoption of inventory management software |
| Outsourcing logistics functions | Reduced costs and increased focus on core business activities | Hiring a third-party logistics provider |
| Implementation of lean logistics practices | Reduced waste, improved lead times, and increased customer satisfaction | Just-in-time delivery and continuous process improvement |
| Shift to e-commerce logistics | Increase in online sales, expansion of customer reach, and need for efficient order fulfillment | Integration of online platforms with warehouse and shipping systems |
| Adoption of sustainable logistics practices | Enhanced corporate image, cost savings through energy-efficient operations, and compliance with environmental regulations | Use of electric vehicles and energy-efficient warehouse practices |
| Integration of data analytics in logistics operations | Improved decision-making, better forecasting, and optimization of supply chain processes | Utilization of predictive demand planning software |
Case Studies of Successful Adaptation to Logistic Changes
| Company | Logistic Change | Result |
| --- | --- | --- |
| Amazon | Implementing robotics in warehouses | Significantly increased efficiency and reduced operating costs |
| FedEx | Using advanced route optimization software | Improved delivery speed and reduced fuel consumption |
| Zara | Implementing centralized distribution centers | Reduced lead times and improved inventory management |
| Walmart | Investing in RFID technology for inventory tracking | Improved inventory accuracy and reduced out-of-stock situations |
| UPS | Integrating last-mile delivery options like lockers and access points | Enhanced customer convenience and reduced delivery failures |
| DHL | Implementing IoT-enabled temperature monitoring for cold chain logistics | Enhanced visibility and reduced spoilage in pharmaceutical and food shipments |
Similar interview questions:
How would you adjust to alterations in logistics?

What is your ability to cope with logistics changes?

What strategies do you implement when dealing with changes in logistics?

How effective are you in adapting to changes within the logistics sector?

What steps do you take to adapt to changes in logistics?

Could you exemplify a situation where you had to adapt to logistical changes?

What challenges have you encountered when adapting to logistics changes?

How smoothly can you transition when changes occur in logistics?

How comfortable are you solving problems related to logistics changes?

Can you show resilience in the face of major changes in logistics?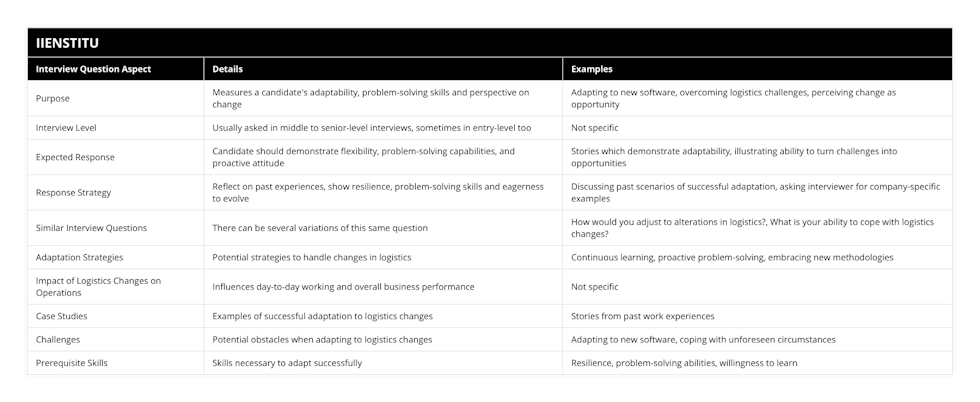 Adapt to logistics changes?
adapt to logistics changes
adapt to logistics changes?
Yu Payne
Blogger
Yu Payne is an American professional who believes in personal growth. After studying The Art & Science of Transformational from Erickson College, she continuously seeks out new trainings to improve herself. She has been producing content for the IIENSTITU Blog since 2021. Her work has been featured on various platforms, including but not limited to: ThriveGlobal, TinyBuddha, and Addicted2Success. Yu aspires to help others reach their full potential and live their best lives.
Related Posts
Our team of experts is passionate about providing accurate and helpful information, and we're always updating our blog with new articles and videos. So if you're looking for reliable advice and informative content, be sure to check out our blog today.