Interview Questions
Interview Question: How You Track Logistics Trends?
13 September 2023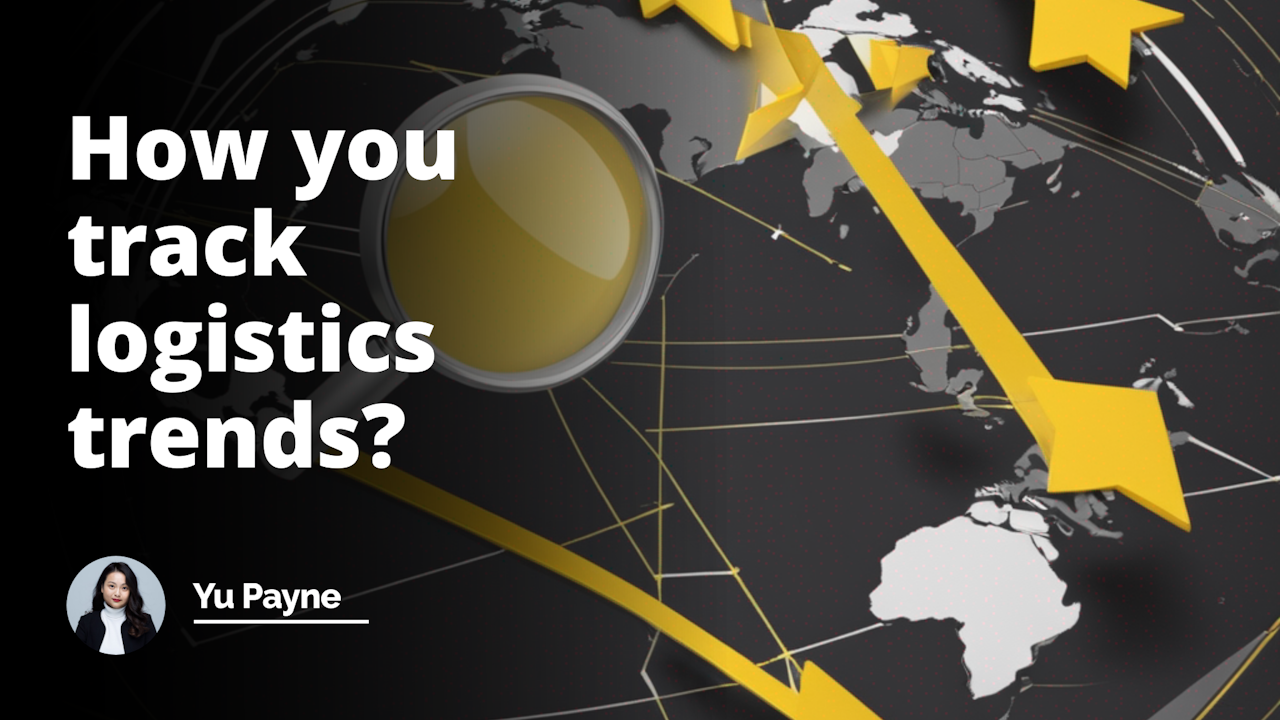 | Aspect | Details | Relevance |
| --- | --- | --- |
| Interview Purpose | Assess candidates' awareness of evolving industry trends | Candidates who track trends are more likely to be adaptable and forward-thinking, hence contribute to business growth |
| Assessment Factors | Willingness to Learn, Business Optimization | An eager learner can acquire new skills; a trends-aware professional can optimize business operations and spur growth |
| Interview Level | Middle or Senior-level roles | Such professionals are expected to lead initiatives and improvements in line with industry trends |
| Expected Answer | Demonstration of regular engagement with industry news, forums, seminars, and practical implementation | Shows proactive effort to keep up with industry changes and the ability to translate them to business practices |
| Continuous Learning | Keeping up-to-date through industry-focused resources, networking etc. | Continuous learning enables professionals to adapt to rapidly evolving industry trends |
| Human Element | Innovation, evaluation, strategic adaptation, and people management | Balancing AI advancements with human capabilities for a successful logistics operation |
| Employee Transformation | Examples of leveraging new learnings for improvements in organizational setups | Shows practical application of industry trends leading to business growth |
| Online Webinars | Platform to learn novel ideas being tested globally | Webinars allow professionals to learn and adapt to global industry transformations |
| Professional Forums | Active participation in discussions, debates, and knowledge-sharing sessions | Facilitates learning from peers and keeping abreast of industry advancements |
| Importance of Question | Chance to exhibit resilience and visionary leadership | Interviewers value candidates who not only follow trends, but also have the vision to lead and adapt in the dynamic logistics sector |
Let's begin by addressing a critical question: Why do interviewers pose the query, "how you track logistics trends?" Companies don't just want to be ahead of the curve; staying in touch with emerging trends is essential for survival.
Competition across industries is fierce, and logistics sector is no exception. Hence, recruiters want to ensure they are onboarding individuals who appreciate the evolving dynamics of the logistics industry.
The Purpose of the Question: How You Track Logistics Trends?
The primary goal with the question, 'how you track logistics trends?' is to gauge the interviewee's attentiveness to the industry's shifts and turns. This is crucial for two reasons:
Willingness to Learn: This reflects the candidate's aspirations to maintain a strong knowledge base and a curiosity that extends beyond their immediate operational tasks.

Business Optimization: A candidate well-versed with logistics trends can tap into new tools, technologies, and methodologies to boost business efficiency and foster growth.
At What Interview Level is it Asked?
Whether you're stepping into a managerial role or a strategic position where you're expected to initiate streamlining and improvement initiatives, you're likely to be asked about keeping abreast with logistics trends. In the logistics industry, this is a crucial question that could be posed at the middle or senior-level interviews.
What Kind of Answer is Expected from the Candidate?
Hiring managers are looking for an answer that demonstrates holistic understanding, and more importantly, proactive tracking of emerging trends in logistics. They are interested to find out if you're familiar with industry-related news sources, if you attend seminars/webinars, or if you actively participate in logistics-focused forums or networks. Additionally, they also seek to understand your ability to dissect and analyze these trends and translate them into practical business applications.
Possible Answers to Consider
When responding to this question, a resounding emphasis should be placed on your continuous learning efforts.
Answer 1: I make it a point to keep myself updated with logistics trends through reputable resources such as industry-focused journals, publications, and media channels. I also follow several industry leaders and innovators on LinkedIn to gain unique perspectives. I attend industry seminars and webinars frequently, which provides me opportunities to network with like-minded professionals and share knowledge.

Answer 2: I am a member of a few professional logistics and supply chain forums, where I actively participate in discussions, debates, and knowledge-sharing sessions. I find online webinars exceptionally insightful – they are a great platform to learn about novel ideas being tested and applied across the globe.
While responding, weave in examples of how you have kept pace with the changes, citing instances where you leveraged new learning to effect improvements or transformations within former organizational setups.
Staying Human amidst AI Dominance
While the rise of AI has significantly transformed logistics, it's essential we don't forget the human elements—innovation, evaluation, strategic adaptation, and people management. Therefore, keeping abreast of trends – just as AI can't replace the boundless human curiosity—can ensure that we stay rooted in the reality of logistics but are ready to soar into future potentials.
Remember, in this dynamic world, not only does one need to know the answer, but they must embody this curious spirit: learning continuously to ensure they adapt, survive, and succeed in their profession. So, when asked 'how you track logistics trends?' don't just answer—it's your chance to exhibit a learner's resilience and a leader's vision!

Global Freight and Shipping Volume Trends
| Year | Freight Volume (in million tons) | Shipping Volume (in million TEUs) |
| --- | --- | --- |
| 2015 | 9,500 | 175 |
| 2016 | 9,800 | 180 |
| 2017 | 10,200 | 190 |
| 2018 | 10,500 | 195 |
| 2019 | 10,800 | 200 |
| 2020 | 9,500 | 175 |
Technological Advancements in Logistics Sector
| Advancement | Description | Benefits |
| --- | --- | --- |
| Automation | Replacing manual tasks with automated processes | Improved efficiency and reduced errors |
| Artificial Intelligence (AI) | Using machines to perform tasks that would normally require human intelligence | Enhanced data analysis, predictive analytics, and personalized customer experiences |
| Internet of Things (IoT) | Interconnecting physical devices to collect and exchange data | Real-time tracking, inventory management, and proactive maintenance |
| Blockchain | Distributed ledger technology for secure and transparent transactions | Improved supply chain visibility, traceability, and trust |
| Cloud Computing | Storing and accessing data and applications over the internet instead of local servers | Scalability, cost savings, and remote accessibility |
| Big Data Analytics | Leveraging large volumes of data to gain insights and make informed decisions | Optimized route planning, demand forecasting, and personalized services |
Impact of E-commerce Growth on Logistics Industry
| Impact | Description | Example |
| --- | --- | --- |
| Increased demand | Logistics companies experience higher volumes of deliveries due to increased online shopping. | Delivery companies hiring more staff and investing in larger warehouses. |
| Faster delivery expectations | Customers expect shorter delivery times with e-commerce, which puts pressure on logistics companies to optimize their operations. | Introduction of same-day or next-day delivery services. |
| Last-mile challenges | The final leg of delivery, from the warehouse to the customer's doorstep, becomes more complex and costly. | Logistics companies partnering with local couriers or implementing innovative solutions like drones for last-mile delivery. |
| Supply chain visibility | E-commerce requires real-time visibility into the supply chain to manage inventory levels and meet customer demand. | Implementation of supply chain management systems and improved tracking technologies. |
| Returns management | E-commerce leads to higher return rates, requiring logistics companies to handle reverse logistics efficiently. | Establishment of dedicated return processing centers and flexible return policies. |
| Increased competition | E-commerce growth has led to more players entering the logistics industry, intensifying competition. | Delivery companies offering competitive pricing and value-added services to attract and retain customers. |
Similar interview questions:
Can you describe your method for keeping up with logistics trends?

What tools do you use to monitor the latest trends in logistics?

Are there any specific resources that you rely on for updates in logistics trends?

Which strategies do you apply to stay informed about the trends in logistics?

In what way do you follow and stay updated with trends in the logistics industry?

Could you elaborate on your process for tracking changes and trends in the world of logistics?

How do you keep abreast of the latest developments and shifts within logistics?

Can you share your approach in staying in the loop about the ever-changing trends in logistics?

Through what methods or resources do you maintain your understanding of key logistics trends?

What combination of techniques do you employ to stay updated on emerging trends in the field of logistics?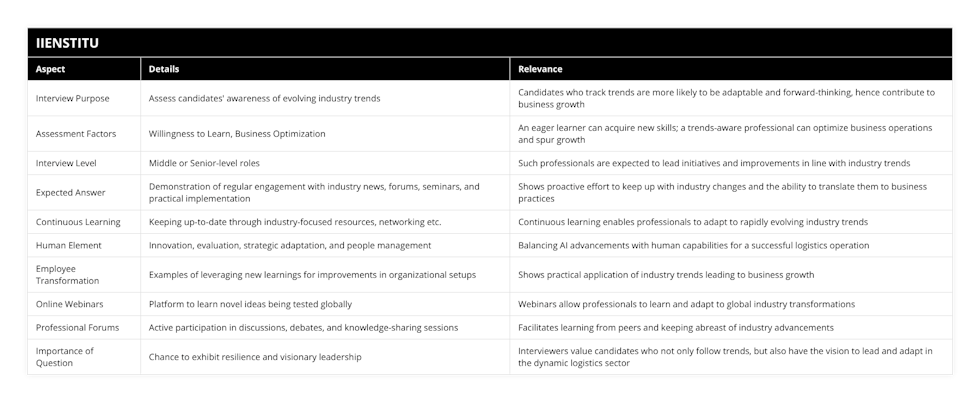 How you track logistics trends?
how you track logistics trends
how you track logistics trends?
Yu Payne
Blogger
Yu Payne is an American professional who believes in personal growth. After studying The Art & Science of Transformational from Erickson College, she continuously seeks out new trainings to improve herself. She has been producing content for the IIENSTITU Blog since 2021. Her work has been featured on various platforms, including but not limited to: ThriveGlobal, TinyBuddha, and Addicted2Success. Yu aspires to help others reach their full potential and live their best lives.
Related Posts
Our team of experts is passionate about providing accurate and helpful information, and we're always updating our blog with new articles and videos. So if you're looking for reliable advice and informative content, be sure to check out our blog today.