Interview Questions
Interview Question: Handle Delayed Shipment
13 September 2023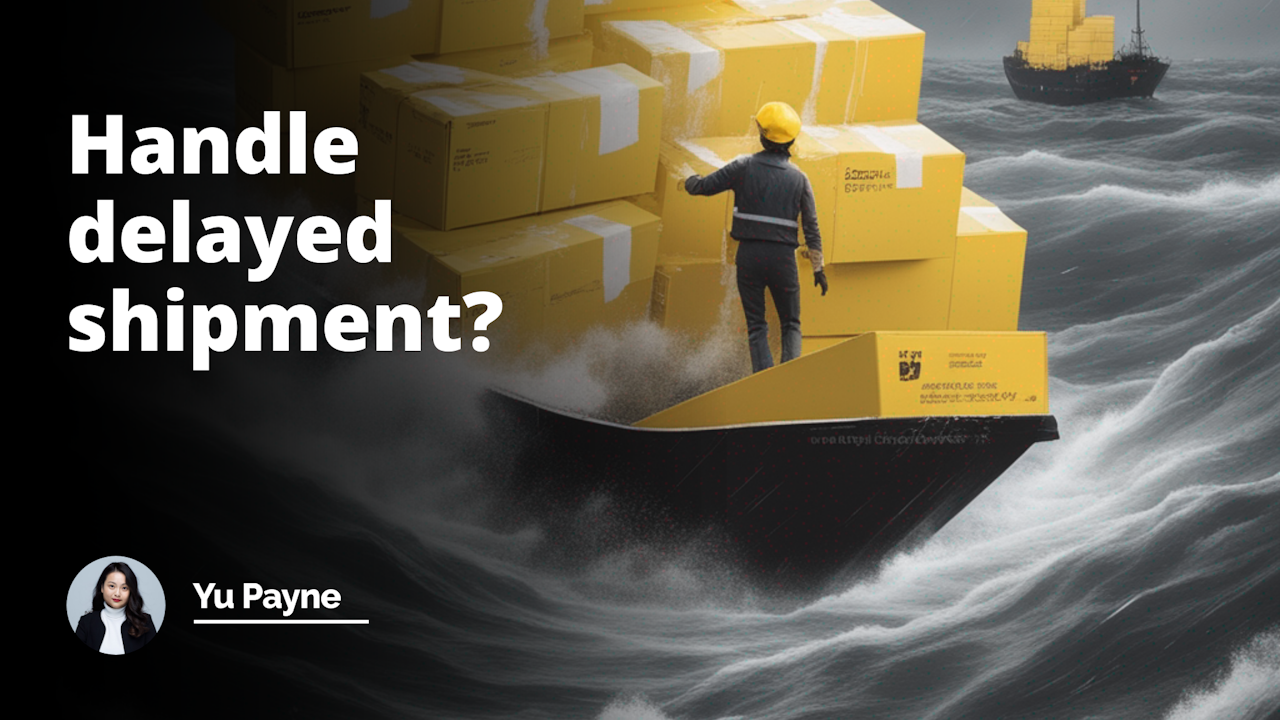 | Problem Solving Steps | What it Demonstrates | Example Scenario |
| --- | --- | --- |
| Identify cause of the delay | Problem identification skills | Failed pick-up, misplaced order, customs issues, or carrier backlog |
| Find temporary solution | Problem-solving abilities and decision-making prowess | Expediting the shipment or arranging a replacement with a faster shipping method |
| Communicate transparently with the customer | Conflict-resolution and client communication skills | Apologizing for the delay, reassuring the customer, reintroduce trust into the customer relationship |
| Work towards a long-term solution | Long-term strategic thinking and prevention of problem recurrence | Improving order processing systems, switching to more reliable carrier services |
| Predict possible delays | Proactiveness and anticipation of logistical issues | Implementing systems to track shipments for potential delays |
| Manage customer expectations | Customer service skills, communication | Informing customers about possible delivery timeframes and delays |
| Implement tracking systems | Adoption of technology for problem solving | Using real-time tracking systems for shipments |
| Leverage vendor partnerships | Relationship management skills | Working close with vendors to ensure timely delivery |
| Audit shipping processes | Attention to detail, process improvement | Regularly checking and improving shipping processes for efficiency |
| Maintain transparency in operations | Professional ethic, trust-building | Sharing logistical information with relevant stakeholders |
At first glance, the question – "How would you handle delayed shipment" seems simple, but it carries profound implications.
Interviewers often ask this question to assess your problem-solving abilities, logical thinking, decision-making prowess, and your understanding of client servicing.
To be more precise, they are seeking insights into how you think on your feet when confronted with inevitable logistics snafus like delayed shipments.
The Purpose of The Question: Handle Delayed Shipment
The primary purpose of such an interview question is to understand your approach when faced with logistical predicaments. How well-equipped are you to manage disappointment, frustration, and potential client backlash due to delayed shipments?
Your response would give the interviewer a glimpse into your conflict-resolution acumen, your commitment towards customer satisfaction, and your crisis management aptitude.
At What Interview Level Is This Question Asked?
Mostly, this question is asked at the mid to senior-level management job interviews, specifically in roles that require direct customer handling, logistics, operations, or supply-chain management.
However, it isn't unheard of for positions like customer service executive, or a role in client servicing or relationship management, where this question might come up.
Importantly, how you handle delayed shipment gives invaluable insights into your prowess in dealing with hurdles, a skill much sought after in every professional field.
What Kind of Answer is Expected From The Candidate?
Interviewers anticipate a structured, clear, and customer-centric approach in your answer. It should demonstrate your abilities in four critical areas - problem identification, problem-solving with viable alternatives, communication with the concerned parties, and evolutionary steps in troubleshooting future occurrences of the same issue. Keep in mind; employers value those who not only resolve problems but also contribute towards long-term solutions to prevent recurrence.
Possible Answers To Consider: How Would You Handle Delayed Shipment?
When formulating your answer, remember that each situation will demand a different course of action. However, a commonly acceptable approach might involve the following steps:
First, identify the cause of the delay. It might be a failed pick-up, a misplaced order, customs issues, or carrier backlog.
Second, prioritize finding a temporary solution to fulfil the order, either by expediting the shipment or arranging a replacement with a faster shipping method.
Third, communicate transparently with the customer about the delay and probable solution. Apologize, reassure and reintroduce trust into your customer relationship.
Finally, work towards a long-term solution that addresses the root of the problem. This might involve revamping outdated practices, improving order processing systems, or switching to more reliable carrier services.
While tackling the question "Handle delayed shipment" remember, employers value the ability to take control, adopt creative problem-solving approaches, and ensure customer satisfaction despite hiccups.
Your answer should demonstrate readiness to accept responsibility, narrate proactive steps for resolution, and long-term planning to prevent future delays. Accentuating such qualities in your response will tag you as a remarkable candidate, one capable of turning even the most daunting problems into opportunities.
Strategies for Handling Delayed Shipment
| Strategy | Description | Outcome |
| --- | --- | --- |
| Communicate with the customer | Inform the customer about the delay, provide an estimated new delivery date, and apologize for the inconvenience. | Maintain customer satisfaction and build trust. |
| Offer alternative products or replacements | Present the customer with similar products or alternatives to meet their needs while waiting for the delayed shipment. | Ensure customer satisfaction and provide options. |
| Provide compensation or discounts | Offer compensation, such as a partial refund or discount on future purchases, as a gesture of goodwill for the inconvenience caused by the delay. | Earn customer loyalty and retain their business. |
| Improve internal processes | Analyze the root cause of the delay and implement changes or improvements in workflows and procedures to minimize future shipment delays. | Enhance operational efficiency and reduce future delays. |
| Monitor shipment progress | Keep a close eye on the status of the delayed shipment, communicate any updates to the customer, and take proactive measures to expedite its delivery. | Demonstrate proactive customer service and accelerate resolution. |
| Offer expedited delivery options | Provide the customer with additional shipping options, such as expedited or overnight delivery, to minimize the impact of the delay and ensure prompt delivery. | Satisfy customer expectations for faster delivery and mitigate the impact of the delay. |
Impact of Delayed Shipment on Business Operations
| Impact | Description | Consequences |
| --- | --- | --- |
| Loss of revenue | Delayed shipments can result in missed sales opportunities and lost revenue. | Decreased profitability and potential damage to the company's financial stability. |
| Customer dissatisfaction | Delayed shipments can lead to unhappy customers who may choose to take their business elsewhere. | Loss of customer loyalty, negative reviews, and potential damage to the company's reputation. |
| Operational disruptions | Delayed shipments can disrupt the company's supply chain and inventory management processes. | Inventory shortages, increased costs, and difficulties in fulfilling customer orders. |
| Higher customer service costs | Dealing with inquiries, complaints, and potential product returns from customers affected by delayed shipments. | Increased customer service workload and higher operational expenses. |
| Delayed production and manufacturing | Delays in receiving necessary materials or components can lead to production bottlenecks and reduced manufacturing efficiency. | Slower production output, potential missed deadlines, and potential loss of business opportunities. |
| Legal and contractual implications | Failure to fulfill delivery commitments can result in breach of contract claims or legal disputes. | Negative impact on the company's legal standing, potential financial liabilities, and damage to relationships with business partners. |
Customer Communication Methods for Delayed Shipments
| Method | Description | Advantages |
| --- | --- | --- |
| Email | Sending a written message to notify customers about the delay. | Allows for detailed explanations and can be easily archived for future reference. |
| Phone Call | Personally calling the customer to inform them of the delay. | Provides an opportunity for direct communication and allows for immediate feedback or questions. |
| Social Media | Posting an announcement on social media platforms to inform customers about the delay. | Reaches a wide audience quickly and allows for customer interaction through comments or direct messages. |
| Text Message | Sending a short message to customers' mobile phones to notify them of the delay. | Provides immediate notification and can be easily read on-the-go. |
| Website Banner | Placing a prominent banner on the company's website to alert customers about the delay. | Ensures that customers visiting the website are immediately informed about the delay. |
| Letter | Sending a physical letter to customers' mailing addresses to inform them of the delay. | Provides a formal and tangible notification that may be more easily retained by the customer. |
Similar interview questions:
What strategies can be used to manage a delayed shipment?

How to deal with the situation of a postponed delivery?

What are the best ways to cope with shipment delays?

How to handle the setback of a delayed shipment

In the event of a delayed shipment, what measures should be taken?

What steps can be taken to manage a situation where shipment is delayed?

Can you suggest some methods to handle a late delivery?

How to approach the challenge of a postponed shipment?

What to do when facing the difficulty of a delayed shipment?

What procedures can be followed to tackle the issue of a delayed shipment?

Handle delayed shipment?
handle delayed shipment
handle delayed shipment?
Yu Payne
Blogger
Yu Payne is an American professional who believes in personal growth. After studying The Art & Science of Transformational from Erickson College, she continuously seeks out new trainings to improve herself. She has been producing content for the IIENSTITU Blog since 2021. Her work has been featured on various platforms, including but not limited to: ThriveGlobal, TinyBuddha, and Addicted2Success. Yu aspires to help others reach their full potential and live their best lives.
Related Posts
Our team of experts is passionate about providing accurate and helpful information, and we're always updating our blog with new articles and videos. So if you're looking for reliable advice and informative content, be sure to check out our blog today.