Interview Questions
Interview Question: Logistics Future in 5-10 Years
14 September 2023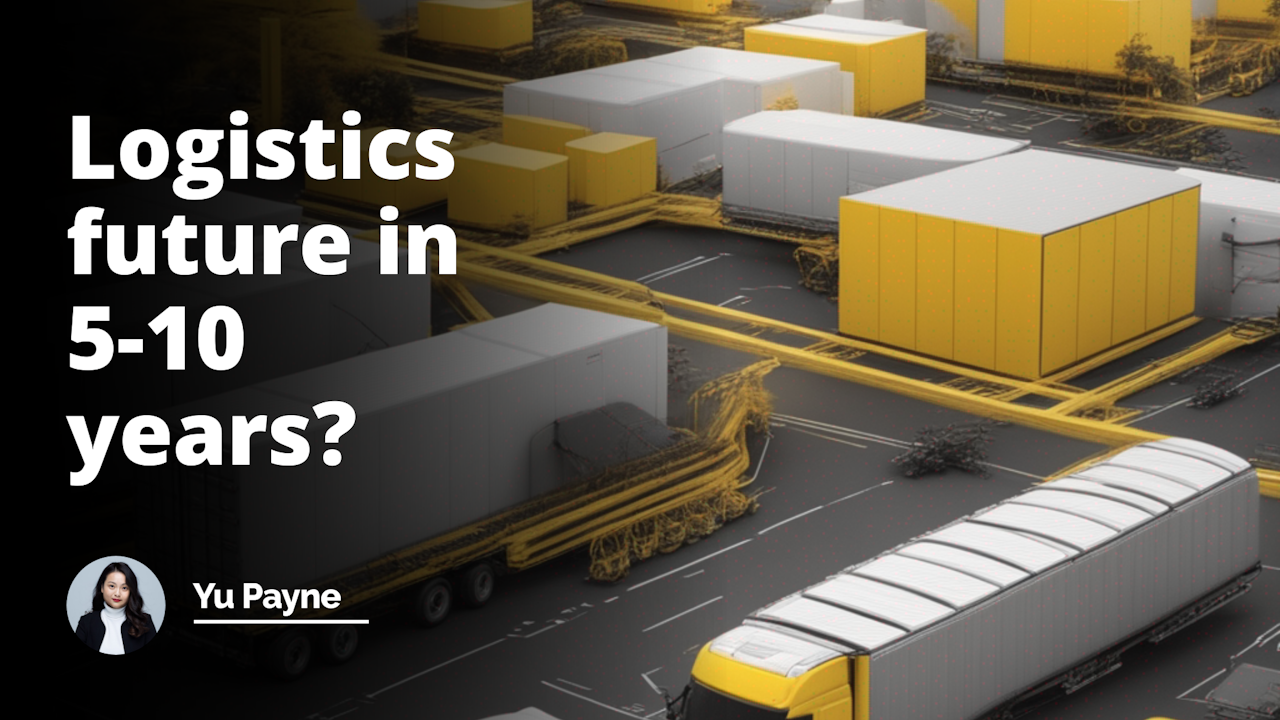 | Aspect | Present Scenario | Future Prediction |
| --- | --- | --- |
| Technology in Logistics | Emerging use of AI, Internet of Things, Big Data and autonomous vehicles for real-time tracking. | Increased dependence on technology for operational efficiency. Expect integration of technology in logistics with increased use of drones and AI. |
| Environmental Concerns | Growing awareness about carbon footprint and demand for sustainable operations. | Higher emphasis on green logistics. Increased push for environmental regulations in logistics. |
| Regulations in Logistics | Existing regulations on data security and environmental protection. | Anticipate more stringent regulations due to increased use of technology and environmental concerns. |
| Human Resource in Logistics | Current need for strategic thinking and adaptation to market trends. | Anticipate greater need for workforce training to handle advanced technology and understand complex regulations. |
| Customer Focus in Logistics | Growing demand for transparency and efficiency in logistics operations. | Increased demand for customer-focused services leading to higher customer experience standards. |
| Competition in Logistics | Competitive landscape with growing emphasis on operational efficiency. | Intense competition with innovation and customer focus as key differentiators. |
| Economic Landscape | Impact of global economics on supply chain and logistics. | Global economics' influence will continue to shape the progression of the logistics sector. |
| Data Security in Logistics | Current need for data protection with the increased use of technology. | Higher emphasis on data security due to greater reliance on technological innovations. |
| Supply Chain Management | Current reliance on efficient supply chain strategies for optimal logistics operations. | Increased integration of supply chain with technology, leading to greater efficiency and operational agility. |
| Challenges and Solutions | Present challenges include data security, regulatory compliance, and environmental concerns. | Anticipate complex challenges due to technological innovations, necessitating robust, strategic solutions. |
As digital disruptions forge their path into various industrial sectors and procure conspicuous changes, it's no surprise that logistic executives are left pondering over the concept of "Logistics future in 5-10 years."
Employers ask this particular question during an interview to gauge both the candidate's understanding of the ongoing industry trends and their ability to predict and adapt to potential shifts in the ecosystem.
The Purpose of the Question about Logistics Future in 5-10 Years
Now you may be wondering why such a futuristic question gets space in an interview setting. Interviewers aim to understand your vision and strategy for the future.
They are also interested in your ability to stay updated with current industry trends, anticipate changes, and prepare strategically for the transformations ahead.
With the sheer velocity at which technology is progressing, the logistics sector is expected to undergo profound transformation, and the company would want to ensure they are bringing somebody on board who is equipped to surf the tide of change, not get swept away by it.
At what interview level is it asked?
The question, "Logistics future in 5-10 years," is most likely to surface in mid-level to senior executive interviews, mainly in the operations, logistics management, or supply chain verticals.
Related Course: Logistics Certificate Programs
This is because these roles require a comprehensive understanding, foresight, strategic thinking, and the ability to adapt to market trends and technological advancements.
Not only is this question likely in job interviews, it may also arise in project pitches, strategy sessions, and stakeholder meetings.
What Kind of Answer is Expected from the Candidate?
The best responses to this question should showcase your sharp insight into the ongoing trends in the logistics sector, coupled with well-reasoned predictions rooted in logic and evidence.
The response should reflect the comprehension of various dimensions - technology, regulation, human resource, environment, and competition.
Remember, there is no "right" answer. The interviewer is not looking for crystal-ball gazing but an analytical and thoughtful answer, fostering animated discussion around the topic.
Possible Answers to Consider
So, how would a sterling response to "Logistics future in 5-10 years" look like? Here's a glimpse:
"In my perspective, the logistics sector in the next 5-10 years bears the possibility of revolutionized by technology. Real-time tracking, autonomous vehicles, drone delivery, and AI-enhanced operational efficiency will gain more ground.
We can anticipate a shift towards an integrated eco-system, leveraging Internet of Things, big data, and blockchain technology. These changes would render the logistics sector more transparent, efficient, and customer-focused. However, these developments will bring their unique challenges such as data security and stringent regulations."
When Considering Your Response
When deliberating your response to "Logistics future in 5-10 years," drive your focus towards current trends and their potential escalation, based on technological advancements, economic landscape, environmental concerns, and changing customer demands.
Position your response aligning with the company's vision, but don't shy away from talking about challenges and the actions needed to counter them.
In conclusion, when confronted with the question, "Logistics future in 5-10 years," it's your opportunity to Marco Polo your way into the future of logistics - navigate with insight, curiosity, and analytical thinking, and you are bound to leave an indelible mark.
Remember, the industry's future is not just about science fiction-style tech but also about people, policies, and practices. Figures and stats might forget, but they'll remember how you made them think - so steer the wheel and ride into the future.
Technology Innovations Impacting Future of Logistics
| Technology Innovation | Impact on Logistics | Examples |
| --- | --- | --- |
| Internet of Things (IoT) | Real-time tracking of shipments, increased transparency and efficiency in supply chain | RFID tags, smart sensors |
| Artificial Intelligence (AI) | Automated and optimized route planning, demand forecasting, and inventory management | Chatbots, machine learning algorithms |
| Blockchain | Enhanced security and traceability, reduced paperwork and costs in supply chain transactions | Smart contracts, distributed ledgers |
| Autonomous Vehicles | Reduced labor costs, improved delivery speed, and increased safety | Self-driving trucks, delivery drones |
| Robotics and Automation | Efficient warehouse operations, faster order fulfillment, reducing human errors | Automated picking and sorting systems, robotic palletizers |
| Big Data Analytics | Improved supply chain visibility, predictive maintenance, and better decision-making | Data visualization tools, predictive analytics software |
Predicted Trends in Global Supply Chain Management
| Trend | Impact | Examples |
| --- | --- | --- |
| Digitization | Increased visibility and efficiency | Adoption of IoT and blockchain technology |
| Sustainability | Eco-friendly practices and reduced carbon footprint | Use of renewable energy sources and optimizing transport routes |
| Automation | Improved productivity and reduced labor costs | Introduction of robotics and artificial intelligence |
| Supply chain resilience | Reduced vulnerability to disruptions | Building redundancy into the supply chain and implementing risk management strategies |
| Ethical sourcing | Enhanced brand reputation and customer loyalty | Ensuring fair labor practices and responsible sourcing of raw materials |
| Supply chain collaboration | Improved coordination and communication | Partnerships and alliances between suppliers, manufacturers, and distributors |
Potential Challenges and Solutions in Logistics for the Next Decade
| Potential Challenges | Solutions | Impact |
| --- | --- | --- |
| Driver shortage | Invest in driver recruitment and training programs, explore autonomous vehicle technology, and implement driver retention strategies | Ensuring sufficient human resources and minimizing disruptions in transportation operations |
| Increasing fuel costs | Adopt eco-friendly practices, optimize fuel consumption through route planning and load consolidation, and explore alternative energy sources | Reducing transportation costs and minimizing the carbon footprint |
| Rising customer expectations | Leverage advanced technology for real-time tracking and visibility, enhance customer communication and experience through mobile apps and online portals | Meeting customer demands and differentiating from competitors |
| Infrastructure limitations | Advocate for improved infrastructure investments, collaborate with government and private entities to address critical bottlenecks, explore innovative solutions such as drones for last-mile delivery | Improving supply chain efficiency and reducing transit time |
| Cybersecurity threats | Implement robust data encryption and protection measures, conduct regular cybersecurity audits, educate employees on cyber risks and best practices | Protecting sensitive information and maintaining business continuity |
| Changing trade regulations | Stay updated on international trade policies and regulations, establish strong relationships with customs brokers and trade partners, implement efficient customs processes | Ensuring compliance with trade laws and minimizing disruptions in cross-border shipments |
Similar interview questions:
What will the landscape of logistics look like in the next 5-10 years?

How do you envision the future of logistics in the next decade?

What advancements could the logistics industry experience in the next 5-10 years?

Can you predict any major changes in the logistics sector in the forthcoming decade?

How will logistics evolve in the next 5-10 years?

What innovations might take place in the logistics industry in the next 5-10 years?

How may the logistics field change in the course of the next five to ten years?

What transformations do you anticipate in the logistics sector moving forward the next 5-10 years?

What might be different about logistics in 5-10 years as compared to now?

In your opinion, how might the logistics industry reshape itself in the next 5 to 10 years?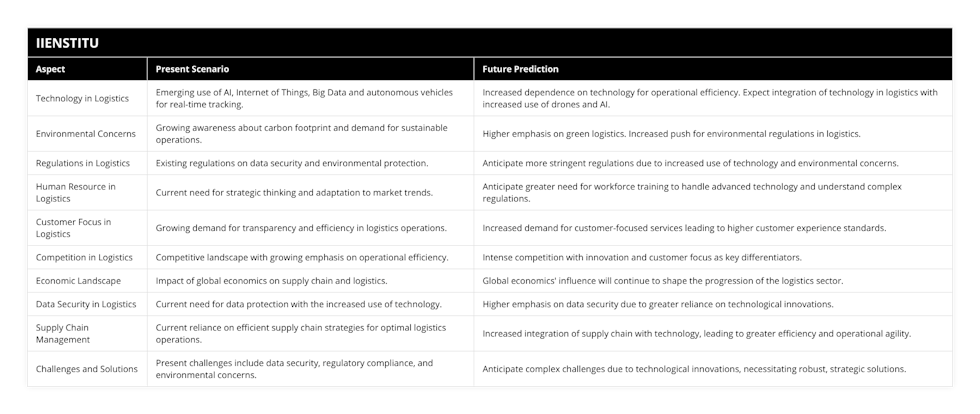 Logistics future in 5-10 years?
logistics future in 5 10 years
logistics future in 5-10 years?
Yu Payne
Blogger
Yu Payne is an American professional who believes in personal growth. After studying The Art & Science of Transformational from Erickson College, she continuously seeks out new trainings to improve herself. She has been producing content for the IIENSTITU Blog since 2021. Her work has been featured on various platforms, including but not limited to: ThriveGlobal, TinyBuddha, and Addicted2Success. Yu aspires to help others reach their full potential and live their best lives.
Related Posts
Our team of experts is passionate about providing accurate and helpful information, and we're always updating our blog with new articles and videos. So if you're looking for reliable advice and informative content, be sure to check out our blog today.