Interview Questions
Interview Question: Value in Logistics Culture?
14 September 2023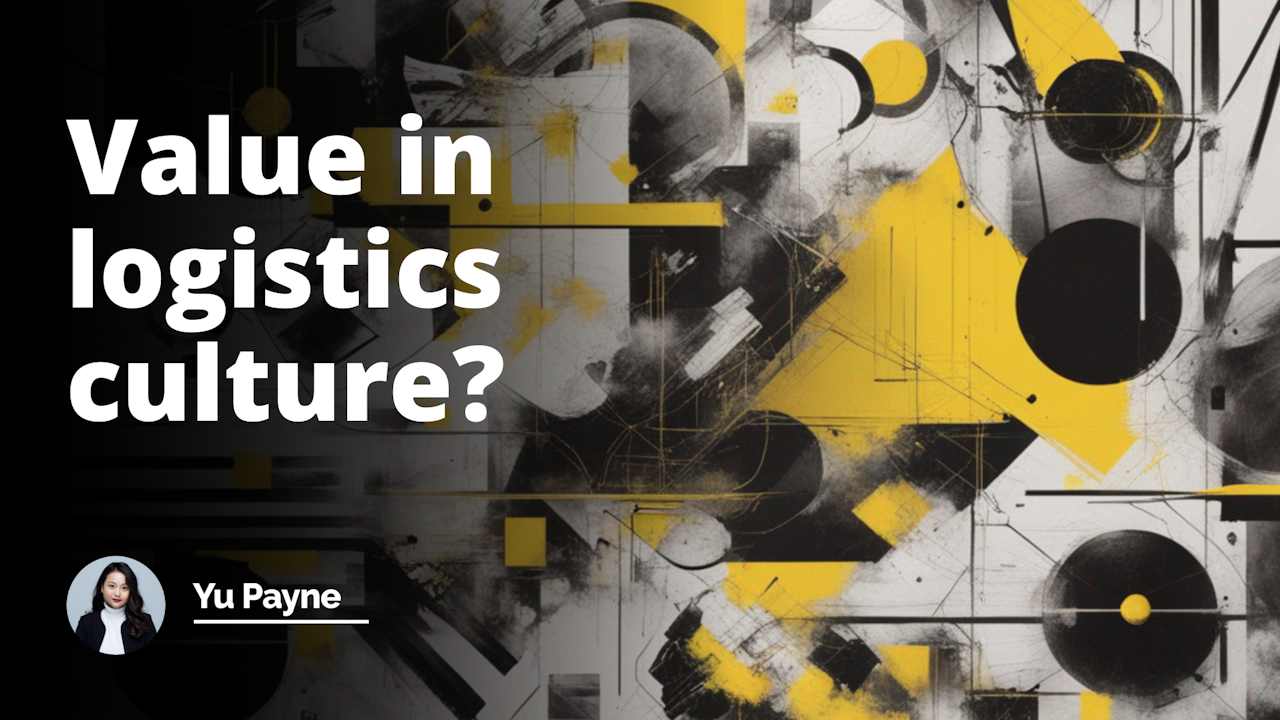 | Elements | Explanation | Possible Answer/Scenario |
| --- | --- | --- |
| Value in Logistics Culture | An expression of understanding the company's core values and their importance in logistics | A strong logistics culture values transparency and accountability which ensure effective communication and addressing of issues |
| Strategic Thinking | Shown by understanding how people, resources, and processes work together to create operational and commercial ROI for the company | Effective teamwork culture leads to open communication and smoother coordination among warehouse personnel |
| Interdepartmental Collaboration | The ability to articulate experiences especially in contexts requiring seamless interdepartmental collaboration | Discuss previous scenarios where cooperation between departments had a positive impact on overall delivery on time |
| Process Optimization | Understands the importance of optimizing processes for operational efficiency | Provide experience from past situations on how you introduced process innovations leading to efficiency |
| Operational Efficiency | Candidates must demonstrate their knowledge in streamlining operations to maximize productivity | Describe how you implemented changes to remove redundancy in logistics processes |
| Teamwork | Perceives the importance of teamwork in a logistics environment | Talk about how valuing teamwork has led to more streamlined warehouse operations |
| Continuous Learning | Values the significance of ongoing learning and improvement in logistics workflows | Discuss how a culture supporting continuous learning cultivates process innovations |
| Company's Core Values | Emphasizes the organization's fundamental principles applied in logistics operations | Illustrate the company's core values and how they might be applied in day-to-day operations |
| Cultural Aspects in Logistics | Balancing cultural understanding with operational aspects in the logistics field | Discuss how aligning company culture with operational aspects reaps productivity gains |
| Authenticity | Ability to provide personal experiences interwoven into the answers which add authenticity | Share personal examples where values impacted logistical operations positively |
The question of "Value in logistics culture" has grown in popularity in job interviews across various industries. Why specifically this question?
The reason lies in its depth—it indirectly finds out if the candidate can comprehend and add to the corporate culture in the most crucial areas of a business, i.e., logistics.
A correct response reveals the candidate's acumen in strategic thinking, understanding people, resources, and processes, and how these dynamics work together to create operational and commercial ROI for the company.
Purpose of asking: Value in Logistics Culture
The primary purpose of this interview question is to evaluate the candidate's understanding of the company's core values and their importance in logistics.
It tests the candidate's ability to articulate their experiences and perceptions, especially in contexts that require interdepartmental collaboration, process optimization, and operational efficiency.
The entire idea aligns with business principles, including teamwork, process optimization, customer satisfaction, or continuous learning.
Thus, the objective is not just to evaluate the candidate's theoretical knowledge but their practical understanding and ability to see how these values can be embedded in the day-to-day logistics operations.
At what interview level is "Value in Logistics Culture" asked?
The "Value in logistics culture" question is mainly levelled at mid to senior management position interviews where the candidate is expected to understand business operations beyond a superficial level.
This could be during interviews for positions like supply chain manager, logistics manager, or vice president of operations. However, the level isn't restricted, and the question may still appear in any interview associated with logistics or supply chain roles.
What Kind of Answer is Expected from the Candidate?
The candidate is expected to articulate an intricate understanding of strategic importance and value creation in logistics. A well-rounded answer would balance both the cultural and operational aspects of logistics.
For instance, the candidate can talk about how a strong teamwork culture could lead to open communication and smoother coordination among warehouse personnel, thereby reducing errors and redundancy in logistics.
They could also talk about how an embedded culture of continuous learning leads to constant process innovations.
Possible Answers to Consider to "Value in Logistics Culture"
A suitable answer would validate your understanding of the importance that culture plays in the logistics department. An example could be, "I believe in a strong logistics culture, the values of transparency and accountability are indispensable. These cultural elements ensure that issues related to procurement, inventory management, or distribution are communicated and addressed effectively."
Summing Up: What to Consider When Answering this Question
When faced with the question, "Value in logistics culture" during an interview, candidates need to demonstrate their understanding of both culture and logistics operation.
It is essential to understand that an effective logistics culture varies from one organization to another. What suits one company may not necessarily fit another, and therefore, understanding the company's core values is crucial when preparing for the interview.
Moreover, it's always a good idea to intertwine your personal experiences in the answer. Not only does this make your response more authentic, but it also presents a tangible representation of your understanding, thereby increasing the chance of leaving a lasting impression on the interviewers.
Always remember, the question isn't about getting an absolutely correct answer, but rather the ability to align logistical operations with fundamental principles for enhancing overall productivity and efficiency
Now, are you ready to navigate the "Value in logistics culture" question at your next interview?
Good luck! Complete authenticity and a firm grip on your realities will certainly steer you towards a favorable outcome.
Key Elements in an Effective Logistics Culture
| Key Elements | Description | Example |
| --- | --- | --- |
| Clear Communication | Effective communication between all levels of the logistics team. | Regular team meetings to discuss goals, challenges, and progress. |
| Strong Leadership | Experienced leaders who provide direction, guidance, and support to the logistics team. | Managers who set clear objectives and provide ongoing training and mentorship. |
| Collaboration | Working together across departments and with external partners to streamline processes and improve efficiency. | Regular collaboration with suppliers and transportation providers to optimize inventory levels and delivery schedules. |
| Continuous Improvement | A commitment to identifying and implementing new strategies, technologies, and best practices to enhance logistics operations. | Regular evaluation of key performance indicators (KPIs) and implementation of process improvement initiatives. |
| Adaptability | Ability to quickly respond and adapt to changing market conditions, customer demands, and unforeseen events. | Flexible logistics networks that can scale up or down based on demand fluctuations. |
| Data-driven Decision Making | Using accurate and timely data to make informed decisions and optimize logistics processes. | Utilizing data analytics tools to identify trends, forecast demand, and optimize inventory levels. |
The Impact of Organizational Culture on Logistics Performance
| Organizational Culture | Logistics Performance | Impact |
| --- | --- | --- |
| Flexible and Open | Improved | Positive |
| Innovative and Adaptive | Enhanced | Positive |
| Collaborative and Team-oriented | Streamlined | Positive |
| Hierarchical and Authoritative | Limited | Negative |
| Resistance to Change | Inhibited | Negative |
| Lack of Communication | Inefficient | Negative |
Comparative Analysis of Cultural Values in Global Logistics Industries
| Cultural Value | Global Logistics Industry A | Global Logistics Industry B |
| --- | --- | --- |
| Individualism vs Collectivism | Individualistic culture, emphasizing personal achievement and autonomy | Collectivist culture, emphasizing teamwork and group harmony |
| Uncertainty Avoidance | Prefer structured work environments, rules, and regulations | More accepting of ambiguity and uncertainty |
| Power Distance | Hierarchical structure, respect for authority and seniority | Flatter organizational structure, less emphasis on formal hierarchies |
| Long-term vs Short-term Orientation | Long-term orientation, emphasizing perseverance, thrift, and tradition | Short-term orientation, emphasizing immediate results and adapting to change |
| Masculinity vs Femininity | Masculine culture, emphasizing competition, achievement, assertiveness | Feminine culture, emphasizing collaboration, modesty, caring for others |
| Time Orientation | Monochronic culture, emphasizing punctuality and adherence to schedules | Polychronic culture, more flexible with time and less strict adherence to schedules |
Similar interview questions:
How is value reflected in the culture of logistics?

Can you discuss the importance of value within logistics culture?

What role does value play in the culture of logistics?

Why is value significant in a logistics culture?

How does value contribute to the cultural aspects of logistics?

What is the importance of expressing value in a logistics-oriented culture?

In what ways does value manifest itself in the culture of logistics?

Could you explain the correlation between value and the culture within logistics?

How would you interpret the role of value in shaping the culture of logistics?

How integral is the aspect of value in defining the culture in logistics?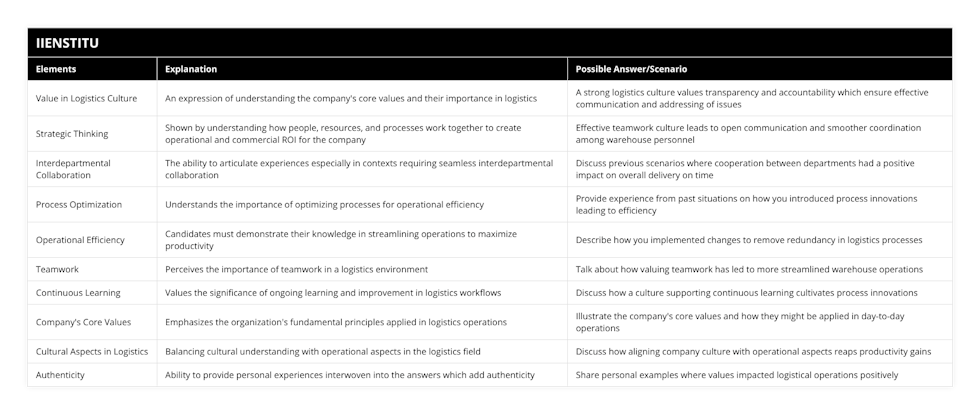 Value in logistics culture?
value in logistics culture
value in logistics culture?
Yu Payne
Blogger
Yu Payne is an American professional who believes in personal growth. After studying The Art & Science of Transformational from Erickson College, she continuously seeks out new trainings to improve herself. She has been producing content for the IIENSTITU Blog since 2021. Her work has been featured on various platforms, including but not limited to: ThriveGlobal, TinyBuddha, and Addicted2Success. Yu aspires to help others reach their full potential and live their best lives.
Related Posts
Our team of experts is passionate about providing accurate and helpful information, and we're always updating our blog with new articles and videos. So if you're looking for reliable advice and informative content, be sure to check out our blog today.