Interview Questions
Interview Question: Used Analytics in Logistics
13 September 2023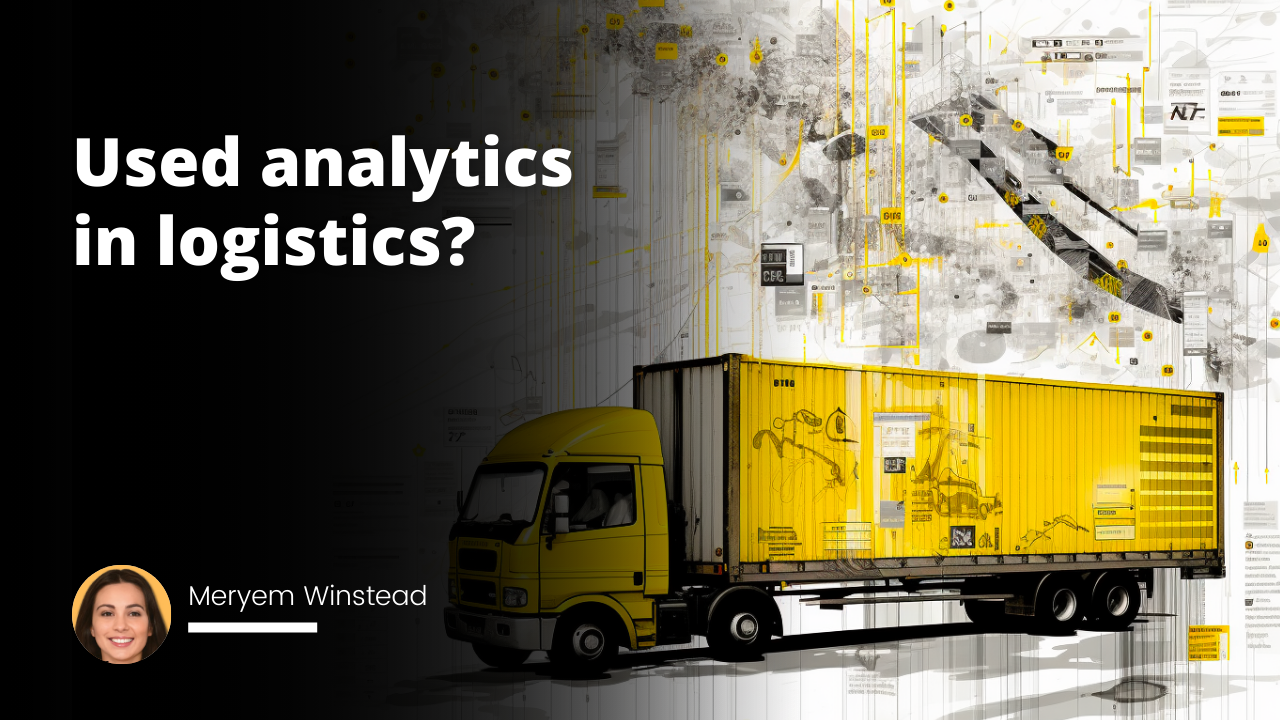 | Key Point | Explanation | Example |
| --- | --- | --- |
| Use of analytics in logistics | Assessment of candidate's expertise in data-driven decision-making, usage of analytical tools, and experience in enhancing logistics performance. | Implementing real-time tracking or predictive analytics for accurate demand forecasting. |
| Question asked in interview | Commonly asked in mid to senior-level job interviews. Can also appear in entry-level interviews for roles involving data handling and analytical decision-making. | Interviews for positions in logistics, supply chain, or a related field. |
| Expected response to question | Description of practical experience with analytics in logistics, not a mere 'yes' or 'no' answer. | Example usage of analytics for supply chain optimization, demand forecasting, or tracking. |
| Identifying KPIs | Key performance indicators are critical for monitoring the performance of logistics operations using data analytics. | Reduction in transit times, improvement in customer satisfaction, or decrease in stockouts. |
| Utilizing predictive analytics | Predictive analytics can be used for demand forecasting to optimize inventory management. | Avoiding overstock and understock situations. |
| Real-time analytics | Real-time tracking of logistics can improve decision-making and efficiency. | Tracking shipments in real-time to proactively address delays. |
| Efficiency and cost-effectiveness | Effective use of analytics can improve operational efficiency and make the operations more cost-effective. | Inventory optimization, efficient route planning. |
| Enhancing customer satisfaction | Analytics can be used to improve service delivery and enhance customer satisfaction. | Use of analytics to improve delivery times and reduce order errors. |
| Significance of analytics in logistics | Analytics plays a substantial role in modern logistics management enabling firms to make informed decisions and solve complex problems. | Better forecasting, inventory management and route planning. |
| Interconnection of analytics and logistics | Analytics provides the necessary insights for the advancement of logistical operations by making it more data-driven. | Implementing Machine Learning algorithms for warehouse automation or optimizing delivery routes. |
Understandably, a question such as "Used analytics in logistics" might pop up during a job interview especially in the logistics or supply chain industry.
The question seems direct and straightforward, however, it is more layered than it initially appears. The underlying purpose of this question is to assess whether candidates have experience in using data analytics within a logistics environment.
This demand stems from the industry where data-driven decision-making is increasingly taking the centre stage and reshaping traditional logistics and supply chain operations.
The Purpose of The Question: Have you used analytics in logistics?
Logistics is a complex field that involves orchestration of numerous tasks including procurement, inventory management, warehousing, transportation, and delivery.
With the advent of big data and sophisticated analytical tools, the scope of logistics has expanded significantly.
Hence, when a recruiter asks, "Have you used analytics in logistics?", they are aiming to understand your experience with data-driven decision-making, knowledge of analytical tools, abilities in leveraging insights from raw data, and how you have applied these skills to enhance operational efficiency and performance in a logistics environment.
This question is not just about whether you have used analytical tools, but it also delves further into how you have applied the insights you gathered through these tools to make informed decisions or solve complex logistical problems.
At What Interview Level is The Question Asked?
Typically, "Have you used analytics in logistics?" is a question that is posed at mid to senior-level job interviews within the logistics, warehousing, supply chain, or any related field.
However, given the increasing adoption of analytics in various industries, it's not unusual for such questions to also feature in entry-level interviews, especially if the job role involves data handling or decision-making based on analytical insights.
What Kind of Answer is Expected from The Candidate?
The expected response to this question is not a simple 'yes' or 'no'. The interviewer is in quest of an illustrative response that demonstrates your practical experience and understanding of using analytics in logistics.
A well-constructed answer would include specific examples of when and how you have utilised analytical tools in your previous roles, what challenges you faced, how you mitigated these issues, and what were the results on operational efficiency and performance.
A proficient candidate might discuss identifying key performance indicators (KPIs), developing analytical models, using predictive analytics for demand forecasting, or how real-time analytics improved decision-making in supply chain operations.
Possible Answers to Consider for "Used analytics in Logistics?"
When articulating your experience with the use of analytics in logistics, refer to specific instances that highlight your analytical skills, logical reasoning, decision-making abilities, and familiarity with analytics tools. Here's an example of how you might structure your response:
"In my previous role at XYZ logistics, I used data analytics in a variety of ways. I primarily utilised it to implement real-time tracking, which reduced transit times and improved customer satisfaction. I also used predictive analytics for accurate demand forecasting which helped the procurement team to streamline their processes, thereby reducing stockouts and overstock situations.
In essence, my experience with using analytics in logistics has shown me its indispensable value in enhancing operational efficiency, cost-effectiveness, and customer satisfaction in a logistics environment."
Remember, comprehending how and why "used analytics in logistics?" is asked, will enable you to provide an authoritative and well-constructed response, leaving a memorable impression on the interviewer.
However, like any other question, being genuine about your experience and capabilities is equally important. After all, the end goal is not just to land the job but to find a role where your skills and abilities can truly shine.
Predictive Analytics for Supply Chain Optimization
| Application | Benefits | Challenges |
| --- | --- | --- |
| Demand forecasting | Improved customer service, optimized inventory levels | Accurate historical data availability, data quality |
| Inventory optimization | Reduced holding costs, minimized stockouts | Complex network structures, demand volatility |
| Order fulfillment optimization | Improved order accuracy, reduced lead times | Integration with multiple systems, real-time data availability |
| Route optimization | Reduced transportation costs, increased delivery efficiency | Dynamic routing constraints, real-time data availability |
| Supplier selection and management | Improved supplier performance, cost savings | Data visibility, supplier collaboration |
| Risk assessment and management | Identifying and mitigating supply chain risks | Data availability, accuracy of risk models |
Table Provide Information about Individuals and Their Respective Ages and Locations
| Name | Age | City |
| --- | --- | --- |
| John | 25 | New York |
| Emma | 32 | London |
| Michael | 45 | Sydney |
| Sophia | 29 | Paris |
| Daniel | 38 | Tokyo |
| Olivia | 27 | Berlin |
Utilization of Analytics in Warehouse Management
| Benefits | Examples | Techniques |
| --- | --- | --- |
| Optimized inventory management | Reduced stockouts and excess inventory | Demand forecasting, inventory optimization |
| Improved operational efficiency | Streamlined order picking and packing | Optimization algorithms, process automation |
| Enhanced labor productivity | Efficient resource allocation and scheduling | Workforce planning, performance analytics |
| Reduced operational costs | Minimized transportation expenses | Route optimization, fuel consumption analysis |
| Increased customer satisfaction | Faster order fulfillment, accurate delivery | Real-time tracking, delivery performance analysis |
| Better decision-making | Data-driven insights for process improvement | Data analytics, predictive modeling |
Similar interview questions:
How has analytics been utilized in logistics?

Can you explain the application of analytics in logistics?

What is the role of analytics in logistics?

In what ways are analytics applied in the field of logistics?

How significant is the use of analytics in managing logistics?

Can you provide examples of how analytics is used in logistics?

What are the benefits of using analytics in the logistics sector?

How can we apply analytics to improve logistics operations?

How does the use of analytics enhance efficiency in logistics?

How are analytics and logistics interconnected?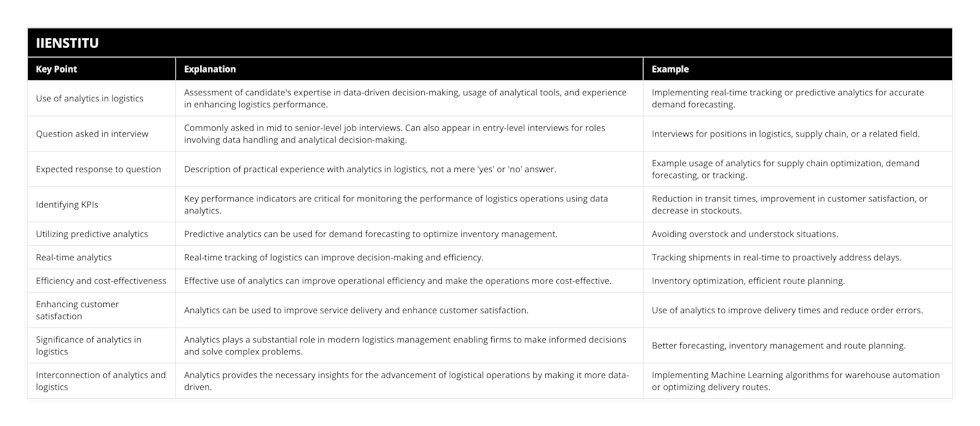 Used analytics in logistics?
used analytics in logistics
used analytics in logistics?
Yu Payne
Blogger
Yu Payne is an American professional who believes in personal growth. After studying The Art & Science of Transformational from Erickson College, she continuously seeks out new trainings to improve herself. She has been producing content for the IIENSTITU Blog since 2021. Her work has been featured on various platforms, including but not limited to: ThriveGlobal, TinyBuddha, and Addicted2Success. Yu aspires to help others reach their full potential and live their best lives.
Related Posts
Our team of experts is passionate about providing accurate and helpful information, and we're always updating our blog with new articles and videos. So if you're looking for reliable advice and informative content, be sure to check out our blog today.