Interview Questions
Interview Question: Align Team in Logistics
14 September 2023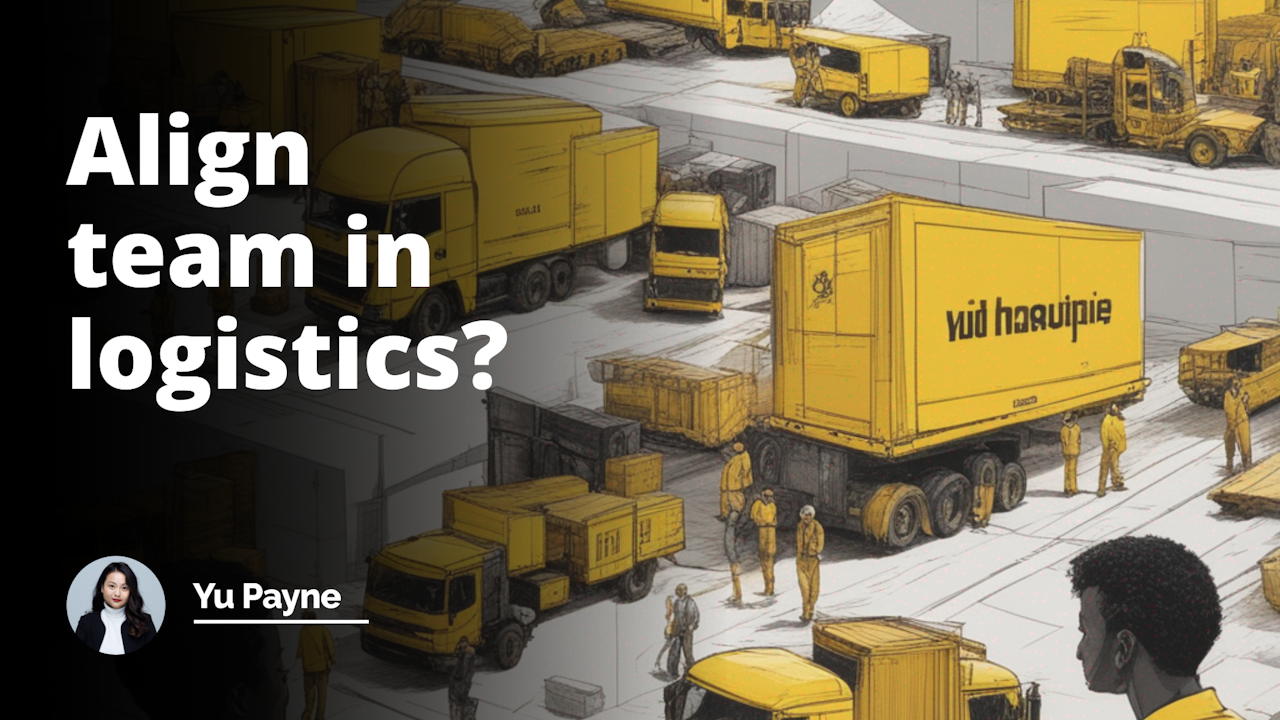 | Key Aspect | Importance in Team Alignment | Examples/Solutions |
| --- | --- | --- |
| Shared vision and goals | Serves as the guiding principle for cohesive effort. | Hold team discussions to establish and agree on vision and goals. |
| Task delegation based on strength | Enhances efficiency and productivity. | Define roles based on individual strengths and expertise. |
| Open communication | Ensures a clear understanding of tasks, fosters transparency, and boosts motivation. | Implement regular team meetings, open door policy. |
| Routine progress check | Helps in quickly addressing issues and maintaining focus towards common goals. | Set up regular update meetings or progress report systems. |
| Workflow optimization | Streamlines processes, saving time and resources. | Implement lean processes, automate repetitive tasks. |
| Leadership | Vertical alignment, crucial in guiding the team's pathway to the goals. | Leading by example, coaching and mentoring. |
| Use of relevant software/tools | Aids in project management, time tracking and enhances productivity. | Use of project management tools like Asana, Trello etc. |
| Team building activities | Fosters team spirit, trust and improves collaboration. | Routine team building exercises, retreats. |
| Organizational culture initiatives | Promote values such as teamwork, mutual respect and integrity. | Implementing code of conduct, reward systems. |
| Strategic planning | Ensures efficient use of resources and smooth flow of operations. | Development of comprehensive strategic plans. |
The interview question "Align team in logistics?" is frequently asked because it unveils essential aspects of teamwork, alignment, and strategic planning skills within a logistics setting. Logistics is a field that is centered around management, organization, and efficiency.
Finding individuals capable of aligning a team to work in symbiosis towards common objectives in such a complex and dynamic environment becomes part of the recruiter's mission.
So, is your solution to align a team in logistics? Let's unlock the enigma!
The Purpose of the Question: Align team in logistics
The main purpose of asking, "How would you align a team in logistics?" is to judge a candidate's ability to inspire, organize, and drive a team towards collective goals.
In the logistics field, alignment is a critical part of ensuring efficiency and productivity, with a clear understanding of how to manage resources, time, and workforce.
Moreover, alignment also involves an understanding of how to navigate the often unpredictable challenges that arise within a logistics framework while keeping the team motivated and focused.
At What Interview Level Is It Asked?
The query, "Align team in logistics?" typically comes up at the managerial and supervisory interview levels, although it may also appear in general employee interviews for larger logistics operations.
If you're being interviewed for a role that involves oversight, team management, or strategic planning within a logistics environment, anticipate this question.
What Kind Of Answer Is Expected From the Candidate?
Responding to the question, "Align team in logistics?" requires showcasing strategic thought, leadership, and understanding of the logistics field.
Related Course: Leadership Training Course
Employers expect concise, structured, and detailed answers that exemplify your knowledge of team dynamics, coordination, and logistic operations. Do provide examples from your previous experience where you successfully aligned team efforts towards achieving specific objectives.
Possible Answers to Consider
When faced with the question "align team in logistics?" consider responding in this manner:
"Aligning a team involves developing a shared vision and goals. I would start by clearly defining the objectives to the team. Then, I would delegate tasks based on each member's strengths, always ensuring open lines of communication for feedback and questions.
I believe in routinely checking progress and addressing any issues or delays promptly to keep the team on track. In my previous role at XYZ Logistics, I enhanced team alignment by implementing regular team meetings and optimization of workflows, which led to a 30% increase in efficiency."
However, do mention specific strategies you plan to employ, any relevant software or tools, and any team-building activities or organizational culture initiatives you think are important.
Remember, aligning a team in logistics is no easy task – it requires strategic acumen, leadership skills, and a keen understanding of the dynamics within a logistics operation. Impress your interviewer with your knowledge and confidence.
After all, a well-aligned team in logistics is an unstoppable force in a well-oiled supply chain operation. So brush up your alignment expertise and get ready to ace your interview!
Key Performance Indicators in Logistics Team Alignment
| Key Performance Indicators | Logistics Team Alignment | Measurement |
| --- | --- | --- |
| On-time delivery | Percentage of deliveries made on time | Percentage |
| Inventory accuracy | Percentage of inventory accuracy | Percentage |
| Warehouse productivity | Number of orders picked per hour | Orders per hour |
| Transportation cost | Cost of transportation per unit | Cost per unit |
| Customer satisfaction | Percentage of satisfied customers | Percentage |
| Employee turnover | Percentage of employees retained | Percentage |
Table of Example Personal Information for Communicate in Logistics Team
| Name | Age | City |
| --- | --- | --- |
| John | 25 | New York |
| Sarah | 32 | London |
| Michael | 40 | Paris |
| Emily | 22 | Tokyo |
| David | 28 | Sydney |
| Sophia | 35 | Rome |
Strategies for Effective Communication in Logistics Team
| Strategy | Description | Example |
| --- | --- | --- |
| Establish clear communication channels | Ensure that there are designated channels for communication within the logistics team, such as team meetings, email, or instant messaging platforms. | Hold regular team meetings to provide updates and discuss important information. |
| Encourage active listening | Promote active listening by team members to improve understanding and avoid miscommunication. | Practice reflective listening by summarizing what others have said to ensure comprehension. |
| Use visual aids | Utilize visual aids like charts, diagrams, or graphs to communicate complex information more effectively. | Create a visual representation of the logistics flow to help team members understand the process better. |
| Provide timely feedback | Offer constructive feedback promptly to address any issues or make improvements in communication. | Regularly review team members' performance and provide feedback on their communication skills. |
| Promote transparency | Encourage open and honest communication within the team to foster trust and collaboration. | Share relevant information and updates with the entire team to ensure everyone is informed. |
| Establish protocols for handling conflicts | Create guidelines for handling conflicts that may arise within the team to address issues and maintain a positive working environment. | Designate a mediator or facilitator who can help resolve conflicts between team members. |
Similar interview questions:
How can you effectively align your logistics team?

What are the strategies to align a logistics team?

What steps should be taken to ensure a logistics team is aligned?

Can you illustrate some ways to align a team working in logistics?

What are your recommendations for aligning a team involved in logistics?

Could you identify the methods to ensure alignment within a logistics team?

In terms of logistics, how do you align your team for effective performance?

How can alignment be achieved within a team handling logistics?

What's your strategy to ensure your logistics team is properly aligned?

In your opinion, how do you ensure that your team in logistics is aligned and working towards the same goal?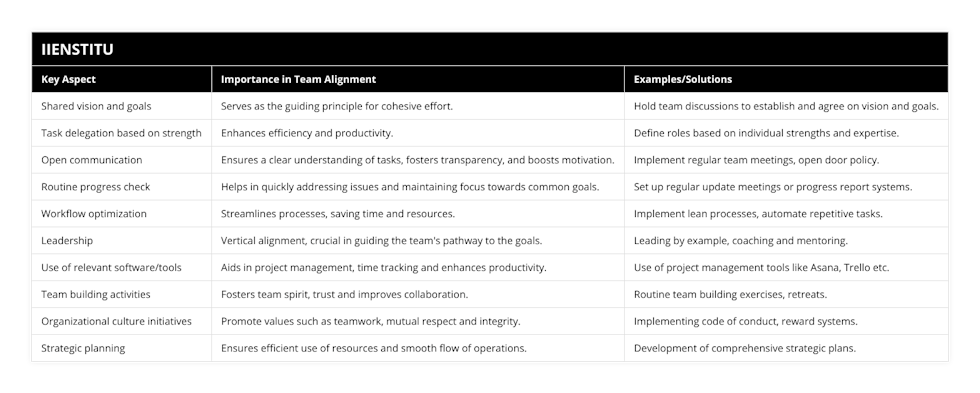 Align team in logistics?
align team in logistics
align team in logistics?
Yu Payne
Blogger
Yu Payne is an American professional who believes in personal growth. After studying The Art & Science of Transformational from Erickson College, she continuously seeks out new trainings to improve herself. She has been producing content for the IIENSTITU Blog since 2021. Her work has been featured on various platforms, including but not limited to: ThriveGlobal, TinyBuddha, and Addicted2Success. Yu aspires to help others reach their full potential and live their best lives.
Related Posts
Our team of experts is passionate about providing accurate and helpful information, and we're always updating our blog with new articles and videos. So if you're looking for reliable advice and informative content, be sure to check out our blog today.