Interview Questions
Interview Question: AI, Drones in Logistics Future
14 September 2023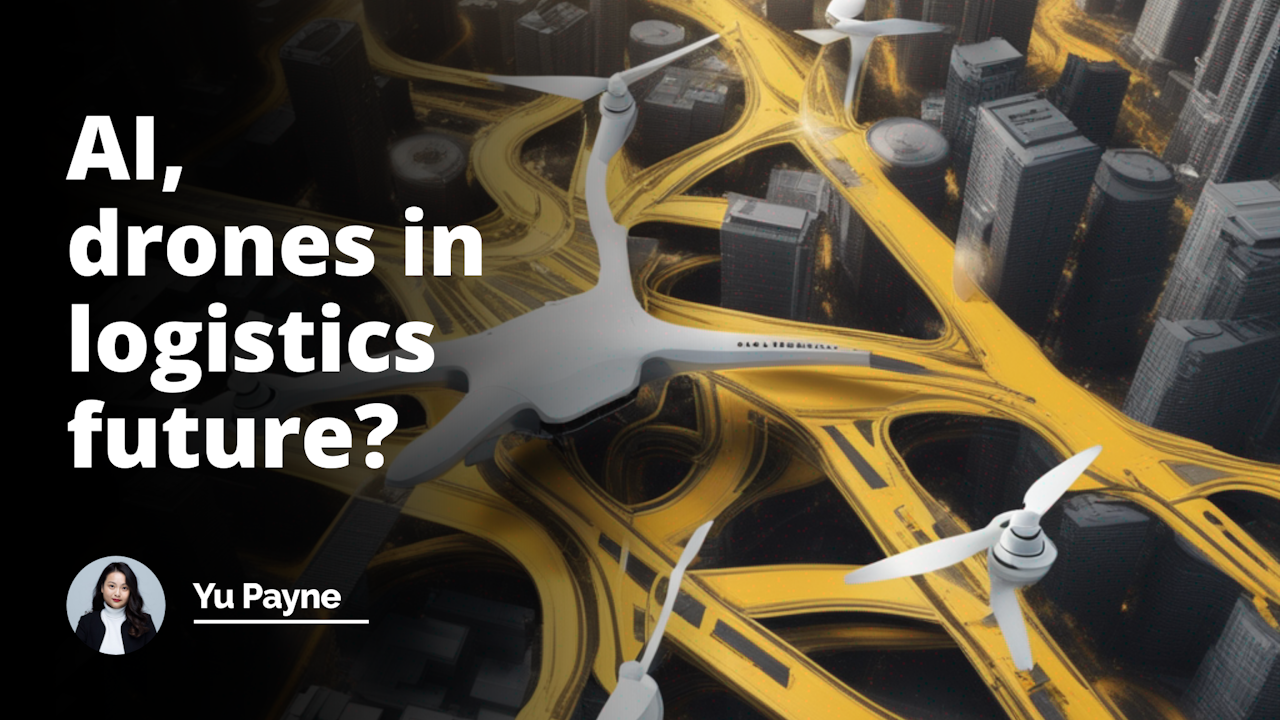 | Topics | Key Points | Implications |
| --- | --- | --- |
| Role of AI and drones in logistics | Acceleration of delivery times, lower freight costs, increased customer satisfaction | Optimized efficiency, tangible cost reductions, improved customer experience |
| Challenges faced | Regulatory hurdles, infrastructural issues, ethical implications, job losses, risk of unmanned operation, privacy concerns | Need for legal framework modifications, infrastructural development, ethical guidelines, and risk management |
| AI's role in drone technology | Enhancement of drones' operational efficiency and decision-making autonomy | Greater operational dependability and reduced human intervention |
| Impact of AI and drones on logistics industry | Streamlined logistics, faster and efficient operations | Revolutionized logistics industry, potential industry dominance |
| Participant level of this question | Mid to senior-level roles relating to logistics, supply chain, or management sphere | Relevance to experienced professionals in the field and forward-thinking businesses |
| Expected answer attributes | Understanding of AI and drone technology and their potential, awareness of challenges and solutions, long-term industry impacts | Candidate's tactical and strategic thinking abilities, innovation, commercial awareness |
| Evaluations of AI and drones' potential in logistics | Transformative impact though realistic about practical deployment challenges and concerns | Promising prospects with the need for a balanced and thoughtful approach |
| Current market trends | Growing demand for fast, efficient, and cost-effective logistics solutions | Impetus for incorporating AI and drones in logistics strategies |
| Customers' demands | High expectations for fast, reliable and efficient deliveries | Driving force behind the embrace of AI and drones in logistics |
| Future of logistics with AI and drones | Reduced human intervention, autonomous decision-making, enhanced operations | New paradigm in logistics, with advancements and challenges to anticipate |
In an era where technology continues to revolutionize everyday life, the subject of "AI, drones in logistics future" has sparked intriguing conversations spanning numerous industries.
In our current landscape, businesses seeking to streamline their logistics efforts are inclined to examine the potential of drones powered by Artificial intelligence (AI). But are AI-drones really the future of logistics? Let's delve deeper into this fascinating topic.
Why Is This Interview Question Asked: AI, Drones in Logistics Future?
Essentially, the interview question "AI, drones in logistics future" seeks to examine the candidate's insight into emerging trends and technological advancements in logistics. Recruiters are keen on professionals who stay abreast with industry innovations and are capable of anticipating future technological shifts. Ergo, understanding how AI and drones could revolutionize logistics gives an inclination of the candidate's commercial awareness and willingness to innovate.
The Purpose Of The Question
The core motive of this query is to gauge the candidate's tactical and strategic thinking abilities, especially when it comes to leveraging emerging technology such as AI and drones. The question aims to uncover the potential candidate's ability to:
Predict future industry trends,

Understand the implications of technology within the sector,

Implement innovative strategies and enhance core business processes effectively.
At What Interview Level Is It Asked?
This question, being a discourse on innovation and future trends, is usually posed to mid to senior-level candidates vying for roles relating to logistics, supply chain, or related management sphere. However, even entry-level candidates in sectors heavily reliant on logistics innovation might encounter it, particularly in tech-forward companies seeking to mold future-thinking employees.
What Kind Of Answer Is Expected From The Candidate?
The recruiters expect the candidate to articulate clearly their understanding of both AI and drone technology and how they can be incorporated into the logistics industry. They are looking for strategic as well as practical insights such as:
How AI can make drones more efficient in logistics,

Ways in which drones can enhance the delivery process,

Any potential challenges and how they might be resolved,

Long-term impacts of this technology on the logistics industry.
Possible Answers to Consider
There isn't a one-size-fits-all answer to "AI, drones in logistics future" As a candidate, your answer should demonstrate your understanding of current market trends, customer demands, and the potentials of both AI and drones in logistics.
An ideal response might be, "AI-powered drones certainly hold future promise in streamlining logistics. They can accelerate delivery times, lower freight costs, and increase customer satisfaction. However, there are still regulatory and infrastructural hurdles to overcome.
Furthermore, we should consider ethical implications, job losses, unmanned operation risks and privacy concerns. Broadly speaking, while AI, drones certainly bring transformative potential, their full-scale application in logistics might take time and should be balanced with other considerations."
In conclusion, AI and drones herald a new era of reduced human intervention, autonomous decision-making, and efficient logistics operations.
Though we may not be there entirely, reflecting on "AI, drones in logistics future" can give us valuable insights into how logistics firms can optimally harness this technology's potential while preparing for potential challenges.
The potential of AI and drones in logistics is not just a question; it's an exciting conversation about the future.
Comparative Analysis of Traditional and Drone Delivery in Logistics
| Delivery Method | Advantages | Disadvantages |
| --- | --- | --- |
| Traditional | 1. Can handle large and heavy packages 2. Well-established infrastructure 3. Familiar to customers | 1. Slow delivery time 2. Limited access to remote areas 3. Higher operational costs |
| Drone | 1. Faster delivery time 2. Can reach remote areas 3. Lower operational costs | 1. Limited payload capacity 2. Susceptible to weather conditions 3. Regulatory restrictions |
Future Predictions of AI and Drone Usage in International Logistics
| AI Usage | Drone Usage | Effect on International Logistics |
| --- | --- | --- |
| Automated sorting and inventory management | Last-mile delivery | Improved efficiency and accuracy |
| Predictive analytics for demand forecasting | Remote inspection and monitoring of warehouses | Optimized supply chain management |
| Real-time tracking and route optimization | Fast delivery to remote or hard-to-reach areas | Reduced delivery time and cost |
| Automated customer service and chatbots | Emergency medical supply delivery | Enhanced customer experience and response time |
| Fraud detection and risk assessment | Border surveillance and security monitoring | Improved safety and security measures |
| Customs and documentation automation | Air cargo transportation | Streamlined customs procedures and faster delivery |
Efficiency and Environmental Impact of Drone Usage in Logistics
| Efficiency | Environmental Impact | Logistics |
| --- | --- | --- |
| Fast delivery | Low carbon footprint | Convenient for small packages |
| Reduced transportation costs | Decreased air pollution | Limited weight and size capacity |
| Quick response time | Less traffic congestion | Limited operational range |
| Reduced manual labor | Reduced noise pollution | Challenges in adverse weather conditions |
| Optimized route planning | Decreased fuel consumption | Limited battery life |
| 24/7 operation | Reduced reliance on traditional vehicles | Regulatory restrictions and airspace limitations |
Similar interview questions:
Do you believe AI and drones have a significant role in the future of logistics?

How do you foresee the impact of AI and drones on the logistics industry in the future?

Is there a potential for AI and drones to shape the landscape of future logistics?

What transformations can we expect in logistics as a result of AI and drone technology?

Can AI and drone technology redefine the future of logistics?

What is your perspective on the marriage of AI and drones in the future paradigm of logistics

How critical can the integration of AI and drones be to the progression of logistics in future?

Do you predict a future logistic industry dominance by AI and drones?

Can we consider AI and drone technology as game-changers in future logistics?

Are there any specific ways in which AI and drones could potentially influence future logistics?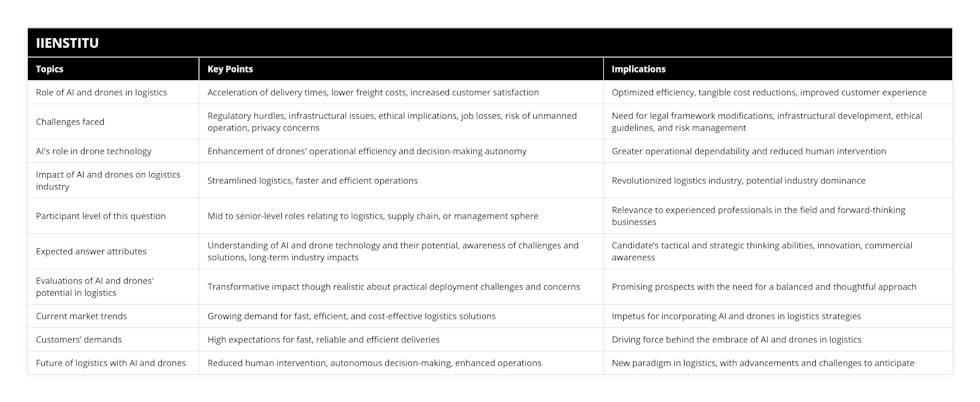 AI
drones in logistics future?
ai drones in logistics future
ai
drones in logistics future?
Yu Payne
Blogger
Yu Payne is an American professional who believes in personal growth. After studying The Art & Science of Transformational from Erickson College, she continuously seeks out new trainings to improve herself. She has been producing content for the IIENSTITU Blog since 2021. Her work has been featured on various platforms, including but not limited to: ThriveGlobal, TinyBuddha, and Addicted2Success. Yu aspires to help others reach their full potential and live their best lives.
Related Posts
Our team of experts is passionate about providing accurate and helpful information, and we're always updating our blog with new articles and videos. So if you're looking for reliable advice and informative content, be sure to check out our blog today.