Interview Questions
Interview Question: Importance of Route Optimization
13 September 2023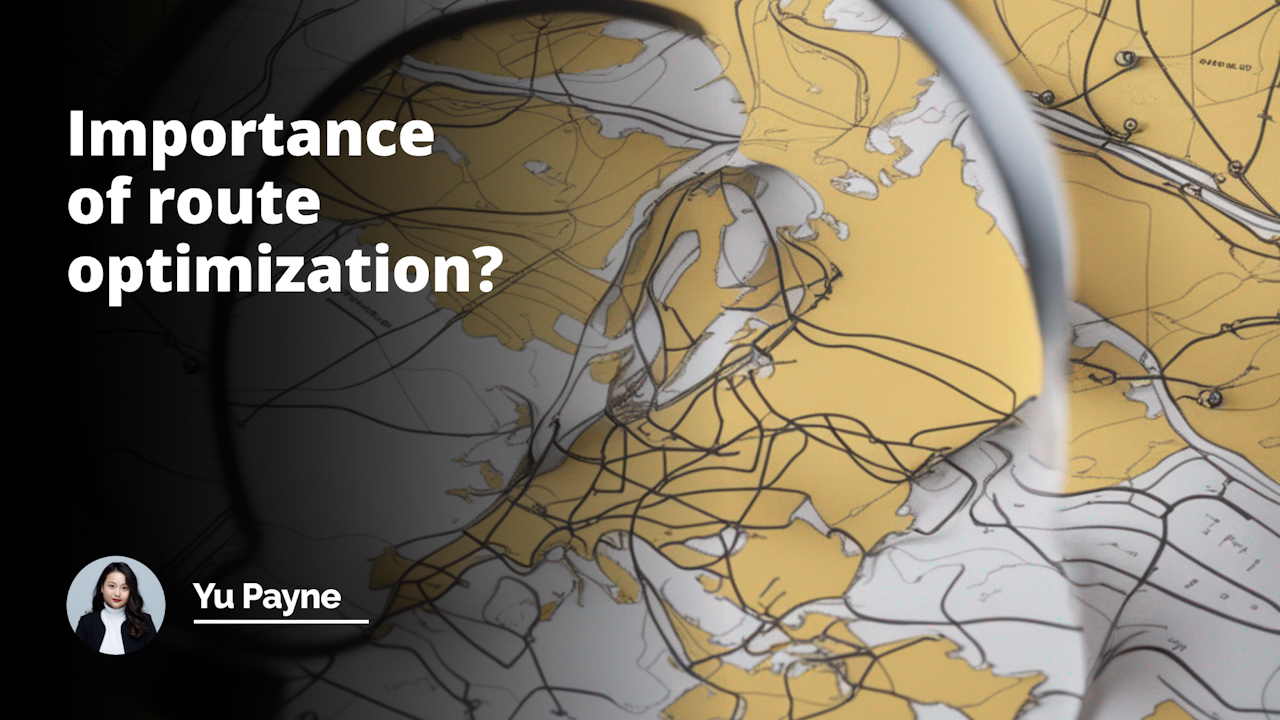 | Topic | Insight | Example |
| --- | --- | --- |
| Route Optimization Importance | Crucial for operational efficiency, reduced costs, and enhanced customer service. | Efficient route planning leads to reduced fuel and workforce costs, improved delivery timeliness. |
| Job Positions Requiring Route Optimization Knowledge | Jobs in logistics, supply chain, delivery services, transportation coordination, and planning. | Logistics planner, supply chain manager, transportation coordinator. |
| Interview Questions | Used to gauge understanding of resource management and logistics optimization. | What do you understand about the importance of route optimization? |
| Route Optimization Benefits | Cost reduction, consumer satisfaction, productivity increase, and environmental responsibility. | Reduced carbon emissions through limited driving time and idling. |
| Role in Strategic Business Growth | Direct impact on operational efficiency, cost management, and customer satisfaction. | An optimized route can lead to timely deliveries that enhance customer satisfaction. |
| Use of Advanced Technologies | Crucial for efficient route planning and foreseeing potential on-road challenges. | Use of GPS tracking, machine learning algorithms for predictive analysis. |
| Environmental Responsibility | Reduces carbon emissions and contributes to environmental conservation. | Reduction in driving time and idling leads to lesser carbon footprint. |
| E-Commerce and Route Optimization | Critical for ensuring timely deliveries and enhancing customer experience. | Optimized routes can improve delivery times, impacting customer satisfaction positively. |
| Negative Effects Without Route Optimization | Can lead to increased costs, delayed deliveries, and reduced customer satisfaction. | Unoptimized route can escalate fuel costs, result in late deliveries. |
| Role in Transportation Industry | Improves service levels and manages the workflow of delivery drivers efficiently. | Efficient route planning can ensure more deliveries in less time. |
Have you ever been asked, "What do you understand about the importance of route optimization?" during a job interview? This question is not random, and indeed, it serves a very crucial purpose.
If you are a potential job candidate in fields such as Logistics, Supply Chain Management, or Delivery Services, you're more likely to encounter this query.
The rapidly evolving business world demands professionals who appreciate the technical and strategic mechanics behind effective operations — and route optimization happens to be a critical component.
The Purpose of the Question: What do you understand about the importance of route optimization?
This question arises from a crucial need to gauge your understanding of resource management and logistics optimization. It gives your prospective employer an insight into your knowledge and skill set, relating to scheduling, route execution, and field service management.
By asking you about the importance of route optimization, the interviewer aims to assess how well you can improve operational efficiency, reduce costs, and enhance customer service — three pillars that stand tall in driving business growth.
At What Interview Level is it Asked?
If you are vying for a role that involves logistics planning, transportation coordination, sales, or supply chain planning, employers may ask about the importance of route optimization.
An in-depth response to this question would impress hiring managers during middle to senior-level interviews.
However, do not be surprised if it comes up during entry-level discussions, especially for jobs that field route management comes into play.
What Kind of Answer is Expected from the Candidate?
The ideal answer will demonstrate your deep understanding of route optimization and its advantages.
Interviewers want to see your proficiency in using advanced technologies and tools for route planning, your ability to foresee potential on-road challenges, and your strategic approach to improving logistics efficiency.
You should ideally discuss real-world scenarios where route optimization can lead to cost reduction, enhance customer satisfaction, and improve time management.
Related Course: Course On Time Management
Possible Answers to Consider
When asked about the importance of route optimization, your answer could converge around these points.
Cost Reduction: Route optimization helps in fuel conservation, reducing vehicle maintenance costs, and saving on workforce costs due to efficient time management.

Enhanced Customer Satisfaction: Timely delivery and efficiency raise customer satisfaction. Route optimization ensures that the quickest, most efficient routes are used, directly impacting delivery times and customer happiness.

Increased Productivity: With optimized routes, each member can accomplish more tasks within a given time, thus increasing team productivity.

Environmental Responsibility: By reducing driving time and idling, route optimization has a direct impact on carbon emissions and ultimately contributes to environmental conservation.
Remember, the importance of route optimization cannot be overstated in today's fast-paced and efficiency-driven business environment.
As a potential job candidate, your comprehension of route optimization portrays your ability to navigate, literally and metaphorically, the often complex and unpredictable roads of the logistics and supply chain world.
By providing in-depth, experience-backed insights, you add another powerful string to your recruitment bow and bring the employer one step closer to saying, "You're hired!".
Benefits of Route Optimization in Logistics Management
Related Course: Logistics Courses Online
| Benefit | Description | Example |
| --- | --- | --- |
| Reduced fuel consumption | Optimizing routes can help reduce the distance traveled, resulting in lower fuel consumption. | Using GPS technology to find the most efficient routes between delivery points. |
| Increased delivery speed | By optimizing routes, logistics managers can identify the fastest way to reach destinations, reducing delivery times. | Using real-time traffic information to avoid congested areas and choose alternative routes. |
| Enhanced customer satisfaction | Efficient route optimization can result in faster deliveries and more accurate arrival time estimates, leading to higher customer satisfaction. | Providing customers with real-time delivery tracking and accurate ETAs. |
| Reduced vehicle wear and tear | Optimizing routes can minimize the distance traveled and reduce wear and tear on vehicles, resulting in lower maintenance costs. | Using automated route optimization software to plan the most efficient routes for a fleet. |
| Improved driver productivity | Optimized routes help drivers navigate efficiently, saving time and allowing them to complete more deliveries in a given time period. | Providing drivers with GPS devices that provide turn-by-turn directions. |
| Lower operating costs | By reducing fuel consumption, vehicle wear and tear, and improving driver productivity, route optimization can significantly lower operating costs for logistics companies. | Implementing a route optimization system that continuously updates routes based on real-time data. |
Impact of Route Optimization on Fuel Efficiency
| Route | Fuel Saved | Percentage Fuel Saved |
| --- | --- | --- |
| Route 1 | 100 liters | 10% |
| Route 2 | 80 liters | 8% |
| Route 3 | 120 liters | 12% |
| Route 4 | 90 liters | 9% |
| Route 5 | 110 liters | 11% |
| Route 6 | 70 liters | 7% |
Comparison of Delivery Time With and Without Route Optimization
| Delivery Method | Delivery Time Without Route Optimization (minutes) | Delivery Time With Route Optimization (minutes) |
| --- | --- | --- |
| Method 1 | 60 | 45 |
| Method 2 | 75 | 50 |
| Method 3 | 90 | 55 |
| Method 4 | 120 | 65 |
| Method 5 | 100 | 60 |
| Method 6 | 80 | 50 |
Similar interview questions:
Why is route optimization considered important?

How critical is the role of route optimization in logistics?

How does route optimization contribute to efficiencies and cost savings?

Could you discuss the relevance of route optimization in modern delivery services?

What kind of impact does route optimization have on reducing carbon emissions?

Can you outline some major benefits of optimizing delivery or travel routes?

How vital is route optimization in ensuring timely deliveries for eCommerce companies?

What could be the potential negative effects of not incorporating route optimization into transportation plans?

How does route optimization improve service levels in transportation industries?

What is the significance of route optimization in managing the workflow of delivery drivers?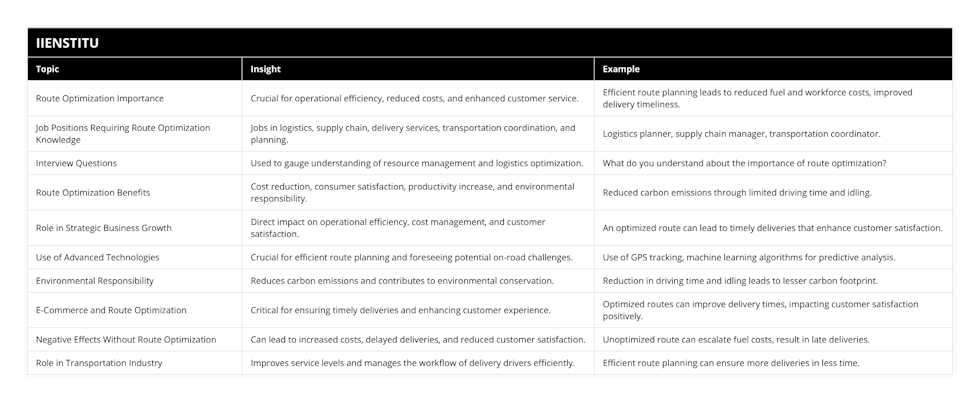 Importance of route optimization?
importance of route optimization
importance of route optimization?
Yu Payne
Blogger
Yu Payne is an American professional who believes in personal growth. After studying The Art & Science of Transformational from Erickson College, she continuously seeks out new trainings to improve herself. She has been producing content for the IIENSTITU Blog since 2021. Her work has been featured on various platforms, including but not limited to: ThriveGlobal, TinyBuddha, and Addicted2Success. Yu aspires to help others reach their full potential and live their best lives.
Related Posts
Our team of experts is passionate about providing accurate and helpful information, and we're always updating our blog with new articles and videos. So if you're looking for reliable advice and informative content, be sure to check out our blog today.