Interview Questions
Interview Question: Biggest Logistics Challenges
14 September 2023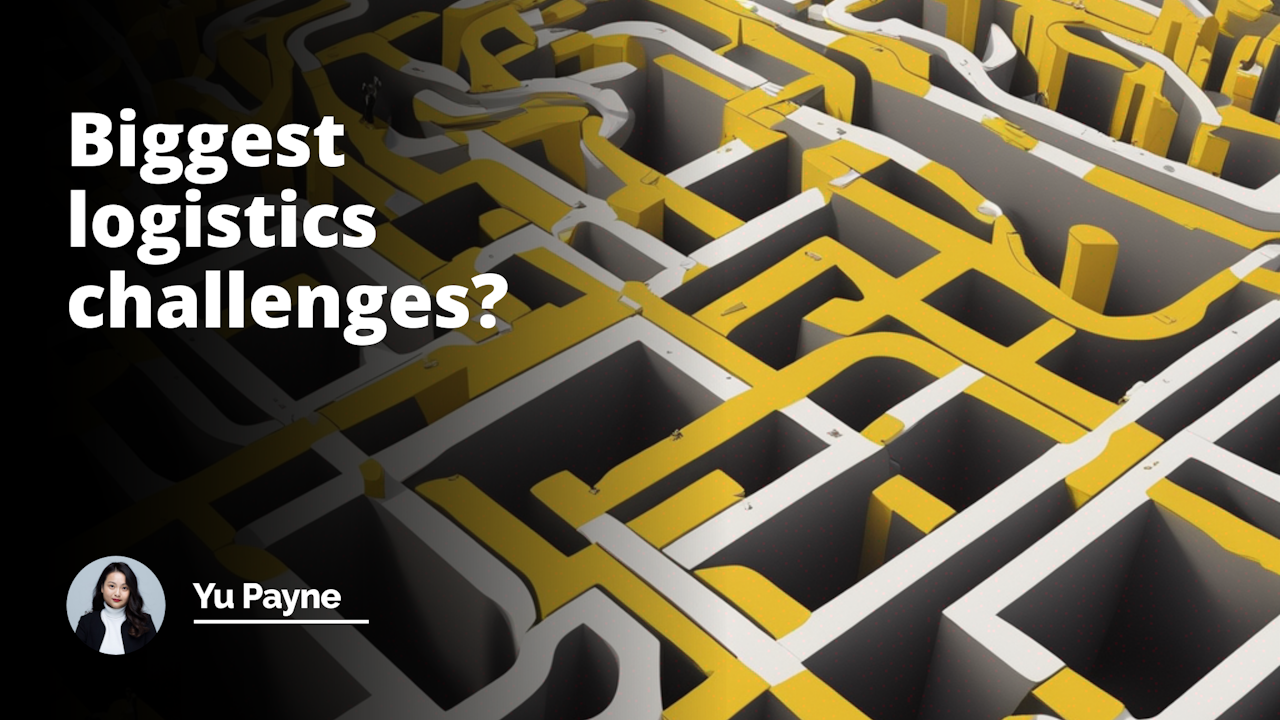 | Logistics Challenge | Potential Solutions | Relevance to Business |
| --- | --- | --- |
| Managing Costs | Negotiate with suppliers, optimize delivery routes, use fuel-efficient vehicles | Direct influence on profit margins, competitive pricing, and business sustainability |
| Efficiency in Operations | Training staff, process automation, implementing lean practices | Impacts delivery speed, customer satisfaction, and overall operational productivity |
| Technology Integration | Seek expert advice, continuous staff training, gradual implementation | Affects accuracy, tracking capabilities, future scalability |
| Personnel Management | Provide adequate training, clear communication, promote work-life balance | Handles worker morale, employee retention, overall productivity |
| Evolving Customer Expectations | Actionable customer feedback, proactive communication, personalized services | Mitigates customer satisfaction, customer loyalty, repeat business |
| Integration of 3PLs and 4PLs | Vendor selection, SLA management, maintaining proper communication | Aids in cost-saving, increasing reach, focusing on core operations |
| Global Trade Disruptions | Diversification of supply chain, contingency planning, business insurance | Ensures business continuity during unexpected events, global market access |
| Managing Regional Logistics Challenges | Local partnerships, understanding regional laws and customs | Facilitates market entry, maintaining compliance, local customer satisfaction |
| Influence of Technological Innovations | Adoption of emerging technologies, continual learning and development | Enhances competitiveness, drives innovation, improves operational efficiency |
| Environmental Sustainability | Adoption of green logistics, use of renewable energy sources, reducing waste | Fulfills corporate social responsibility, attracts eco-conscious customers, could impact future legislation compliance |
When someone asks you the question, "What are the biggest logistics challenges?" during an interview, you might wonder why this pertinent question is being addressed.
Here's your answer: The objective behind asking such a question is not just to assess your knowledge about logistics, but also to understand how you approach problems, evaluate solutions, and prepare for unforeseen challenges.
Job roles associated with supply chain management, warehousing, transportation, and procurement often deal with complex logistics problems on a daily basis.
Your perspective in identifying these can provide insights into how integrated your thought process is when it comes to managing logistics.
The Purpose of the Question: "What are the biggest logistics challenges?"
The main objective behind asking the question - "What are the biggest logistics challenges?" is to evaluate a candidate's grasp of the logistics industry, their critical thinking, and problem-solving skills.
Employers want to see whether you understand the complexities involved, how you prioritize tasks, or if you are capable of thinking outside the box to find innovative solutions.
Additionally, it showcases whether you have a grip on the evolving dynamics of logistics like the use of 3PLs and 4PLs. Yours might just be the perspective companies need to tackle common and not-so-common challenges in this sector.
At what Interview Level is this Question asked?
"Biggest logistics challenges?" is usually asked during interviews for mid to senior-level positions related to logistics management, supply chain management, procurement, and warehousing.
Related Course: Logistics Training
Some roles include logistics manager, operations manager, supply chain analyst, procurement manager, logistics analyst, or warehouse manager. However, this can also come up during entry-level interviews, as companies seek to understand a candidate's comprehension of the industry they are stepping into.
What Kind of Answer is Expected from the Candidate?
Candidates are expected to answer with specifics when discussing the biggest logistics challenges. An effective response will likely combine a measured understanding of industry norms, latest trends, and personal experiences.
Employers look for answers that demonstrate a candidate's knowledge about key issues like cost management, efficiency, technology integration, personnel management, and evolving customer expectations. Discussing the challenges of integrating 3PLs and 4PLs into your supply chain can also add weight to your response.
Possible Answers to Consider
A concise and well-structured answer might sound something like this:
"One of the biggest logistics challenges is managing costs. This includes fuel costs, fluctuating freight rates, and unexpected surcharges. Moreover, efficiency in operations is imperative. There's always a constant challenge to expedite processes while minimizing errors. Incorporating technology and digitization is another challenge, as companies often grapple with integrating new systems seamlessly into their existing operations."
This answer touches upon the essential facets of logistics while not dwelling too long on any specific point. You could also delve deeper into these challenges, linking them with your personal experiences in tackling them or discussing how the use of 3PLs and 4PLs can either alleviate or exacerbate these challenges.
When answering this question, take into consideration the institution you are interviewing for. Research and gather knowledge about the company's logistics operations and think of ways you could help better navigate these challenges.
In conclusion, grappling with complex logistics challenges like cost management, efficiency, and technology integration is a key part of many roles in this sector.
Your ability to assess, interact with, and overcome these challenges could just make you the best fit for the role. So, next time you encounter the question - "What are the biggest logistics challenges?" don't just see it as a question but an opportunity to show how valuable you can be to your potential employers.
Impacts of Global Trade Disruptions on Logistics
| Impact | Description | Example |
| --- | --- | --- |
| Increased transportation costs | Disruptions in global trade can lead to higher transportation costs as supply chains are reconfigured and alternative routes are utilized. | Following the closure of a major trade route, companies may need to ship their goods through alternative routes that are more expensive. |
| Delayed deliveries | Trade disruptions can cause delays in deliveries as goods may need to be rerouted, undergo additional inspections, or face congestion at ports. | Customs inspections and increased paperwork at the border can lead to delays in receiving goods. |
| Inventory shortages | Global trade disruptions may result in shortages of certain products or components, impacting availability and causing inventory challenges for companies. | A disruption in global supply chains may lead to shortages of raw materials, impacting the production of finished goods. |
| Higher prices for consumers | Global trade disruptions can lead to increased prices for consumers as companies pass on additional costs incurred due to trade disruptions. | Import tariffs imposed due to trade disputes may result in higher prices for imported goods. |
| Risk of supply chain breakdowns | Trade disruptions can increase the risk of supply chain breakdowns, leading to disruptions in production and delivery of goods. | A trade dispute between two countries may lead to restrictions on imports, resulting in supply chain breakdowns for companies relying on those imports. |
| Loss of market share | Global trade disruptions can result in companies losing market share to competitors who can navigate the disruptions more effectively. | If a company faces prolonged delays in delivering goods, customers may switch to competitors who can provide a more reliable and timely supply. |
Example List of Who Managing Regional Logistics Challenges
| Name | Age | City |
| --- | --- | --- |
| John | 25 | New York |
| Amy | 30 | Los Angeles |
| Mike | 35 | Chicago |
| Sarah | 27 | Houston |
| David | 40 | San Francisco |
| Emily | 22 | Seattle |
Influence of Technological Innovations on Logistics Challenges
| Technological Innovations | Logistics Challenges | Influence |
| --- | --- | --- |
| Artificial Intelligence (AI) | Inventory Management | AI-powered inventory management systems can optimize inventory levels, reduce stockouts, and improve demand forecasting accuracy. |
| Internet of Things (IoT) | Tracking and Tracing | IoT-enabled devices provide real-time visibility into shipment locations, conditions, and performance, enhancing tracking and tracing capabilities. |
| Blockchain | Transparency and Trust | Blockchain technology facilitates secure and transparent transactions, enabling enhanced trust between stakeholders in the supply chain. |
| Autonomous Vehicles | Last-Mile Delivery | Autonomous vehicles enable efficient and cost-effective last-mile deliveries, reducing congestion and delivery time. |
| Big Data Analytics | Supply Chain Visibility | Big data analytics provide insights into complex supply chain operations, improving visibility for better decision-making and risk management. |
| Robotics and Automation | Warehouse Efficiency | Robots and automation systems enhance warehouse operations, increasing efficiency and accuracy in tasks such as picking, packing, and sorting. |
Similar interview questions:
What are the most significant issues facing logistics today?

Could you describe the most prominent challenge in the field of logistics?

What particular problems are testing the logistics industry the most?

In your opinion, what is the single most difficult challenge that logistics teams have to contend with?

What aspects of the logistics process pose the greatest difficulty to companies?

Can you point out the largest obstacle in managing logistics?

What do you consider the biggest hurdle in achieving efficient logistics?

Which challenge do you believe is the toughest to tackle in logistics management?

What significant problems make handling logistics extremely challenging?

Could you elaborate on the hardest part when dealing with logistic tasks?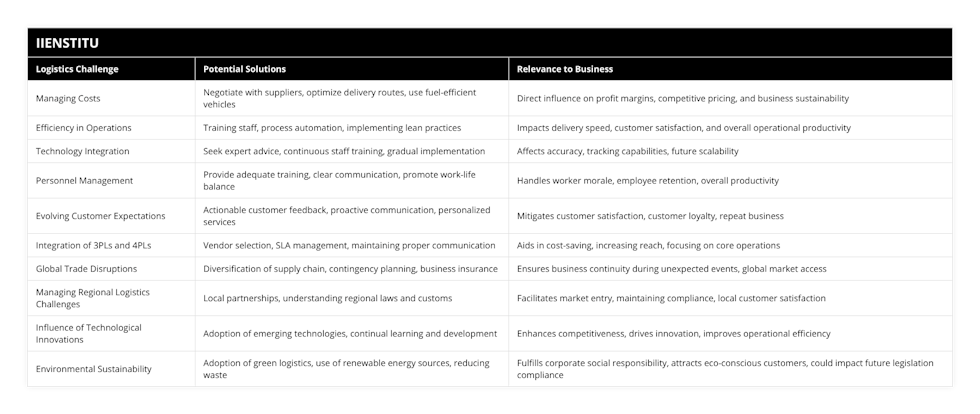 Biggest logistics challenges?
what are the biggest challenges for using 3pls and 4pls
biggest logistics challenges
biggest logistics challenges?
Yu Payne
Blogger
Yu Payne is an American professional who believes in personal growth. After studying The Art & Science of Transformational from Erickson College, she continuously seeks out new trainings to improve herself. She has been producing content for the IIENSTITU Blog since 2021. Her work has been featured on various platforms, including but not limited to: ThriveGlobal, TinyBuddha, and Addicted2Success. Yu aspires to help others reach their full potential and live their best lives.
Related Posts
Our team of experts is passionate about providing accurate and helpful information, and we're always updating our blog with new articles and videos. So if you're looking for reliable advice and informative content, be sure to check out our blog today.