Interview Questions
Interview Question: How Do You Address Time Management Differences in Team Settings?
26 September 2023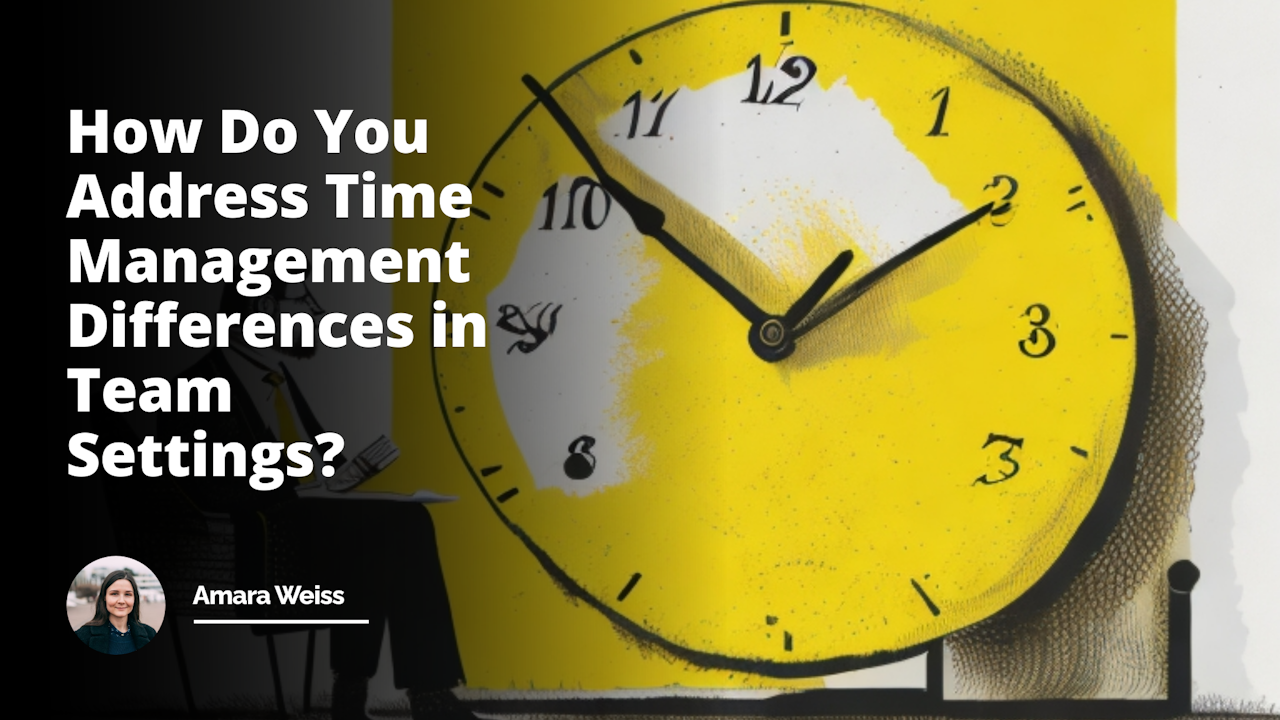 | Aspect | Brief Description | Example / Explanation |
| --- | --- | --- |
| Relevance of Question | Assesses team management and conflict resolution abilities in varied time schedules. | Individuals on a team have different peaks of productivity and time allocation preferences. The question tests your ability in harmonizing these differences. |
| Purpose of the Question | Evaluates conflict resolution capabilities, adaptability and leadership. | Interviewers want to understand your approach to handling divergences in time management preferences to foster a productive team atmosphere. |
| Typical Interview Level | Usually asked during mid-level or senior-level interviews. | These levels involve supervisory or managerial roles that require adeptness in managing diverse teams. |
| Expected Answer | Real-world examples showcasing leadership and problem-solving skills. | Your answer should reflect your understanding of diverse working preferences and ability to harmonize them for team productivity. |
| Sample Answer | Specific strategies used to manage time differences. | Implementation of a flexible schedule, allowing team members to choose working hours, while establishing core hours for collaborative activities. |
| Impact on Team Performance | Optimizes productivity and foster unity in the team. | Successful time management, despite differences, leads to enhanced productivity and cohesion. |
| Importance of Effective Time Management | Key to achieving team goals and deadlines. | Varied time management styles if not addressed can lead to missed deadlines and conflict within the team. |
| Harmonization Strategies | Solutions to address time management disparities. | Flexible work schedules, establishing core work hours, or implementing group shift rotations. |
| Leadership Skills | Recognizing and respecting different time management styles. | Leaders respecting and understanding team members' time preferences lead to a healthier workplace environment. |
| Similar Interview Questions | Alternate ways of probing the applicant's time management skills. | Questions touching on strategies to manage time differences in group setting, mitigating time discrepancies in teams etc. |
Time management holds a crucial role in any workforce, but it is a fact that individuals naturally handle their time differently. This leads us to the question: "How can one effectively deal with these variations in time management within a team?"
Related Course: Time Management Free Online Course
This inquiry frequently arises during interviews as a means to assess one's leadership and team management skills. So, let's delve deeper into understanding this question, its underlying rationale, and the optimal way to provide an answer.
Related Course: Leadership Training Course
Why is this interview question asked: How Do You Address Time Management Differences in Team Settings?
Interviewers pose this question to uncover a candidate's ability to navigate and harmonize diverse time management approaches within a team. Team members often exhibit distinct peaks of productivity, work styles, and time allocation preferences.
A proficient leader should possess the knowledge and skills required to integrate these distinctions for the betterment of overall team productivity.
A successful response to this question signifies your capacity to cultivate an environment that celebrates diversity while maintaining effective team performance.
The Purpose of the Question
This question aims to evaluate your conflict resolution capabilities, adaptability, leadership prowess, and management acumen.
It offers insight into your approach to handling a common challenge in team dynamics - the variability in time management preferences. Interviewers seek to assess your ability to address these variations, mitigate conflicts, foster unity, and enhance overall productivity.
At What Interview Level Is It Asked?
Typically, this question arises during mid-level or senior-level interviews. These levels usually involve supervisory or managerial roles that demand adeptness in team management.
However, in specific situations, it may also be presented in entry-level interviews, contingent on the nature and demands of the role being considered.
What Kind of Answer Is Expected from the Candidate?
The ideal response should incorporate real-world examples from your prior experiences where you successfully navigated time management differences within a team. Your answer should showcase your leadership qualities, problem-solving skills, and proficiency in managing teams. Essentially, it should reflect your comprehension of diverse working preferences and your ability to harmonize them to foster a productive team atmosphere.
Possible Answers to Consider
One potential response could be: "In my previous role, our team comprised individuals with varying working and time management styles. Some were early risers, while others were night owls.
To reconcile these differences, I implemented a flexible work schedule, allowing team members to choose their working hours within a reasonable timeframe.
We established core hours when everyone was expected to be available for collaborative activities and addressing urgent matters. This not only enhanced team cohesion but also significantly boosted our overall productivity."
In conclusion, the ability to ensure a smooth workflow despite disparities in time management is a testament to strong leadership.
Armed with an understanding of why this question is asked, its underlying purpose, when it typically arises, the preferred response, and a sample answer, you are well-prepared to navigate this interview question successfully.
Remember, demonstrating your capability to effectively manage time management variations within a team, thereby promoting unity and productivity, is the key. Rest assured, your ability to lead such a diverse team will undoubtedly capture the interest of prospective employers!
Strategies to Harmonize Different Time Management Styles in Team Settings
| Time Management Style | Strategy | Effect on Team |
| --- | --- | --- |
| Procrastinator | Set clear deadlines and monitor progress regularly | Prevents last-minute rush and ensures timely completion of tasks |
| Micro-manager | Assign clear roles and responsibilities and encourage autonomy | Allows team members to take ownership of their tasks and increases productivity |
| Over-planner | Create flexible schedules and prioritize tasks | Ensures adaptability to changing priorities and reduces unnecessary stress |
| Flexible | Consider team members' preferred work styles and accommodate various schedules | Promotes work-life balance and increases team satisfaction |
| Multitasker | Encourage focusing on one task at a time and setting realistic expectations | Improves efficiency and quality of work while reducing errors |
| Time-blocker | Plan and communicate time blocks for focused work and collaborate effectively during open slots | Allows team members to work uninterrupted and promotes effective collaboration |
Challenges and Solutions to Time Management Differences in Teams
| Challenges | Solutions | Impact |
| --- | --- | --- |
| Different work styles | Establish clear expectations and communication channels | Enhanced collaboration and productivity |
| Lack of prioritization | Implement task management tools and techniques | Improved efficiency and meeting deadlines |
| Procrastination | Promote accountability and set realistic deadlines | Reduced stress and timely completion of tasks |
| Interruptions and distractions | Create designated focus time and establish boundaries | Improved concentration and productivity |
| Unrealistic time estimation | Encourage team members to consult each other and provide feedback | Accurate planning and realistic project timelines |
| Time zone differences | Use technology tools for remote collaboration and flexible scheduling | Effective coordination and efficient workflow |
Impact of Time Management Differences on Team Performance
| Time Management Differences | Impact on Team Performance | Examples |
| --- | --- | --- |
| Mismatched priorities | Confusion and conflicts | Team members focusing on different tasks |
| Procrastination | Delays in project completion | Members not completing tasks on time |
| Lack of planning | Missed deadlines | Not allocating sufficient time for important tasks |
| Inefficient task allocation | Uneven workloads | Some team members overloaded while others are underutilized |
| Inconsistent communication | Misunderstandings and delays | Delayed responses and lack of clarity in instructions |
| Poor time estimation | Unrealistic deadlines | Underestimating the time required for tasks |
Similar interview questions:
What strategies can be employed to manage time differences among team members in a group setting?

In what ways can team dynamics be managed considering the varying time management skills of teammates?

Can you suggest any effective means to reconcile time management disparities within a team?

How can time differences be mitigated when working in a team-setting?

How do you handle disparities in time-keeping among team members?

Do you have any practical methods for addressing diverse time management abilities in a team setting?

What are the best ways to approach time management issues within a team?

How do you deal with the different time management approaches of individuals within a team?

What methods can be applied to harmonize time management styles in a team environment?

Are there any proven techniques to manage the various time management habits of team members?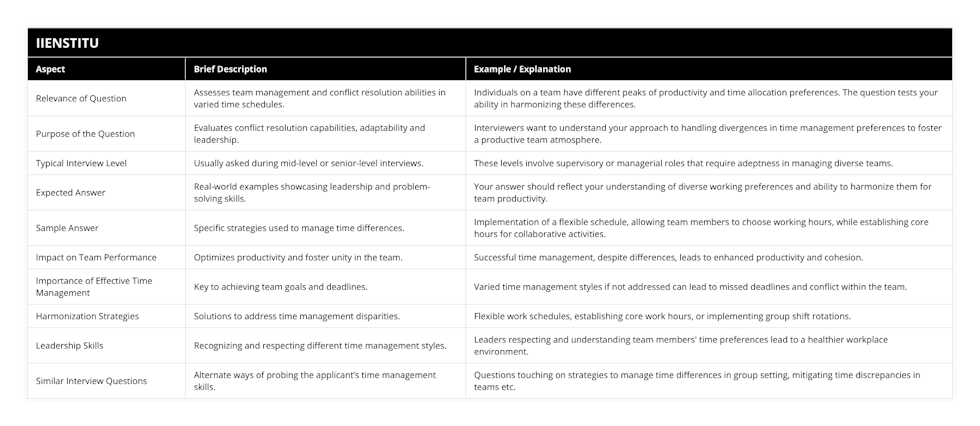 How Do You Address Time Management Differences in Team Settings?

Amara Weiss
Institute Secretary, Author
I am Amara Weiss and for many years I have worked in the field of education, specifically in the area of technology. I firmly believe that technology is a powerful tool that can help educators achieve their goals and improve student outcomes. That is why I currently work with IIENSTITU, an organization that supports more than 2 million students worldwide. In my role, I strive to contribute to its global growth and help educators make the most of available technologies.
Related Posts
Our team of experts is passionate about providing accurate and helpful information, and we're always updating our blog with new articles and videos. So if you're looking for reliable advice and informative content, be sure to check out our blog today.