Interview Questions
Interview Question: What are the Challenges Faced in Redesigning a Supply Chain?
25 September 2023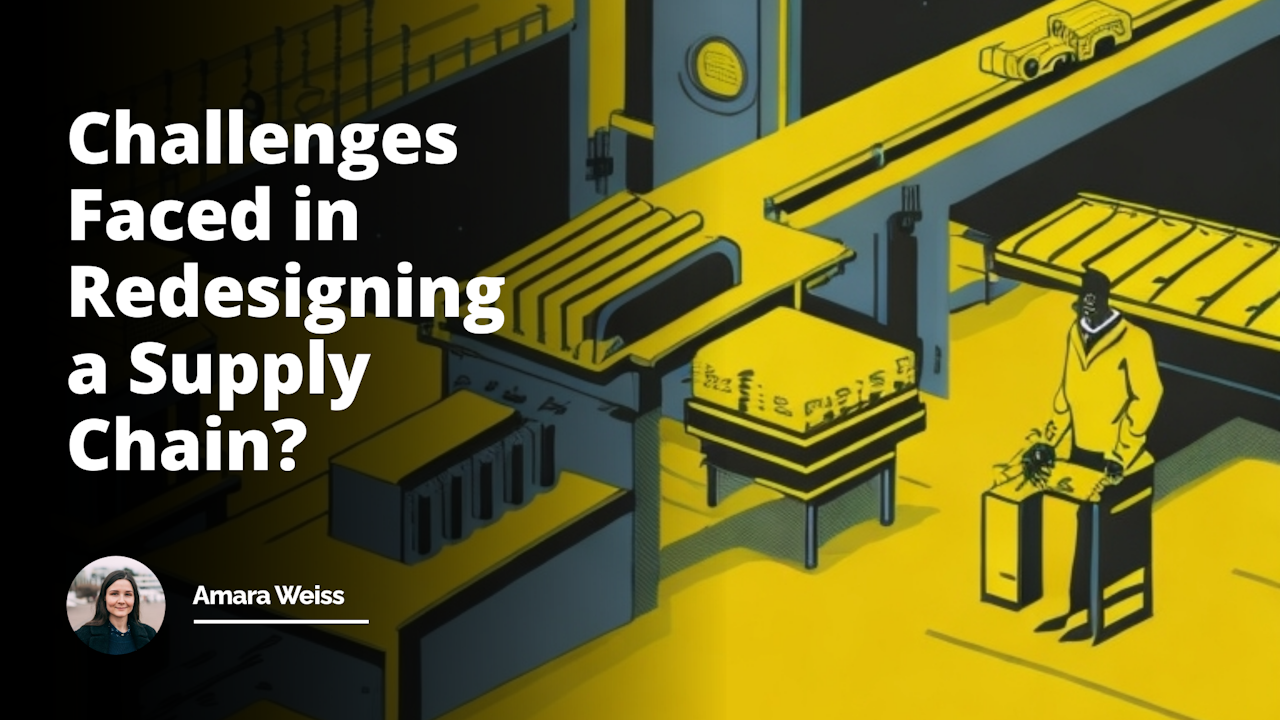 | Challenges in Redesigning a Supply Chain | Potential Impact | Potential Solutions |
| --- | --- | --- |
| Resistance to change | Employees may find a redesigned supply chain difficult to navigate | Clear communication strategies, training programs, and support systems for employees |
| Managing costs | Redesigning a supply chain might require significant upfront investment | Extensive market research, thorough planning, and phased implementation |
| Ensuring minimal disruption | Redesign could potentially disrupt normal operations | Good change management, continuous monitoring, and prompt anomaly detection |
| Managing risks | Uncertainties in supply, price, and demand could negatively affect the redesigned system | Scenario planning, risk pooling, safety stocks, and efficient forecast systems |
| Implementation of changes | Difficulties in initiating new processes and practices could impede redesign benefits | Elaborate implementation plan, adequate training and education, phased roll-out |
| Integration of technology | Inaccurate integration can lead to inefficiencies and loss of information | Expertise in technology, thorough testing and validation processes, backup systems |
| Data Security | Vulnerabilities could lead to data breaches affecting company's reputation and operations | Strong security infrastructure, regular audits, investment in security technology and employee training |
| Supplier Cooperation | Suppliers unwilling to adapt could disrupt supply chain and affect customer satisfaction | Regular communication with vendors, long-term contracts, maintaining good supplier relationships |
| Customer Satisfaction | Changes in supply chain could potentially affect delivery times, quality, and customer service | Keeping customer informed, ensuring quality standards, proactive issue resolution |
| Environmental Impact | Redesigned supply chain could have increased carbon footprint or waste generation | Eco-friendly practices, internal audits, environmental certifications, waste reduction measures |
Redesigning a supply chain aren't just three words thrown together on a whim; they encompass a wide sphere of strategic planning, logistical nuances, and operational optimization.
Businesses across the globe are increasingly acknowledging the significance of efficient supply chain systems, which is leading to an increased focus on their redesign and optimization. So, let's dive right in and explore the Challenges Faced in Redesigning a Supply Chain.
Why is the Question asked in an Interview: What are the Challenges Faced in Redesigning a Supply Chain?
To begin with, the question - "What are the challenges faced in redesigning a supply chain?" - is typically asked in interviews for roles subjected to managing, planning, or strategizing the supply chain dynamics in an organization.
This question captures the essence of the hardships and obstacles that a candidate is likely to encounter while dealing with supply chain operations.
When interviewers ask this question, they are assessing your practical understanding, and more importantly, your problem-solving abilities. In other words, they're sizing up whether you can stay afloat when the waters of supply chain management get choppy.
The Purpose of the Question
The main aim behind asking this question is to determine your knowledge of the field and your ability to anticipate, navigate, and resolve the potential hurdles in a supply chain redesign process.
In essence, your response will provide the interviewer with insights into your pragmatic experience, prescient thinking, and your skill in transforming complex issues into manageable tasks.
At what Interview Level is it Asked?
This idea-provoking question especially features in interviews for mid to senior-level roles, although entry-level candidates with a background in supply chain management or logistics might also face this question. At these levels, a strong understanding of supply chain mechanics is essentially a prerequisite.
The interviewer expects candidates to not only understand the theoretical aspects, but also possess enough practical exposure to identify potential hurdles and suggest action plans to mitigate them.
What Kind of Answer is Expected from the Candidate?
As a candidate, it's imperative to provide a multidimensional response to this question. The answer should include an overview of why supply chain redesign becomes necessary, followed by a comprehensive explication of atypical challenges one might face in this process, such as planning and implementing changes, managing risks, and ensuring seamless transition without disrupting service.
Remember, a good answer will not merely list out some challenges. Rather, it would elucidate your experiences in tackling those challenges, displaying your suitability for the role in question.
Possible Answers to Consider
Let's consider an appropriate answer for the question. You might begin by highlighting that the redesign process involves various challenges, from managing costs to ensuring minimal disruption. Simultaneously, these challenges are also opportunities to streamline processes and foster operational efficiencies.
For instance, you might say,
"One major challenge is the resistance to change. Employees used to a specific way of working may find a redesigned supply chain difficult to navigate initially. To cope with this, change management methodologies can be used, such as clear communication strategies, training programs, and support systems for employees."
Another point you could raise is about managing cost while ensuring efficiency:
"Redesigning a supply chain might require significant upfront investment. It is essential to strike a balance between cost optimization and efficiency. This can be tackled by extensive market research, thorough planning, and phased implementation."
In conclusion, the complexities associated with redesigning a supply chain make it a challenging yet rewarding venture. To successfully navigate this process, understanding the potential pitfalls, coupled with robust risk-mitigation strategies, is pivotal.
Remember, a well-designed supply chain could substantially amplify your company's growth trajectory and competitiveness in today's dynamic market. So, when the question about challenges in redesigning a supply chain pops up in your next interview, you'll know exactly what to say!
Table 1: Impacts of Technological Integration on Supply Chain Redesign
| Technological Integration | Supply Chain Redesign | Impacts |
| --- | --- | --- |
| Real-time tracking and monitoring | Improved visibility and transparency | Reduced lead times, enhanced customer satisfaction |
| Warehouse automation | Increased efficiency in material handling | Faster order processing, reduced operational costs |
| Inventory management systems | Improved demand forecasting and planning | Optimized inventory levels, minimized stockouts |
| Collaborative platforms | Enhanced communication and coordination | Improved supplier relationships, reduced errors |
| Artificial intelligence and machine learning | Enhanced predictive analytics and decision-making | Improved demand forecasting accuracy, optimized routing |
| Blockchain technology | Increased traceability and security | Reduced risk of fraud, improved supply chain transparency |
Table 2: Strategies for Addressing Challenges Faced in Redesigning a Supply Chain
| Challenge | Strategies |
| --- | --- |
| Resistance to Change | - Implement change management methodologies such as clear communication strategies, training programs, and support systems for employees. - Create a compelling narrative for change, emphasizing the benefits and opportunities the redesigned supply chain brings. - Involve key stakeholders in the decision-making process to gain buy-in and address concerns proactively. |
| Managing Costs | - Conduct extensive market research to identify cost-saving opportunities. - Develop a phased implementation plan to spread out upfront investment costs. - Collaborate with suppliers and partners to negotiate favorable terms and pricing. |
| Maintaining Operational Efficiency | - Use technology solutions like supply chain management software and analytics to optimize processes. - Implement lean principles to reduce waste and streamline operations. - Continuously monitor and assess performance to identify and address bottlenecks or inefficiencies. |
| Risk Management | - Develop a robust risk assessment and mitigation plan. - Diversify suppliers and sources to reduce reliance on a single point of failure. - Build flexibility into the supply chain to adapt to unforeseen disruptions. |
| Ensuring a Seamless Transition | - Plan and communicate the transition process clearly to all stakeholders. - Conduct thorough testing and simulations to identify and resolve potential issues before implementation. - Provide training and support to employees and partners during the transition phase. |
Table 3: Risk Management Challenges in Supply Chain Redesign
| Risk | Description | Mitigation |
| --- | --- | --- |
| Supplier Reliability | Risk of suppliers not meeting delivery schedules or quality requirements | Establish clear communication channels, set performance metrics, and engage in regular supplier performance reviews |
| Demand Variability | Fluctuations in customer demand leading to supply chain disruptions | Implement demand forecasting technology, collaborate closely with customers, and maintain flexible production capacities |
| Inventory Management | Difficulty in accurately forecasting inventory needs and managing stock levels | Use advanced inventory management systems, conduct regular inventory audits, and establish safety stock levels |
| Transportation and Logistics | Delays, damages, or disruptions in transporting goods throughout the supply chain | Partner with reliable logistics providers, conduct regular performance evaluations, and implement contingency plans |
| Currency and Financial | Currency exchange rate fluctuations and financial instability impacting supply chain costs | Implement hedging strategies, monitor market trends, and diversify supplier base |
| Legal and Regulatory | Non-compliance with laws and regulations leading to legal penalties or reputational damage | Stay updated on relevant regulations, conduct regular compliance audits, and establish a legal and compliance team |
Similar interview questions:
What are the main difficulties encountered when reorganizing a supply chain?

Can you list the obstacles that one may come across while trying to redesign a supply chain?

What potential issues might one confront when attempting to restructure a supply chain?

Are there any specific challenges associated with modifying a supply chain's design?

Could you discuss the challenges that might occur during the process of redesigning a supply chain?

What problems are commonly faced during the redesigning of a supply chain?

What hindrances would you anticipate in the process of a supply chain redesign?

Could you detail the complications that might arise when attempting to overhaul a supply chain?

In your experience, what struggles are typically encountered when reengineering a supply chain?

Can you give an overview of typical problems that can emerge during the restructuring of a supply chain?
challenges faced in redesigning a supply chain
What are the Challenges Faced in Redesigning a Supply Chain?
interview question

Amara Weiss
Institute Secretary, Author
I am Amara Weiss and for many years I have worked in the field of education, specifically in the area of technology. I firmly believe that technology is a powerful tool that can help educators achieve their goals and improve student outcomes. That is why I currently work with IIENSTITU, an organization that supports more than 2 million students worldwide. In my role, I strive to contribute to its global growth and help educators make the most of available technologies.
Related Posts
Our team of experts is passionate about providing accurate and helpful information, and we're always updating our blog with new articles and videos. So if you're looking for reliable advice and informative content, be sure to check out our blog today.