Interview Questions
Interview Question: Can You Share a Time Management Challenge You Overcame?
26 September 2023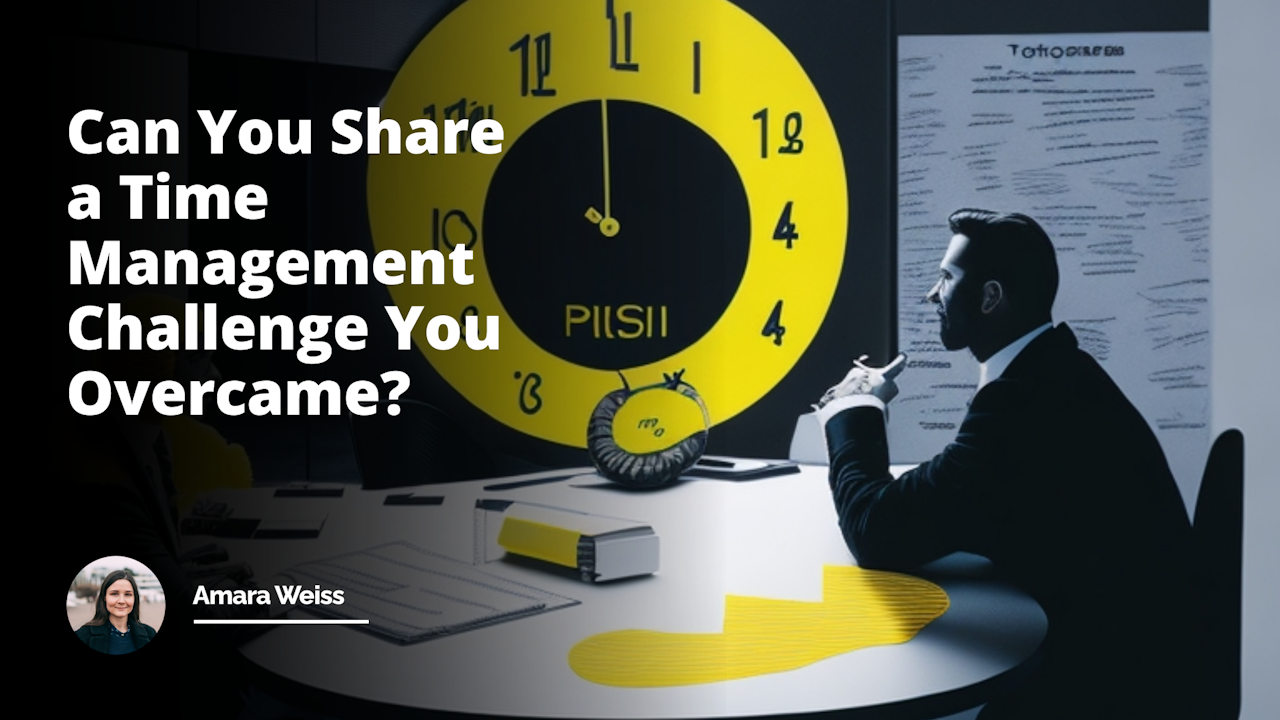 | Theme | Insight | Recommendations |
| --- | --- | --- |
| Purpose of Query | To assess ability to manage time, solve problems, resilience, and decision-making abilities | Answer in a way that showcases these core competencies |
| Time in Interview Process | Typically asked in middle to later stages | Prepare strategic and problem-solving responses for this stage of the process |
| Expected Response | A demonstration of problem-solving, prioritizing and results achievement | Use the STAR method to structure your answer |
| Bad vs. Good Answer | Bad answer focuses only on the challenge; good answer includes active problem-solving and successful results | Narrate the challenge but focus more on your solution and the outcome |
| Subject of the Answer | A situation where you faced a deadline or multiple conflicting tasks | Choose a scenario that best displays your problem-solving and leadership skills |
| Presentation of the Problem | Avoid presenting yourself as a victim of circumstance | Focus on strategies and decisiveness exercised to handle the challenges |
| Goal of the Response | To portray resilience, reliability, and readiness for action | Emphasize the effective problem-solving strategies you implemented |
| Related Interview Questions | Possibility of similar questions probing time management skills | Prepare for different variations of the core question |
| Case Studies | Examples of managing personal schedules and professional deadlines | Design potential responses featuring these situations |
| Time Management Tools | Effective tools and techniques used for tackling time management challenges | Be ready to discuss any tools or techniques you have used to overcome time management issues |
One of the common queries you might face during a job interview is, "Can You Share a Time Management Challenge You Overcame?" Delving into the question's intent will shed light on how you should structure your responses.
Related Course: Time Management Training Course
This query isn't asked merely to confound you. It serves a significant purpose. Interviewers ask this question to unearth potential gems about your problem-solving skills, professional resilience, and your ability to confront demanding situations, particularly concerning time management.
They desperately want to size up your reactions to stressful, time-crunched conditions because such occurrences are commonplace in today's quick-paced work world.
By describing an experience where you successfully surmounted a past time management issue, they can gauge if you possess the vital skills to handle similar challenges in the future.
The Purpose of the Question: Can You Share a Time Management Challenge You Overcame?
The purpose of the question "Can You Share a Time Management Challenge You Overcame?" primarily is to assess your ability to efficiently manage time, a core competency in today's dynamic work landscape. Every project, every role, every job involves deadlines.
How effectively one juggles multiple tasks within looming deadlines is a crucial skill separates the ordinary performers from the extraordinary. When you describe a past scenario where you overcame a time management challenge, an employer gauges your organizational strategies, decision-making abilities, resilience, ability to prioritize tasks, problem-solving tactics, and even, work ethic and persistence.
At what interview level is it asked?
This question is generally asked during middle to late stages of the interview process when the hiring authority proactively starts evaluating your softer skills and behavioral nuances.
This is often the stage where you have moved beyond assessing your basic competencies and technical skills. Instead, they are now more interested in understanding your strategic skills, problem-solving abilities, and how you juggle tasks under high-pressure environments.
What kind of answer is expected from the Candidate?
When interviewers pop the question about a time management challenge you overcame, they're not merely looking for a story. They are looking forward to hearing how you tackled the situation, showcasing your problem-solving skills pragmatically.
The methodology you employed, the time management strategies you adopted, how you prioritized your tasks, and the ultimate results achieved form your coherent narrative's crux.
Use the STAR method (Situation, Task, Action, Result) to structure your answer. Begin by describing the situation, define the time management challenge, elucidate the actions you undertook, and conclude with the successful results achieved.
A bad answer would focus solely on the challenge, making you come off as someone who gets easily overwhelmed. An exceptional response, however, would confidently narrate the time-related obstacle, but more importantly, underline the proactive measures undertaken to overcome it decisively.
Possible Answers to Consider
Remember, when confronted with the query, "Can You Share a Time Management Challenge You Overcame?", there is no fixed right answer. The perfect reply depends on your past experiences and how you've learned from them.
Consider highlighting a story where you faced a fast-approaching deadline or multiple conflicting tasks and how you successfully navigated through them. Ensure your answer transparently communicates your problem-solving skills, leadership abilities (if you led a team), and determination to meet deadlines despite all odds.
Related Course: Leadership Training Course
To round up, handling the answer to "Can you share a time management challenge you overcame?" is about maintaining a fine balance. Don't overstate the criticality of your challenge to look like a victim. Instead, stress the strategies, decisiveness, and problem-solving skills you used to overcome such a challenge.
This response will portray you as a resilient, reliable, and ready-for-action professional, endearing you to the hiring manager. The question might seem challenging, but it's your golden opportunity to pitch your problem-solving abilities and work ethic, which are crucial to excel in today's dynamic work environment.
Strategies Implemented to Overcome Time Management Challenges
| Challenge | Strategy | Outcome |
| --- | --- | --- |
| Procrastination | Setting deadlines and prioritizing tasks | Increased productivity and timely completion of tasks |
| Poor planning | Creating a daily/weekly schedule and using a planner | Better organization and utilization of time |
| Interruptions and distractions | Minimizing distractions (e.g., turning off phone notifications) and practicing time blocking | Improved focus and reduced wasted time |
| Lack of delegation | Identifying tasks that can be delegated to others and effectively communicating expectations | Ability to focus on high-priority tasks and better time allocation |
| Overcommitting and multitasking | Learning to say no and focusing on one task at a time | Reduced stress and increased efficiency |
| Lack of self-discipline | Setting realistic goals, breaking tasks into smaller chunks, and rewarding oneself for completing them | Improved self-discipline and time management skills |
Personal Schedules vs. Professional Deadlines: Case Studies on Time Management
| Category | Personal Schedule | Professional Deadlines |
| --- | --- | --- |
| Importance | Varies based on individual needs and priorities | Critical to meet project deliverables |
| Flexibility | Can be adjusted and modified based on personal preferences and changes | Usually non-negotiable and must be met within specific timeframes |
| Control | Fully controlled by the individual | Often influenced by external factors or superiors |
| Consequences | May lead to personal inconvenience or missed opportunities | Can result in negative impacts on reputation, career, or business |
| Purpose | Aims to fulfill personal needs, relaxation, hobbies, or self-improvement | Serves organizational goals, financial success, client satisfaction, or career advancement |
| Accountability | Primarily accountable to oneself and loved ones | Accountable to superiors, colleagues, clients, or stakeholders |
Effective Time Management Tools and Techniques Utilized for Problem-Solving
| Time Management Tool/Technique | Description | Effectiveness |
| --- | --- | --- |
| Pomodoro Technique | Breaking work into 25-minute intervals with 5-minute breaks in between | High |
| To-Do Lists | Listing tasks and prioritizing them | Medium |
| Time Blocking | Designating specific time slots for different tasks or activities | High |
| Calendar Planning | Using a calendar to schedule and organize tasks | Medium |
| Eisenhower Matrix | Categorizing tasks based on urgency and importance | High |
| Eliminating Distractions | Removing or minimizing distractions to stay focused | High |
Similar interview questions:
Could you narrate an instance where you surmounted a difficulty involving the management of time?

Have you ever faced a situation where your time management skills were tested and how did you overcome it?

Can you describe an experience where you had to find a solution to a time management problem?

In your experience, what was the most challenging time management issue that you successfully resolved?

Can you give an example of a challenging scenario where you had to manage your time effectively?

Do you recall a period where you had to tackle a time management issue and how did you resolve it?

What is your most memorable experience in overcoming a time management challenge?

Have there been instances where you had to strategize to overcome a challenge regarding time management?

Can you share a success story pertaining to a time management problem that you needed to solve?

Have you ever been put in a situation where managing time was difficult and how did you handle it?

Can You Share a Time Management Challenge You Overcame?
can you share a time management challenge you overcame
can you share a time management challenge you overcame?

Amara Weiss
Institute Secretary, Author
I am Amara Weiss and for many years I have worked in the field of education, specifically in the area of technology. I firmly believe that technology is a powerful tool that can help educators achieve their goals and improve student outcomes. That is why I currently work with IIENSTITU, an organization that supports more than 2 million students worldwide. In my role, I strive to contribute to its global growth and help educators make the most of available technologies.
Related Posts
Our team of experts is passionate about providing accurate and helpful information, and we're always updating our blog with new articles and videos. So if you're looking for reliable advice and informative content, be sure to check out our blog today.