Interview Questions
Interview Question: How Do You Manage Tight Deadlines?
05 September 2023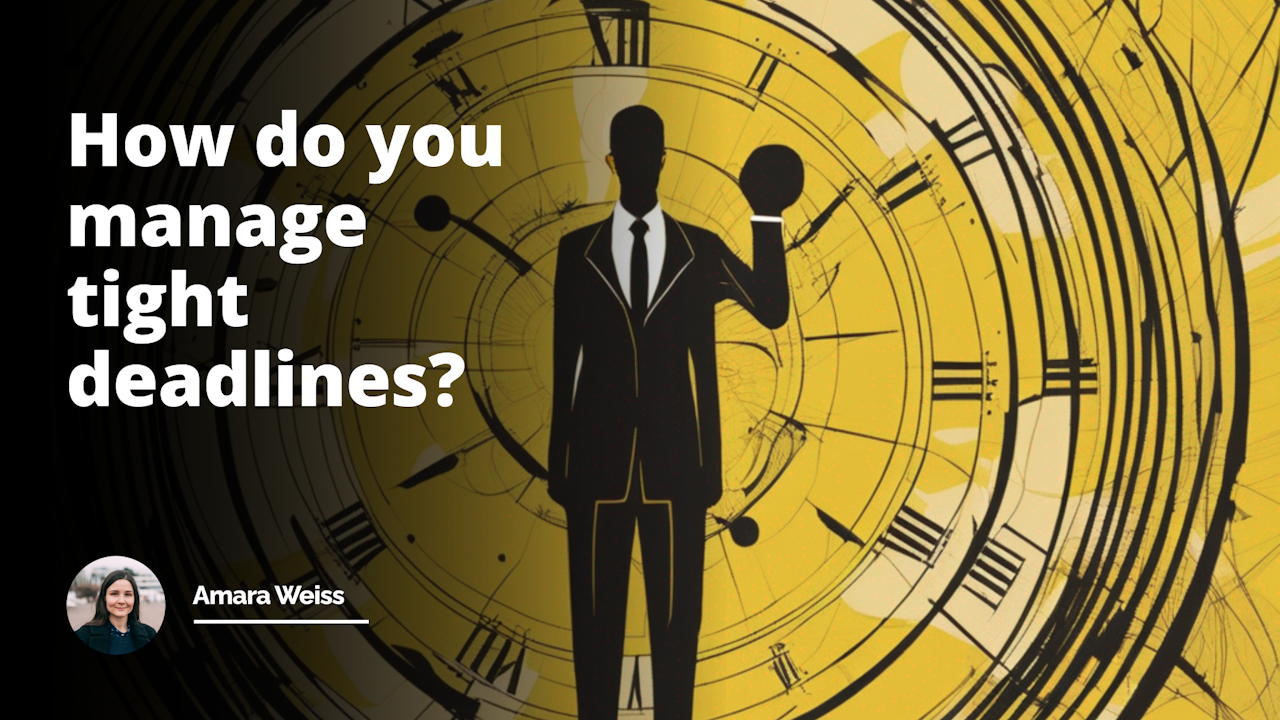 | Reasons/Meaning | Expected Answers | Considerations |
| --- | --- | --- |
| To assess time management capabilities | Use of time management techniques, Prioritizing tasks | Share specific examples, Emphasize quality despite time constraints |
| To gauge candidates' ability to handle pressure | Demonstrate calmness under pressure, Show examples of meeting deadlines | Real-life instances where candidate remained calm, Track record of meeting deadlines |
| To measure organizational skills | Mention of effective organizational tools, Structured approach to tasks | Disclose tools used for organization, Explain how structure aids in managing deadlines |
| To evaluate prioritization skills | Explain how tasks are evaluated for urgency and importance | Mention strategy for prioritizing tasks, Provide instances where it helped meet deadlines |
| To assess candidates' ability to set realistic expectations | Mention of setting timelines, Communicating deadlines to stakeholders | Details on how timelines are estimated, Examples of successful communication |
| To test problem-solving skills | Share experiences of dealing with obstacles, Showcase resolved setbacks | Provide specific instances, Mention how quality was maintained |
| To determine delegation and collaboration abilities | Discuss delegation of tasks, Highlight skills in coordination | Share experiences of successful delegation, Discuss instances of effective collaboration |
| To assess ability to thrive in fast-paced environment | Prove capability with real-world examples | Provide instances where candidate thrived under pressure, Mention the role of time management |
| To ensure candidates do not sacrifice quality for speed | Maintaining high-quality work, Balance between speed and quality | Explain methods ensuring quality, Share examples of high-quality timely work |
| To evaluate candidates' ability to handle job demands | Demonstrate adaptability, Show persistence under pressure | Details on how adaptability was essential, Instances of persistence despite challenges |
In today's fast-paced business world, tight deadlines are a common occurrence. Whether you are working in a corporate environment, running your own business, or pursuing a freelance career, the ability to effectively manage tight deadlines is a crucial skill.
Interviewers often ask candidates about their approach to handling tight deadlines to assess their time management capabilities, ability to handle pressure, and organizational skills.
Related Course: Free Online Time Management Course
In this article, we will explore the purpose of this interview question, at what interview level it is asked, what kind of answer is expected from the candidate, and provide possible answers to consider.
Why is this interview question asked: How Do You Manage Tight Deadlines?
Asking candidates how they manage tight deadlines serves multiple purposes for interviewers.
Firstly, it helps them gauge how well the candidate can handle pressure and thrive in a fast-paced environment. Deadlines can often induce stress, so employers want to know if a candidate can stay calm and focused under pressure.

Secondly, this question provides insights into the candidate's organizational skills and ability to prioritize tasks effectively.

Finally, it allows interviewers to assess the candidate's time management abilities, an essential skill in any role.
The purpose of the question
The purpose of asking candidates about their approach to managing tight deadlines is to determine if they have the necessary skills and mindset to excel in a role that requires working under pressure.
It also helps the interviewer gauge whether the candidate can handle the demands of the job without sacrificing quality or making careless mistakes. Employers are looking for individuals who can stay composed, meet deadlines, and deliver high-quality work consistently.
At what interview level is it asked?
The question about managing tight deadlines can be asked at various levels of the interview process, from entry-level positions to senior management roles.
Entry-level candidates may be asked about their experience in handling tight deadlines in academic or extracurricular activities.

Mid-level candidates may be asked about specific instances where they successfully managed tight deadlines in their previous roles.

Senior-level candidates may be probed on their strategies for delegating tasks and ensuring timely delivery of projects.
What kind of answer is expected from the candidate?
When answering this interview question, it is important to demonstrate your ability to handle tight deadlines effectively while maintaining a high level of productivity and quality. Interviewers expect candidates to describe their strategies, skills, and tools used to manage deadlines.
They want to see that you have a structured approach, can effectively prioritize tasks, and communicate any potential roadblocks to your team or supervisor.
Additionally, emphasize your ability to remain calm under pressure and your track record of meeting deadlines consistently.
Possible answers to consider
Time management: Start by explaining your time management techniques, such as creating a schedule or using productivity tools. Highlight your ability to break down tasks into smaller, manageable chunks and allocate sufficient time to each task based on its urgency and importance.

Prioritization: Discuss your approach to prioritizing tasks when faced with tight deadlines. Explain how you evaluate the importance and urgency of each task and make informed decisions about what needs immediate attention. Share an example where you successfully managed multiple priorities and met all the deadlines.

Setting realistic expectations: Communicate your ability to set realistic timelines for yourself and others involved in the project. Illustrate your experience in assessing the required time and effort for a task and clearly communicating the required deadlines to stakeholders or team members.

Delegation and collaboration: If applicable to the role you are interviewing for, touch upon your ability to delegate tasks to team members or collaborate with colleagues to ensure timely completion of projects. Highlight your skills in effective communication and coordination to get the work done within the set deadlines.

Problem-solving: Demonstrate your problem-solving skills by discussing how you handle unexpected obstacles or delays when working under tight deadlines. Share an example where you encountered a setback and successfully resolved it to meet the deadline without compromising the quality of your work.
What to consider when answering
When answering the question on managing tight deadlines, consider the following points:
Be specific and provide concrete examples from your past experiences. This demonstrates your practical understanding of the challenges and your ability to overcome them.

Emphasize your ability to maintain quality work despite the time constraints. Employers prioritize both timeliness and a high standard of work.

Showcase your adaptability and flexibility in adjusting priorities when needed. Being able to pivot and reprioritize tasks shows your agility in handling tight deadlines.

Highlight the strategies or techniques you use to stay organized and focused. This could include tools, routines, or personal practices that have proven effective for you.

Showcase your effective communication skills, as clear and timely communication is crucial in managing tight deadlines within a team or with clients.
Managing tight deadlines is a crucial skill that employers value in candidates across various industries and job levels.
By demonstrating your ability to effectively manage time, prioritize tasks, communicate effectively, and maintain quality work under pressure, you can impress interviewers and increase your chances of succeeding in a competitive job market.
Remember to stay calm, confident, and showcase your experience and expertise in handling tight deadlines.
Strategies for prioritizing tasks during tight deadlines
| Task | Priority | Action |
| --- | --- | --- |
| Identify critical tasks | High | Focus on these tasks first |
| Break down tasks into smaller subtasks | Medium | Assign deadlines to subtasks and tackle them one by one |
| Delegate non-essential tasks | Low | Share workload with team members or seek assistance |
| Utilize time management techniques | High | Use techniques like Pomodoro Technique to stay focused and productive |
| Regularly reassess priorities | Medium | Review tasks and adjust priorities based on changing circumstances |
| Communicate with stakeholders | High | Keep stakeholders informed about progress, potential delays, and manage expectations |
Time management techniques to meet tight deadlines
| Time Management Technique | Description | Example |
| --- | --- | --- |
| Prioritization | Identifying and ranking tasks based on their urgency and importance | Creating a to-do list and tackling high-priority tasks first |
| Task delegation | Assigning tasks to others to share workload and save time | Dividing a project into smaller tasks and allocating them to team members |
| Eliminating distractions | Minimizing interruptions or diversions that can consume time | Turning off notifications or working in a quiet, dedicated space |
| Time blocking | Allocating specific time blocks for different tasks or activities | Blocking off 2 hours for focused work in the morning and 1 hour for email management in the afternoon |
| Breaks and rest | Taking regular breaks and ensuring sufficient rest to maintain productivity | Taking 10-minute breaks after every hour of intense work and getting enough sleep |
| Flexibility and adaptability | Being open to adjusting plans or strategies when necessary | Adapting to unexpected changes in project requirements or timelines |
Effective communication and collaboration methods for coordinating work during tight deadlines
| Method | Description | Example |
| --- | --- | --- |
| Regular check-ins | Frequent updates and progress reports to ensure everyone is on track | Daily team meetings |
| Clear communication channels | Establishing easy and efficient ways to communicate and share information | Using project management software or messaging apps |
| Task prioritization | Setting clear priorities and deadlines to focus on the most critical tasks | Creating a priority list or using a task management tool |
| Delegation of tasks | Assigning specific tasks to individuals based on their skills and availability | Creating a task assignment chart |
| Effective time management | Planning and allocating time wisely to meet the deadline | Using time tracking tools or setting timers to stay focused |
| Collaborative problem-solving | Engaging the team to find solutions and overcome obstacles together | Brainstorming sessions or team discussions |
Similar interview questions:
Multiple choice: Which of the following strategies do you find most effective in handling tight deadlines?
a) Prioritizing tasks
b) Seeking help from colleagues
c) Streamlining processes
d) All of the above

Fill in the blank: In your experience, _________ plays a crucial role in successfully managing tight deadlines.

True or false: True or False: Having a proactive approach helps in effectively managing tight deadlines.

Short answer: What are your preferred techniques to ensure you meet tight deadlines

Ranking question: Rank the following factors in order of importance when it comes to managing tight deadlines:
a) Effective time management
b) Efficient communication
c) Flexibility and adaptability
d) Well-established task prioritization

Yes or no: Have you ever had to extend a tight deadline? If yes, how did you handle it?

Essay question: Describe a situation where you successfully managed several concurrent tight deadlines. What actions did you take to accomplish your tasks effectively?

Scenario-based: Imagine you have been assigned a critical project with an unexpectedly tight deadline. Outline the exact steps you would take to ensure its successful completion.

Opinion-based: From your perspective, what are the main challenges that arise when managing tight deadlines, and how can they be overcome?

Image-based: Interpret the following image in the context of managing tight deadlines and explain how it reflects your approach in such situations.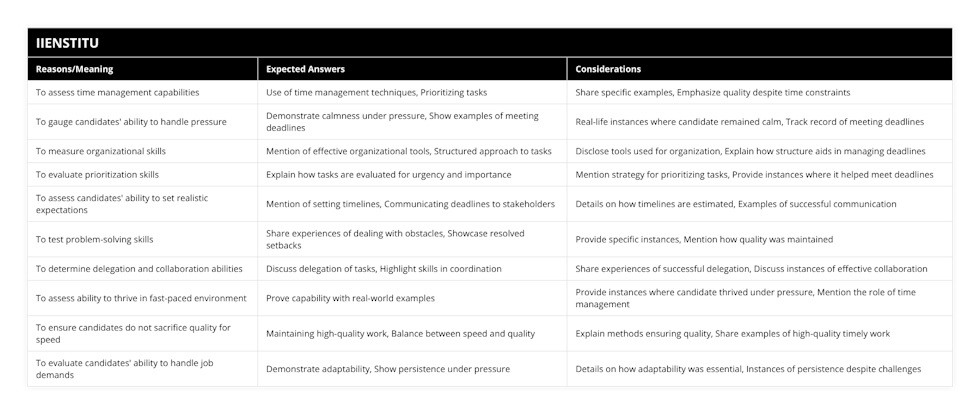 How do you manage tight deadlines?
how do you manage tight deadlines
how do you manage tight deadlines?
how do you handle completing multiple tasks under tight deadlines
how do you deal with tight deadlines and multiple priorities

Amara Weiss
Institute Secretary, Author
I am Amara Weiss and for many years I have worked in the field of education, specifically in the area of technology. I firmly believe that technology is a powerful tool that can help educators achieve their goals and improve student outcomes. That is why I currently work with IIENSTITU, an organization that supports more than 2 million students worldwide. In my role, I strive to contribute to its global growth and help educators make the most of available technologies.
Related Posts
Our team of experts is passionate about providing accurate and helpful information, and we're always updating our blog with new articles and videos. So if you're looking for reliable advice and informative content, be sure to check out our blog today.