Human Resources Management Course
Master the dynamic field of Human Resources with our comprehensive HRM course. Earn a recognized Human Resources certification and elevate your career. Enroll now and fast-track your professional growth in HR management.
Human Resources Management Course
Master the dynamic field of Human Resources with our comprehensive HRM course. Earn a recognized Human Resources certification and elevate your career. Enroll now and fast-track your professional growth in HR management.
Welcome to your gateway to achieving professional growth in the dynamic field of human resource management. Our Human Resources Management Course approaches your learning experience by combining best industry practices, contemporary trends, and sound HR principles, helping you succeed in any global corporate environment.
Guiding you each step of the way, our seasoned instructors use their rich industry experience to explain complex HR concepts, making the learning process thoroughly engaging. Investing in this HRM course deepens your knowledge in crucial areas such as developing policies, managing employee relations, recruitment, and performance management but also broadens your perspective, allowing you to confidently adapt to the ever-changing HR landscape.
In this digitally-driven era, businesses recognize the value of having resourceful HR professionals, resulting in numerous expansion opportunities in the HR field. Some labor market predictions even suggest a growth rate for HR jobs nearly doubling other sectors, making it a promising career choice. By acquiring an HR certification, you elevate your professional stature, ensuring a competitive advantage in this upward-trending field.
| Number | Step | How | Win |
| --- | --- | --- | --- |
| 1 | Enroll | Register online for our comprehensive HRM course. | Kick-start your journey into the world of HR. Gain instant access to course materials, insights, and join a dynamic HR community. |
| 2 | Acquire Knowledge | Participate in interactive sessions, assignments, online discussions, and webinars. | Develop key HR skills, learn about various HR practices. Insights from real-world examples and case studies add depth to your understanding. |
| 3 | Certification | Fulfill all course obligations, pass assessments, and meet course requirements. | Earn a recognized HRM certification that validates your expertise in HR and provides an added advantage in the job market. |
| 4 | Apply Skills | Deploy the acquired knowledge and skills in your HR career. | Make a significant contribution in your organization, shape workplace culture, nurture talent, and watch your HR career take flight. |
Our certification program enables you to effectively handle real-world HR challenges. You'll participate in interactive discussion boards, analyze case studies, and learn from meticulous lectures and eye-opening videos, all at a pace that caters to your personal and professional commitments.
Upon successful completion, you'll earn a recognized HR certification, a testament to your refined HR competencies. This certificate significantly boosts your professional credibility and optimizes your attractiveness to potential employers. Impressively enough, HR professionals bearing a certification often qualify for roles offering substantially higher salaries compared to their non-certified peers, underlining the enormous benefits of our HR certification course.
Our human resources management course positions you to make substantial contributions in your future HR roles. By the course's conclusion, you will possess a thorough understanding of contemporary HR practices, enabling you to make valuable people-centric decisions and propel organizational success. It's time to take a giant leap in your HR career by partaking in our comprehensive HRM course. Discover your potential and begin your journey toward becoming a sought-after HR professional!
A Welcome Note: Unraveling the Mysteries About the HRM Course You've Chosen
Welcome to the fascinating journey of our Human Resource Management (HRM) course, a meticulously curated program designed to empower you to navigate the intricate realms of people management with confidence. Anchored in industry-relevant insights, our course offers comprehensive knowledge on core HR facets, including, but not limited to, talent acquisition, employee relations, performance management, and employment laws.
Professionally curated and rich in relevant content, this course is your passport to an enriching HR experience and an accelerating career. Constructed with a learner-friendly approach, this program goes beyond simply offering information; it arms you with strategic and problem-solving skills to effectively address real-world HR challenges.
So, prepare to delve deeper into the captivating world of HR with us and evolve from being a keen learner today into becoming an influential HR professional tomorrow.
Building Blocks of Success: Comprehensive Introduction to HR Course
Our course offers a comprehensive introductory look into HR's foundational principles and responsibilities. We don't merely run you through recruitment basics or labor laws; we guide you on how to craft effective policies, potential compensation structures, and how to handle employment laws effectively. Impressively, we manage to distill all complex aspects of HR into a learner-friendly program without compromising on breadth and depth.
But wait—our HRM course isn't just about theory! Acknowledging the significance of practical application, this course mimics the real-world corporate atmosphere—giving you hands-on experience. Eager to unravel the complexities of employee relations? Interested in knowing just how HR aligns with strategic organizational goals? Get set to encounter this and more, from participating in interactive discussions to weighing in on thought-provoking case studies.
Beyond the wide array of knowledge and experiences this course offers, what really sets it apart is the Human Resources Certification that accompanies it. This certification not only bolsters your understanding of HR best practices but also equips you with a gleaming badge of expertise that enhances your employability in the HR field.
Flexible Learning Redefined: Embrace the Conveniences of our HRM Course Online
No longer do geographical boundaries or time constraints limit your pursuit of professional growth in Human Resources. With our flexible, self-paced online course, you can dive into learning anytime, anywhere, and redefine your learning experience.
Wondering how our HRM course fits into your busy schedule? Our course enthuses convenience, allowing you to learn at your own pace. Thanks to cutting-edge technology, our course material is accessible from any device, be it a laptop, tablet, or mobile phone. Transform your lunch break, your commute, or even a waiting room into a productive learning session with our HRM Course Online.
Could there be anything more exciting than a high-quality and comprehensible course tailored to your needs? Our specialized course content is curated by industry veterans and is an engaging mix of theory and real-world applications. We take pride in delivering relevant, valuable, and user-friendly content that transforms your learning journey from a mere academic adventure into a transformative, career-enhancing investment.
What's more, our online HRM course is centered on problem-solving. We don't just provide you with solutions; we empower you with practical skills that help you adapt to, solve and embrace real-life HR challenges with confidence. We ask the important questions, prompt you to think critically, and guide you to the answers. The aim? To mold you into a proactive HR professional capable of driving change and fostering growth in your future organization.
Gain an Edge: Elevate Your Professional Status with Our Renowned Professional HR Certification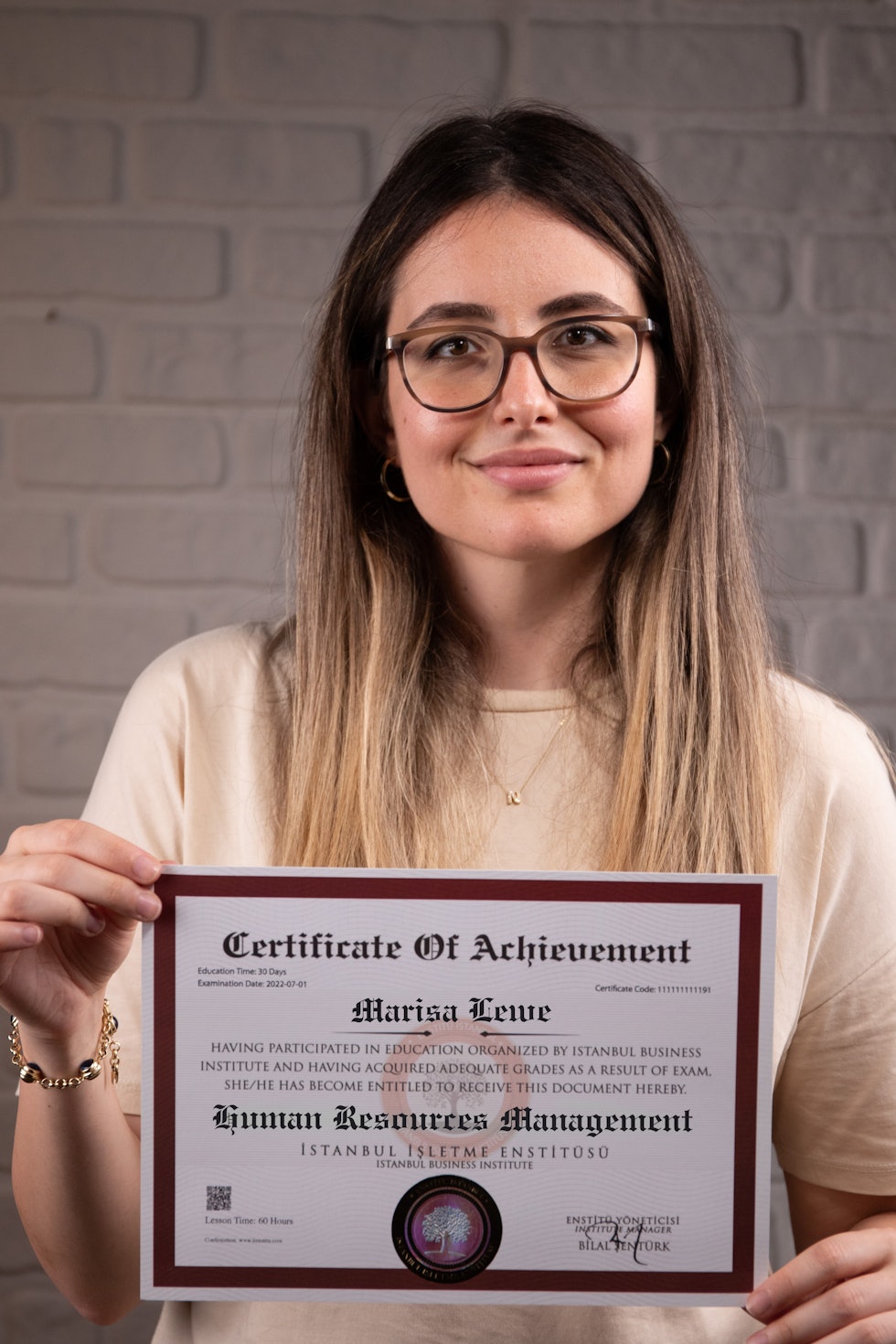 This is where we inspire you to expand, explore, and evolve with the dynamic ebb and flow of HR trends.
How, you wonder? Our HRM course is the solution you did not realize you were looking for. We have blended industry-revered tactics, real-world situations, and in-depth theoretical knowledge to create an immersive learning environment. Do you have the appetite for engagement, insightful discussions, and interactive case studies? That's exactly what we are offering.
Earning our Professional HR Certification does more than just boost your resume. It presents you with a unique opportunity to join the global brigade of HR leaders. It reassures employers of your proficiency in managing critical HR tasks such as recruitment, performance management, and policy development. Imagine being capable of handling international HR challenges, steering organizations to growth, and shaping workplace cultures.
Professional HR Certification isn't your conventional token of completion. It's a testament to your commitment, your expertise, and your readiness to stand tall amidst the evolving demands of HR roles. Your investment in our HRM course, thus, isn't solely about a career upgrade. It's about becoming an integral part of organizations that are seeking skilled HR professionals just like you.
Unlock Your Potential: Recognizing the Importance and Weightage of Human Resources Certification
Are you an aspiring HR professional eager to contribute to an organization's success? Or, a seasoned HR professional keen on expanding your knowledge base? Perhaps you are seeking a career switch to the versatile field of HR? If yes, taking up this human resources certification could be the best strategic move toward fulfilling your professional ambitions.
So, what does our HRM course offer you? We cherry-pick the finest ingredients from the HR universe, create a recipe for success, and present it to you in the form of this comprehensive course. Our curriculum is a well-balanced mix of modern HR practices and time-tested principles, meticulously curated to enhance your understanding of HR complexities. From employee recruitment to performance management, policy-making to labor laws, we cover it all!
But let's pause for a second. Why the infusion of real-world applications when theoretical concepts form the bedrock of any discipline? The answer is simple but profound. We help you build strong theoretical foundations, then swiftly introduce you to the practical nuances of HR challenges. The idea is to make you comfortable with change, adaptable in the unpredictable HR landscape, and, more importantly, a confident problem-solver.
And, what happens when you clear the final hurdle, complete our HRM course, and earn your human resources certification? You gain a newfound sense of validation, a boost in self-confidence, and an important addition to your resume. This certification isn't an ordinary paper of completion. It's like a golden ticket that carries significant weight in the global HR sphere. This certification signals recruiters' dedication, prowess, and readiness to tackle daily and strategic HR issues their organization may face.
Make no mistake—a certified HR professional isn't just an HR practitioner. They are influential HR leaders who shape workplace cultures, drive talent acquisition strategies, and, most importantly, steer organizations toward growth. As an HR professional, you are not just a cog in the wheel of an organization.
So, let's get started. Are you ready to turn over a new leaf in your professional journey with our HRM course and human resources certification? The world needs more strategic HR leaders, and it starts with you!
Remember, an investment in knowledge always pays the best interest. And when it comes to our HRM course, there's no better investment. Let your HR journey begin right here, right now!
Learn it the Right Way: Advantageous Human Resources Certification Online Perfectly Tailored for the Modern Learner
Our HRM course stands apart, not just in terms of the quality it brings to the table but also its mission to upskill, empower, and prepare you for success in the diverse arena of Human Resources.
Dive into realms of HR that often remain elusive. Our program combines industry insights, experiential learning, and the expertise of seasoned HR professionals to take you beyond textbook theories. It is a virtual bridge toward understanding universal HR practices and respecting unique corporate cultures and geographic differences. This course provides an immersive learning environment where you will explore, question, analyze, and ultimately master HR concepts.
Recognize the role that an HR professional plays in shaping an organization, a role that is as critical to a thriving start-up as it is to a multinational corporation. Along with equipping you with key skills such as conflict resolution and strategic planning, our course will foster a deep understanding within you about the importance of discharging responsibilities ethically and fostering an inclusive, respectful workplace culture.
Wondering how to balance work, life, and learning? Our online Human Resources Certification steers clear of rigid schedules and time constraints. It is you who sets the pace. Whether you are a full-time employee, a manager aspiring to climb the corporate ladder, or a recent graduate eager to enter the job market, our flexible and easily accessible course seamlessly blends into your lifestyle.
Accessible, comprehensive, interactive, and online - that's our HRM course. But remember, obtaining the certification is not the finish line but rather a grand leap toward rewarding career opportunities. The power of an accredited certification cannot be overstated in the HR field, and having this on your CV paves the way for roles with increased responsibility, respect, and remuneration.
So, are you ready to encourage your HR knowledge, refine your skills, and enhance your career prospects? Hold the reins of your journey with our Human Resources Certification online course. Engage, learn, and evolve into that HR Professional the world needs. The era of waiting is over; it's time to act. Illuminate your HR career path, starting today!
Stand Out in the Crowd: Appreciating the Value of Human Resource Certifications in Today's Competitive Job Market
It brings you face-to-face real-world HR challenges and equips you with the strategic tools to address them efficiently, thus providing a comprehensive answer to your career questions and aspirations.
Primed for individuals who appreciate the blend of flexibility and quality learning, our online course allows you to learn anywhere, anytime, at your own pace. Authoritative lectures, insightful case study analyses, and lively discussion boards abound, providing an engaging learning experience that aligns with your schedule.
Wondering about the immediate benefits of this course? Imagine taking your job applications a notch higher with a valuable HR certification listed on your CV. This certification, a testimony of your refined expertise and dedicated learning, can considerably enhance your appeal to recruiters, giving you a remarkable edge over non-certified peers. This competitive advantage can unlock doors to higher-level positions, often accompanying more attractive remuneration packages—sounds enticing, doesn't it?
Your journey toward obtaining your human resources certification online doesn't have to be intimidating or tedious. With our interactive and user-friendly HRM course, you'll find the experience both enriching and rewarding. Ready to ace your HR career? Let's get started on your journey toward earning that well-deserved certification.
The Power of Specialization: Dive into the Details of a Certificate Course in Human Resource Management
The arena of Human Resource Management (HRM) is vast and complex. It demands keen insight, strategic thinking, and a diverse skill set. An HR professional must go beyond merely mastering generic principles. They should tap into the power of focused learning to tackle the unique challenges and opportunities of this dynamic field. This is where a specialty course, like our Certificate Course in Human Resource Management, stands out in its promise of empowering you with exceptional HR expertise.
Our course throws you into the heart of HRM, bringing to light the intricate workings of human capital management. It expertly weaves together essential facets of HRM, starting from talent acquisition, employee performance and development, labor laws, and compliance standards, right up to sophisticated topics of strategic human resource planning.
But what makes this course stand out? It's the in-depth focus it lends to each topic. It offers you a microscopic view of every HR aspect, dissecting and exploring it in detail, unlike typical broad-based HR courses. Each module is meticulously pieced together, paired with real-time scenarios drawing from the HR industry's pulse, thus making learning more immersive and applicable.
Our course is for everyone: from someone making their first steps into HR, an HR professional seeking updated skills, to a supervisor looking for effective people management techniques. In essence, this certificate course embraces an inclusive learning ethos.
The results? This robust course transpires into extraordinary learning outcomes. You not only gain extensive HR knowledge but also develop a nuanced perspective toward people management, a skill that companies immensely value. You will seamlessly transform into a proficient HR manager, someone capable of making sound, informed decisions that uphold company objectives and employee welfare.
From redefining your HR understanding to reshaping your career trajectory, this HRM certificate course stands pivotal. It's a significant stride towards standing tall in the HR world and steering your company to new performance heights. The benefits are twofold – both for you and your company. Sounds like a win-win, right?
Rising Above the Norm: Realize the Importance of Acquiring Your Human Resource Management Certificate
Your role in human resources is more than just a job – it's a calling to foster talent, steer organizational culture, and drive sustainable company growth. That's the beauty of HR. But to truly impact this domain, you need to equip yourself with the right professional qualifications. That's where getting your Human Resource Management Certificate comes in. Not just a piece of paper; it's a testament to your commitment, expertise, and readiness for bigger HR responsibilities.
Acquiring this certificate, particularly through our meticulously designed HRM course, is a proactive move for your career progression. Our course, delivered by experienced HR professionals, ensures you grasp the heart and soul of HRM. It covers everything from crafting agile HR policies and handling employee relations issues to mastering the art of personnel management.
Of course, it's not just about expanding your knowledge. It's about polishing your practical skills, too. And our hands-on program does just that, merging theory and practice so you learn to apply your knowledge and solve real-world HR dilemmas.
Here's the bottom line: Armed with a Human Resource Management Certificate, employers see you as a capable and serious HR professional. You'll come across as someone with the drive to go the extra mile, the curiosity to keep learning, and the skills to excel in challenging HR roles. It becomes your professional badge of honor, enhancing your credibility and opening doors to promising career opportunities.
As Gary Dessler, an esteemed HR author, and speaker, rightly said, "If you want it, go for it. Take a risk. Don't always play it safe, or you'll die wondering." The decision is in your hands.
Charting Your Post-Certification Path: How our HR and Management Course Propels Your Career Forward
Every finishing line is the start of a new race. The moment you earn your certification through our meticulous HRM course, you'll begin a promising career path teeming with exciting prospects.
With a refined understanding of HR and management principles, you're primed to make substantial contributions in your future roles. You'll be well-equipped to manage performance, cultivate talent, and foster an amicable culture within your organization. Hence, completing this course is more than an achievement; it presents you with a remarkable professional canvas where you can paint with broader strokes.
A key highlight of our course is the inclusion of management techniques. These equip you with a leadership mindset, enabling you to supervise teams effectively and make informed decisions. Such a dual skill set of HR and management principles enhances your market value, setting you apart from your peers in the competitive job market.
Interestingly, possessing this certification stamps your resume with a seal of dedication and competence, making it more compelling for recruiters. You'll find yourself ambitiously eyeing diverse roles, from entry-level HR positions to managerial ones. Also, bear in mind that certified HR professionals are often positioned at a competitive advantage, qualifying for roles that offer not only job satisfaction but also better compensation.
But here's what truly makes this journey exciting: the freedom to carve your own professional trajectory. Yes, it could mean stepping into roles in recruitment or training and development. Or it could also mean seizing opportunities in broader areas like labor relations or personnel policy planning. The choice is yours - the HR field is vast, and the career possibilities are virtually limitless.
Ultimately, this HR and management course is your ticket to a fulfilling HR career. It's time-taking but worth every second, challenging but equally rewarding. Jump onto this learning journey and watch as your career graph takes an impressive upward turn. Make your mark in the HR world and champion the people's agenda like a pro – they say the sky is the limit, but why stop there?
Empower Your Career Aspirations: Exploring the Unparalleled Benefits of our Human Resource Management Course
This program taps into the potential of aspiring HR professionals, equipping you with the capabilities needed to navigate the multifaceted landscape of human resource management. It's more than just an education; it is a powerful accelerator for your career journey, powering your skill set and future-proofing your career aspirations.
So, why choose our HRM course? For its unmatched benefits! You gain a solid understanding of core HR processes, right from talent acquisition to employee management and labor laws. You develop critical soft skills that enable you to approach difficult conversations confidently, resolve conflicts diplomatically, and foster a positive work culture. It empowers you to become a strategic decision-maker who can balance both employee well-being and company growth.
Another noticeable benefit is the enhancement of your employability quotient. As organizations globally recognize the necessity of effective people management, the demand for proficient HR professionals rises, making a certified HRM professional a coveted asset. This certification henceforth acts as a golden ticket, making you a sought-after professional in the competitive job market.
But the real magic of our HRM course unravels in a transformation that's much deeper than professional growth. It sharpens your personal attributes and refines your leadership outlook. So, while you're busy acing HR strategies and policies, you're also building soft skills that help you engage with people effectively. You learn the power of empathy and how it forms the backbone of any thriving organization. You develop an intricate understanding of organizational behavior that helps foster an inclusive, harmonious work environment.
Unleash your potential, master the art of people management, and, most importantly, forge your path toward a successful career in Human Resource Management. The question remains, are you ready to Carpe Diem and seize this exceptional learning opportunity?
Your Career Catalyst: Unearth the Long-Term Benefits of an HRM Course
Choosing to enroll in an HRM course can be a game-changer for your professional journey. The benefits of joining an HRM course stretch beyond just bookish knowledge - it equips you with practical skills, deep insights, and a fresh perspective on managing human capital.
Ever considered the impact of a well-structured team? Or envisaged how a positive organizational culture galvanizes higher productivity? Through the lens of an HRM course, broader aspects of HR become crystal clear. From recruitment strategies to performance evaluation, policy formulation to conflict resolution, you gain insights into diverse HR arenas.
Understanding, analyzing, and influencing the human behavior that drives organizational success - doesn't that sound intriguing? Here's the kicker: an HRM course imparts you with these abilities. Interacting with people, understanding their motivations, and aligning them with organizational goals become parts of your daily routine. The desire to contribute positively to people's work lives and, crucially, to the success of your organization is what this course starts kindling within you.
The HRM course isn't just a stepping stone; it's a catalyst fueling your HR career. It sets you apart in the highly competitive job market, stamping your credentials with credibility and competence. The certification holds weight on your resume, enticing potential employers and even paving the way for highly coveted positions. Additionally, it opens the floodgates to numerous networking opportunities.
Moreover, an HRM course is a great way to future-proof yourself. As organizations increasingly recognize the need for skilled HR professionals, the need for specialized education in HR also grows. Yes, the landscape of work is rapidly evolving, and this course ensures you stay ahead of such changes.
Mapping Your Future: Preparing for Next Steps Post Your Human Resource Management Course Benefits
But what does this mean for you in practical terms? How does this benefit you directly? Let's simplify that for you.
Elevating Job Prospects: Your employability scale goes several notches up with the completion of an HRM course. Not only does it prepare you for a wide array of roles within human resource management, but it also raises both your professional stature and wage prospects significantly.
Broadening Knowledge Scope: In an ever-evolving field like HRM, you need to stay ahead of the curve. This course enables you to do just that. It intensively covers and connects you to the latest innovations, practices, policies, and laws.

Fostering Skills Development: Wondering how to effectively manage teams? Or address employee grievances? An HRM course enhances your problem-solving ability, strategic planning skills, and negotiation acumen. It builds you into a more empathetic listener and a more persuasive communicator - key traits to excel in HR roles.

Enhancing Career Mobility: This might be hard for you to even fathom now, but once you're armed with an HRM course certification, moving up the career ladder becomes more feasible. Whether you want to be an HR Generalist or a Training and Development Manager, this course equips you for different positions.

Enriching Personal Growth: As you learn more about human behavior, motivation, and organizational dynamics, you'll find you are becoming more self-aware and emotionally intelligent. This personal growth is perhaps one of the most rewarding aspects of taking an HRM course.

Promising a Positive ROI: Indeed, there is a monetary investment in enrolling in an HRM course. However, the benefits - such as higher wages, job security, and career satisfaction - outstrip this investment, meaning you can expect a positive return on your investment.
Going forward, remember the professional world thrives on continuous learning and adaptability. Your HRM course is a stepping stone towards a rewarding HR career. Embrace the knowledge and upskilling it provides, and you'll soon see a distinct difference in your professional trajectory. The future will throw challenges. Are you ready to meet them headstrong?
A Worthy Investment: Why Opting for HR Management Course Is the Best Career Decision You'll Ever Make
Picturing a future in a tedious job without potential challenges or growth can be a grim thought, right? This is where an HRM course can transform your outlook, offering an engaging career filled with diverse roles, ample growth opportunities, and a chance to make a crucial impact on organizational cultures.
So, why is an HRM course one of the best career decisions you will ever make?
Firstly, it's about Value Addition. An HRM course is an investment in your future that enhances your professional value. The knowledge and skills you acquire in areas like talent acquisition, employee relations, handling team dynamics, and more can be deployed across an array of industries. You'll be seen as a versatile player, and doors to substantial career opportunities will readily open for you.
Secondly, Competitive Edge. It's no secret that the job market is fiercely competitive. How do you set yourself apart from the crowd? The answer lies in enrolling in an HRM course. A recognized HR certification speaks volumes about your commitment and expertise, giving you an edge when it comes to job applications and promotions.
Thirdly, the Great Payoff. HR roles are not just fulfilling; they are also lucratively rewarding. Post-HRM course completion, you can expect impressive compensation packages, with higher-level roles often paying six-figure salaries.
Then comes Continuous Learning. One of the most exciting aspects of choosing an HRM course is that HR is a continually evolving field. There's always new legislation to comprehend, innovative recruitment strategies to employ, or more efficient ways to boost employee engagement. Opting for an HRM course keeps you updated and adaptable.
Lastly, Job satisfaction. Does changing people's lives for the better resonate with you? As an HR professional, your role can include nurturing talent, resolving conflicts, and shaping a workplace culture where employees feel appreciated and motivated. Such responsibilities make an HR career infinitely rewarding.
Imagine navigating the intriguing world of human resources, helping individuals reach their potential, and steering organizations toward success. That's what an HR management course offers. Can you see yourself there?
Related Courses
There is no need to search for human resources courses because the best way of learning about this topic has always been right in front us. With our online course, you can enroll and be trained for a new career with ease!