Online Learning
7 Benefits of Online Learning
11 August 2022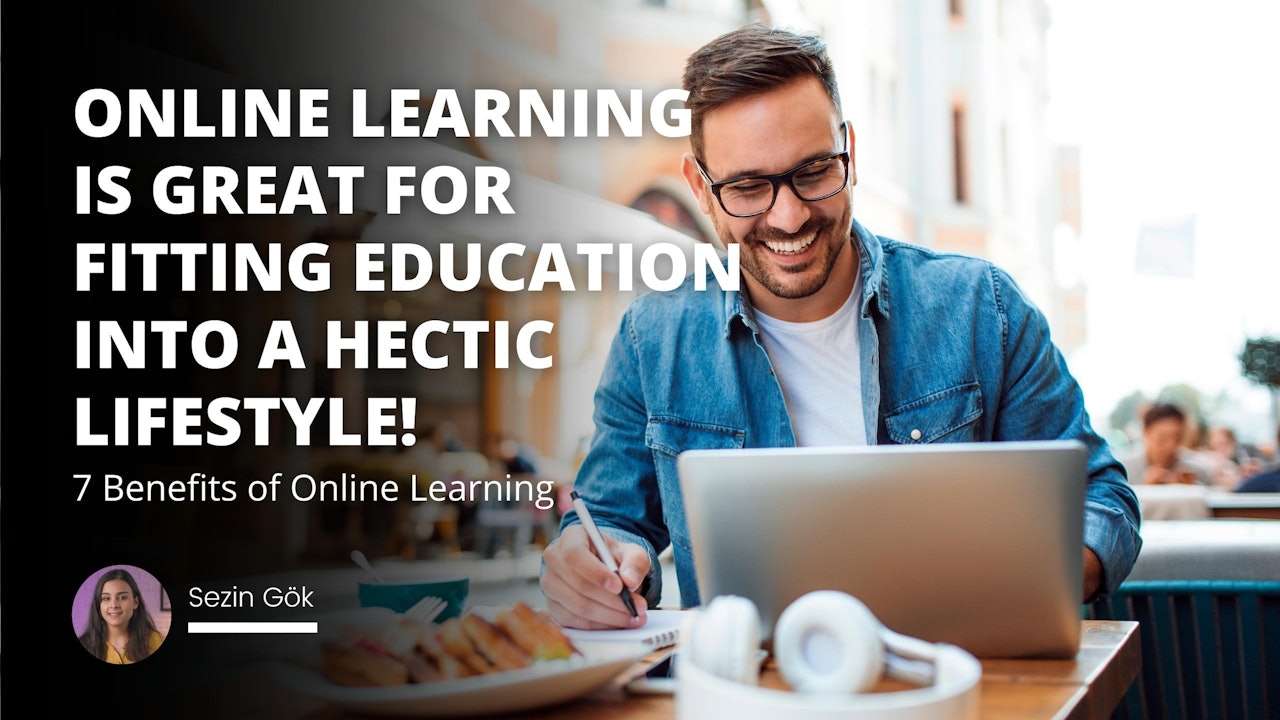 When it comes to online learning, many benefits come along with it. Whether you're a student looking to continue your education or a professional seeking new skills, online learning can offer the flexibility and convenience you need. Here are seven of the top benefits of online learning: 
7 Amazing Reasons You Should Learn Online.
Are you looking for new ways to learn and grow? If so, you may want to consider learning online. The incredible benefits of doing so include flexibility, convenience, and affordability. Keep reading to learn more about why you should join the growing number of people who are learning online! 
Did you know that one of the fastest-growing educational trends is learning online? That's right – more and more people are taking advantage of the flexibility and convenience that online courses offer.
If you're on the fence about whether or not this type of learning is right for you, keep reading. In this post, we'll explore seven excellent reasons why you should learn online. So what are you waiting for? Start exploring today!
1. Save Money
One of the most significant benefits of online learning is that it can save you a lot of money. You don't have to worry about paying for things like gas or public transportation when you take classes online. You also don't have to pay for food and housing while taking lessons from home. In addition, many online schools offer tuition discounts to students who enroll in their programs.
For example, Arizona State University offers a Tuition Reduction for Online Students program that provides a 5-10% tuition reduction for students who enroll in at least six credits per semester. This can add up to significant savings throughout a degree program.
2. Flexible Schedule
Another great benefit of online learning is that it offers a flexible schedule. If you're a working professional, you can take classes during your free time or on your lunch break. If you're a stay-at-home parent, you can take classes while your kids are at school. You can also take classes at night or on weekends if that works best for you.
3. Career Advancement
Taking classes online can also help you advance in your career. If you're looking for a promotion or switching careers, for example, taking online courses can give you the skills and knowledge you need for success. Many employers now look favorably on candidates who have completed online courses, so it's worth considering if you're making a change. With the flexibility that online classes offer, there's no reason not to take advantage of this opportunity to invest in yourself.
4. Online Student Support
When you take classes online, you're not alone. Many online schools offer student support services that can help you with financial aid, tutoring, and technical support. In addition, many online forums and discussion boards allow students to connect and form study groups. So if you're ever feeling overwhelmed or need some help, there's always someone you can turn to.
5. Access to Course Materials
You have 24/7 access to your course materials when you take classes online. This means you can study when it's convenient for you and don't have to worry about waiting for a professor to post new lectures or assignments. You can also review the material as often as you need to understand it fully.
6. Learning Style
Another benefit of online learning is that it allows you to learn in a way that best suits your learning style. For example, you can watch lectures or read texts if you're a visual learner. If you're an auditory learner, you can listen to audio recordings of lectures.
And if you're a kinesthetic learner, you can participate in online simulations or labs. So no matter how you learn best, there's an online course that's right for you.
7. Managing Your Time
When you take classes online, you'll need to manage your time well. This means setting aside regular study times and ensuring you complete all assignments on time. However, the rewards can be significant if you can successfully manage your time. You'll have more free time to do things you enjoy and less stress in your life overall.
Overall, there are many benefits of taking classes online. Whether you're looking to save money, have a flexible schedule, or advance your career, online learning can help you achieve your goals. So if you're considering taking classes online, keep these benefits in mind.
What do you think are the biggest advantages of online learning?
Some of the biggest advantages of online learning are:
You can learn at your own pace.

You can choose from a wide range of courses.

You can study from anywhere in the world.

You can fit learning into your busy schedule.

You can get feedback from instructors instantly.

You can interact with other students from all over the world.

You can get a degree without ever stepping foot in a classroom.
What do you think are the biggest disadvantages of online learning?
Some of the biggest disadvantages of online learning are:
It can be difficult to stay motivated without face-to-face interaction with instructors and classmates.
You may not have access to the same resources as traditional students, such as research libraries and laboratories.

You may have difficulty getting feedback from instructors in a timely manner.

You may feel isolated from other students and the larger university community.
With the ever-growing popularity of online courses, it's no wonder that more and more people are finding success with this type of learning. If you're looking for a new challenge or want to learn something new, here are seven amazing reasons you should consider joining an online course today. Are you convinced? Good. Then what are you waiting for? Our team is standing by to help get you started on the road to learning success.
save money
learning materials
managing your time
learning style
course materials
face to face
advantages of online learning
online classes
digital learning
online degree
career advancement
full time
flexible schedule
united states
online programs
online courses
online student
online education
time management skills
benefit of online

Sezin Gök
Blogger
SHe is a graduate of Akdeniz University, Department of Business Administration. She graduated from the university with a faculty degree. It has contributed to its environment with its social responsibility project. She writes articles about business and its fields.
Related Posts
Our team of experts is passionate about providing accurate and helpful information, and we're always updating our blog with new articles and videos. So if you're looking for reliable advice and informative content, be sure to check out our blog today.