Human Resources Management
HR: Addressing Todays Workplace Challenges
20 February 2023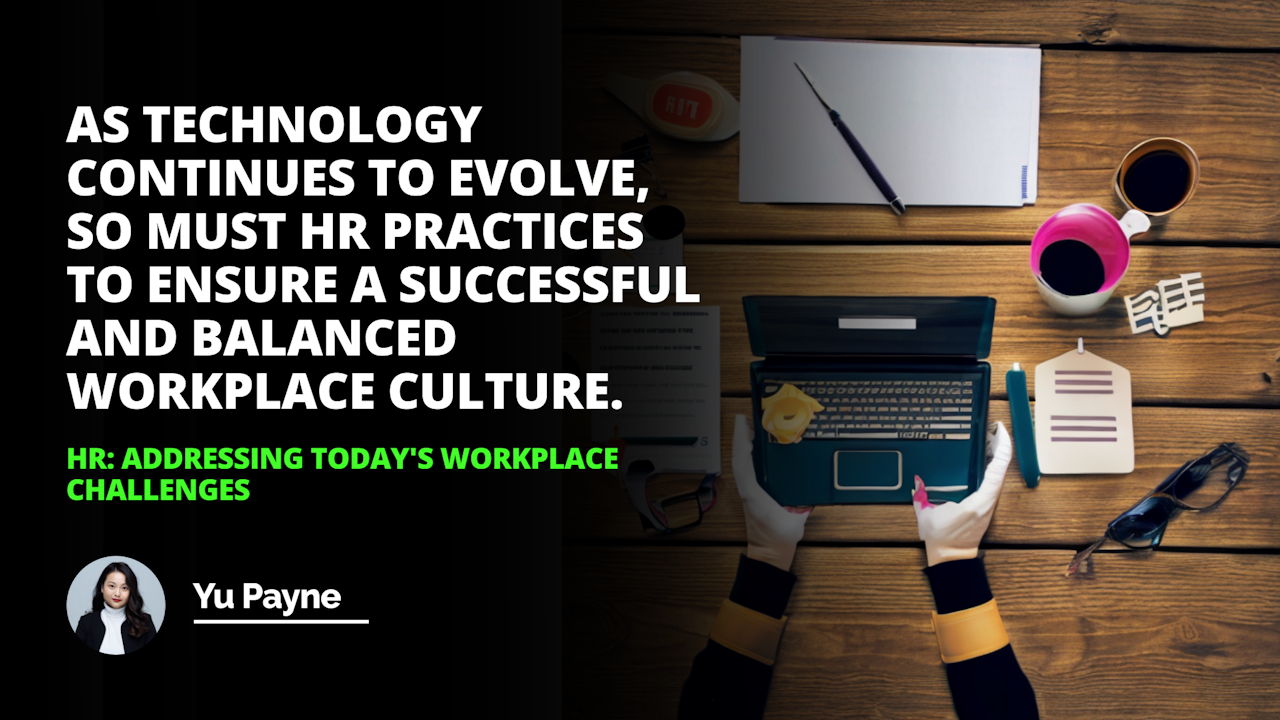 | Workplace Challenges | HR Role | Benefits |
| --- | --- | --- |
| Effects of the Covid-19 pandemic | Help redefine roles, equip remote employees, create supportive infrastructure | Increase in productivity, maintain expected behaviors and objectives |
| Large numbers of employees working remotely | Implement policies to ensure productive and equitable workplaces | Positive work environment, employee satisfaction |
| Mental health ramifications of pandemic | Create supportive infrastructures, offer training, and development opportunities | Increased team morale, employee loyalty |
| Understanding and respecting diversity and inclusion | Foster a positive and inclusive workplace culture | Increased employee satisfaction, improved loyalty, and productivity |
| Evolving technology | Ensure updated HR practices for a balanced workplace culture | Maintains a competitive edge, innovation and adaptability |
| Ever-changing market trends | Continual training and upskilling of employees | Keeping the organization on the cutting edge, increased employee worth |
| Employee retention and engagement | Implement creative problem-solving skills and collaborative strategies | Increased employee satisfaction, improved loyalty, higher job satisfaction rates |
| Ensuring workplace safety | Create and implement health and safety policies, awareness programs | Employee well-being, reduce injury-related costs |
| Maintaining work-life balance | Promote flexible work policies and employee wellness programs | Increased employee satisfaction, decreased burnout, enhanced productivity |
| Handling workplace conflicts | Introduce and enforce conflict resolution methods | Enhanced workplace harmony, increased productivity, reduced staff turnover |
Current Workplace Challenges

How HR Fits In

Benefits of Addressing Workplace Challenges
Human Resources (HR) are integral to all organizations, playing a critical role in creating a positive and productive workplace. As the workplace changes and evolves, HR departments must step up to address modern workplace challenges. Additionally, HR departments can become increasingly proactive in creating positive and supportive work environments.
Current Workplace Challenges
As we enter 2021, the world continues to be shaped by the effects of the Covid-19 pandemic. Workplaces that have been able to remain open are often doing so with considerable social distancing protocols in place. Furthermore, many organizations are grappling with the challenge of allowing large numbers of their employees to work remotely. For many people, the losses associated with the pandemic can't be overstated, and the mental health ramifications of the events of 2020 are just now beginning to be understood.
How HR Fits In
As businesses address these challenges, HR can provide essential support and guidance. By helping to redefine roles, properly equip remote employees, and create supportive infrastructures, HR can play a crucial role in ensuring that workplaces remain productive and equitable. When done right, HR can also make and implement policies that ensure the expected behaviors and objectives of the organization are maintained and respected.
Benefits of Addressing Workplace Challenges
When HR addresses current workplace challenges, the entire organization stands to benefit. A clear structure and expectations ensure that employees feel valued and heard, which can create a positive work environment. Improved team morale increases employee satisfaction, positively affecting workplace productivity and loyalty. In addition, creative problem-solving skills and collaborative approaches can give organizations an edge over competitors.
Conclusion: The importance of HR in addressing modern challenges cannot be overstated. By engaging HR in the decision-making process, organizations can position themselves to be more productive and successful. In addition, effective HR strategies and action plans can help create a supportive environment where employees can thrive and find fulfillment in their work.
HR departments should actively set expectations, offer training and development opportunities, and foster a workplace culture that values inclusion and diversity. Embracing these strategies can lead to increased employee satisfaction, improved loyalty and productivity, and higher rates of job satisfaction.
As technology evolves, so must HR practices to ensure a successful and balanced workplace culture.

Human Resources
Covid-19
Mental Health
Remote Employees
Creative Problem Solving
Team Morale
Employee Satisfaction
Productivity
Loyalty
Expectations
Training
Development Opportunities
Inclusion
Diversity
Job Satisfaction
Yu Payne
Blogger
Yu Payne is an American professional who believes in personal growth. After studying The Art & Science of Transformational from Erickson College, she continuously seeks out new trainings to improve herself. She has been producing content for the IIENSTITU Blog since 2021. Her work has been featured on various platforms, including but not limited to: ThriveGlobal, TinyBuddha, and Addicted2Success. Yu aspires to help others reach their full potential and live their best lives.
Related Posts
Our team of experts is passionate about providing accurate and helpful information, and we're always updating our blog with new articles and videos. So if you're looking for reliable advice and informative content, be sure to check out our blog today.