Online Learning
How to Ace Your Online Classes, No Matter How Hard They Seem
25 December 2022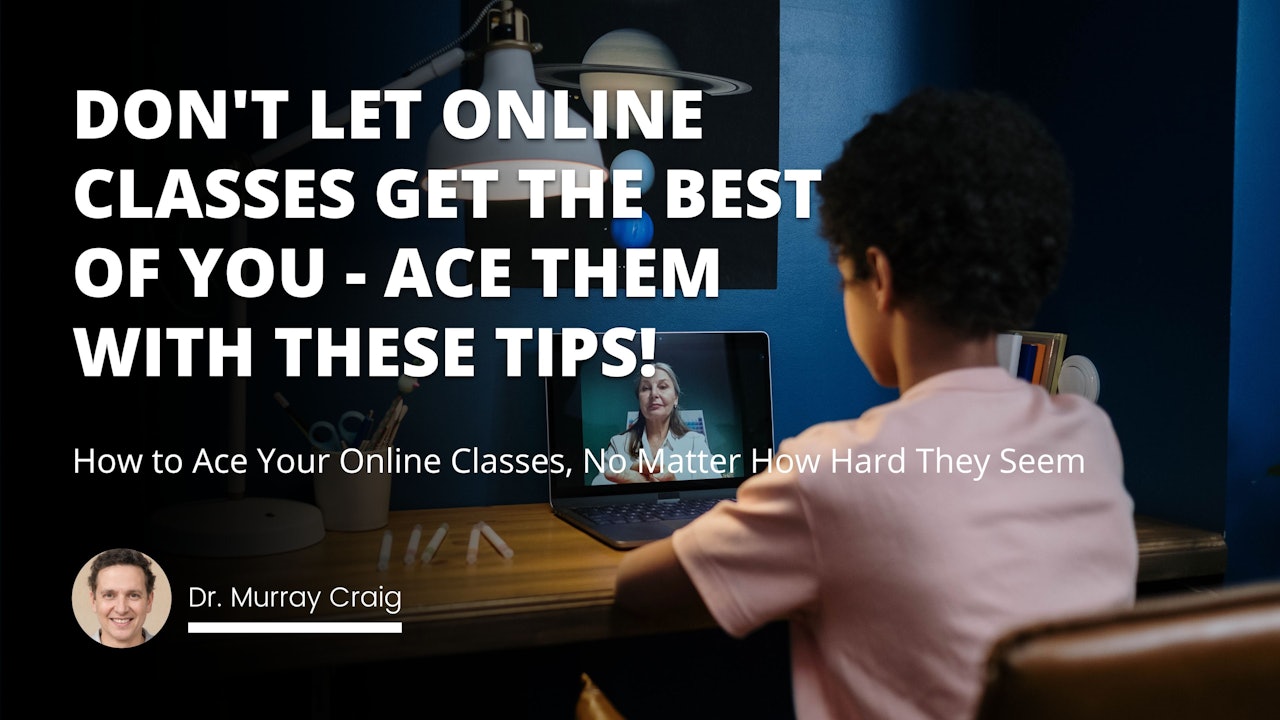 | Aspect | Benefits | Challenges |
| --- | --- | --- |
| Traditional Learning | Provides a sense of community, interactive, teachers can cater lessons to students' needs | Less flexibility in schedule, physical attendance required, limited resources |
| Online Learning | Flexible, can learn anytime and anywhere, course materials available on-demand, suitable for busy professionals | Lack of physical interaction, technological issues, self-discipline required |
| Benefits of Online Learning | Convenience, interactive and engaging through multimedia elements, real-time feedback | Requires reliable internet connection, potential lack of immediate assistance |
| Types of Online Courses | A wide array of options, self-paced, available 24/7 | Finding the right course, maintaining motivation in self-paced environment |
| The Future of Online Education | Increasing use of advanced technologies, offering of accredited degrees online, interactive learning experiences | Making sure the technology is accessible and easy to use for all, maintaining academic integrity |
| Engagement in E-learning | Interactivity with instructors and peers, real-time feedback, direct questioning | Feeling of isolation, lack of face-to-face interactions |
| Materials for Online Classes | Easy accessibility, variety of formats (audio, video, text) | Information overload, differentiating reliable resources |
| Skills Gained from Online Classes | Time management, autonomy, responsibility, digital literacy | Ensuring practical skills are gained, lack of practicums or labs |
| Accreditation of Online Courses | Recognized certification, equal footing with traditional degrees | Verifying the accreditation status, stigma towards online degrees |
| Study Schedule in Online Classes | Flexible, suits individual lifestyle, personal pace | Maintaining a regular study routine, avoiding procrastination |
Traditional classes, lectures, and lab hours have long been left in the dust of our ever-growing eLearning world. But, as daunting as it may seem at first, there is no need to worry – online classes can be surprisingly fulfilling!
This blog post will walk you through a few helpful tips and tricks to ensure your next semester's online courses are successful yet fun. Knowing how to ace your coursework has never been easier, from time management strategies to choosing suitable materials for study sessions. So get ready to learn everything you need about easy breezy A+s!
Related Course: Free Online Time Management Course
The History of Traditional Learning
Before the days of eLearning, traditional educational systems have been around for centuries. This type of learning usually required physical attendance in a classroom, with lectures and hands-on lab experiences taught by teachers. While this format was adequate for its period, it provided little flexibility or freedom for students to engage in their learning actively.
Traditional learning provides a sense of community and interaction often lost in eLearning.

In traditional learning, students have more opportunities to ask questions and get help from their teachers.

Hands-on lab experiences are essential to traditional learning and cannot be replicated online.

Teachers in a traditional learning environment can cater lessons to their students' needs.
How Online Learning Has Disrupted the Educational Landscape
With the advent of online classes, educational systems have been revolutionized! With this new format, learners can take courses at their own pace and from anywhere with an internet connection. They can also access course materials on-demand and adjust study schedules to fit their needs. This innovative model has enabled a more flexible and personalized approach to learning, which is excellent for busy professionals or students who cannot commit to traditional class times.
No need to commute to campus or miss work for traditional classes

Can learn anytime, anywhere with internet access

Flexible study schedule that fits your needs

Access course materials on demand

Personalized approach to learning
Benefits of Online Learning for Students and Professionals
Unlike the traditional educational system, online classes offer more than just convenience. For example, most courses are designed with multimedia elements such as audio, video, and text-based materials – so learners can choose the best format that works for them!
In addition, many classes also allow students to interact with peers and instructors in real-time via discussion boards or webinars. This engagement will enable participants to ask direct questions and get immediate feedback on concepts they may struggle with.
Convenience: Choose when and where you want to learn without having to worry about traveling or scheduling conflicts

Multimedia Elements: Learn through audio, video, and text-based materials that are interactive and engaging

Engaged Learners: Interact with instructors and peers in real-time via discussion boards or webinars for immediate feedback
Different Types of Online Courses and Programs
The variety of online courses and programs available for learners today is truly astounding – from certificate programs to entire degree programs, there is something for everyone!
Additionally, many classes are self-paced, so students can move through the material as quickly or slowly as they like. So, no matter how busy your work or personal life may be, you can find an online course that fits your schedule.
Wide variety of courses to choose from

Many programs are self-paced so that you can learn at your own pace

Courses are available 24/7, so you can learn whenever is best for you

Learn new skills and knowledge that can help you in your current job or career field
The Future of Online Education
Online education has come a long way recently, but the sky's still the limit! With increasingly advanced technology and more options for Interactive Learning experiences, the future of eLearning looks brighter than ever.
Plus, with more schools offering accredited degrees entirely online, it's always been challenging to get the education you need, no matter your circumstances.
Get an education without having to leave home

Choose from a variety of accredited degree programs

Learn in an interactive, online environment

Take advantage of new and innovative technologies
So don't let the stress of online classes keep you from achieving your academic goals – take these tips and tricks into account, and you will be well on your way to acing every course! Whether you're a student or a professional, anyone can find success in an online classroom. Good luck and happy learning!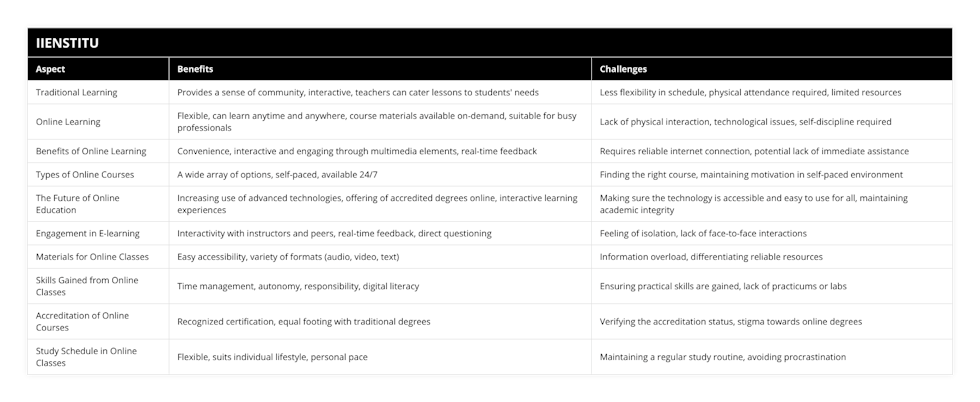 learning
online learning
digital
future
Traditional classes
lectures
lab hours
eLearning world
online classes
time management strategies
choosing suitable materials for study sessions
traditional learning
physical attendance in classroom
lectures and hands-on lab experiences taught by teachers
flexible and personalized approach to learning
multimedia elements such as audio
video
and text-based materials
interact with instructors and peers in real-time
certificate programs
degree programs
self-paced courses
accredited degrees entirely online.

Dr. Murray Craig
Academic
Dr. Murray Craig is an academic and researcher who has dedicated his life to the study of human behavior. He has a particular interest in how people interact with their environment, and how that interaction can be used to improve their lives. Dr. Craig has spent many years teaching and conducting research at universities all over the world, and he is widely respected for his work in the field of behavioral science.
Related Posts
Our team of experts is passionate about providing accurate and helpful information, and we're always updating our blog with new articles and videos. So if you're looking for reliable advice and informative content, be sure to check out our blog today.