Online Learning
Advantages of Online Education
03 September 2022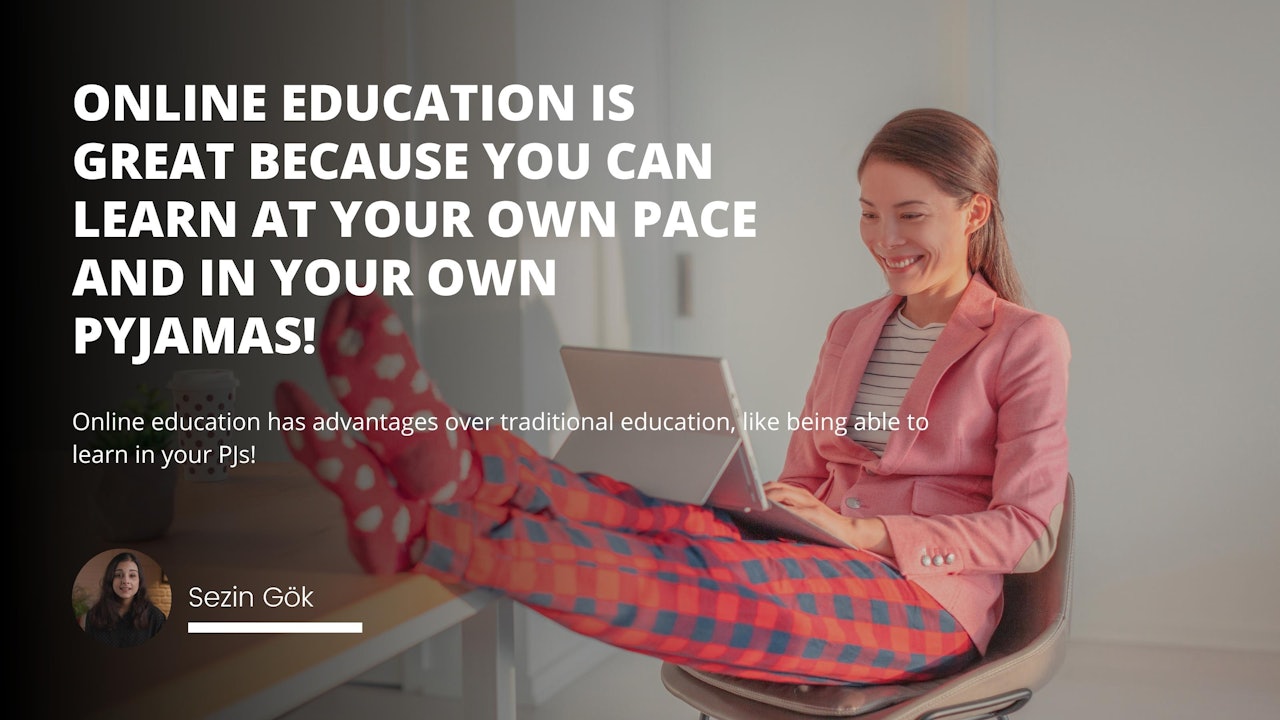 There are several advantages of pursuing an online education. One of the main advantages is the flexibility that it offers. Students can study at their own pace and in their own time. In addition, they can fit their studies around other commitments, such as work or family.
Another advantage of online education is the range of available courses. Students can choose from various subjects, meaning they can find a course that suits their interests and needs.
Finally, online education is often more affordable than traditional forms of education. This is because there are no costs associated with travel or accommodation.
Advantages and disadvantages of online education
However, there are some disadvantages to online education. One of these is the lack of face-to-face interaction. This can make it challenging to build relationships with fellow students and professors.
Another disadvantage is the potential for distraction. It can be easy to become sidetracked when studying at home, as many other things can compete for your attention.
Despite these disadvantages, online education has many advantages that make it an attractive option for students. Its flexibility and affordability will likely continue to grow in popularity in the years to come.
1 - Increased flexibility - you can learn at your own pace and take breaks when needed.
One advantage of online education is learning at your own pace. You can rewatch lectures and review materials as often as you need to grasp the concepts. In addition, you can take breaks when needed and return to the material refreshed and ready to learn.
This flexibility is not always possible with traditional classroom instruction, which can move too quickly for some students or too slowly for others. With online education, each student can progress comfortably, making the learning process more effective.
2 - More affordable than traditional education - you can often get scholarships or financial aid, and there are no commuting costs.
While traditional education costs continue to rise, online education remains a more affordable option for many students. In addition to the lower tuition rates found at most online schools, students can also take advantage of scholarships and financial aid.
Moreover, there are no commuting costs associated with online education, which can further reduce the overall cost of attendance. As a result, online education provides an accessible and affordable option for students who want to pursue their educational goals.
3 - Variety of courses and programs to choose from
One of the most significant advantages is the variety of available courses and programs. Whether you're looking to study for a specific career or want to take advantage of the convenience of online learning, there's sure to be a program that's right for you.
That flexibility can be a significant advantage when balancing school with work and other commitments. You can tailor your education to fit your needs and goals with many available options. Online education provides an ideal way to learn, whether you're looking to get ahead in your career or explore a new hobby.
4 - Convenient access - you can study from anywhere with an internet connection.
The convenience of online education is one of its significant advantages. Online courses allow students to study at their own pace and complete assignments on their schedule. This flexibility is particularly beneficial for students juggling work and family obligations.
In addition, online courses often provide more opportunities for interaction and collaboration than traditional classroom courses. For example, many online courses include discussion boards where students can post comments and ask questions. This allows students to get immediate feedback from their peers and instructors.
In short, the convenience of online education makes it an attractive option for many students.
5 - Interaction with professors and other students online
While online education has many advantages, one of the most important is the opportunity to interact with professors and other students. In a traditional classroom setting, students are often limited to a one-way interaction with their instructors.
But in an online environment, students can participate in discussions, ask questions, and get immediate feedback. This allows them to develop a deeper understanding of the material. Additionally, online education will enable students to connect with other learners worldwide.
By working together on projects and sharing ideas, they can gain new perspectives and build relationships that last long after they finish their studies.
6 - Easier to balance work and family responsibilities with online schooling
With online schooling, you have the flexibility to complete coursework on your schedule, which means you can work around your other obligations. In addition, you can take courses from anywhere with an internet connection, making it easier to attend school while taking care of your family.
And because online schools often have a wide variety of courses available, you can choose programs that fit your specific needs and interests. As a result, online education can be a great option for students who are trying to balance work and family responsibilities.
Online schooling may be the right choice for you if you are looking for a more flexible and affordable option than traditional education. With various courses and programs to choose from, convenient access, and interaction with professors and other students online, it is easier to balance work and family responsibilities while getting the education you need. So, are you interested in joining one of our online courses?
online student
learning materials
learning style
course materials
face to face
online learning environment
benefits of online learning
save money
advantages of online learning
online classes
digital learning
online degree
career advancement
online program
full time
internet connectivity
online education
disadvantages of online learning
time management skills
paced learning

Sezin Gök
Blogger
SHe is a graduate of Akdeniz University, Department of Business Administration. She graduated from the university with a faculty degree. It has contributed to its environment with its social responsibility project. She writes articles about business and its fields.
Related Posts
Our team of experts is passionate about providing accurate and helpful information, and we're always updating our blog with new articles and videos. So if you're looking for reliable advice and informative content, be sure to check out our blog today.