Online Learning
Making the Most of Virtual Learning
07 July 2023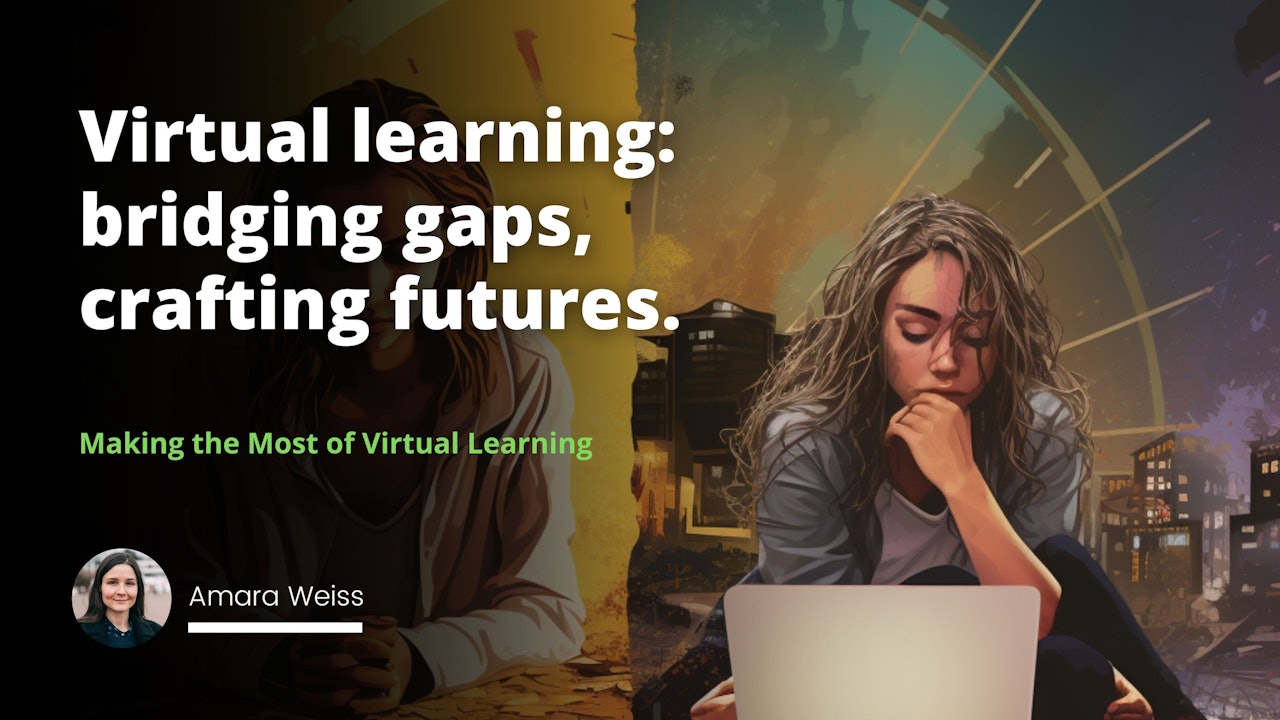 | Topic | Insights | Solutions |
| --- | --- | --- |
| Global E-Learning Market | Projected to surpass 243 billion U.S. dollars by 2025. | Offer more virtual learning courses to contribute to this growth. |
| Benefits of Virtual Learning | Accessible knowledge regardless of location, cost-effective, flexibility, vast learning materials. | Harness these benefits to attract more learners to online education. |
| Virtual Classroom | Enhances student engagement by replicating a physical learning environment online. | Ensure virtual classrooms have user-friendly and interactive features. |
| Obstacles in Virtual Learning | Digital divide and maintaining motivation. | Provide essential technological resources and motivational support. |
| Bridging the Digital Divide | Some parts of the world lack internet access and reliable technology. | Support initiatives that aim to improve global digital infrastructure. |
| Maintaining Motivation | Difficulty in staying motivated in a non-traditional learning environment. | Offer virtual learning aids or teacher assistance. |
| Establishing a Regular Schedule | Important for discipline, meeting expectations, time management. | Use digital tools like online calendars reminder functions. |
| Creating a Learning Area | Minimizes distractions, increases focus. | Encourage learners to designate a quiet, tidy space for learning. |
| Leverage Communication Platforms | Essential for regular interaction with instructors and students. | Promote the use of versatile communication tools. |
| Understanding Potential Disadvantages | Being aware of challenges can help in formulating strategies. | Identify and address possible drawbacks in course design and delivery. |
Virtual learning refers to any educational experience online or through a digital platform. This blog post shares tips and advice for making the most of virtual learning experiences. Virtual learning has become increasingly popular in recent years. With the rise in technology, many educational institutions now offer virtual learning options for their students.
The advent of the digital age has revolutionized various sectors, including education. Virtual learning has progressively become an integral part of learning institutions globally. According to Statista, as of 2020, the global e-learning market is projected to surpass 243 billion U.S. dollars by 2025. The uptick is mainly because of transformative tools like virtual learning assistants, which help foster digital learning experiences.
Benefits of Virtual Learning
The advent of e-learning has led to numerous benefits. Under this model, knowledge is accessible, no matter the geographical location. This unlimited access allows individuals to learn at their pace and convenience, even from the comfort of their homes.
Virtual education enables individuals to access extensive educational materials, interact with specialists in various fields, and conduct online evaluations. This form of education is also significantly more affordable than traditional education. The study conducted by Pacific Virtual Learning supports these findings.
Other elements, like the virtual classroom, a common feature in digital education, help replicate the physical learning environment, enhancing students' engagement.
The Imagine Learning Virtual Trainer offers an attractive salary and flexibility. This has attracted many individuals to pursue a career in this field, which has improved the standard of virtual education.
| Feature | Benefit | Example/Supporting Evidence |
| --- | --- | --- |
| Accessibility & Convenience | Learn at own pace and comfort | From any location, at any time |
| Affordability & Resources | Cheaper and more resourceful | Study by Pacific Virtual Learning |
| Interaction & Engagement | Virtual classrooms and interaction | Enhances student engagement |
| Career Opportunities | Attractive salary and flexibility | Imagine Learning Virtual Trainer |
| Enhanced Standards | Improved standard of virtual education | More professionals in the field |
Obstacles of Virtual Learning
Despite its many profound advantages, virtual learning has obstacles. One fundamental challenge lies in the digital divide, the glaring disparity in access to essential technological resources. Some parts of the world still need help with internet access and reliable technology, rendering virtual learning a distant dream.
Additionally, some individuals may need help to stay motivated during online learning. This is especially true when there is no traditional classroom environment.
Nevertheless, it's crucial to remember that these challenges are manageable.
Many organizations, like Pacific Virtual Learning, are working to bridge the digital divide and create inclusive digital learning spaces. They aim to make education more accessible and equal for everyone.
Maintaining motivation in an online classroom can be challenging. However, there are ways to overcome this obstacle. One option is to acquire a virtual learning aide. 
Another option is to utilize the assistance provided by a virtual teacher. Both of these options can have a significant impact on maintaining motivation.
Optimizing Virtual Learning Experience
To maximize the advantages of digital education, we need to approach virtual learning correctly. The following suggestions can help unlock its potential benefits.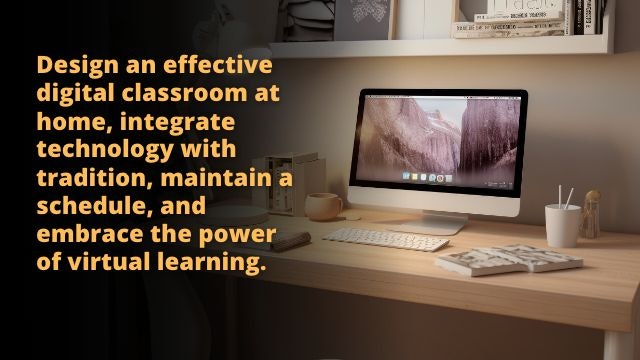 Establish a Regular Schedule and Adhere to it.
Like regular learning, virtual learning also thrives on establishing a regular schedule.
A structured timeline is essential for maintaining discipline, meeting virtual learning expectations, and managing time efficiently. This is especially true in online learning setups, which can be flexible and ever-changing.
This structure imitates the traditional learning environment, making the transition to eLearning smoother and more effective.
Further, ensure you are following your schedule consistently. It can be tempting to forgo it, especially if a virtual instructor has no direct oversight. However, consistency is critical to successful digital learning.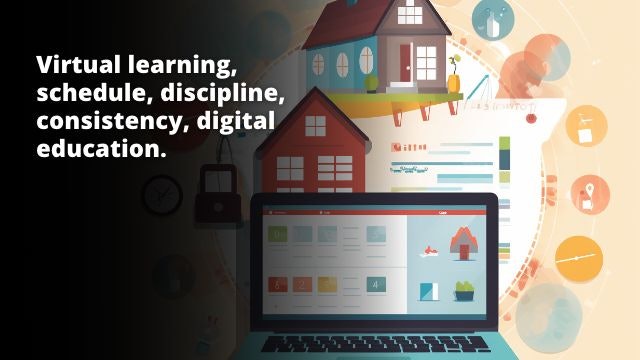 Create a Specific Learning Area
Creating a specific, organized, and quiescent learning area is crucial in a virtual learning environment. An optimal learning space enhances focus and helps delineate learning activities from other household chores. This learning nook becomes your virtual classroom, helping you stay immersed in digital education while minimizing potential distractions.
Leverage Communication Platforms for Constant Connection with Cohorts and Instructors
Regular contact with your teachers and classmates is vital in a virtual learning setup. It becomes essential to familiarize oneself with the various communication tools the learning platform provides.
Regular interactions can enhance your understanding of the subject. Additionally, they can help maintain the social dynamics that traditional learning provides. These interactions can involve clarification or academic discussions.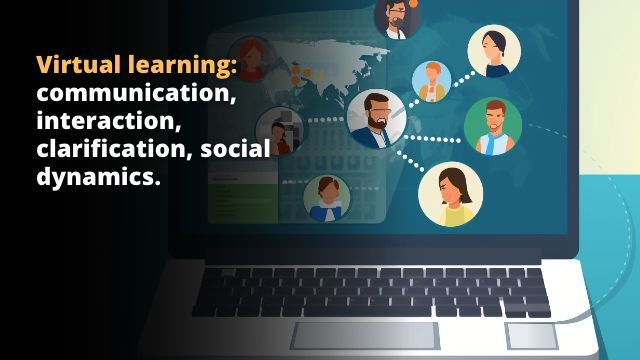 Being aware of the potential disadvantages of E-Learning
Possessing a deep understanding of the potential pitfalls in e-learning can help streamline the process significantly. Although it sounds counterintuitive, being mindful of the drawbacks can help you strategize better and overcome obstacles swiftly.
Exploit the Unique Opportunities E-Learning Provides
One of the most inspiring aspects of virtual learning is the unique opportunities it offers to its learners. You have access to diverse specialized courses that may not be offered in traditional school settings. The Imagine Learning Virtual Instructor salary and work flexibility also provides opportunities for educational professionals.
Discover Innovative Techniques to Stay Interactive with Education Material
The last tip is discovering innovative methods to stay engaged with the learning materials. Every learner has a unique learning style, and understanding your style can help you interact better with the study materials. Whether by drawing diagrams, incorporating short breaks, or gamification of lessons, identifying your effective learning techniques is crucial. Rather than passively receiving knowledge, it promotes active involvement, marking an essential step in successful eLearning. 
In conclusion, the shift towards digital learning is indeed a revolution in education.
Virtual learning can offer an enriching and convenient educational experience. Minor setbacks are not a barrier. The right approach and valuable tips are essential factors.
The future indeed holds promise for this new mode of education.

Virtual learning
online schools
virtual classrooms
virtual learning assistants
digital education platforms
teachers and virtual learning
technology in online learning
structured learning environment
flexibility in learning
student-instructor interaction
geographic location
individualized learning.
Yu Payne
Blogger
Yu Payne is an American professional who believes in personal growth. After studying The Art & Science of Transformational from Erickson College, she continuously seeks out new trainings to improve herself. She has been producing content for the IIENSTITU Blog since 2021. Her work has been featured on various platforms, including but not limited to: ThriveGlobal, TinyBuddha, and Addicted2Success. Yu aspires to help others reach their full potential and live their best lives.
Related Posts
Our team of experts is passionate about providing accurate and helpful information, and we're always updating our blog with new articles and videos. So if you're looking for reliable advice and informative content, be sure to check out our blog today.