Online Learning
3 Reasons Why Online Courses Are Important
13 August 2022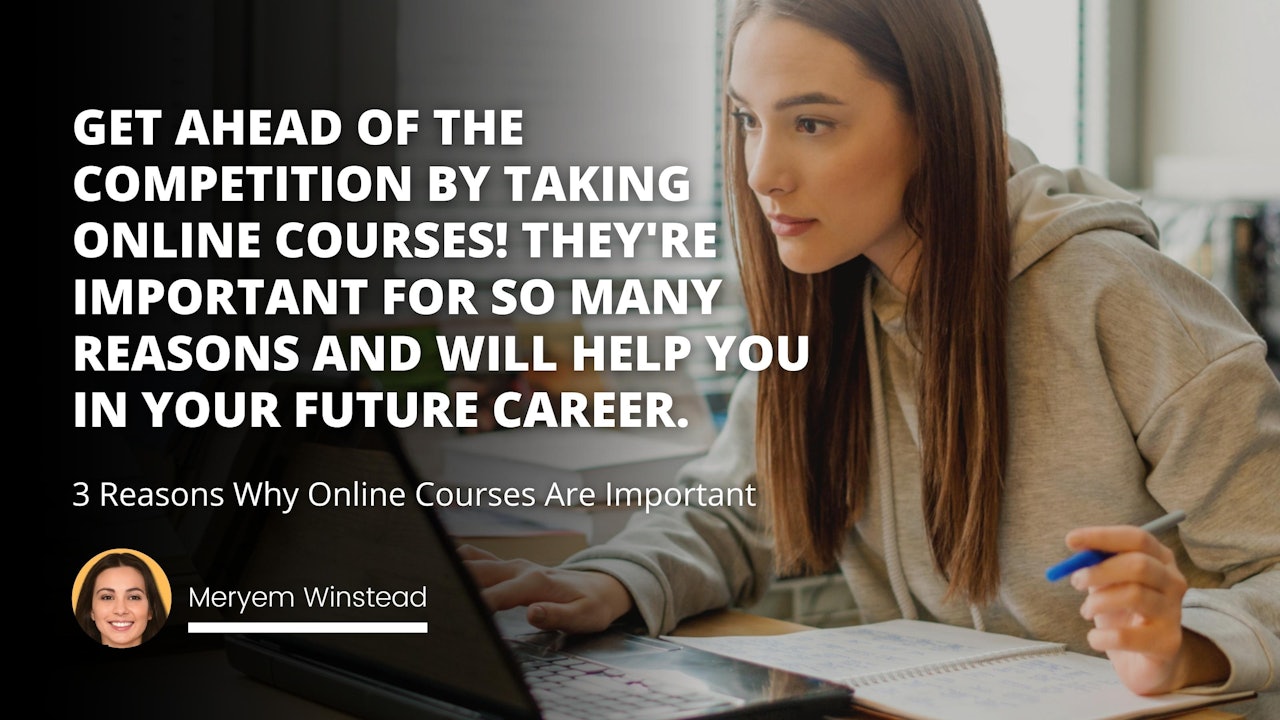 | Reasons | Benefits | Additional Information |
| --- | --- | --- |
| More Affordable | Cheaper than traditional courses | Flexible payment options available, no transportation or housing costs |
| More Flexibility | Accessible at any time, from anywhere | More efficient scheduling, flexible deadlines, ability to learn at own pace |
| Comprehensive Range of Courses | Offer a much larger selection of courses | Can learn new topics or deepen understanding of current interests |
| Wide Global Reach | Accessible from anywhere in the world | Allows people in remote areas to continue their education |
| Self-discipline Development | Encourages self-directed learning | Develops skills in time management and self-motivation, necessary for the modern workplace |
| Technological Skills Enhancement | Teach modern technical skills | Use of online tools and software develops tech skills necessary for 21st century jobs |
| Networking Opportunities | Connect with professionals globally | Interact with individuals from various cultural backgrounds, necessary for a globalised workplace |
| Personalized Learning Experience | Learning at your own pace | Material and learning resources can be revisited anytime for grasping concepts effectively |
| Accommodates Everyone | Non-discriminatory environment | Great way to provide equal learning opportunities regardless of age, health conditions, or physical accessibility |
| Environmental Benefits | Reduction in paper use, fuel consumption | Contributes to sustainability efforts by reducing carbon footprint |
Although online courses are often viewed as a less critical option than traditional in-person education, the truth is that online courses have many benefits that cannot be ignored. This blog post will discuss three reasons why online courses are so important. Keep reading to learn more!
Online courses are essential, here's why
Though online courses may seem like a recent development, they have been around for over two decades. And while their popularity has exploded in recent years, there is still some skepticism about their value. Nevertheless, here are three reasons why online courses are so important. 
1 - They're more affordable.
There are several reasons why online courses are becoming more popular, but one of the biggest is that they're more affordable. Online courses are often cheaper than traditional in-person courses because there are no associated costs such as transportation or housing. This means you can take an online course from anywhere in the world without worrying about the extra costs.
Additionally, many online courses offer flexible payment options, making them even more affordable for students. For example, you may be able to pay for an online course in installments or with a payment plan. As a result, taking an online course is a great way to get the education you need without breaking the bank.
2 - They're more flexible.
Online courses are often more flexible than traditional courses. For example, you can typically access them at any time and from anywhere. This means you can fit an online course into your busy schedule more efficiently than a traditional one. Additionally, online courses may offer more flexibility in terms of pacing and deadlines. You may be able to complete an online course at your own pace, for example, or have more flexible deadlines for assignments. This can be especially helpful if you have a busy lifestyle or must juggle multiple commitments.
3 - They offer a more comprehensive range of courses.
Another benefit of online courses is that they offer a much more comprehensive range of courses than traditional schools. This means you can find a course tailored to your specific interests and needs. For example, if you want to study a particular subject in depth, you can find an online course that covers that topic in greater detail than a traditional course. Alternatively, if you want to learn about a new subject, you can find an online course introducing you to the basics. In either case, online courses provide an excellent way to learn about new topics or to deepen your understanding of subjects you are already interested in.
So, if you're looking for an affordable and flexible way to gain new skills or further your education, online courses are a great option. And thanks to the wide range of courses available, there's something for everyone. So, if you're interested in joining an online course, we have an excellent selection for you to choose from. Visit our website today to learn more about our online join courses.

online learning
online course
online education
Meryem Winstead
Blogger
I graduated from the Family and Consumption Sciences Department at Hacettepe University. I hold certificates in blogging and personnel management. I have a Master's degree in English and have lived in the US for three years.
Related Posts
Our team of experts is passionate about providing accurate and helpful information, and we're always updating our blog with new articles and videos. So if you're looking for reliable advice and informative content, be sure to check out our blog today.