Blogging
Beginner's Guide to Blogging: How To Create A Blog?
10 March 2022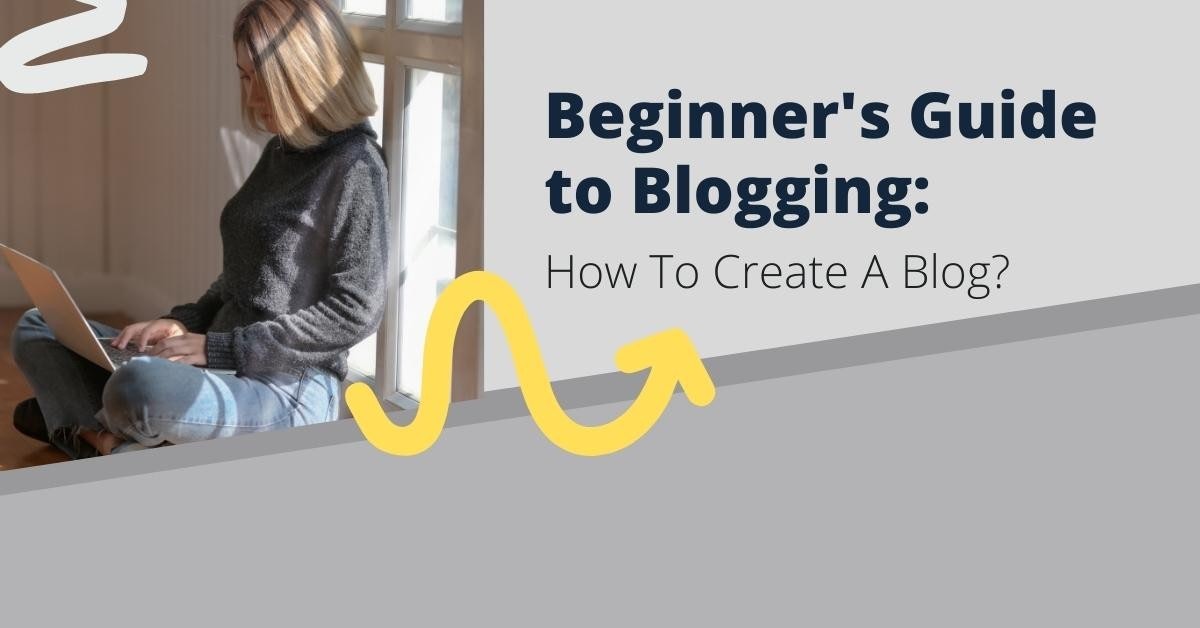 | Step/Aspect | Considerations | Additional Information |
| --- | --- | --- |
| Understanding Blogs | Definition and benefits of a blog | A blog is a website with posts in chronological order. Benefits include increased traffic, expression platform, networking opportunities, business growth, better SEO ranking. |
| Choosing Blog Platform | Consider user-friendliness, features, and cost. | The platform should align with the content type, offer necessary tools and be within budget. |
| Setting Up A Blog | It involves choosing a domain, selecting a Theme, and creating relevant page sections | Domain should be catchy, relevant and unique. Themes should be appealing and easy to navigate. |
| Content Creation | Focus on quality, relevance, value-addition, and post frequency | Good content is engaging, adds value, and makes visitors come back for more |
| Promoting Your Blog | Use SEO, social media sharing, guest blogging | Promotion helps reach a wider audience and increase website traffic. |
| Building Relationships | Networking with other bloggers and readers | Forming connections can lead to opportunities, increased traffic, and learning experiences. |
| Industry Knowledge | Read other blogs, stay updated, participate in discussions | Blogging provides opportunities for continuous learning about your industry. |
| Mobile-friendliness | The blog should be accessible and visually appealing on mobile devices | A considerable percentage of readers access blogs via mobile devices. |
| Hosting | Reliability, speed, services, cost | Good hosting services provide uptime guarantee, adequate speed, security, and customer service |
| Budget | Consider cost for hosting, theme, domain, plugins | Initial investment is minimal, but rising costs for advanced features/services must be kept in mind. |
A blog, also known as a weblog, is a website written in chronological order and displayed on the main page for anyone who visits the blog to see. Blogging has many benefits, including increased web traffic from search engines and social media sites and the ability to express yourself creatively.
Blogging can help you build relationships with other bloggers and potential customers, increase your business opportunities, and attract more visitors to your blog. If you're looking for a way to share your thoughts or ideas with the world, starting a blog could be the perfect solution.
We prepared for you a guide about starting blogging. You can find topics in this blog about:
What is a blog, and what are the benefits of blogging?

How to choose the right platform for your blog?

How to create a blog and set it up?

How to write great content for your blog?

Tips for promoting your blog and growing your audience

Resources for bloggers
What Are the Benefits Of Blogging?
Blogging can be a great way to improve communication with customers, build relationships with other bloggers, and learn more about your industry. Additionally, blogging can also help improve your website's search engine ranking.
1. Improved Communication With Customers
When you blog, you provide another channel for communication with your customers. This can be especially helpful if you have a blog on your website because it allows customers to comment on your posts and provides a place for you to respond.
Additionally, by posting regular updates on your blog, you keep customers informed about what is happening with your company.
2. Build Relationships With Other Bloggers
Blogging provides an opportunity to connect with other bloggers in your industry and share information with them. When you link to other bloggers' posts, they may return the favor by linking to your blog, which can help increase your website's traffic.
Additionally, you can learn a lot from other bloggers by reading their posts and commenting on them.
3. Learn More About Your Industry
Blogging is a great way to learn more about your industry. By reading other bloggers' posts, you can gain insights into what is happening in your industry and find new ideas for topics to write about. Additionally, by commenting on other bloggers' posts, you can start discussions and learn from the insights of others.
4. Improved Website's Search Engine Ranking
One of the benefits the blogging is that it can help improve your website's search engine ranking. When you blog regularly, you provide fresh content for search engines to index, which can help your website ranking higher in search results. Additionally, by including links to your blog posts in your website's navigation menu, you can make it easier for customers to find your blog.
As you can see, there are many benefits of blogging. By starting a blog, you can improve communication with customers, build relationships with other bloggers, learn more about your industry, and improve your website's search engine ranking.
Do you want to be a successful blogger? So what are you waiting for? Join IIENSTITU today and start learning how to blog the right way. We offer courses on everything from basic blog setup to creating viral content. With our help, you can be on your way to becoming a successful blogger in no time!
How To Choose The Right Platform For Your Blog?
When choosing a platform for your blog, there are many factors to consider, but before you start comparing different platforms and their features, you first need to decide what kind of content your blog will focus on.
Are you looking to create long-form, in-depth posts or shorter, more frequent ones? Will you be writing about personal experiences or sticking to more newsworthy topics? Once you have a sense of the type of content your blog will produce, you can start looking at which platforms will give you the best tools to create that content.
Each platform offers its own set of tools and features, so it's crucial to find one that will fit the specific needs of your blog. For example, if you're looking to create videos or podcasts, you'll need a platform that offers those tools. Or, if you want to use your blog to build an email list, you'll need a platform that allows you to do that.
So how do you decide which platform is right for you? Here are a few things to consider:
What kind of content will your blog focus on?

What tools and features make the platform offer?

How much time do you want to manage your blog?

How important is it for your blog to be mobile-friendly?

What are your budget and hosting needs?
Once you've answered those questions, you should have a good idea of which platform is right for you. But don't be afraid to try out a few different venues before making a final decision – after all, your blog is essential, and it's worth taking the time to find the best platform for it.
How To Create A Blog And Set It Up?
Creating a blog is a great way to share your thoughts and ideas with the world. It's also a great way to build an audience for your writing. This article will show you how to create a blog and set it up.
The first step is to find the perfect domain name for your new site. The next thing on the agenda should be installing WordPress onto an already existing server or getting access from somewhere else so that has been done too then all we're waiting for now are posts - which will come about through writing them down within minutes of setting pen-to-paper (or fingers?) having decided what they want their finished product going forward into being like by determining who is going write each article/blog entry etc. Once these have been sorted out, you're good to go.
One of the great things about WordPress is that it is free and open-source software. It also has a massive community of developers and users who can help you get started.
Once you have installed WordPress, you will need to create a blog post. The title of your blog post should be "Hello World!" This is a standard tutorial for teaching people how to use WordPress.
In your blog post, you will need to include the following information:
-Your name
-The name of your blog
-The URL of your blog
-A brief description of your blog
You may also want to include other information, such as your website's logo and contact information.
Once you have created your blog post, you will need to set up your blog's settings. In the Settings menu, you will need to specify the following information:
-Your blog's title
-Your blog's description
-Your blog's URL
-Your email address
-Your password
You may also want to specify other settings, such as the time zone and the language of your blog.
Once you have set up your blog's settings, you are ready to start blogging! You can write posts in a text editor like Microsoft Word or Google Docs, or you can write them directly on your WordPress site.
When writing your posts, be sure to include the following information:
-The title of your post
-The date of your post
-The author of your post
-The body of your post
When you are finished writing your post, be sure to click the "Publish" button. Your post will then be published on your blog.
You can also add photos and videos to your posts, and you can create custom menus and widgets for your blog. You can also install plugins to add additional functionality to your blog.
WordPress is an excellent platform for blogging, and with a little bit of effort, you can create a beautiful and functional blog that shares your thoughts and ideas with the world.
How To Write Great Content For Your Blog?
Many things go into writing great blog content, but the most important thing is to make sure that your readers will be able to find what they're looking for. Start by researching and finding out what topics your readers are interested in. Once you have a good idea of what they want to read about, you can start writing informative and engaging posts that will keep them coming back for more.
Another essential part of writing great blog content is making sure that it's well-researched. Your readers will appreciate the time and effort you put into providing them with valuable information, and they'll be more likely to come back for more. So make sure to do your homework before sitting down to write!
Be yourself. Your blog should reflect your personality and your unique point of view. This will help you connect with your readers and create a loyal following. So don't be afraid to let your personality shine through in your writing!
How To Research Topics For Your Blog?
One of the most important things you can do to improve the quality of your blog content is to do adequate research into the topics you write about. This involves gathering information from various sources and then synthesizing it into an easily-digestible form for your readers. Not only will this make your posts more informative, but it will also show that you have a deep understanding of the topic at hand.
There are many different ways to do research for your blog posts, and the method you choose will largely depend on the topic you're writing about. If you're writing about a current event, for example, you might want to read up on as many articles and news stories as possible. On the other hand, if you're writing about a specific topic, such as cooking or gardening, you might want to consult experts in those fields.
No matter what topic you're writing about, it's essential to ensure your sources are reliable. This means checking the credibility of your sources and ensuring that they're from reputable publications or organizations. You should also take the time to read and analyze the sources yourself to form your own opinions and present them in a fair and balanced way.
Doing adequate research is essential for writing great blog content, so make sure to put in the time and effort necessary to get the job done right.
Tips For Promoting Your Blog And Growing Your Audience
When it comes to promoting your blog and growing your audience, there are a few things you can do to make things a little bit easier on yourself. Here are some tips:
1. Post often!
People are more likely to read something if it's short and frequent. So, for example, if you only have one long post per week, people might not be as likely to read it as if you have shorter posts multiple times a day. This also goes for social media platforms - make sure to post frequently on Twitter and Instagram so that people will see your content more often.
2. Be interesting!
No one will want to read an article about yourself if it's boring. Spice up your posts with jokes, interesting facts, or pictures. This will make people more likely to read what you have to say.
3. Use social media!
Social media is a great way to reach a large audience quickly. Make sure to post your content on all of your social media platforms and use hashtags to help people find your content.
4. Reach out to other bloggers!
Collaborating with other bloggers is a great way to get your content out there and increase your audience. Reach out to bloggers you admire and see if they would be interested in collaborating with you. For example, you could do a guest post, a collaboration post, or even just promote each other on social media.
5. Use paid promotion!
If you have the budget, using paid promotion is a great way to quickly reach a large number of people. There are a lot of different platforms that offer paid advertising, so do some research and find one that best suits your needs.
Resources For Bloggers
If you are a blogger, you should look for new and exciting content ideas. Check out our list of great resources below! From expert tips to compelling case studies, you're sure to find something that will help you take your blog to the next level.
1. Start by checking some of the best blogs out there for inspiration. For example: ENSTITU Blog :)
2. Learn from the experts! Check out online courses or webinars that can teach you everything from basic blogging skills to more advanced topics like search engine optimization(SEO) and social media marketing.
3. Read up on the latest trends and research in your industry. This can help you stay ahead of the curve and develop fresh content ideas that your readers will love.
4. Case studies can be a great source of inspiration for bloggers. Check out industry journals or online databases to find interesting real-world examples that you can write about.
5. Stay organized and efficient by using tools like Evernote or Trello to keep track of your ideas and projects.
6. Finally, don't forget to have fun with your blog! Experiment with different formats, topics, and styles to see what works best for you and your audience.
We hope you find these resources helpful!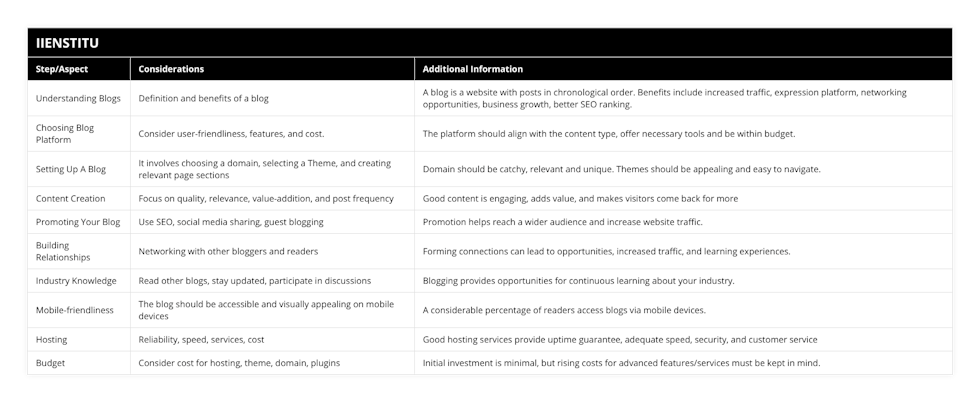 Monica Bourbon
Blogger
She describes himself as someone who loves to write about digital marketing, social media and public relations. His personal development special interest lies in self-improvement through reading books on the subject of human behavior; she also has an eye for how these topics apply outside just business or career settings too!
Related Posts
Our team of experts is passionate about providing accurate and helpful information, and we're always updating our blog with new articles and videos. So if you're looking for reliable advice and informative content, be sure to check out our blog today.