SEO
How To Double Your Blog Traffic?
06 January 2022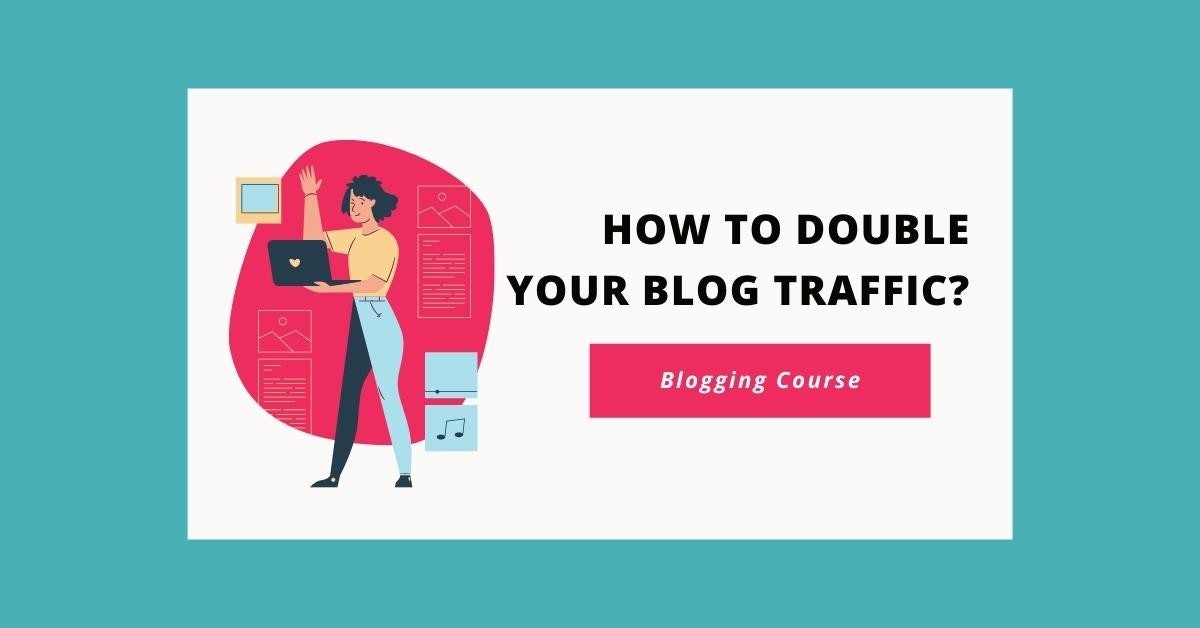 | Strategy | Purpose | More informations |
| --- | --- | --- |
| Email Marketing | Give blog posts a second chance at being viewed, increase brand awareness. | Send emails with links back to blog posts that did not get much attention initially, thus complementing busy blogging periods with another chance for exposure. |
| Social Media Sites | Increase reach and boost exposure exponentially. | Sharing blogs post with common-interest communities increases their visibility and might lead to getting viral, thus increasing your traffic. |
| Backlink Campaigns | Promote blog awareness. | When other people use the backlinks in their blogs, it promotes your blog and drives in traffic. The campaign should have a appropriate title and description, avoiding spamming. |
| Linking Blog Posts Together | Give exposure to other related blog posts, increase visitor retention. | Readers who enjoyed one post of yours are likely to check out related posts. It also improves SEO with internal linking. |
| Interact With Your Readers | Show dedication and appreciation, build a loyal reader base. | Engage with your readers through comments or direct emails. This encourages them to return to your blog, thus gaining a loyal reader base. |
| Link Out To Other Sites | Boost credibility and authenticity, present a broader view of a subject. | Including outbound references to respective authorities offers more profundity to your content, and might earn you goodwill from other bloggers. |
| Get Active On Discussions | Tap into existing communities, increase visibility and credibility. | Becoming an active member of online communities like forums and discussion groups mutually benefits you and the community with informative insights and increased blog visibility. |
| Use SEO practices | Improve blog visibility in search engine results. | Optimizing your blog's content, metadata, and structure can increase its ranking in Search Engine Results Pages (SERPs), driving organic traffic to your site. |
| Create Quality and Engaging Content | Attract and retain readers. | Always aim to provide valuable, insightful, and entertaining content, as this is ultimately what will keep readers coming back to your blog. |
| Regularly Update your Blog | Keep your blog fresh and engaging, improve SEO. | A regularly updated blog is preferred by search engines and users alike. A consistent blogging schedule can help maintain reader interest and improve search rankings. |
It's no secret that blog traffic is one of the most important numbers to look at when it comes to blogging, and many factors can easily influence blog traffic.  
A large proportion of blog traffic can come from social media sites like Facebook, Twitter, Pinterest, and Instagram, to name but a few, but there are other ways for people to find out about your blog content, which will also help you with getting blog traffic!
Blogging is a great way to blog about the things you love and share them with other people. Even better is that blogging can help you reach out to so many people allowing you to get your blog traffic up. Sometimes, though, blog traffic isn't elementary to come by.
The sad truth of blog publishing is that millions of blog posts are published each day. It can be difficult getting your blog noticed in this large crowd, but if you're dedicated enough to your blog or website, there are several things you can do to get blog traffic. Most blogs will discuss how to increase blog traffic sources like search engine optimization, Facebook marketing, and similar methods; however, I'll talk about methods that aren't mentioned as often but equally as effective.
How To Double Your Blog Traffic?
Here are some blog traffic sources you can consider using to increase your blog traffic:
1. Email Marketing
Email marketing is a blog traffic source that will not only give blog posts a second chance at being viewed, but it's also a fantastic way of increasing brand awareness. For example, suppose you have blog posts that didn't receive as much blog traffic as they should have. In that case, you can use email marketing to your advantage by sending out an email with a link back to your blog post and encouraging people to take another look at the information contained within the blog post itself. This is also great for when you don't have any time or energy left for blogging because there will always be opportunities to send out containing links back to specific blog posts you have written.
2. Social Media Sites
Social media blog traffic sources are great because they allow blog posts to be shared by so many people instantly, helping blog posts reach more blog readers. For instance, if you blog about food, it wouldn't hurt to have a presence on Facebook or Twitter, where you share links to your blog post with people who have common interests in cooking. By sharing blog posts through social media sites, blog traffic increases exponentially.
3. Backlink Campaigns
Backlink campaigns are an effective way of increasing blog traffic by promoting the overall awareness of your blog or website.
Backlinks will give credit to your blog when other people use them in their blogs or websites; however, not all blog traffic backlink campaigns are effective. The last thing you want is to be spamming other blog and website owners, leading to blog traffic decreasing rather than increasing. To avoid this blog traffic disaster, make sure your blog link campaign contains a title and description that will direct people to your blog post and nothing else. This way, blog readers know where the link originated from, and they'll end up clicking it as well.
4. Linking Your Blog Posts Together
Linking blog posts together can also be a helpful blog traffic source because not only does it allow the overall blog community to see what topics you cover, but it allows specific blog posts to gain greater exposure as well. If someone has read one of your blog posts and enjoyed it, there's a good chance they'll return to read another blog post of yours.
5. Interact With Your Readers
Interacting with blog readers is also important because it shows blog readers that you are genuinely dedicated to helping them solve their blog problems or questions. If someone has taken the time out to use your blog, make sure they know how much you appreciate it by responding either through email or directly on your blog post itself. Remember, these blog traffic sources are only effective when you're blogging about what people want to read about. In other words, don't blog about topics that won't interest anyone because doing this will decrease blog traffic instead of increasing it.
6. Link Out To Other Sites
Linking out to other sites can also be a blog traffic source because it acknowledges the blog or website you're linking to. In addition, you can blog traffic sources by linking out to specific blog posts related to your blog topics; however, don't go overboard on how many blog posts you link out to because this will only clutter your blog.
7. Get Active On Discussions
Forums are a great way of increasing blog traffic because they allow for direct contact between blog readers and bloggers. There are so many opportunities with discussions forums, such as having conversations about world affairs or just being able to discuss random thoughts people might have in mind. The possibilities from being active within discussion forums are endless but remember one thing: if you want to be successful, make sure you blog about blog topics that people want to read about, and blog traffic will increase exponentially.
8. Get Active On Social Bookmarking Sites
Social bookmarking sites are blog traffic sources because they allow blog posts to gain recognition within their blog community. All social bookmarking sites such as Digg, Delicious, StumbleUpon, and so forth typically require blog posts to be submitted before they can gain exposure; however, it's essential not to take this process lightly. If you submit blog posts without the proper information or title/description, your blog traffic isn't increasing much, and instead, it'll probably decrease if anything happens at all. Remember: blogging takes time and effort, but for blog traffic sources to work successfully, you need specific blog post titles and blog post descriptions.
9. Get Active On Blog Commenting Sites
Blog commenting sites are blog traffic sources because blog readers can check out blog posts from various blog owners. Although blog commenting sites such as WordPress, About, and so forth require blog owners to have previously submitted their blog before they can comment on other blogs, it's essential not to take the blog commenting site process lightly. Make sure you're interested in what's being discussed on that particular blog, or else your efforts will be wasted, and instead of increasing blog traffic, your efforts will decrease it instead. Remember: blogging takes time and effort, but you need specific blog titles and post descriptions for blog traffic sources to work successfully.
10. Get Active In Social Media Sites
Social media sites are blog traffic sources because blog readers can check out blog posts from blog owners. Although social media sites such as Facebook, Twitter, and so forth require blog owners to submit their blog before blog readers can view the blog, it's essential not to take social media sites lightly. If you want people to read your blog posts, be active within their blog communities by participating in conversations or supporting others' blogs. Remember: blogging takes time and effort, but for blog traffic sources to work successfully, you need specific blog post titles and blog post descriptions.

Monica Bourbon
Blogger
She describes himself as someone who loves to write about digital marketing, social media and public relations. His personal development special interest lies in self-improvement through reading books on the subject of human behavior; she also has an eye for how these topics apply outside just business or career settings too!
Related Posts
Our team of experts is passionate about providing accurate and helpful information, and we're always updating our blog with new articles and videos. So if you're looking for reliable advice and informative content, be sure to check out our blog today.