Interview Questions
Interview Question: How Do You Help Peers Manage Stress?
01 September 2023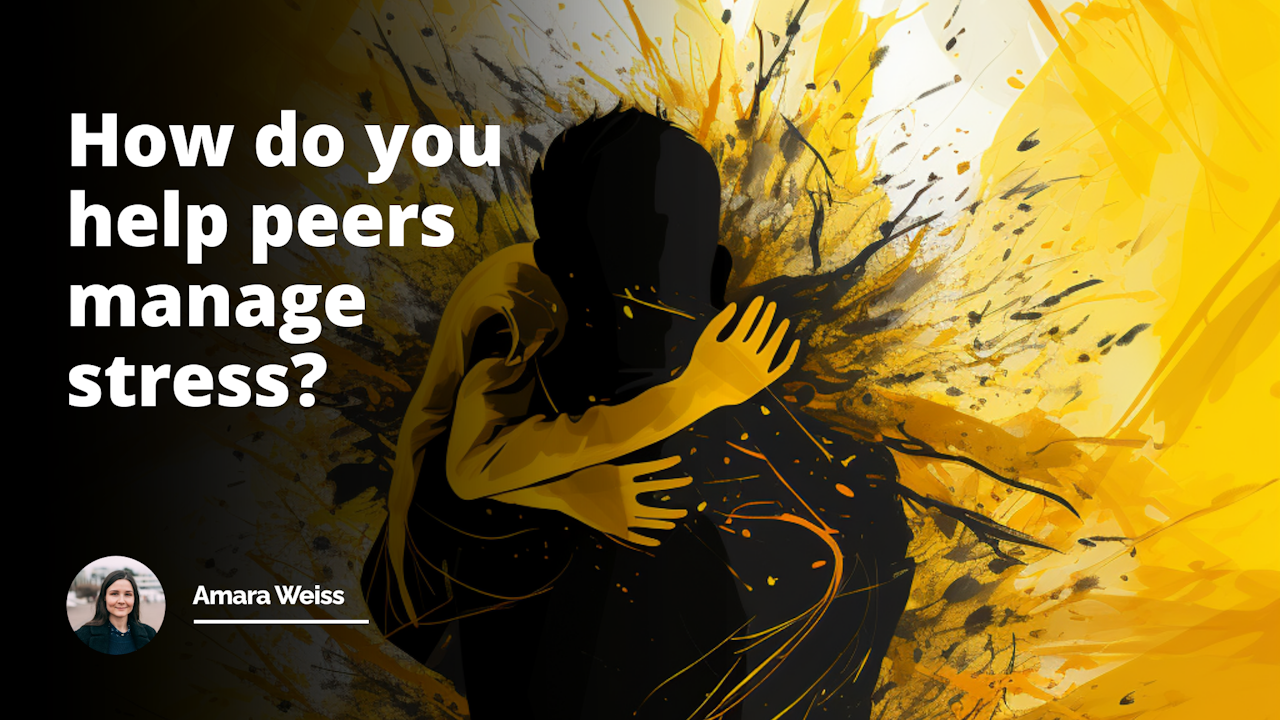 | Strategies | Description | Impact on Work Environment |
| --- | --- | --- |
| Active Listening and Empathy | Implementing an open dialogue environment where peers can express their concerns and frustrations. | Fosters trust and understanding among team members, promoting a supportive atmosphere. |
| Emotional Support | Providing reassurance and validation of feelings through words of affirmation. | Improves morale, enhances positive team dynamics and well-being. |
| Collaborative Problem-Solving | Working together to identify sources of stress and brainstorming effective stress management tactics. | Fosters creativity, teamwork, and shared responsibility for stress management. |
| Promote Work-Life Balance | Encouraging peers to prioritize tasks, set realistic goals, establish boundaries, and emphasize the need for rest and breaks. | Reduces burnout and improves employee satisfaction. |
| Sharing Stress-Management Resources | Providing colleagues with useful materials such as articles, books, and online courses. | Equip the team with essential tools and knowledge to handle stress effectively. |
| Encourage Physical Activity | Promoting regular exercise, suggesting walking breaks or group fitness activities. | Increases productivity, fosters camaraderie and reduces stress levels. |
| Supportive Work Environment | Promoting teamwork, positive feedback, constructive communication and advocating for stress-reduction initiatives. | Improves employee morale and productivity, and reduces workplace stress. |
| Tailored Approach | Acknowledging individual differences in stress responses and providing personalized guidance. | Increases effectiveness of support and enhances interpersonal relationships. |
| Respecting Confidentiality and Boundaries | Maintaining privacy and discretion in conversations and shared information. | Builds trust, encourages open communication, and promotes a respectful culture. |
| Continuous Learning | Staying abreast with latest research and strategies related to stress management. | Ensures provision of accurate, timely, and useful stress management support. |
In today's fast-paced and demanding world, stress has become an inevitable part of our lives. As individuals, it is crucial that we not only manage our own stress levels but also extend a helping hand to our peers. In this article, we will explore the significance of supporting our colleagues and friends in managing stress effectively.
Whether you are an HR professional or a job candidate, understanding how to help peers manage stress is a valuable skill that can foster a positive work environment and improve overall well-being.
Why is this interview question asked: How to Support Your Peers in Managing Stress: Expert Advice
The question 'How do you help peers manage stress?' is often posed to applicants during job interviews because it reveals important qualities such as empathy, teamwork, leadership, and problem-solving skills. Employers understand the significance of a supportive work environment, where team members help each other navigate through difficult times and alleviate stress. This question aims to assess if a candidate possesses the necessary skills to contribute to such an environment.
Related Course: Leadership Development Course
The purpose of the question:
The purpose of this question is to gauge the candidate's ability to empathize and provide practical solutions to help colleagues manage stress effectively. It is an opportunity for the applicant to showcase their interpersonal skills, emotional intelligence, and their potential to foster a positive work culture.
At what interview level is it asked?
This question can be asked at different levels of the interview process, ranging from entry-level positions to senior management roles. Irrespective of the level, the ability to support and guide peers in stress management is considered crucial for overall team productivity and well-being.
Related Course: Free Online Stress Management Course
What kind of answer is expected from the candidate?
When answering this question, the candidate should demonstrate their understanding of the importance of stress management and their ability to provide practical support to their peers. The ideal answer should reflect empathy, effective communication skills, and the ability to offer guidance, resources, and coping mechanisms tailored to each individual's needs.
Possible answers to consider:
Active Listening and Empathy: Helping peers manage stress starts with truly listening to their concerns and showing empathy. Encourage open conversations, allowing your colleagues to express their feelings and frustrations.

Emotional Support: Offer emotional support by acknowledging and validating their feelings. A simple gesture such as lending a listening ear or providing words of affirmation can make a significant difference.

Collaborative Problem-Solving: Help your peers identify the sources of their stress and work together to brainstorm strategies for effective stress management. Encourage them to prioritize tasks, set achievable goals, and establish healthy boundaries.

Promote Work-Life Balance: Encourage your peers to maintain a healthy work-life balance by setting realistic expectations and boundaries. Foster a culture that emphasizes the importance of rest, breaks, and self-care.

Share Stress-Management Resources: Be a reliable resource to your colleagues by sharing helpful articles, books, or online courses related to stress management, resilience, mindfulness, or time management.

Encourage Physical Activity: Promote the benefits of regular exercise and physical activity to your peers. Suggest taking short walks together during lunch breaks or participating in group fitness activities.

Supportive Work Environment: Advocate for a supportive work environment by promoting teamwork, positive feedback, and constructive communication. Encourage managers to implement stress-reduction initiatives such as flexible working hours, wellness programs, or meditation sessions.
Related Course: Time Management Online Course
What to consider when answering:
Tailor Your Approach: Each individual responds to stress differently. Consider their unique personality, preferences, and circumstances when providing support. This will help you offer personalized guidance and resources.

Confidentiality and Boundaries: Respect the privacy and confidentiality of your peers. Ensure that any discussions or information shared remains confidential unless it poses a threat to their well-being.

Continuous Learning: Stay updated on the latest research and strategies related to stress management. This will enable you to provide evidence-based support and share reliable resources with your peers.
In today's demanding work environment, supporting our peers in managing stress is not only essential for their well-being but also for fostering a positive and productive work culture. By actively listening, providing emotional support, promoting work-life balance, and sharing resources, we can help each other thrive in the face of stress.
By showcasing your ability to support peers in managing stress during an interview, you demonstrate your commitment to creating a supportive work environment that benefits everyone involved. Remember, a little support can go a long way!
Strategies for Stress Management
| Strategy | Description | Benefits |
| --- | --- | --- |
| Deep breathing | Taking slow, deep breaths to calm the body and mind | Reduces anxiety and promotes relaxation |
| Exercise | Engaging in physical activity to release stress and increase endorphin levels | Improves mood and overall well-being |
| Meditation | Practicing mindfulness to cultivate inner peace and reduce stress | Enhances mental clarity and reduces negative emotions |
| Social support | Seeking comfort and understanding from loved ones or support groups | Provides emotional validation and a sense of belonging |
| Time management | Organizing tasks and setting priorities to alleviate stress from overwhelm | Improves productivity and reduces feelings of being overwhelmed |
| Self-care | Engaging in activities that promote self-nurturing and relaxation | Boosts self-esteem and fosters a positive mindset |
Techniques for Building Resilience
| Techniques | Description | Benefits |
| --- | --- | --- |
| 1. Positive reframing | Changing perspective to see challenges as opportunities | Enhanced problem-solving skills and increased optimism |
| 2. Building social connections | Developing and nurturing supportive relationships | Increased sense of belonging and access to emotional support |
| 3. Practicing mindfulness | Focusing on the present moment without judgment | Improved stress management and emotional regulation |
| 4. Setting realistic goals | Breaking down larger objectives into achievable steps | Enhanced motivation and a sense of accomplishment |
| 5. Developing problem-solving skills | Learning effective strategies to overcome obstacles | Increased confidence and adaptability |
| 6. Prioritizing self-care | Taking care of physical, mental, and emotional well-being | Improved overall resilience and ability to cope with stress |
Similar interview questions:
What strategies can you suggest to assist your peers in managing stress effectively?

Which techniques have you found useful in aiding peers with stress management?

Could you provide some advice on supporting peers when they are dealing with stress?

In your experience, what methods have been successful in providing stress management guidance to peers?

Do you have any recommendations on how to assist peers with stress management effectively?

What steps do you take to help your peers effectively cope with stress?

Can you share any tips for aiding peers in managing their stress levels?

From your perspective, what approaches have proven helpful in supporting peers with stress?

Are there any specific ways you have found effective in helping peers manage stress?

What insights can you offer on promoting stress management among peers?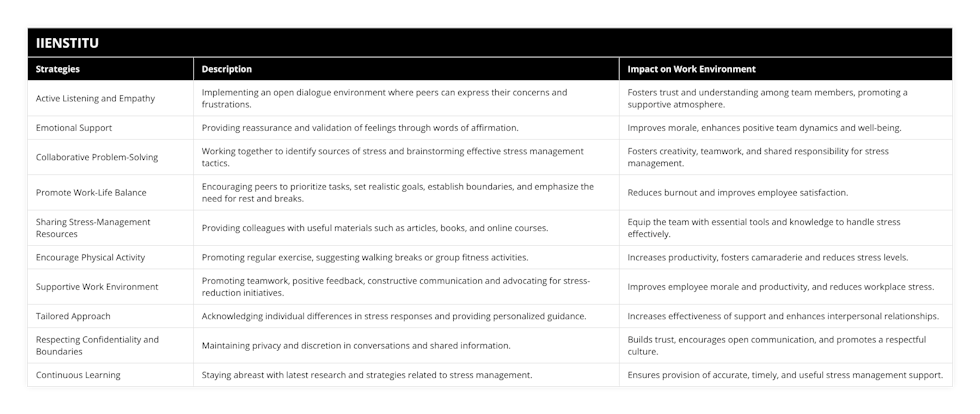 How do you help peers manage stress?
how do you help peers manage stress
how do you help peers manage stress?

Amara Weiss
Institute Secretary, Author
I am Amara Weiss and for many years I have worked in the field of education, specifically in the area of technology. I firmly believe that technology is a powerful tool that can help educators achieve their goals and improve student outcomes. That is why I currently work with IIENSTITU, an organization that supports more than 2 million students worldwide. In my role, I strive to contribute to its global growth and help educators make the most of available technologies.
Related Posts
Our team of experts is passionate about providing accurate and helpful information, and we're always updating our blog with new articles and videos. So if you're looking for reliable advice and informative content, be sure to check out our blog today.