Interview Questions
Interview Question: In What Ways Do You Celebrate Time Management Wins or Successes?
26 September 2023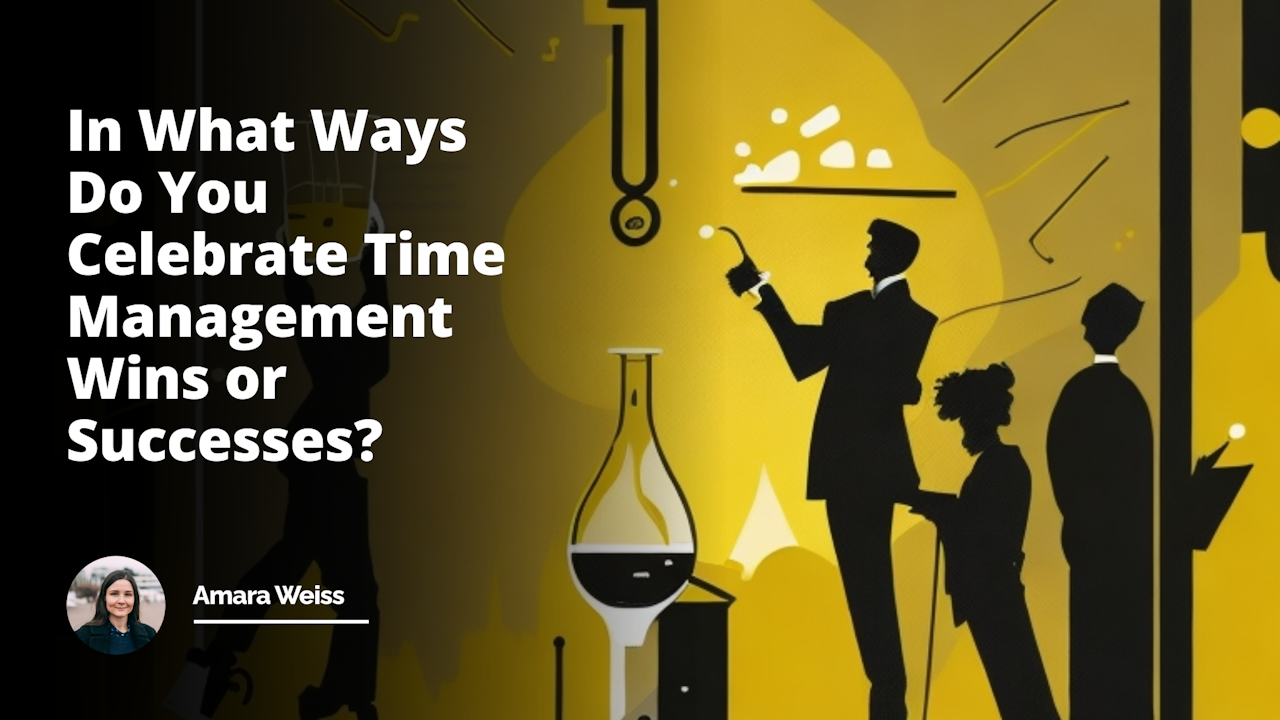 | Interview Question Aspect | Purpose | Ideal Response Characteristic |
| --- | --- | --- |
| Assessing work ethic | Understanding the candidate's commitment and dedication towards their tasks | Display of consistent work-related efforts |
| Evaluating goals and motivation | Insight into what drives the candidate and their long-term visions | Expression of positive, inner drive and future-oriented mindset |
| Reflecting constructively on your own performance | To gauge candidate's self-awareness and ability to improve and grow | Exemplification of thoughtful reflection and lessons learned |
| Handling success | Observing the candidate's reaction to accomplishment and praise | Balance of humility and proud acknowledgement of achievement |
| Self-perceived performance | Understanding how candidate values their own work | Showcase of realistic self-assessment and acceptance of feedback |
| Motivation | Determining what drives the candidate to perform and succeed | Display of internal motivation factors and relentless striving |
| Personality | Getting to know the overall character and individuality of the candidate | Blend of professionalism and personal touch |
| Approach to celebration of success | Understanding how candidate reward their achievements | Blend of personal treat and reflective learning |
| Time management skills | To gauge the candidate's ability to effectively use their time | Demonstration of effective strategies and tools used for managing time |
| Understanding of success in time management | Insight into how candidate defines and measures success | Expression of specific, achievable and quantifiable measures of success |
Understanding the reason behind an interview question not only helps to frame a compelling response, but it also helps us gain perspective on the hiring process. So, why does an interviewer pose this particular question: "In what ways do you celebrate time management wins or successes?"
Related Course: Course On Time Management
This query is usually posited to assess several key traits: your work ethic, your goals and motivation, your ability to reflect constructively on your own performance, and your ability to handle success.
It is a tool for employers to gauge your self-perceived performance, motivation, and frankly, your personality. Consciously or not, they're seeking a sneak peek into your habits and attitudes towards success and time management.
The Purpose of the Question, "In What Ways Do You Celebrate Time Management Wins or Successes?"
Every interview question serves a purpose: a unique perspective about the candidate that the interviewer aims to uncover.
When asking, "In what ways do you celebrate time management wins or successes?" the interviewer seeks to understand your attitude towards success and achievement.
How you acknowledge and reward your own success can highlight your motivation mindset, self-awareness, and to some extent, your humility. HR experts additionally view this question as a means to comprehend your understanding and use of time management skills.
At What Interview Level is This Question Asked?
This question isn't restricted to any is specific interview level. Whether entry, middle, or top-level positions, time management is universally significant, transcending roles and sectors.
However, as one climbs up the professional ladder, the stakes get higher, making effective time management and the celebration of its successful implementation, critical to understand a leader's mindset.
What Kind of Answer is Expected from the Candidate?
When asked, "In what ways do you celebrate time management wins or successes?" the employer expects a well-rounded answer, demonstrating mindfulness of personal accomplishment.
They're looking for something more profound than a straightforward "I treat myself to a good meal." They would like to hear about your reflection process, your takeaways from the success, and how all these influence your future work projections. An answer conveying growth mindset, continuous learning, or strategic thinking is a sure hit.
Possible Answers to Consider
When crafting a response, keep in mind it should be personal, thoughtful, and illuminating about your work style and approach. Here's an example:
"One way I celebrate achieving a time management milestone is by pausing and appreciating the moment. I reflect on what strategies or tactics have worked. This reflection isn't just about patting myself on the back; it's about learning and addressing how I can replicate this success. I might take a short break or treat myself to something I enjoy, but I also make sure to share the success with my team, acknowledging their role in the achievement."
Remember, there isn't a "right" answer, but a thoughtful, original response will reveal a lot about how you perceive your work, worth, and progress.
Keep in Mind While Responding
Your response should reveal your ability to value your efforts appropriately. Admitting your need for affirmation isn't a sign of ego but an indication of healthy self-assessment. Conversely, humility can still shine in your celebration.
Simply put: striking a balance is key. Relate your response to personal experience, and where possible, demonstrate the positive impact of your celebrations.
Your answer to "In What Ways Do You Celebrate Time Management Wins or Successes?" can make an indelible impression, signaling your attitude towards success, your method of reflection, and your capacity for self-motivation.
It's an opportunity to give a sneak peek into your work ethics and habits, unearthing facets that resume bullet points may overlook. It's your chance to present yourself as a thoughtful, growth-oriented professional with a balanced outlook on success and failure.
Methods of Rewarding Personal Time Management Successes
| Reward | Description | Example |
| --- | --- | --- |
| Enjoyment | Engaging in activities that bring personal pleasure | Watching a movie or going for a hike |
| Rest and Relaxation | Taking time to unwind and rejuvenate | Having a spa day or taking a nap |
| Self-care | Engaging in activities that promote physical and mental well-being | Having a bubble bath or meditating |
| Socializing | Spending time with friends and loved ones | Having a dinner party or going out for a coffee with a friend |
| Achievement | Recognizing and celebrating personal accomplishments | Treating yourself to a nice meal or purchasing something you've been wanting |
| Travel | Exploring new places and cultures | Planning a weekend getaway or booking a trip abroad |
Table about Aspects of Time Management Successes
| Aspect of Time Management Success | Description |
| --- | --- |
| Goal Achievement | Successfully accomplishing tasks and objectives on time. |
| Productivity | Efficiently utilizing time and resources to maximize output. |
| Meeting Deadlines | Consistently delivering work or projects before or on schedule. |
| Prioritization | Effectively determining and focusing on high-priority tasks. |
| Planning and Scheduling | Creating well-structured plans and timetables for tasks and projects. |
| Reduced Stress | Managing time well to minimize stress and work-related anxiety. |
| Work-Life Balance | Achieving equilibrium between professional and personal life. |
| Continuous Improvement | Regularly reviewing and enhancing time management strategies. |
| Team Collaboration | Coordinating with colleagues to meet collective deadlines. |
| Long-Term Goals | Aligning time management efforts with long-term career objectives. |
Efficient Techniques used in Celebrating Team Time Management Wins
| Technique | Description | Benefits |
| --- | --- | --- |
| Task Prioritization | Identifying and ranking tasks based on urgency and importance | Improved productivity and focus |
| Time Blocking | Allocating specific time blocks for different tasks or activities | Enhanced time management and reduced distractions |
| Goal Setting | Setting clear and achievable goals for team members | Motivation, accountability, and direction |
| Effective Communication | Ensuring clear and concise communication within the team | Reduced misunderstandings and improved coordination |
| Regular Check-ins | Scheduled meetings or updates to track progress and address any issues | Increased transparency and alignment |
| Delegation | Assigning tasks to team members based on their skills and workload | Efficient workload distribution and improved productivity |
Similar interview questions:
How do you usually applaud your victories in time management?

Can you describe how you traditionally mark success in managing your time effectively?

What routines or rituals do you follow to commemorate winning at time management?

How do you prefer to acknowledge your proficiency in time management?

What's your unique way of celebrating achievements in time management?

What methods do you utilize to recognize your time management success?

How do you reward yourself for time management improvements?

What actions do you typically take to mark progress in your proficiency at managing time?

Can you share how you revel in your advances in time management?

How do you usually celebrate when you have successfully managed your time effectively?

In What Ways Do You Celebrate Time Management Wins or Successes?

Amara Weiss
Institute Secretary, Author
I am Amara Weiss and for many years I have worked in the field of education, specifically in the area of technology. I firmly believe that technology is a powerful tool that can help educators achieve their goals and improve student outcomes. That is why I currently work with IIENSTITU, an organization that supports more than 2 million students worldwide. In my role, I strive to contribute to its global growth and help educators make the most of available technologies.
Related Posts
Our team of experts is passionate about providing accurate and helpful information, and we're always updating our blog with new articles and videos. So if you're looking for reliable advice and informative content, be sure to check out our blog today.