Interview Questions
Interview Question: Describe a Tough Problem-Solving Moment
24 August 2023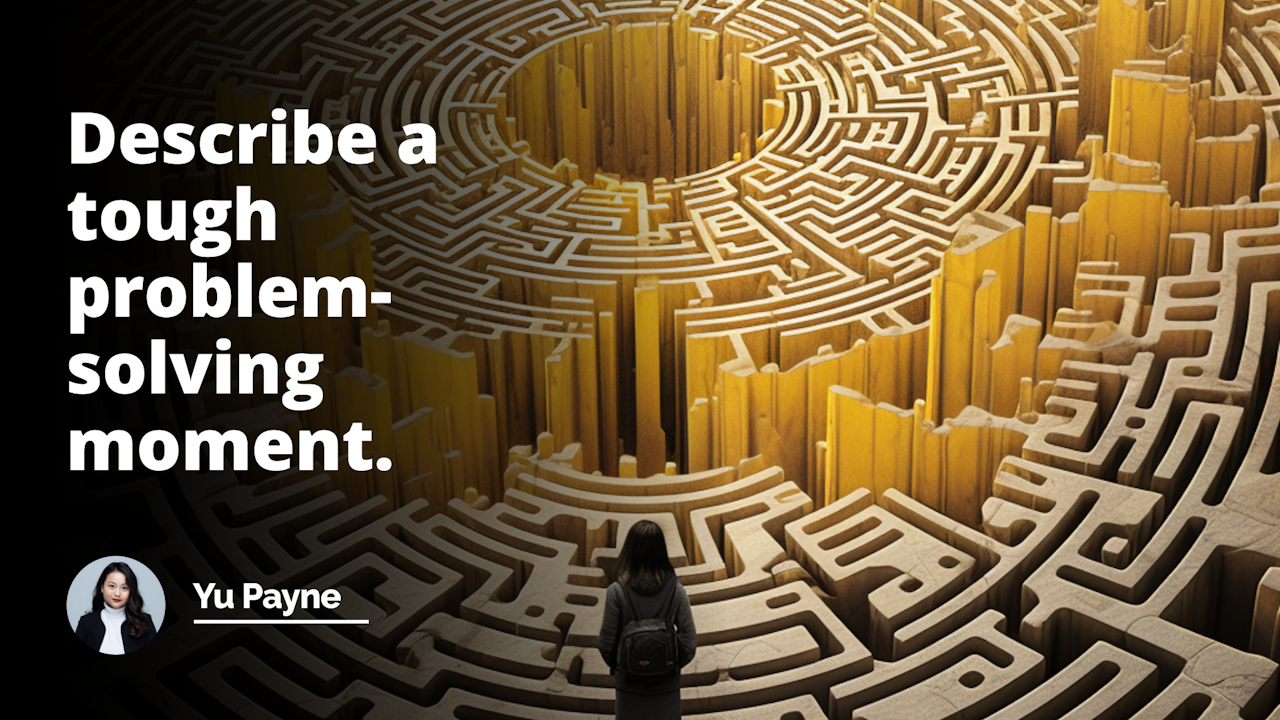 | Key Attributes | Explanation | Example |
| --- | --- | --- |
| Analytical Skills | Dissect problems and derive solutions through critical thinking. | Project manager aligning diverse stakeholders and coordinating efforts. |
| Decision-Making Abilities | Make informed decisions quickly and efficiently. | Marketing manager developing cost-effective strategies for brand visibility. |
| Creativity and Innovation | Think outside the box and offer innovative solutions. | Leveraging emerging digital marketing trends and social media platforms for brand visibility. |
| Adaptability and Resilience | Stay calm under pressure and adapt problem-solving approach to changing circumstances. | Project manager mitigating conflicts and establishing effective communication channels. |
| Communication and Collaboration | Collaborate and communicate effectively to gather insights and work towards solutions. | Initiating team-building activities and actively listening to departmental concerns and ideas. |
| Using the STAR Technique | Presenting responses with details of the Situation, Task, Action, and Result. | Marketing manager increasing brand visibility within a limited budget. |
| Choose a Relevant Example | Opt for a problem-solving scenario that aligns with job requirements and highlights your aptitude. | Aligning stakeholders in a cross-functional initiative as a project manager. |
| Be Specific and Detailed | Describe the situation, challenges, and actions taken in detail. | Devising a cost-effective strategy for increasing brand visibility. |
| Highlight Results and Achievements | Articulate accomplishments that resulted from your problem-solving skills. | Timely project completion that surpassed stakeholders' expectations. |
| Impress with Professionalism and Authenticity | Be genuine and assert your skills sincerely and convincingly. | Instigating regular meetings to foster collaboration and streamline communication. |
In today's competitive business landscape, individuals with excellent problem-solving skills are highly sought after. Hiring managers value candidates who can adeptly handle challenging situations with resilience and ingenuity. Therefore, the interview question 'Describe a tough problem-solving moment' aims to assess the candidate's ability to confront and overcome obstacles effectively.
This question is typically asked in mid to high-level interviews, where candidates are expected to provide specific examples and showcase their problem-solving competencies. In this article, we will delve into the purpose of this question, explore the desired answer, provide possible answers, and offer insights on how candidates can approach this question during interviews.
The Purpose and Importance of the Question: Assessing Problem-Solving Skills
When interviewers ask candidates to describe a tough problem-solving moment, they aim to evaluate the applicant's ability to confront and handle challenging situations in a structured and resourceful manner.
Hiring managers and HR professionals understand the significance of problem-solving skills, as they directly impact an employee's ability to identify, analyze, and resolve complex issues that arise in the workplace.
By posing this question, interviewers gauge several key attributes:
Analytical Skills: Employers seek individuals who can dissect problems, evaluate various factors, and derive effective solutions through critical thinking.

Decision-Making Abilities: A candidate's capacity to make informed decisions quickly and efficiently is crucial in overcoming tough problem-solving moments.

Creativity and Innovation: Hiring managers want problem solvers who can think outside the box and offer innovative solutions to overcome challenges.

Adaptability and Resilience: A candidate's ability to stay calm under pressure and adapt their problem-solving approach to changing circumstances showcases their resilience and capacity to overcome obstacles.

Communication and Collaboration: Effective problem solvers possess excellent communication skills and can collaborate with others to gather insights and work towards solutions.
Possible Approaches and Answers: Real-Life Problem-Solving Heroics
When answering the question about a tough problem-solving moment, candidates should employ the STAR technique – Situation, Task, Action, and Result. By structuring their response around this method, candidates can provide a detailed account of the scenario, the actions they took, and the eventual positive outcomes. Below are two hypothetical examples of how candidates can effectively answer this question:
Example 1: Embracing Challenges in Cross-Functional Collaboration
Situation: As a project manager, I encountered a challenging situation while working on a cross-functional initiative involving multiple departments with conflicting priorities and interests.
Task: The project required me to align diverse stakeholders, establish effective communication channels, and coordinate efforts to meet tight deadlines.
Action: I initiated regular meetings to foster collaboration, initiated team-building activities, and actively listened to the concerns and ideas of each department. Additionally, I leveraged my negotiations skills to find common ground and mitigate conflicts.
Result: Through my efforts, I successfully created a cohesive project team, streamlined communication, and facilitated efficient decision-making, resulting in timely project completion and surpassing our stakeholders' expectations.
Example 2: Thinking Creatively to Accelerate Problem-Solving
Situation: While working as a marketing manager, our team faced a significant obstacle in increasing brand visibility within a limited budget.
Task: My task was to devise a cost-effective strategy that would effectively reach our target audience and generate brand awareness.
Action: I conducted market research to identify emerging digital marketing trends, leveraged social media platforms, collaborated with influencers, and developed engaging content to attract and retain our audience.
Related Course: Digital Marketing Course Online
Result: By adopting an innovative and cost-effective approach, our brand's visibility skyrocketed, leading to a substantial increase in organic reach, engagement, and ultimately, sales.
What to Keep in Mind: Impress with Professionalism and Authenticity
When responding to the question of a tough problem-solving moment, candidates should consider the following tips:
Choose a Relevant Example: Select a problem-solving scenario that aligns with the job requirements and highlights your aptitude within the specific role.

Be Specific and Detailed: Provide a thorough description of the situation, the challenges faced, and the actions taken to overcome them. Showcase your problem-solving methodologies.

Highlight Results and Achievements: Articulate the accomplishments resulting from your problem-solving skills, emphasizing quantifiable outcomes, such as increased efficiency, cost savings, or improved team dynamics.

Emphasize Collaborative Efforts: Demonstrate your ability to work well with others by emphasizing your teamwork, communication, and leadership skills.

Stay Genuine and Authentic: Be yourself and avoid overstating your abilities or fabricating scenarios. Authenticity and honesty are valued traits in any interview.
Related Course: Leadership Course
Navigating tough problem-solving moments requires a combination of analytical thinking, creativity, adaptability, and resilience. By providing a detailed and compelling response to interviewers' inquiries about a challenging problem-solving moment, candidates can showcase their pivotal role in overcoming obstacles and contributing to organizational success.
Remember, the key is to approach the question with confidence, substantiate your answer with real-life experiences, and convey the valuable lessons learned from each problem-solving endeavor.
Similar questions:
Could you narrate an instance where you faced a challenging problem-solving situation?

Share an example of a difficult problem-solving moment you've encountered.

Can you recount a time when you had to overcome a tough problem-solving challenge?

Have you ever experienced a moment that required complex problem-solving skills? If so, please elaborate.

Describe a challenging problem-solving scenario that you successfully resolved.

Could you provide an example of a problem-solving situation that tested your abilities?

Reflect on a time when you encountered a problem that seemed insurmountable but managed to overcome it through problem-solving.

Can you think of a tough problem-solving moment in your professional experience?

Please share a difficult problem-solving situation you navigated through effectively.

Describe an instance when you faced a tough problem-solving conundrum and explain how you tackled it.

Narrate a challenging problem-solving moment that left a lasting impact on your personal or professional growth.

Can you share an example of a complex problem-solving task that you encountered recently?

Reflect on a time when you encountered a problem-solving challenge that required unconventional thinking.

Describe a tough problem-solving situation you faced in your previous job.

Can you recall a problem-solving moment where you had to think critically and quickly to find a solution?

Share an example of a problem-solving scenario that required collaboration and teamwork.

Reflect on a time when you had to devise a creative solution to overcome a tough problem.

Can you narrate an experience where you employed analytical thinking to solve a difficult problem?

Describe a problem-solving moment in your academic life that was particularly challenging.

Please share an example of a problem-solving situation that made you reassess your approach and come up with an innovative solution.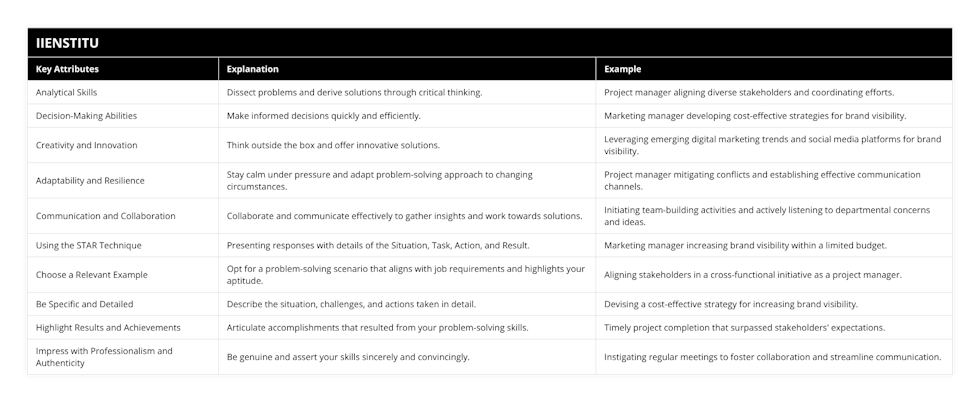 Describe a tough problem-solving moment.
describe a tough problem solving moment
describe a tough problem-solving moment.
Yu Payne
Blogger
Yu Payne is an American professional who believes in personal growth. After studying The Art & Science of Transformational from Erickson College, she continuously seeks out new trainings to improve herself. She has been producing content for the IIENSTITU Blog since 2021. Her work has been featured on various platforms, including but not limited to: ThriveGlobal, TinyBuddha, and Addicted2Success. Yu aspires to help others reach their full potential and live their best lives.
Related Posts
Our team of experts is passionate about providing accurate and helpful information, and we're always updating our blog with new articles and videos. So if you're looking for reliable advice and informative content, be sure to check out our blog today.