Interview Questions
Interview Question: Describe Your Last High-Pressure Task
31 August 2023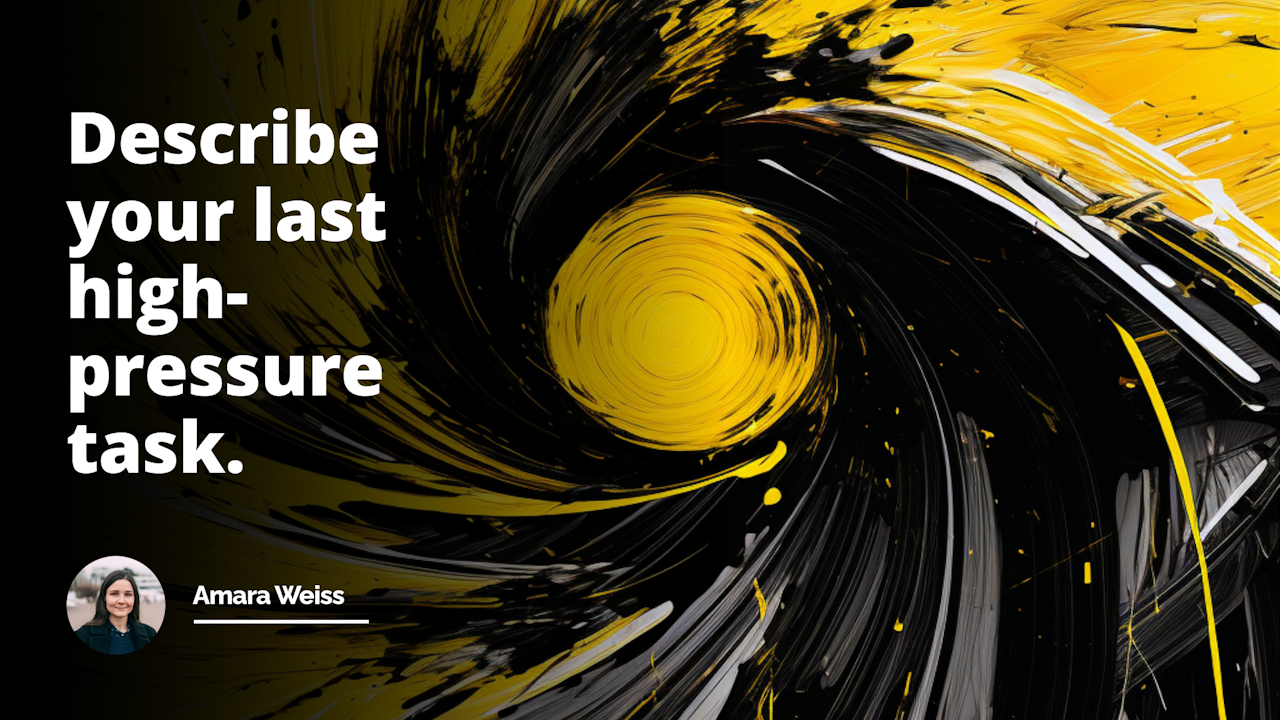 | Aspect | Explanation | Example |
| --- | --- | --- |
| Purpose of the Question | To evaluate the candidate's ability to handle high-pressure tasks. | Probing your capacity to remain composed, focused, and productive under strain. |
| Level of the Interview | Typically asked during mid to senior-level interviews. | Used to assess experience-based decision-making and leadership abilities. |
| Expected Answers | Specific details about a high-pressure task and how it was handled. | Highlighting problem-solving skills, decision-making process, composure, and productivity under pressure. |
| Description of Task and Context | Provides context to the high-pressure situation. | Outlining the project, team, and deadlines involved. |
| Highlighting Challenges | Explains difficulties faced during the task. | Describes any time constraints, unexpected obstacles or complex situations. |
| Explanation of Approach | Details strategies used to tackle the task. | Elaborating the decision-making process, task prioritization, and innovative methods to address challenges. |
| Discussion of Actions & Responsibilities | Elaborates on steps taken for task completion. | Highlighting leadership, teamwork, or communication skills employed to surmount obstacles. |
| Outcome & Lessons Learned | Shares the results and insights gleaned from the experience. | Recounting the final result, personal contributions to success, and improvements for future similar situations. |
| Focus on Actions & Outcomes | Emphasizes how a situation was effectively managed. | Highlighting the actions over circumstances and presenting the positive results achieved. |
| Showcase of Problem-solving Skills | Demonstrating critical thinking abilities through strategies and approaches used. | Explanations that exhibit resourcefulness and adaptability under pressure. |
In today's competitive job market, it is essential for employers to assess a candidate's ability to handle high-pressure situations effectively.
The interview question, "Describe your last high-pressure task," aims to gauge the candidate's experience, problem-solving skills, and resilience under challenging circumstances. By asking this question, employers can evaluate how well candidates adapt, manage stress, and perform under pressure.
Let's explore the purpose, interview level, expected answers, and possible responses to this question in more detail.
Why is this interview question asked: Describe Your Last High-Pressure Task?
The interviewers want to evaluate your ability to handle high-pressure tasks by understanding how you faced and overcame such situations in the past.
This question helps assess your working style, problem-solving skills, decision-making abilities, and your capability to manage stress and meet deadlines. Your response will provide the interviewer with insights into your past experiences and how you handle challenging circumstances.
The purpose of the question:
By asking about your last high-pressure task, the interviewer aims to determine your compatibility with the role you are applying for. They want to assess your capacity to remain composed, focused, and productive in demanding situations.
The question also helps to determine if you possess the necessary skills, adaptability, and resilience required to excel in a fast-paced and high-pressure work environment.
At what interview level is it asked?
The question "Describe your last high-pressure task" is often asked during mid to senior-level interviews where the role demands decision-making, leadership abilities, and handling challenging situations independently.
Related Course: Leadership Course Online
The interviewers expect candidates with relevant work experience to provide detailed examples of how they thrived under pressure.
What kind of answer is expected from the candidate?
The ideal answer to this question should demonstrate your ability to handle high-pressure situations effectively. Your response should highlight the key aspects of the task, specific challenges you faced, actions taken, and the ultimate outcome.
The interviewer expects you to showcase your problem-solving skills, decision-making process, and ability to remain calm and productive under pressure. It is crucial to provide a concise yet comprehensive account that showcases your adaptability, resilience, and accomplishments.
Possible answers to consider:
Describe the task and context: Start by providing a brief overview of the high-pressure task you encountered. Explain the context, including the project, team, and deadlines involved. This sets the stage for your response.

Highlight the challenges: Discuss the specific challenges and pressures you faced during the task. Be honest about any time constraints, unexpected obstacles, or complex situations that added to the overall pressure.

Explain your approach: Detail the strategies you employed to tackle the high-pressure task. Discuss the decision-making process, how you prioritized tasks, and any innovative methods you used to address the challenges faced.

Describe your actions and responsibilities: Elaborate on the actions you took to ensure successful completion of the task. Highlight any leadership, teamwork, or communication skills you utilized to rally your team and overcome obstacles.

Discuss the outcome and lessons learned: Share the positive outcome of the task and how your actions contributed to its success. Additionally, reflect on the lessons you learned from the experience, including any adjustments or improvements you would make if faced with a similar situation in the future. Discuss how this experience has shaped your professional growth and ability to handle pressure effectively.
What to consider when answering:
Be specific and provide details: Use concrete examples and specific details to paint a vivid picture of the high-pressure task. This will help the interviewer understand the context and challenges you faced.

Focus on actions and outcomes: Emphasize the actions you took to address the high-pressure situation, rather than merely describing the circumstances. Highlight the positive results achieved to showcase your ability to handle pressure and deliver results.

Showcase your problem-solving skills: Demonstrate your critical thinking abilities by explaining the strategies and approaches you employed to overcome challenges effectively. This will exhibit your resourcefulness and adaptability.

Highlight communication and teamwork abilities: If relevant, emphasize your collaboration and leadership skills. Describe how you motivated and supported your team during the high-pressure task, showcasing your ability to work well under stress while maintaining positive team dynamics.
The interview question, "Describe your last high-pressure task," offers candidates the opportunity to showcase their ability to handle demanding situations effectively.
By discussing the specific task, challenges faced, actions taken, and outcomes achieved, candidates can demonstrate their problem-solving skills, adaptability, and resilience.
Remember to provide a detailed account of the experience, highlighting your role and accomplishments, and reflecting on the lessons learned.
By embracing the challenge with confidence and articulating your expertise in handling high-pressure tasks, you can impress the interviewer and increase your chances of securing the position.
Task Description and Objective
| Name | Age | Gender |
| --- | --- | --- |
| John | 25 | Male |
| Emily | 30 | Female |
| Michael | 40 | Male |
| Sarah | 28 | Female |
| David | 35 | Male |
| Amy | 32 | Female |
Key Challenges and Obstacles Faced
| Challenges | Obstacles | Solutions |
| --- | --- | --- |
| Lack of funding | Limited financial resources | Seeking grants and sponsorships |
| Technical difficulties | Issues with software or equipment | Routine maintenance and periodic upgrades |
| Competitive market | Numerous similar products or services | Differentiating through innovation or marketing strategies |
| Regulatory compliance | Complex and changing legal requirements | Hiring legal experts and staying updated with regulations |
| Staff turnover | Frequent resignations or turnover | Implementing employee engagement initiatives and providing growth opportunities |
| Customer retention | Difficulty in retaining existing clients | Improving customer service and loyalty programs |
Strategies and Solutions Implemented
| Strategy | Solution Implemented | Outcome |
| --- | --- | --- |
| Implementing regular training programs | Organized training sessions on a monthly basis | Improved employees' skills and knowledge |
| Enhancing communication channels | Implemented a company-wide messaging platform | Improved collaboration and timely information sharing |
| Implementing performance feedback systems | Introduced quarterly performance reviews | Helped in identifying strengths and areas for improvement |
| Promoting work-life balance | Implemented flexible work hours and telecommuting options | Increased employee satisfaction and reduced burnout |
| Encouraging innovation and creativity | Established an innovation committee and reward system for creative ideas | Boosted innovation and problem-solving capabilities |
| Implementing cost-saving measures | Introduced energy-efficient practices and reduced wastage | Achieved significant cost savings |
Similar interview questions:
Can you elaborate on a recent task you were under immense pressure to complete?

Tell me about a situation where you felt significant pressure to accomplish a task successfully.

How would you describe the most recent high-stress assignment you encountered?

Can you recount a recent instance when you faced a demanding task that required you to perform under pressure?

Could you provide an example of a recent high-pressure task that tested your ability to handle stress and meet deadlines effectively?

Describe a recent project or task that demanded your utmost focus and resilience due to the intense pressure involved.

Share an experience where you had to handle a task under immense pressure, explaining how you managed the stress and accomplished your goal.

Tell me about a time when you faced a challenging task requiring you to maintain composure under significant pressure.

Reflect on a recent high-pressure situation at work where you were required to perform at your best, despite the stress and potential obstacles involved.

Can you walk me through an example of a task that demanded your full attention and tested your ability to deliver exceptional results within a tight timeframe?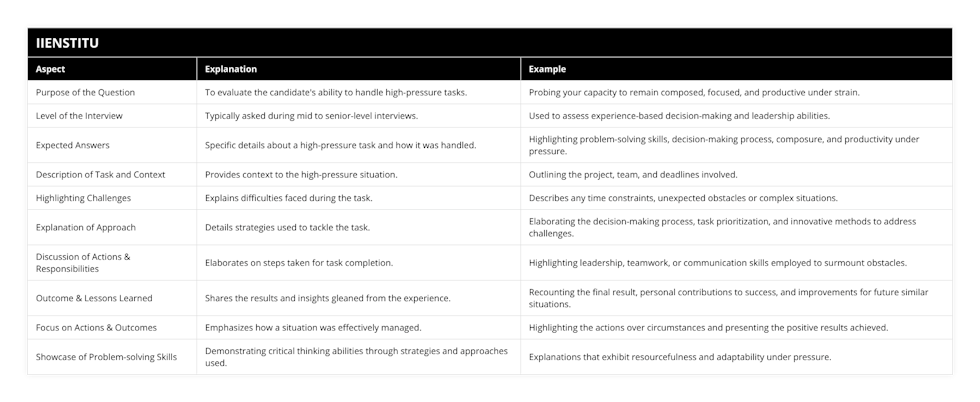 Describe your last high-pressure task.
describe your last high pressure task
describe your last high-pressure task.

Amara Weiss
Institute Secretary, Author
I am Amara Weiss and for many years I have worked in the field of education, specifically in the area of technology. I firmly believe that technology is a powerful tool that can help educators achieve their goals and improve student outcomes. That is why I currently work with IIENSTITU, an organization that supports more than 2 million students worldwide. In my role, I strive to contribute to its global growth and help educators make the most of available technologies.
Related Posts
Our team of experts is passionate about providing accurate and helpful information, and we're always updating our blog with new articles and videos. So if you're looking for reliable advice and informative content, be sure to check out our blog today.