Marketing Courses
Marketing courses online. Learn how to market your business effectively with our marketing courses and training.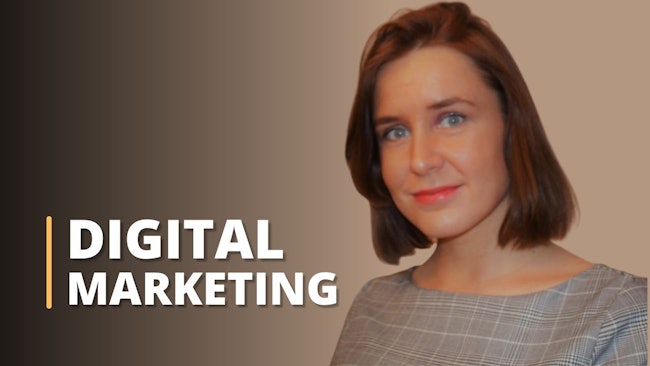 Want to learn marketing? If you're going to become a marketing guru quickly or if you have a training process planned, you can attend the marketing training at the Institute. Experts prepare it in marketing training at the Institute. Therefore, your education and learning process will be straightforward with experience in their fields. At the same time, you will gain important marketing information before going into business.
Career Goal in Marketing
Marketing is an exciting field. Because there is no field without marketing. If your mind works are creative and your imagination is high, you probably have or can develop a marketing savvy. You need to have advanced skills in all areas such as copywriting, accounting, visual design, packaging, retail, product, and production management.
Here, the field of marketing is as broad as your imagination. The Institute will allow you to find everything you are looking for in marketing training. If you do not know where to start learning, you can attend the marketing training in this category.
A marketing worker is someone whose primary role is to develop plans and strategies to promote goods or services. Sometimes companies need more than one marketing employee, but self-employed individuals can also do this position.
Companies often employ marketing workers that produce some type of good or service. Marketing people lead campaigns designed to promote that company's products or services. The development of promotional materials such as campaigns, brochures, advertisements, and posters; may also include attending trade shows and holding conferences.
Those working in marketing carry out public relations activities for internal and external organizations of the business world. In addition, they do perception management by using various marketing tools to manage their customers' thoughts about their products or services.
If you have a career goal in marketing, you should follow your competitors' marketing trends. You should know how to plan to design new products and services in line with research. Market research is an essential part of marketing. While conducting this type of research, you should also know the qualitative and quantitative research methods.You should also evaluate how effective a marketing campaign has been after it has taken place. How much is the satisfaction and return rate if you can reach the target audience you want or sell the product you want? Should you analyze all this data? Again, consumer behavior and purchasing are essential.
You should also know retailing and retail math. Retailing is one of the essential functions of marketing. And as a marketing employee, you should use all kinds of marketing tools to achieve the organization's sales goals you work for.
What are Marketing Courses?
Marketing is a field that includes many activities from sales, advertising, promotions to public relations. Therefore, a marketing professional should know many areas, such as sales and product management. In addition, he is an expert in everything that adds value to an organization, such as retaining customers, acquiring new customers, and customer satisfaction.
Marketing training at IIENSTITU;
Marketing Communications

Digital marketing

Neuromarketing

Sales Management

Leading Management in Sales

Customer Retention with Churn

CX Customer Experience

CRM Customer Relationship Management

Persuasion Techniques

Persuasion Games

Public Relations and Communication

Consumer Behavior and Purchasing
How to Learn Marketing
Forum discussions are included in all the training you attend at the Institute. You can share your thoughts with people through your student groups and meetings. You can also learn about their thoughts. Because in the marketing courses you attend, other people participate for the same purpose as you. Marketing is an intimate field that also includes communication and persuasion. You can't do stand-alone marketing without communicating directly with people. Therefore, you need to learn the techniques of the job and gain experience.
Of course, you may want to learn independently, and you may want to do it through books. But you need to understand precisely how they are used in practice. Here you can attend marketing courses at the Institute from where you are alone. With online marketing courses, you can meet people and find the pleasure of learning new things. Do not forget that marketing training from the expert is one click away.
Free Marketing Courses
Many marketing training courses you can attend online are free. Generally, there is a free quote. Within this quota, you can get free marketing training. This learning opportunity is excellent for you. Marketing courses, which are also paid, are costly but it doesn't require you to. It is suitable for your budget. Expert trainers will guide you through this training. You will learn many topics related to marketing courses.