Certificate
Why Getting Certified Can Help Your Career
28 June 2022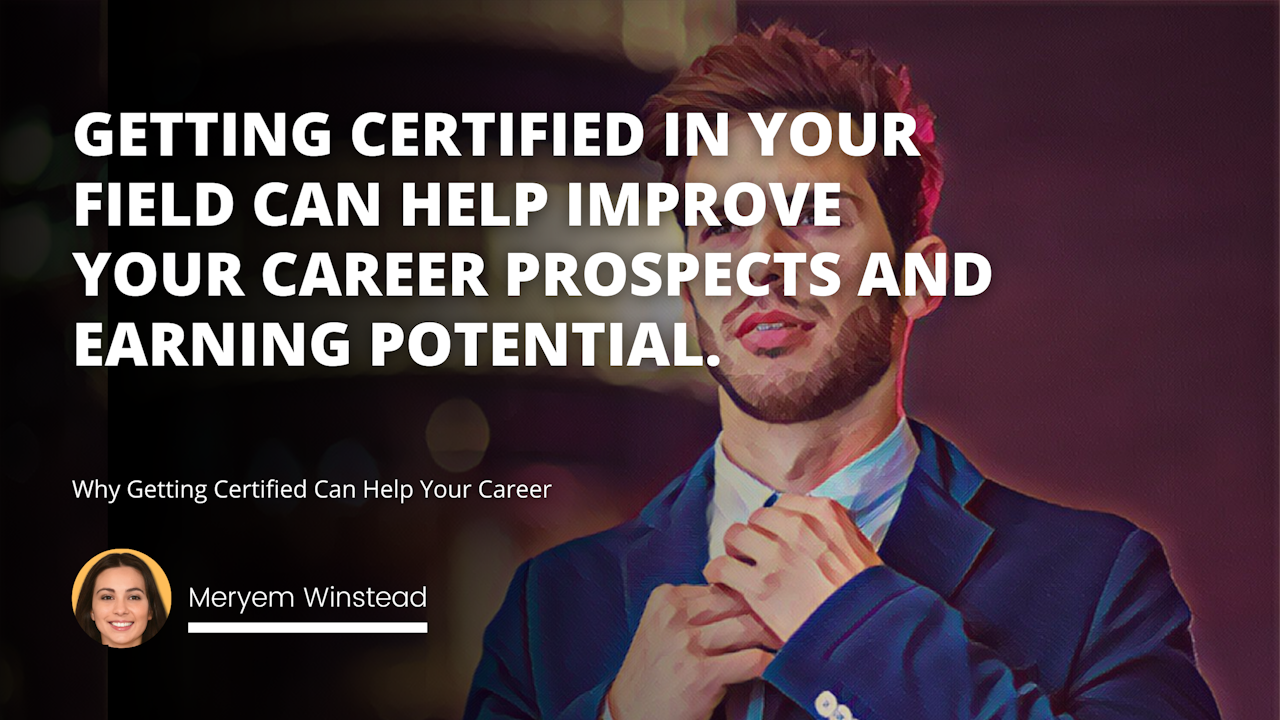 Are you looking for ways to advance your career? If so, consider getting certified. Certifications can help you stand out from the competition and prove that you are qualified for the job. They can also make you more marketable and increase your earning potential. So, if you want to take your career to the next level, consider getting certified.
Many people find certification unnecessary or difficult to obtain. But, if you're serious about advancing your career, certification can be a valuable asset. There are many different types of certificates and certifications available to find one relevant to your field or career goals. And, with proper preparation, you can quickly obtain a certificate.
Get certified to boost your career.
Developing your career is a harsh statement. Because it has a tremendous meaning which job? What will you do to establish that career? It would help if you had a clear career plan and goal to achieve something in your career. If you don't know what you want, you will not be able to get anywhere. A career is like a journey, and you need to have a destination in mind before you begin traveling.
Making a career is not as simple as you can see. If you want to earn more money, you need to get certified and do the following:
Learn new things and improve your skills

Become more marketable and qualified for the job

Increase your earning potential

Stand out from the competition

Obtain a certificate with ease (if you prepare correctly)
All these reasons are career boosters, and getting certified will help you develop your career. It is a great way to move forward, and many options are available.
Which certificates do I need to build a career?
This is a difficult question because only you know the answer. Start by getting to know yourself better. What are your career goals? What are your interests and passions? Once you understand these things well, you can begin research certificate programs that will help you achieve your goals.
There is no rush to get certified. Instead, take your time to find the right program for you. There are many different types of certificates available to find one relevant to your field or career goals. And, with the proper preparation, you can quickly obtain a certification.
For example, if you work in digital marketing: digital marketing and SEO training is for you. But what will these certificates prove to employers? First, these certificate programs will show you have the skills and knowledge to excel in your field. They will also demonstrate that you are committed to career development, an essential quality for any employer.
Certificates show employers that you are committed to your career and have the skills and knowledge to excel in your field. 

Certificate programs offer a variety of courses and specializations, so you can tailor your education to match your career goals. 

Industry experts design programs to be confident that you're getting the best training. 

Earning a certificate demonstrates to employers that you are proactive about learning and up-to-date on the latest trends and developments in your field
What do employers expect? Do they prioritize certified candidates for recruitment?
Of course, it is. Consider two people who are vying for the same job. They both wish to work in the field of digital marketing. An IIENSTITU digital marketing certificate is held by one of them. Which one of them will be more attractive to the employer? The answer is obvious.
An IIENSTITU certificate gives you an edge in career development as it verifies your skills and commitment to the industry. With an IIE certificate, employers know they can trust you to do the job well and keep up with the latest trends.
IIENSTITU certificates are globally recognized and highly respected by employers. They demonstrate that you have the skills and knowledge to excel in your field, making you a more attractive candidate for recruitment.
Throughout our careers, we always want more.
More money, more responsibility, more challenges. But how do we get there? How do we move up the career ladder? When you ask other people about it, they will tell you that training is unnecessary, but the experience is better. In some cases, this is true. But what if you don't have the experience? How would you get it?
The answer is simple: training. Training can help fill in the gaps of your experience and make you more competitive in today's job market. It can also help improve your chances of getting promoted.
However, not all training is created equal. There are many different types of training programs out there, and not all of them will be right for you. It's important to choose a program that fits your needs and goals.
Here are some things to consider when choosing a training program:
What type of training do you need?

What is your budget for training?

What are your goals for the training?

What is your schedule like?

What is the quality of the program?

What are the credentials of the instructors?

What is the track record of the program?

Is the program accredited?

What do other people say about the program?

Can you try before you buy?
Once you've considered these factors, you'll be able to choose the right training program for you. And remember, even if you're not looking for a new job, training can still help you improve your skills and knowledge, making you more valuable to your current employer.
Why is it so difficult to build a career? Why do I have to get a certificate?
A career is built over time. It takes years of experience and knowledge to advance in most fields. A certificate may help you get your foot in the door, but your experience and hard work will help you move up the ladder.
In today's job market, employers look for more than just a piece of paper. They want to see that you have the skills and experience to do the job. That's why training is so necessary. It can help you gain the skills and expertise you need to be competitive in today's job market.
I would also like to tell you about an experience I had at work about the importance of education.
I was working as a customer service representative at a call center. The job didn't require much education, and most of my coworkers had high school degrees or less. But I had just completed my associate's degree and used that to my advantage.
One day, our supervisor announced that a new position would open up for a supervisor. He said the job would require a bachelor's degree, and he encouraged us to apply.
I didn't have a bachelor's degree, but I applied anyway. Because I had already received a certificate regarding the call center, which my other coworkers had not. And I got the job! My education gave me the edge I needed to get ahead of the competition.
So, if you're looking to advance your career, don't discount the importance of training. It can be the key to success.
As a result of the training, I was able to get promoted.
I would encourage you to invest in your career and get the training you need to succeed. It will pay off in the long run. Thanks for reading!
education
certificate
certified
online education
online course
Meryem Winstead
Blogger
I graduated from the Family and Consumption Sciences Department at Hacettepe University. I hold certificates in blogging and personnel management. I have a Master's degree in English and have lived in the US for three years.
Related Posts
Our team of experts is passionate about providing accurate and helpful information, and we're always updating our blog with new articles and videos. So if you're looking for reliable advice and informative content, be sure to check out our blog today.