Interview Questions
Interview Question: What's a Common Time Management Myth You Disagree With?
26 September 2023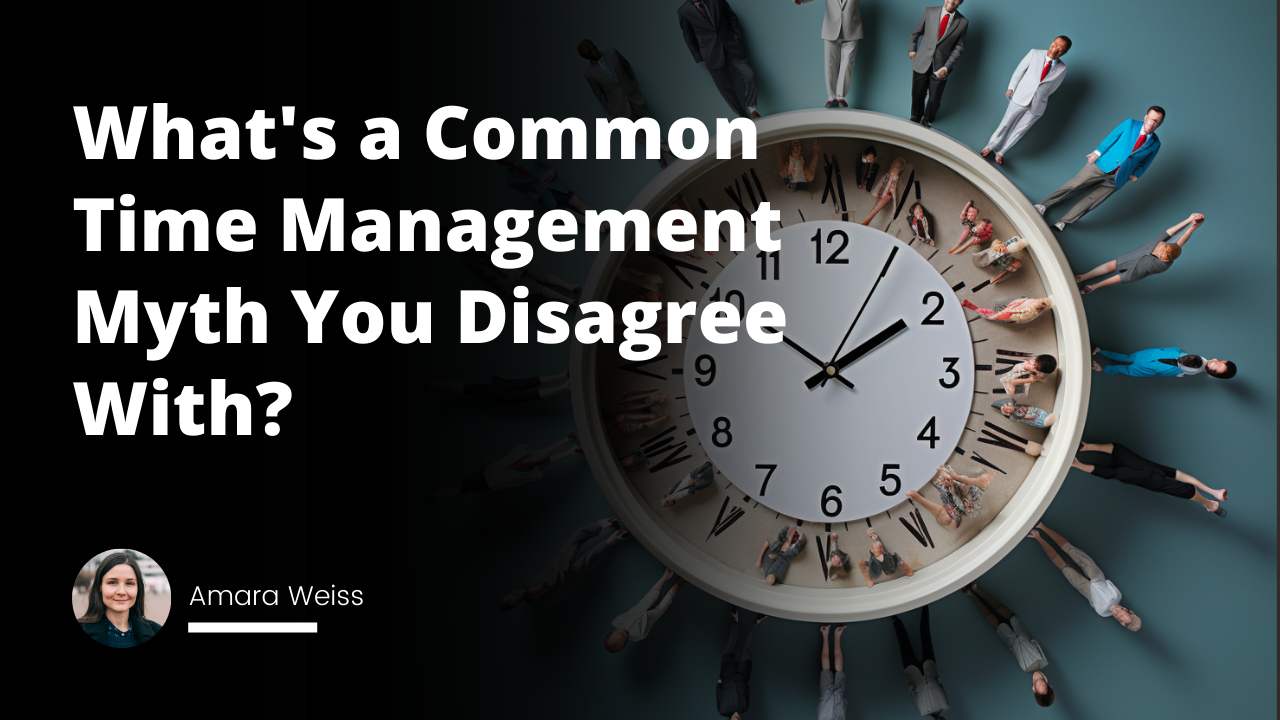 | Myth | Why It's a Myth | Alternative Strategies |
| --- | --- | --- |
| Multitasking Leads to Greater Productivity | Multi-tasking often results in reduced focus, errors and more time consumption rather than saving it. | Prioritize tasks and tackle them one at a time for better focus and quality output. |
| All Hours are Equally Productive | People function on different rhythms, some might be most productive in the morning, others late at night. | Identify personal peak productivity hours and schedule the most demanding tasks during those hours. |
| Busy Equals Productive | Being busy doesn't imply that significant work is being done. There is a difference between being occupied and being productive. | Focus on results and impact rather than the amount of time spent on tasks. |
| Breaks are a Waste of Time | Continual working without breaks can lead to mental exhaustion and subsequently decrease productivity. | Implement short breaks into your schedule to rejuvenate and maintain ample productivity levels. |
| Highly Organized People are the Best Time Managers | Organization doesn't equate to effective time management. The ability to prioritize is often more critical. | Develop good prioritization skills and be flexible when needed. |
| Time Management Requires Strict Routines | While routines can aid in time management, adhering to a rigid schedule can constrain creativity and flexibility. | Maintain a balance between routine and spontaneity to keep up with dynamic work requirements. |
| Work More Hours to Get More Done | Working more hours can lead to burnout and decreased productivity over time. | Focus more on efficient work and task management instead of working longer hours. |
| Technology Always Improves Productivity | While technology can be beneficial, it can also serve as a distraction and harm productivity if not utilized properly. | Use technology mindfully and turn off notifications when working on important tasks. |
| Prioritize Work Over Personal Time | Neglecting personal time can lead to fatigue and decreased overall productivity and wellbeing. | Maintain a balanced work-life schedule to sustain optimum overall productivity. |
| Perfectionism Guarantees Quality | Pursuit of perfection often results in time wastage on minute details instead of focusing on task completion. | While maintaining a high-quality standard, understand that perfection is often unrealistic and focus on task achievement. |
Interview questions can vary greatly depending on the job you're applying for, but there's one that crops up surprisingly often in various forms: "What's a common time management myth you disagree with?"
Related Course: Time Management Online Course Free
This question might initially seem puzzling, but when examined critically, it can reveal layers about a candidate's productivity and work ethics. It reflects a potential employee's understanding and view on work-life balance, prioritization, productivity, and ultimately, their approach towards managing challenges in the workplace.
The Purpose of the Question: What's a common time management myth you disagree with?
The primary purpose of this question is to assess a candidate's ability to manage their time effectively and gauge whether they have debunked common time management myths. How would they allocate their time when faced with a multitude of tasks? Can they discern the efficient from the inefficient?
Employers want to know if the candidate has their own practical and efficient way of time management or if they adhere to typical misconceptions that may be hindering their productivity. Understanding their perspective on time management myths can offer deeper insights into their mindset and strategic thinking capabilities.
At What Interview Level is it Asked?
This question is universal. It can be asked at any interview level, from an entry-level position to a top managerial role, and even during interviews for freelance gigs. It's applicable across industries and roles.
This is because time management is a critical skill that transcends hierarchy and job function - it's crucial for everyone in the professional world.
What Kind of Answer is Expected from the Candidate?
The response to this question should be thoughtful and well-reasoned. Employers are likely looking for an answer that indicates the candidate's ability to sift through popular misconceptions about time management and adhere to practical, proven strategies.
More than just disagreeing with a myth, candidates are expected to provide a constructive alternative or solution rooted in their own experiences or an industry-backed strategy or approach.
Possible Answers to Consider
Now here's the interesting part - possible answers to this myth depend on individual perspective, and there isn't a right or wrong opinion. However, one common time management myth that plenty of people disagree with is "Multitasking Leads to Greater Productivity."
As an HR professional, I disagree with this common time management myth because science and practical experiences have proven otherwise. Often, multitasking can lead to a decrease in productivity, as it requires the brain to switch contexts constantly. It typically results in errors, decreased focus, and ultimately uses more time rather than saving it.
A more productive approach would be to prioritize tasks and tackle them one at a time. This way, you can ensure invested focus and quality output. Also, utilizing tools and strategies like a priority matrix, Eisenhower Box, or the Pomodoro Technique can be efficient time management tactics that lead to higher productivity.
Finally, when drafting your answer, take into account the job role you're applying for and the company culture because context matters. The aim is to demonstrate to the potential employer that you're someone who can effectively manage your time, challenge the status quo, and are continually looking for ways to improve your productivity levels.
Remember, your answer should be as comprehensive as it is authentic - it should reflect your beliefs and experiences while showcasing your problem-solving capabilities and your commitment to efficiency. Happy prepping!
Common Myths About Multitasking and Productivity
| Myths | Multitasking | Productivity |
| --- | --- | --- |
| Multitasking makes you more efficient | False | False |
| Multitasking helps you get more done in less time | False | False |
| Multitasking improves the quality of work | False | False |
| Multitasking is a necessary skill in today's fast-paced world | False | False |
| Multitasking can be done effectively by everyone | False | False |
| Multitasking saves time | False | False |
An Outline of the Managing Time in Interview Question Themes
| Interview Question Themes | Purpose of the Question | Interview Levels | Expected Candidate Response |
| --- | --- | --- | --- |
| Time Management Myths | Assess candidate's time management | Entry-level to Top Management | Thoughtful, well-reasoned responses that challenge common myths and provide practical alternatives or strategies. |
| Productivity | Evaluate understanding of productivity | All Interview Levels | Demonstrated ability to prioritize tasks and maintain focus, with references to tools like priority matrices or the Pomodoro Technique. |
| Work Ethics | Examine views on work ethics | All Interview Levels | Showcase commitment to efficiency and a balance between work and personal life. |
| Problem-Solving | Assess strategic thinking capabilities | All Interview Levels | Illustrate the ability to think critically and find solutions to time management challenges. |
| Company Culture | Consider compatibility with culture | All Interview Levels | Acknowledge the importance of adapting time management strategies to align with the company's culture and values. |
The Unrealistic Expectations Set by The 8-hour Work Day Myth
| Expectation | Reality | Impact |
| --- | --- | --- |
| Productivity remains constant throughout the day | Productivity tends to decline after a few hours of work | Unrealistic pressure to maintain high productivity |
| All work can be completed within 8 hours | Workload often exceeds the time available | Increased stress and overworking |
| Achievement is solely based on time spent working | Results come from quality and efficiency, not just hours worked | Unfair evaluation of performance |
| There is always enough time for breaks and personal activities | Limited time for breaks and personal activities | Decreased work-life balance |
| Creativity and problem-solving can be forced within a fixed timeframe | Creative thinking needs more flexibility and freedom | Suppressed innovation and problem-solving |
| Productivity and effectiveness are directly proportional to hours worked | Diminishing returns after a certain point of working | Inefficient use of time and resources |
Similar interview questions:
Which popular belief regarding time management do you find implausible?

Can you cite one general time management misconception you don't agree with?

In your opinion, what is an incorrect assumption often made about time management?

Can you mention any time management myth you have a differing opinion on?

What is one conventionally accepted time management practice you dispute?

Could you provide an example of a time management myth that you argue against?

Would you mind sharing a common fallacy about time management you find inaccurate?

What, according to you, is a commonly held, but false belief about time management?

Is there a widely accepted time management myth that you contest?

Are there any general principles of time management that you believe are misunderstood or not true?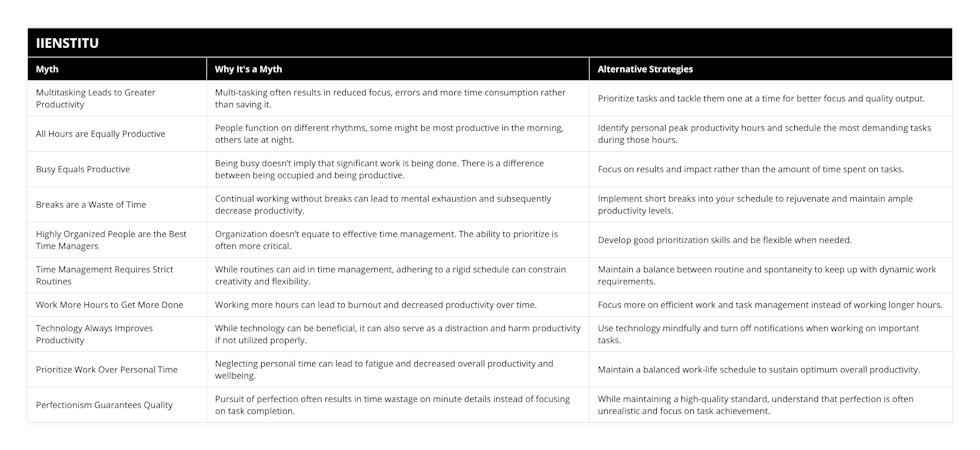 interview questions
time management myths
productivity
work ethics
work-life balance
prioritization
challenges in the workplace
candidate assessment
effective time management
debunking myths
practical strategies
mindset
strategic thinking
interview levels
professional world
candidate response
constructive solutions
alternative approaches
multitasking
decreased focus
quality output
priority matrix
eisenhower box
pomodoro technique
company culture
context matters
problem-solving
efficiency
What's a Common Time Management Myth You Disagree With?

Amara Weiss
Institute Secretary, Author
I am Amara Weiss and for many years I have worked in the field of education, specifically in the area of technology. I firmly believe that technology is a powerful tool that can help educators achieve their goals and improve student outcomes. That is why I currently work with IIENSTITU, an organization that supports more than 2 million students worldwide. In my role, I strive to contribute to its global growth and help educators make the most of available technologies.
Related Posts
Our team of experts is passionate about providing accurate and helpful information, and we're always updating our blog with new articles and videos. So if you're looking for reliable advice and informative content, be sure to check out our blog today.