Interview Questions
Interview Question: Describe a High-Stress Situation at Work
07 September 2023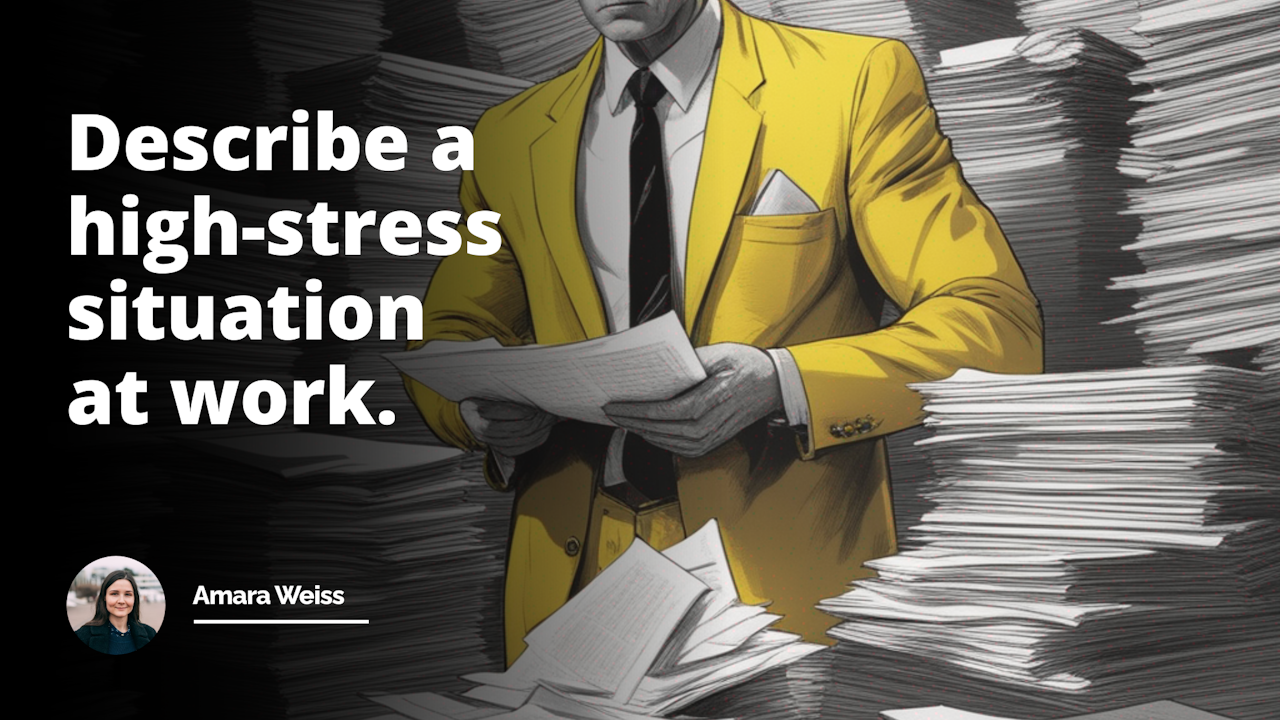 | Interview Question Element | Description/Information | Key Takeaways |
| --- | --- | --- |
| Purpose of the Question | Assess a candidate's ability to handle pressure and adversity; Evaluate problem-solving skills, interpersonal abilities, and emotional intelligence. | Helps determine how candidates cope with high-stress situations, their decision-making abilities under pressure, and emotional resilience. |
| Interview Level | Asked at various interview levels depending on the position and level of responsibility involved | More commonly asked in intermediate to senior-level interviews requiring strong leadership, decision-making, and problem-solving skills. |
| Expected Answer | Provide a specific example of a high-stress situation; Detail the situation, challenges, actions taken, and outcomes | Showcase problem-solving abilities, resilience, and emotional management; Demonstrate ability to stay calm, think critically, communicate effectively, and make decisions under pressure. |
| Potential Answer: Example 1 | Example highlights adaptability, teamwork, positive attitude, and effectiveness in a high-stress project management situation to deliver on deadline | Ability to convene and lead team effectively while managing resources and technical issues, maintaining client satisfaction, and ensuring team reputation. |
| Potential Answer: Example 2 | Example illustrates response to high-stress environment during organizational change; Addressing employees' concerns while leading implementation of new systems or processes | Demonstration of proactivity, empathy, composure; Successful leadership through change, open communication, cross-departmental collaboration, and support to team members. |
| Points to Consider when Answering | Choose a high-stress situation that highlights strengths, problem-solving abilities, and adaptability; Provide clear, concise description and positive outcome or lessons learned. | Avoid blaming others; Highlight resilience, effective communication, collaboration, determination; Showcase ability to stay composed, make rational decisions, remain solution-oriented. |
| Implications of the Question | Question aimed at assessing ability to handle pressure, make sound decisions, and effectiveness in challenging situations | How a candidate has managed high-stress situations in the past can provide insights into potential future performance. |
| Importance to Candidate | A chance to provide a specific example, demonstrate problem-solving skills, and highlight ability to handle pressure | Illustrates candidate's resilience, adaptability, critical thinking, and emotional intelligence; Highlights attribute relevant to job performance. |
| Professional Advice | Choose an example wisely; Stay positive and focused; Showcase your strengths and problem-solving abilities | Set a narrative that presents you as an adaptable, resilient, and efficient problem-solver; Reiterate how the situation had a positive outcome because of your actions. |
| Specific Scenario to Avoid | Avoid scenarios where you were the only person stressed; Avoid blaming others or situations where you did not deal well with the pressure | Choose a situation that demonstrates your ability to rise above the stress and lead, rather than succumb to pressure; This could hurt your personal brand in the eyes of the employer. |
In job interviews, employers often ask candidates to describe a high-stress situation at work to gauge their ability to handle pressure and adversity. This question helps employers assess how well candidates can cope with demanding situations and make sound decisions under stress.
It also provides insight into a candidate's problem-solving skills, communication abilities, and emotional resilience. Employers want to know if candidates can handle the challenges and pressures that come with the job, as well as how they deal with stress and maintain productivity.
The purpose of the question: Describe a High-Stress Situation at Work.
The purpose of asking about a high-stress situation at work is to determine a candidate's ability to handle pressure and adversity effectively. Employers want to assess the candidate's ability to stay calm, make rational decisions, and perform well in challenging situations.
This question also helps them evaluate a candidate's problem-solving skills, interpersonal abilities, and emotional intelligence. Understanding how a candidate has managed high-stress situations in the past can provide valuable insights into their potential performance in similar circumstances in the future.
At what interview level is it asked?
This question can be asked at various interview levels, depending on the nature of the position and the level of responsibility involved. It may be asked in entry-level interviews as a way to assess a candidate's potential under stress.
However, it is more commonly asked in intermediate to senior-level interviews where the role requires strong leadership, decision-making, and problem-solving skills. The higher the level of the position, the more crucial it becomes for the candidate to demonstrate their ability to handle high-stress situations with grace and effectiveness.
Related Course: Leadership Development Course
What kind of answer is expected from the candidate?
When answering this question, employers expect candidates to provide a specific example of a high-stress situation they have faced in the workplace. The candidate should describe the situation in detail, including the context, the specific challenges or pressures involved, and the actions they took to address the situation.
It is important for the candidate to showcase their problem-solving abilities, resilience, and ability to manage their emotions effectively. Employers are looking for candidates who can demonstrate their ability to stay calm, think critically, communicate effectively, and make informed decisions under pressure.
Possible answers to consider
Example 1: In my previous job as a project manager, we had a tight deadline and unexpected technical issues arose just a few days before the project delivery. The situation was extremely stressful as it put our client's satisfaction and my team's reputation at risk. However, I remained calm and quickly convened a meeting with the team to assess the problems and brainstorm possible solutions. Through effective collaboration and communication, we prioritized tasks, reallocated resources, and worked overtime to resolve the technical issues and deliver the project on time. It was a challenging experience, but it taught me the importance of adaptability, teamwork, and maintaining a positive attitude under pressure.

Example 2: During a period of significant organizational change, I was assigned to lead a team responsible for implementing new systems and processes. The transition created a lot of uncertainty and resistance among employees, resulting in a high-stress environment. To address this, I organized regular team meetings to openly communicate the changes, address concerns, and provide support to my team members. I also collaborated with other departments to ensure a smooth integration of the new systems. Despite the obstacles, I remained proactive, empathetic, and composed throughout the process. Our team successfully navigated the challenges, and the implementation was completed successfully.
What to consider when answering
When answering this question, it is crucial to choose a high-stress situation that highlights your strengths, problem-solving abilities, and adaptability. Focus on providing a clear and concise description of the situation, emphasizing the actions you took, and the positive outcome or lessons learned from the experience.
Avoid blaming others or dwelling on negative aspects of the situation. Instead, highlight your resilience, effective communication skills, ability to collaborate, and your determination to achieve successful outcomes.
Remember to showcase your ability to stay composed, make rational decisions, and remain solution-oriented in high-stress situations.
Describing a high-stress situation at work is a common interview question aimed at assessing a candidate's ability to handle pressure, make sound decisions, and remain effective in challenging situations.
As a candidate, it is important to provide a specific example, demonstrate problem-solving skills, and highlight your ability to stay calm, communicate effectively, and collaborate with others. By effectively answering this question, you can showcase your resilience and suitability for the role, leaving a lasting impression on the interviewer.
Causes of high-stress situations at work
| Cause | Effect | Solution |
| --- | --- | --- |
| Excessive workload | Burnout, exhaustion | Delegate tasks, prioritize, set boundaries |
| Poor time management | Missed deadlines, increased pressure | Use tools and techniques for better organization and prioritization |
| Lack of control or autonomy | Feeling disempowered, increased anxiety | Seek opportunities to take on more responsibility and make decisions |
| Conflict or difficult relationships | Increased tension, negative work environment | Resolve conflicts through open communication and seeking mediation if necessary |
| Unclear expectations or role ambiguity | Confusion, stress over meeting expectations | Seek clarification, communicate with supervisors and team members |
| Lack of support or recognition | Feelings of isolation, lowered morale | Seek support from colleagues, communicate accomplishments and needs to supervisors |
Effects of high-stress situations on employees
| Effects of High-Stress Situations on Employees | Physical Effects | Psychological Effects |
| --- | --- | --- |
| Decreased productivity | Headaches, muscle tension, and fatigue | Anxiety, irritability, and difficulty concentrating |
| Increased absenteeism | Weakened immune system and frequent illnesses | Depression, burnout, and low self-esteem |
| Poor decision-making | Insomnia and sleep disturbances | Mood swings, lack of motivation, and poor judgment |
| Strained relationships | High blood pressure and cardiovascular problems | Conflict with coworkers, friends, and family |
| Decreased job satisfaction | Digestive disorders and weight gain/loss | Feelings of worthlessness and lack of enthusiasm |
| Increased employee turnover | Weakened immune system and frequent illnesses | Fatigue, cynicism, and disengagement from work |
Strategies to manage and mitigate high-stress situations at work
| Strategies | Description | Benefits |
| --- | --- | --- |
| Time management | Prioritize tasks, set realistic deadlines, and create a schedule to manage time effectively. | Reduces work overload and helps in meeting deadlines. |
| Effective communication | Clearly and openly communicate with colleagues and superiors to prevent misunderstandings and conflicts. | Improves teamwork, reduces stress, and enhances productivity. |
| Breaks and relaxation techniques | Take short breaks throughout the workday and practice relaxation techniques like deep breathing or meditation. | Allows for mental and physical rejuvenation, reduces stress, and increases focus. |
| Seeking support | Reach out to colleagues, mentors, or professionals for advice, guidance, or emotional support. | Provides different perspectives, problem-solving solutions, and emotional relief. |
| Healthy lifestyle | Maintain a balanced diet, exercise regularly, get enough sleep, and engage in activities outside of work. | Boosts energy levels, improves mood, and enhances resilience against stress. |
| Conflict resolution | Address conflicts immediately, listen actively, and find mutually agreeable solutions. | Improves working relationships, reduces tension, and promotes a positive work environment. |
Similar interview questions:
How would you articulate a scenario where you experienced an immense amount of stress in a professional setting?

In what way can you depict a work environment that induced high levels of stress for you?

Can you narrate an incident at work where you found yourself in an extremely stressful situation?

Were there any instances during your employment where you had to deal with an overwhelming amount of stress?

Could you elaborate on an occasion at work when you had to navigate through an exceptionally tense and stressful scenario?

Describe a high-pressure situation you encountered while working, where stress played a significant role.

Recall a moment in your professional life where you were forced to handle a tremendous amount of stress.

How have you managed and coped with a highly demanding and stressful situation at work?

Paint a picture of a work-related episode that pushed you to your limits and resulted in a particularly stressful environment.

Share an example of a stressful event from your professional life and explain the impact it had on you personally and professionally.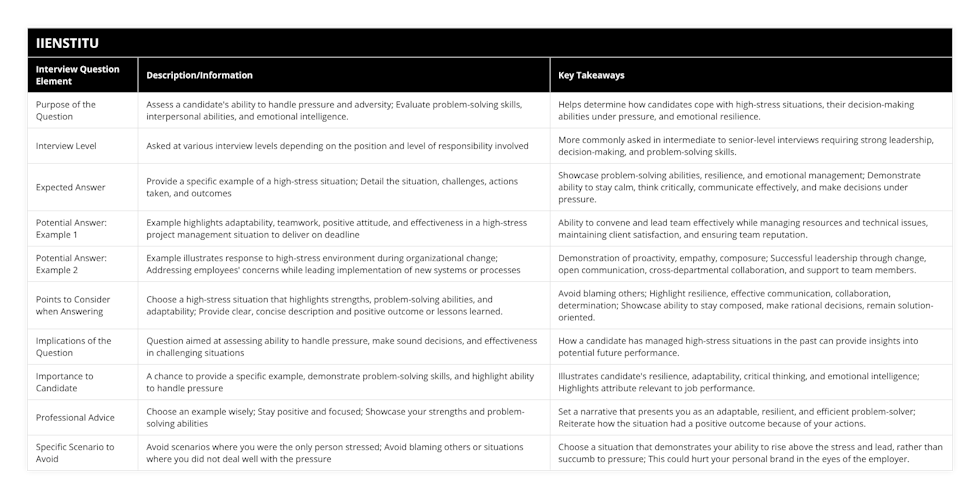 Describe a high-stress situation at work.
describe a high stress situation at work
describe a high-stress situation at work.

Amara Weiss
Institute Secretary, Author
I am Amara Weiss and for many years I have worked in the field of education, specifically in the area of technology. I firmly believe that technology is a powerful tool that can help educators achieve their goals and improve student outcomes. That is why I currently work with IIENSTITU, an organization that supports more than 2 million students worldwide. In my role, I strive to contribute to its global growth and help educators make the most of available technologies.
Related Posts
Our team of experts is passionate about providing accurate and helpful information, and we're always updating our blog with new articles and videos. So if you're looking for reliable advice and informative content, be sure to check out our blog today.