SEO
What Is Semantic SEO?
11 March 2022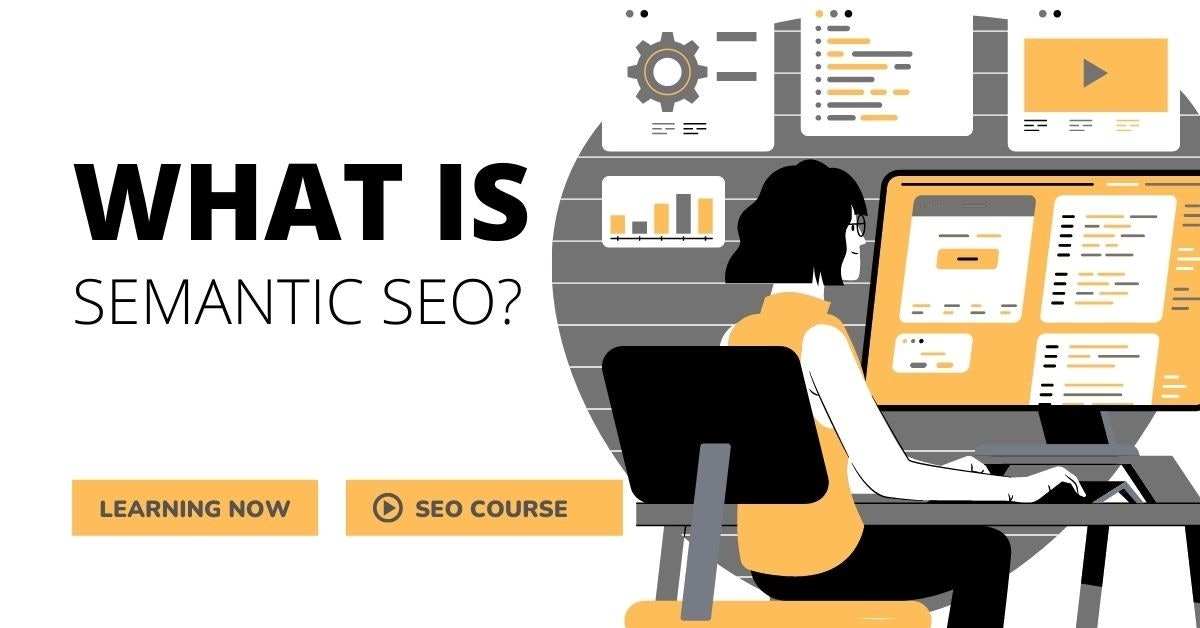 | Semantic SEO Element | Definition | Benefit |
| --- | --- | --- |
| Keyword Usage | Implementing relevant keywords or key phrases throughout the website's content. | Allows Google to effectively analyze the website, increasing its visibility on SERPs. |
| Content Relevance | Ensuring the content aligns with the search intent of the targeted keywords. | Increases alignment with user intent, enhancing website traffic and user engagement. |
| Metadata | Data elements that provide information about other data. In SEO, examples include meta descriptions, title tags etc. | Improves click-through-rate (CTR) on SERPs and helps search engine to understand the page content. |
| Schema Markup | A form of microdata that creates an enhanced description (rich snippet), helping search engines to understand the content. | Improves website visibility, may lead to higher rankings and better click-through rates. |
| Latent Semantic Indexing (LSI) Keywords | Synonyms or closely related words to the main keyword. | Enables Google to understand the context of the content, may lead to better rankings. |
| Link Building | Process of getting other websites to link back to your website. | Improves website authority and can lead to better rankings. |
| Social Signals | Interactions such as Likes, Shares, Votes on social media platforms that indicate a brand's influence and authority. | Help to increase website's ranking as they indicate brand's credibility and reliability to search engines. |
| User Experience (UX) | The overall experience of a person using a product such as a website or computer application. | Search engine values good UX, this can increase site's visibility on SERPs. |
| Website Architecture | The structure of your website, how its pages are linked and organized. | A well structured website allows search engines to find and index pages easily, potentially leading to higher rankings. |
| Long-Tail Keywords | Longer, more specific keyword phrases that visitors are more likely to use when closer to making a purchase. | Helps in attracting qualified traffic to your site, leading to higher conversion rates. |
Semantic SEO is a way to make the search engine understand what you're trying to say. This means that when people use their keywords in content, they will be given more leverage and visibility on SERPs (searched images results).
The semantical Search Engine Optimization process starts by using keyword tags or key phrases throughout your website's pages so Google can properly analyze them - which leads us to our next point.
And also, in this blog, we handle these frequently asked questions on different topics. You can clearly understand these five topics;
1. What is semantic SEO? 
2. What are the benefits of semantic SEO? 
3. How can semantic SEO help my website? 
4. Why is semantic SEO essential for websites? 
5. How to implement semantic SEO on a website?
What Is Semantic SEO?
Semantic SEO involves organizing your content, so search engines better understand what it means, how it pertains to other relevant information online, and what topics you cover to return accurate results for user queries when looking for a specific material, e.g., "best iPhone apps." Without SEO tags appropriately structured, SEO can be more complex, and the SEO strategy may need to shift toward SEO optimization for specific keywords. However, having at least basic SEO on your posts will still help you get traffic from SEOs if you're not focused solely on SEO-optimized content.
Before we get started with SEO tags, keep in mind that while there are some basic SEO best practices that everyone should follow when it comes to SEO and blogging, there is no one size fits all SEO formula because every blog and website is different. The search engines update their ranking algorithms regularly, so what worked last year might not work this year, even though it still holds for most blogs or websites. In addition, every blog has different topics and focuses, so take SEO tips with a grain of salt and test SEO strategies for yourself to find what SEO techniques work best for your blog.
How Do I Use Semantic SEO?
To use Semantic SEO on your website, you'll need to start by adding keyword tags or key phrases to your content. You can do this by using a tool like Google AdWords, Keyword Planner to help you find popular keywords related to your topic.
Once you've selected your keywords, you'll need to add them to your website's content in a way that makes sense to both humans and search engines. You can do this by using them in the title of your page, in the body of your content, and in the metadata of your page.
It's also essential to ensure that your website is optimized correctly for mobile devices. In addition to adding keyword tags and optimizing for mobile, you'll also need to make sure that your website is fast and easy to use.
What Are The Benefits Of Semantic SEO?
The benefits of Semantic SEO are vast and include better visibility on SERPs, increased website traffic, and improved user experience. In addition, by using keyword tags and optimizing your website for mobile devices, you can improve your website's ranking on search engines, which will result in more people visiting your site.
In addition to increased website traffic, Semantic SEO can also lead to better user engagement. By ensuring that your website is easy to use and fast-loading, you can ensure that your visitors have a positive experience while browsing your site. This, in turn, can lead to more conversions and sales.
How To Optimize A Website With Semantic SEO?
Let's focus on how to optimize your website with semantic SEO. This is important! 
Additionally suggestion: You can learn this with courses. Maybe you can join the SEO course at the institute, I mean at IIENSTITU. It'll be beneficial for you.
Keyword Research
The SEO tags you use can help search engines locate your content more quickly, so it will rank higher in the SERPs. However, there are times when SEO is still tricky and isn't an exact science because not all SEO tags or SEO optimization practices explained below will work for every website and every use. Also, please note that while basic SEO is essential, we're going to get into some advanced SEO stuff here, so if this is too much information, just stay on top of basic SEO by making sure you include the keywords you want to target in your title tag, SEO description, SEO Keywords tag and within has your focus keyword 5 to 10 times.
Search Engines
Also, note that search engines are constantly evolving, so SEO is changing. Google has introduced many SEO changes over the years because SEO now crawls websites to see what content exists and analyzes a website's user experience based on page loading speed, mobile-friendliness, user engagement signals (social media), and time on site. For example, if you have a high bounce rate or low average time spent on your blog posts – SEO may consider your blog content poor quality and therefore less important for ranking. Also, SEO will determine how well a piece of content is performing on social media and whether to push it up in SEO's SERPs.
Content Organization
SEO tags help SEO determine how your content is organized, what words you use to describe the SEO descriptions and keywords of each piece of SEO copy and SEO optimized images, and how well it relates to other content parts online. For example – SEO will look at links between pieces of content – if one blog post links back to another older work of SEO copy – this signals that this SEO copy is more relevant or essential than SEO copy that doesn't link out. It also signals that the author considers the other SEO copy as having a high level of importance because they're willing to link to it. SEO tags that focus on SEO copy, SEO descriptions, and SEO-optimized images may help SEO find your content more quickly than SEO did before, so keep this in mind when optimizing SEO tags and updating SEO copy.
SEO Tags for Social Media
SEO will look at social media signals such as Facebook likes, Twitter followers, Google shares, Pinterest pins, and other signs to determine how well a piece of content is performing on social media. I.e., if many people are sharing a blog post on Twitter, it must be very relevant or essential regardless of how many SEO keywords it contains. To make SEO aware of social media signals, you want SEO tags that include SEO copy, SEO, and your SEO optimized images with their respective SEO descriptions. Also, make sure the Facebook-like button is configured correctly, or SEO will ignore it because they won't understand what users like when they click on this button.
SEO Tags for Local Search
Your SEO keywords should be included in your SEO title tag (if you're doing business SEO but) also make use of the geo-specific search features offered by Google Maps to improve local listing optimization – choose categories wisely, write accurate business descriptions, upload high-quality photos and include detailed contact information including hours if applicable. Like other types of SEO optimization, SEO will look at SEO title tags and SEO descriptions in the same way it seems at Facebook, like shares, +1s, and tweets, so make sure you include SEO keywords in these texts.
SEO Tags for Image Search
The SEO copy tag is significant when optimizing your images because SEO pays close attention to this tag, so they know what your vision is about. Also, use descriptive SEO-optimized photos with captions that describe what users can expect to see when they click on an image. Be sure to specify which version of Photoshop or Gimp was used when creating the file (including the specific version number) so search engines can display accurate results when people perform searches based on these programs. Finally, don't stuff SEO keywords into your SEO tags. SEO will see right through this and just ignore it.
SEO Tags for Videos and Video SEO
Your SEO keywords should be included in your SEO title tag (if the video has a specific business name). Use SEO-optimized images with descriptions to describe what users can expect to learn when clicking on the video thumbnail. This is more important than many people think, so don't forget about these SEO tags, or you won't get the rankings you deserve. If applicable, don't forget to submit your video to video sharing sites like YouTube because this is another form of social media thatSEO look at while doing their job.
Last, of all, Semantic SEO is a powerful tool that can help you improve your website's visibility on search engines and boost your online traffic. By adding keyword tags to your content and optimizing your website for mobile devices, you can improve your website's ranking on search engines, which will result in more people visiting your site.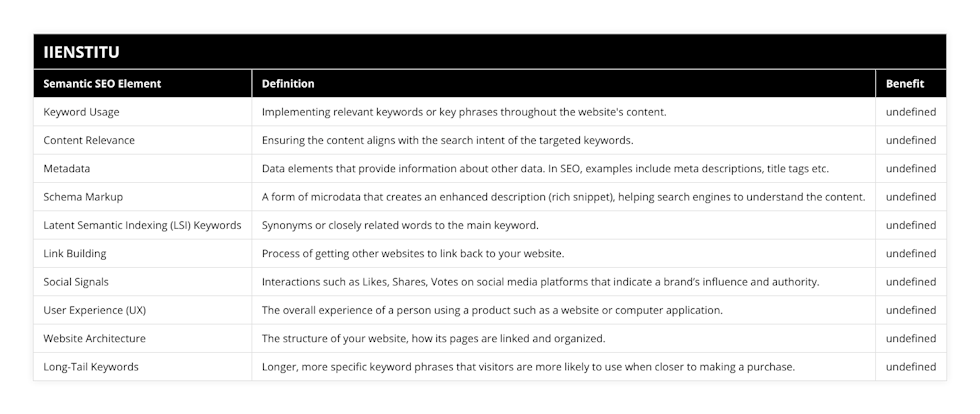 seo course
what is semantic seo

Monica Bourbon
Blogger
She describes himself as someone who loves to write about digital marketing, social media and public relations. His personal development special interest lies in self-improvement through reading books on the subject of human behavior; she also has an eye for how these topics apply outside just business or career settings too!
Related Posts
Our team of experts is passionate about providing accurate and helpful information, and we're always updating our blog with new articles and videos. So if you're looking for reliable advice and informative content, be sure to check out our blog today.