SEO
Search Engine Optimization Tips For Website Ranking
10 March 2022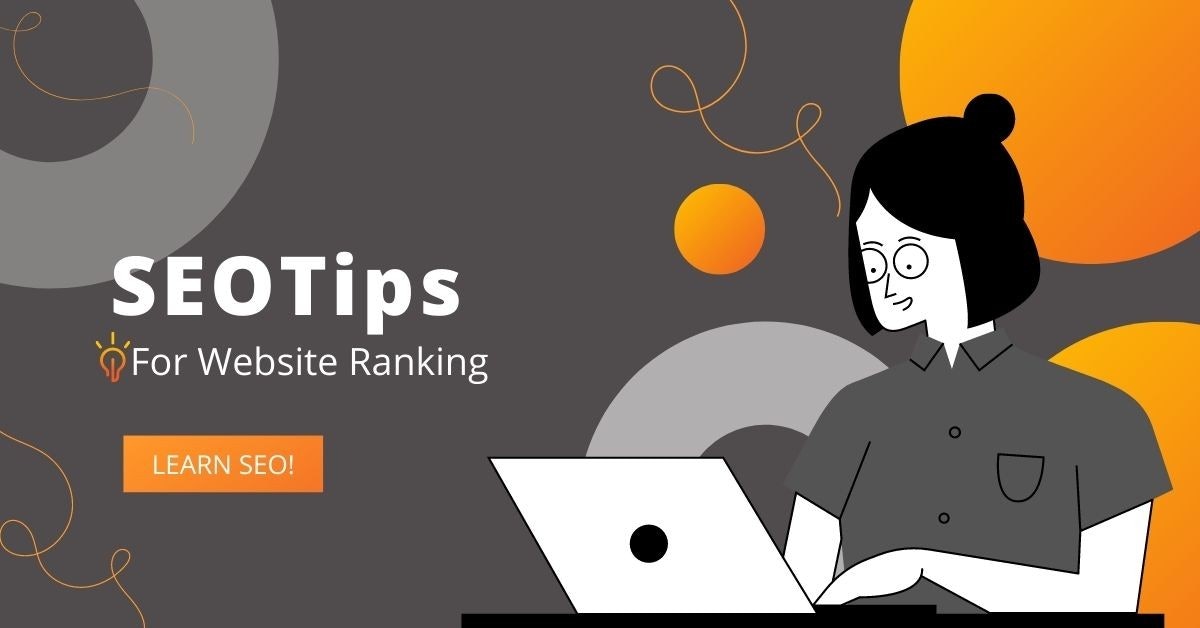 Search Engine Optimization is a fundamental part of your digital marketing strategy. Whether you're looking to improve the search engine optimization for blogs, websites, or webpages; visitors must find their way onto your page as soon possible with appropriate keywords in content that will help them arrive at an intended destination- whether this be clickthroughs from Google searches, social media shares etcetera!
Want to improve SEO for your blog, website, or web pages? Here are some SEO tips to help you. And after that, we'll assist with your questions about the below 4 FAQs.
1. What are SEO tips?
2. What is the best way to improve SEO?
3. What can businesses do to increase their website's ranking on search engines?
4. How will SEO change in the future?
What Are SEO Tips?
Here are some tips on how best practices search engine optimization:
Keyword Research:
Keyword research is the process of identifying and targeting the right keywords for your website, blog, or webpage. It's important to target keywords relevant to your business and have a high search volume. You can use various tools to help you with your keyword research, including Google Adwords, Keyword Planner, and SEMrush.
Optimize Your Page Title:
The page title is one of the most critical factors for SEO. Make sure your page title accurately describes the content of your page and includes your target keywords.
Optimize Your Meta Description:
The meta description is also essential for search engine optimization and should describe the contents of your page in 160 characters or less. Make sure to include your target keywords in the meta description.
Optimize Your Headings and Subheadings:
Headings and subheadings are a great way to help improve your SEO. Make sure to use relevant keywords in your headings and subheadings.
Optimize Your Images:
When uploading images to your website or blog, be sure to optimize them with appropriate keywords. You can use a tool like ImageOptim to optimize your photos for free.
Optimize Your Content:
The essential part of search engine optimization is optimizing your content. Be sure to include your target keywords throughout your content, especially in the title, meta description, heading, and subheadings.
Use External Links:
External links are a great way to improve your SEO. When linking to other websites, use relevant keywords in the anchor text.
Use Social Media:
Social media is a great way to improve your SEO. Make sure to include your target keywords in your social media posts and use appropriate hashtags.
Monitor Your Results:
It's essential to monitor your results and track your progress over time. Use tools like Google Analytics to track your website traffic and see how your SEO efforts affect your traffic levels.
What Is The Best Way To Improve Search Engine Optimization(SEO)?
There are many different ways to improve your SEO, and it can be a complex process. However, by following some simple steps, you can significantly improve your website's ranking.
One of the most important aspects of SEO is the use of keywords. You need to include these keywords in your content and your pages' titles and meta descriptions. It's also essential to use them in a way that sounds natural so that you don't sound like you're trying too hard to rank high.
Another critical element of SEO is backlinking. This is when other websites link to your site, as this helps to show Google that your site is an authority on the topic. You can increase your backlinks by guest blogging on other websites or by participating in online forums and discussions.
Finally, make sure that your website is optimized for mobile devices. With more and more people using their phones and tablets to browse the internet, your website must be accessible on all devices. You can do this by making sure that your website is responsive or creating a separate mobile version of your site.
By following these simple tips, you can improve your website's SEO and increase your chances of being ranked high in Google search results.
What Can Businesses Do To Increase Their Website's Ranking On Search Engines?
As a business, it's essential to ensure that your website is as high up as possible on search engine rankings. After all, if people can't find your website easily, they're not going to be able to visit your page and learn more about your company and what you have to offer.
Businesses can improve their website ranking on search engines. First, ensure your website is optimized for search engine optimization. This means including appropriate keywords in your titles, meta descriptions, and throughout the content. You can also improve your website ranking by submitting it to online directories and using social media to share your links.
Another thing that businesses can do to improve their website ranking is to use paid search. This is where you pay a search engine to place your website at the top of the results for specific keywords. It's a great way to get immediate results, but it's also essential to make sure that you're targeting the right keywords and that your website is optimized for SEO.
These are some things that you can do to improve your website ranking. By following these tips, you'll see an improvement in your website's search engine ranking. You may even find yourself at the top of the search engine results pages!
How Will SEO Change In The Future?
SEO is constantly changing and evolving, so it's hard to say for sure how it will change in the future. However, we can make predictions based on the current trends and changes in the search engine optimization world.
One thing that is likely to change is the importance of keywords. Google is getting better and better at understanding natural language, so it's becoming less important to include specific keywords in your content. Instead, you should focus on writing high-quality content relevant to your target audience.
Another trend that is likely to continue is the importance of backlinks. Backlinks are still one of the most critical factors for ranking high in Google search results. So if you want to improve your search engine optimization, you should focus on building high-quality backlinks from reputable websites.
Finally, mobile optimization is becoming increasingly important. More and more people use their smartphones to search for information online, so You must optimize your website for mobile devices. If it's not, you could be losing out on a lot of traffic.
So, those things are likely to change in the search engine optimization(SEO) world in the future. Keep these changes in mind when you're planning your SEO strategy, and you should be able to stay ahead of the competition.
By following these best practices SEO and these topics, you can help improve the visibility of your website or blog and increase traffic levels. Thanks for reading!
seo course
search engine optimization

Monica Bourbon
Blogger
She describes himself as someone who loves to write about digital marketing, social media and public relations. His personal development special interest lies in self-improvement through reading books on the subject of human behavior; she also has an eye for how these topics apply outside just business or career settings too!
Related Posts
Our team of experts is passionate about providing accurate and helpful information, and we're always updating our blog with new articles and videos. So if you're looking for reliable advice and informative content, be sure to check out our blog today.