Human Resources Management
What do HR People Do All Day?
24 September 2022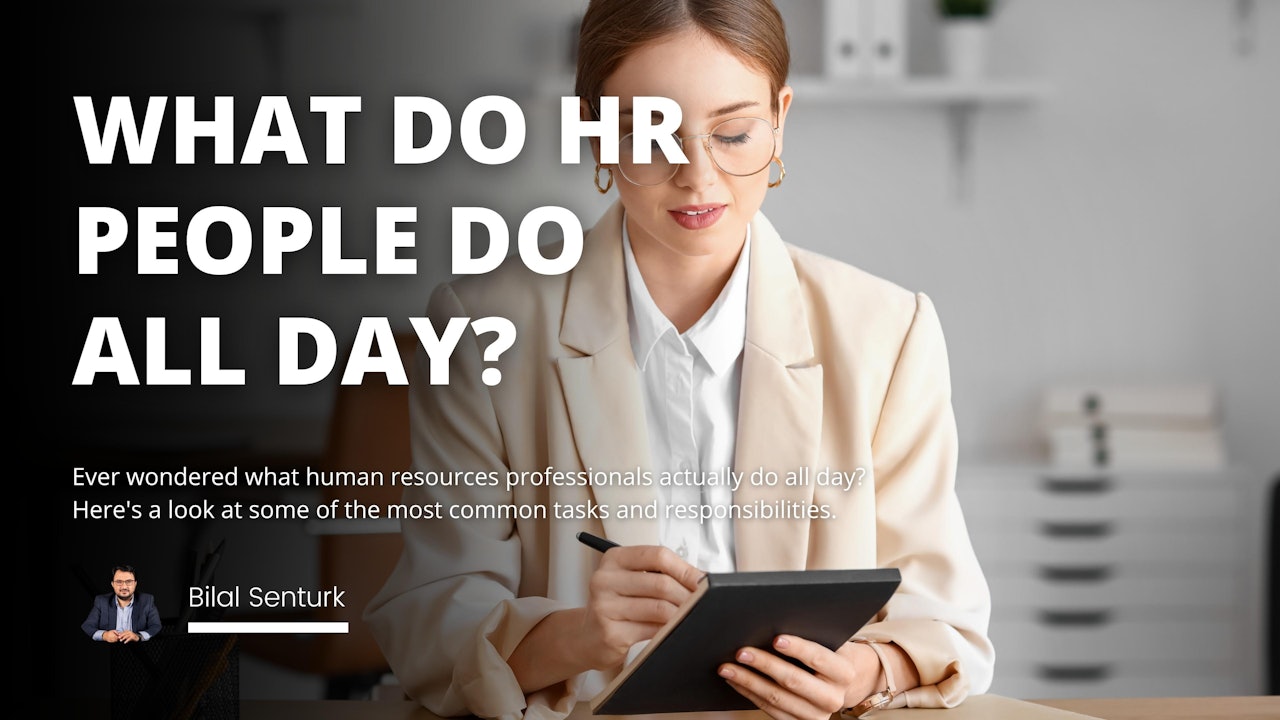 | HR Roles and Responsibilities | Description | Impact on Organization |
| --- | --- | --- |
| Recruitment | Involves posting job openings, screening resumes, conducting interviews, and hiring. | Crucial in shaping the quality of talent in the organization. |
| Employee Benefits and Payroll Management | Handles employee benefits, payroll, and other financial responsibilities. | Ensures financial satisfaction of employees and maintains the organization's financial accuracy. |
| Policy Development and Implementation | Responsible for creating, implementing, and updating company policies. | Keeps the organization in compliance, shapes company culture, and impacts employee behavior. |
| Handling Employee Complaints | Tasked to resolve issues fairly and promptly while ensuring employees' satisfaction. | Prevents conflicts, promotes a healthy working environment, and improves employee retention. |
| Employee Training | Develops training programs, provides orientation, and helps acclimate new employees. | Enhances skill set of workforce, improves performance and productivity. |
| Performance Management | Regularly evaluates and manages employee performance against company goals. | Improves productivity and employee efficiency, identifies high and low performers. |
| Maintaining Employee Files | Updates and organizes files for each employee containing performance records, benefits, etc. | Enables a structured personnel management system and tracking. |
| New-Hire Orientations | Welcomes new employees and familiarizes them with the company's mission, vision, values, and policies. | Facilitates a smooth transition for new employees, enhancing their integration into the company culture. |
| Overseeing Benefits Administration | Ensures the organization's benefits program is well-managed and beneficial. | Contributes to employee motivation, satisfaction, and retention. |
| Compliance with Labor Laws | Maintains an understanding of the organization's obligations under labor laws and ensures compliance. | Prevents legal consequences, protects the organization's reputation and respects employees' rights. |
Most people think of human resources (HR) as the department that deals with hiring and firing. While it is true that HR professionals do a lot of behind-the-scenes work about these activities, there is much more to the role than that.
HR professionals are responsible for many tasks that keep an organization running efficiently. So, what does an HR professional do all day?
Please note: this article primarily covers those working in organizational roles within private companies. If you are interested in learning about the specific duties of those working in the public sector or non-profit organizations, please contact your local HR association. Additionally, many generalized responsibilities may vary depending on the size and company you work for. 
Thank you for reading! I hope this gives you a good overview of what an HR professional does daily. Please don't hesitate to reach out if you have any other questions!
The life of an HR professional
As an HR professional, you wear many hats. For example, you may be responsible for maintaining employee files, conducting new-hire orientations, or overseeing benefits administration.
No matter what your specific job duties are, one thing is always true: your work plays a critical role in the success of your organization. So what does it take to be a successful HR professional?
1 - HR people spend a lot of time recruiting.
What does an HR professional do all day? A lot of recruiting. Posting job openings, screening resumes, conducting interviews, and ultimately hiring the company's best candidates take significant time.
But recruiting is just one of the many essential functions of HR. Other duties include:
Managing employee benefits.

Tracking employee performance.

Handling payroll and taxes.

Ensuring compliance with labor laws.
As you can see, HR is a critical part of any organization, and those who work in HR have their hands full. But the challenges of the job are also what makes it so rewarding—seeing the company grow and thrive thanks to the talent that HR has helped to bring in is a feeling that is hard to beat.
2 - HR people handle employee benefits and payroll.
Working in HR is a demanding but rewarding career. An HR professional might find themselves handling employee benefits, payroll, and other responsibilities on any given day. They must be able to juggle multiple tasks and meet deadlines, all while maintaining high accuracy.
But the satisfaction of helping employees and keeping the workplace running smoothly is worth the challenges. So if you're considering a career in HR, here's what you can expect.
3 - HR people develop and implement company policies.
HR people are responsible for developing and implementing company policies. This involves working with management to determine the guidelines, drafting the procedures, and then making sure that all employees are aware of and compliant with the policies.
HR professionals also play a crucial role in investigating allegations of policy violations. They will interview witnesses and gather evidence to determine what happened and whether or not a policy was violated. They will work with management to decide on an appropriate disciplinary action if a violation is found.
HR people are always busy because company policies are constantly changing and evolving. So they need to be on top of the latest trends and developments to ensure that their policies are up-to-date and effective. But it's a rewarding job that helps to keep businesses running smoothly.
4 - HR people handle employee complaints.
Human resources professionals are responsible for various tasks, from recruiting and onboarding new employees to managing payroll and benefits. But one of the most important roles of HR is to handle employee complaints.
Employees will inevitably have complaints from time to time, and it is up to HR to resolve these issues fairly and promptly. This can involve anything from mediating a dispute between two employees to investigating a claim of discrimination or harassment.
Not every complaint will be valid, but HR needs to take each one seriously and investigate thoroughly. After all, happy employees are productive, and addressing their concerns is one way to keep them satisfied.
5 - HR people train new employees.
HR people are responsible for much more than just hiring and firing employees. They also play a vital role in training new employees and helping them to acclimate to the workplace. HR professionals develop training programs, provide orientation sessions, and answer new employees' questions.
In addition, HR people keep track of employee records and make sure that everyone is updated on the latest company policies. It's a demanding job, but it's also one that can be very rewarding. Seeing new employees succeed is one of the biggest perks of working in HR.
6 - HR people performance manage employees.
HR people are often seen as the gatekeepers of an organization, and their job is to ensure that the company runs smoothly. One of the most critical aspects of their job is performance management, which involves setting employees' goals and ensuring that they meet those goals.
HR professionals also work with managers to help them develop their team-building skills and resolve conflicts within their departments. In addition, HR people are responsible for maintaining employee records and keeping up with changes in labor laws. So, as you can see, an HR professional's life is boring!
7 - HR people handle employee discipline issues.
Human Resources is responsible for a wide range of functions within a company. One of the most important and sometimes challenging roles of HR is to administer employee discipline. When an employee breaks a company rule or policy, it is up to HR to ensure that the appropriate disciplinary action is taken.
This could involve anything from a verbal warning to termination of employment. While administering discipline can be difficult, it is essential for maintaining a productive and positive workplace. By handling these issues swiftly and fairly, HR professionals help to create a healthy and safe working environment for all employees.
In conclusion, human resources professionals have a lot of responsibilities and tasks to handle daily. Therefore, if you are interested in pursuing a career in HR or want to learn more about what HR people do all day, we invite you to join our human resources management course.
During this course, you will gain an in-depth understanding of the various duties and responsibilities of being an HR professional. You will also learn how to recruit employees effectively, manage employee benefits and payroll, develop company policies, and much more.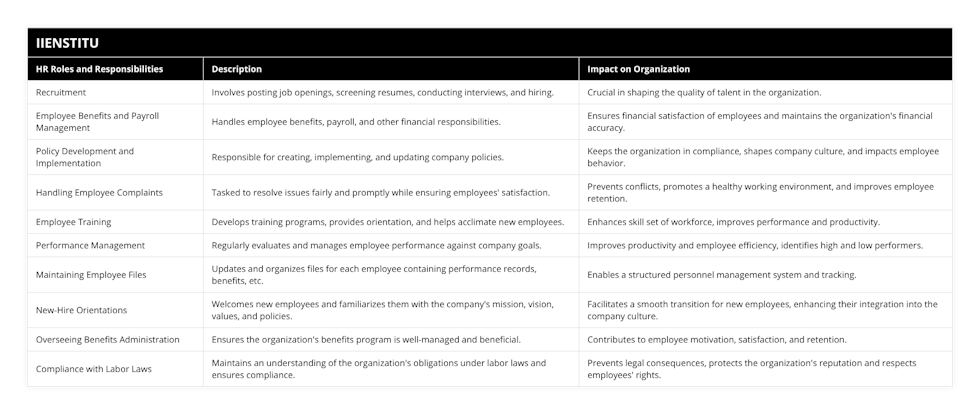 hr professionals
human resource management
human resources department
roles of hr
hr do all day
hr department
hr records
Bilal Şentürk
Blogger
He completed his undergraduate studies at Celal Bayar University, Anadolu University and Istanbul University, and a Master's degree with thesis on Human Resources Management at Yıldız Technical University and Business Management at Beykent University. He is currently writing a doctoral thesis on human resources and consulting businesses on human resources.
Related Posts
Our team of experts is passionate about providing accurate and helpful information, and we're always updating our blog with new articles and videos. So if you're looking for reliable advice and informative content, be sure to check out our blog today.