Human Resources Management
What Human Resources Professionals Can Learn from Netflix
31 October 2022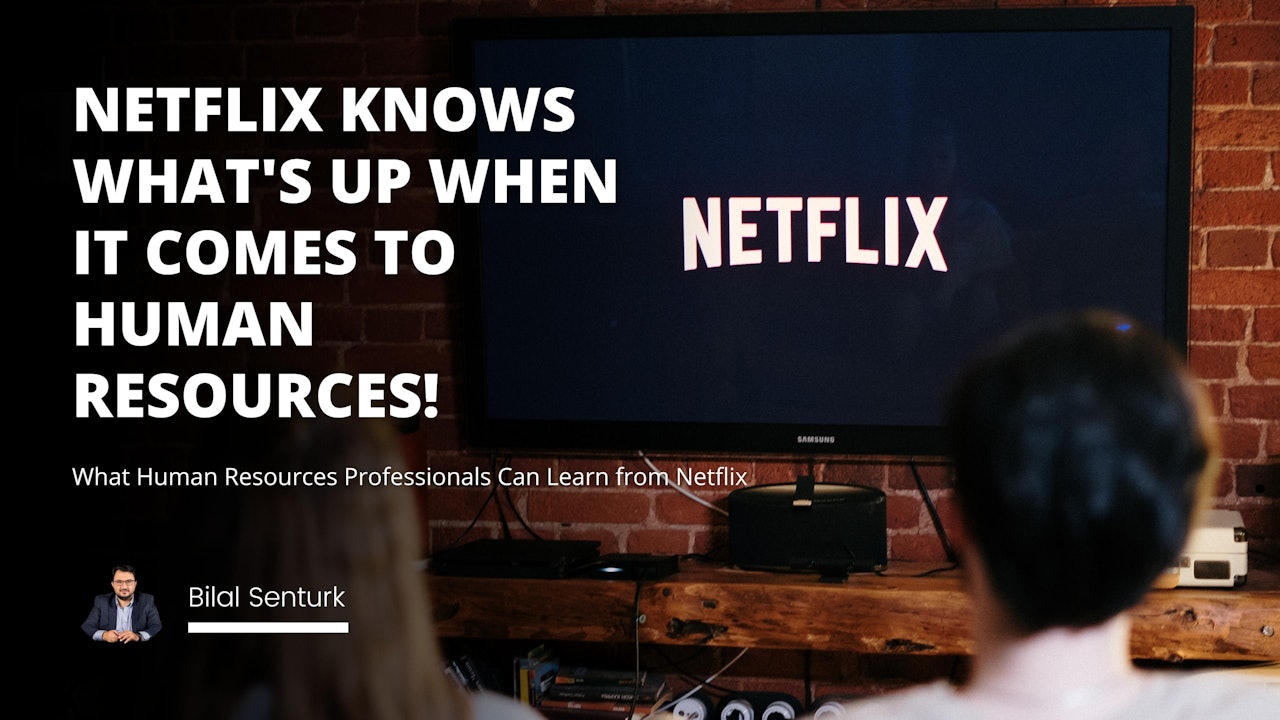 | HR Strategy | Netflix's Approach | Potential Benefits |
| --- | --- | --- |
| Data-Driven Decision Making | Netflix uses big data to inform hiring decisions, assess employee performance, and identify areas for improvement. | This approach enables accurate, objective decision-making and can help identify patterns and trends to drive company success. |
| Employee Development | Netflix invests heavily in employee development, providing paid time off for learning opportunities and an internal learning management system. | Investing in employee development can improve employee skills, increase job satisfaction, and promote company loyalty. |
| Company Culture | Netflix stresses cultural fit in hiring decisions and goes above and beyond to keep employees happy and engaged with benefits such as unlimited vacation and flexible hours. | A strong company culture can attract and retain top talent, and foster a harmonious, productive work environment. |
| Transparency | Netflix fosters trust with employees via transparency, sharing company goals, metrics, successes, and failures openly. | Transparency can build employee trust and loyalty, promote engagement, and encourage ownership of work. |
| Communication | Netflix has an open door policy and regularly holds all-hands meetings, which promotes a culture of open communication. | Effective communication can improve teamwork, foster understanding, and enhance company rapport. |
| Flexibility | Netflix offers a wide range of flexible work arrangements, allowing employees to create schedules that work best for them. | Workplace flexibility can enhance work-life balance, reduce turnover, and increase productivity. |
| Innovation | Netflix is committed to continual innovation and encourages creativity and risk-taking among its employees. | An innovative culture can drive company growth, set the business apart from competitors, and engage employees in meaningful work. |
| Continuous Improvement | Netflix champions continuous improvement in both its products/services and its company culture. | A focus on continual improvement can drive progress, enhance quality, and foster a positive, growth-oriented mindset. |
| Employee Engagement | Netflix prioritizes employee engagement by creating motivating work environments and offering growth opportunities. | High employee engagement can boost productivity, increase retention, and inspire innovation. |
| Employer Branding | Netflix has a strong employer brand, standing out in the industry as a preferred employer. | A strong employer brand can attract top talent, enhance company reputation, and increase overall company performance. |
Netflix is a juggernaut when it comes to both content and HR. The company has consistently been on the forefront of innovation, whether it's original content creation or Employer Branding. From a human resources perspective, there are a few key areas where Netflix really excels. Here are three things that HR pros can learn from the streaming giant.
1. The Importance of Data-Driven Decision Making
Netflix has always been a data-driven company. In fact, they were one of the first companies to really embrace big data and use it to their advantage. This data-driven approach extends to their HR decisions as well. They use data to inform their hiring decisions, to assess employee performance, and to identify areas for improvement.
2. The Power of Employee Development
Netflix knows that employees are their most valuable asset. They invest heavily in employee development and growth. They offer employees generous amounts of paid time off to encourage them to take courses and attend conferences. They also have an internal learning management system where employees can access training materials on a wide variety of topics.
3. The Importance of Company Culture
Company culture is extremely important to Netflix. They make sure that every new hire is a good fit for their culture and values. They also go above and beyond to make sure that their employees are happy and engaged. For example, they offer unlimited vacation days and flexible working hours. All of these factors contribute to a positive company culture that helps them attract and retain top talent.
4. The Value of Transparency
Netflix is incredibly transparent with its employees. They share their company goals and metrics openly, they openly talk about their successes and failures, and they candidly discuss their business strategies. This transparency fosters trust between management and employees and also encourages employees to take ownership of their work. All of these factors help Netflix create a forward-thinking, innovative culture.
5. The Importance of Communication
Communication is another key area where Netflix stands out. They regularly hold all-hands meetings with their employees, they have an open door policy when it comes to communication, and they encourage feedback and collaboration. By creating a culture of communication, they ensure that everyone feels heard and engaged in company decisions. This helps them continue to be a top employer of choice in a highly competitive industry.
6. The Importance of Flexibility
Netflix understands the importance of flexibility when it comes to both employee needs and company goals. They offer a wide range of flexible work arrangements, allowing employees to create a schedule that works for them. This type of flexibility can help companies reduce turnover rates and improve productivity. At the same time, it also supports work-life balance and helps employees feel valued and engaged in their jobs.
7. The Value of Innovation
Recognizing that innovation is key to success in today's business climate, Netflix has made a commitment to continue innovating and moving the company forward. They are constantly looking for new ways to use technology and data to improve their products and services. They also work hard to cultivate an innovative culture among their employees, encouraging creativity and risk-taking. By doing so, they set themselves up for continued growth and success in the years ahead.
8. The Role of Continuous Improvement
At Netflix, continuous improvement is seen as a key driver of success. Whether it's improving their products and services or enhancing their company culture, they are always striving to do better. This commitment to continuous learning and improvement can be seen in everything from their approach to hiring and training to the way they measure employee performance. Ultimately, this focus on continual growth has helped make Netflix one of the top companies in its industry today.
9. The Importance of Employee Engagement
Finally, at Netflix, employee engagement is a top priority. They go out of their way to create engaging work environments and motivating career opportunities for their employees. This includes providing them with ample training and development opportunities, as well as giving them the freedom to be creative and think outside the box. By focusing on employee engagement in this way, Netflix has been able to build a highly talented and motivated workforce that is consistently driving innovation within the company.
Netflix is a great example of a company that is constantly innovating, both in terms of content and HR. There are a few key lessons that HR pros can learn from Netflix, including the importance of data-driven decision making, the power of employee development, and the importance of company culture. Implementing even just one of these lessons can help your company improve its HR Function and better support your employees.
Regardless of where you are in your HR career, there is always room for improvement. If you want to take your skills to the next level, our HR management training course is perfect for you. You will learn from experienced professionals and gain valuable insights that you can apply in your own workplace. So what are you waiting for? Join our HR management course today!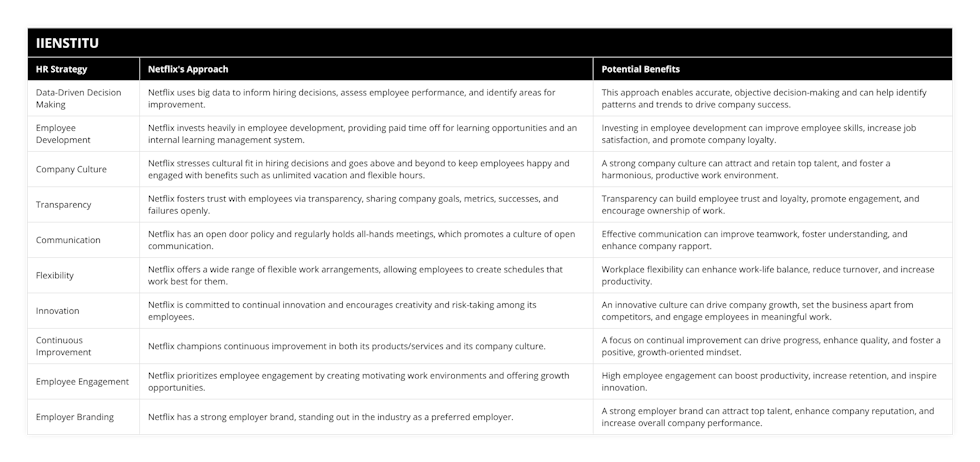 patty mccord
chief talent officer
honest feedback and open
human resources
hire only
hire adults
culture deck
promote honest feedback
powerful building a culture of freedom and responsibility
hr managers
movie rentals
company culture
flexible working
hire the right people
act in netflix s best interests
talent management
roi over 10 years
common sense
feedback and open communication
Bilal Şentürk
Blogger
He completed his undergraduate studies at Celal Bayar University, Anadolu University and Istanbul University, and a Master's degree with thesis on Human Resources Management at Yıldız Technical University and Business Management at Beykent University. He is currently writing a doctoral thesis on human resources and consulting businesses on human resources.
Related Posts
Our team of experts is passionate about providing accurate and helpful information, and we're always updating our blog with new articles and videos. So if you're looking for reliable advice and informative content, be sure to check out our blog today.