Human Resources Management
What Are Human Resources Development Opportunities?
28 December 2021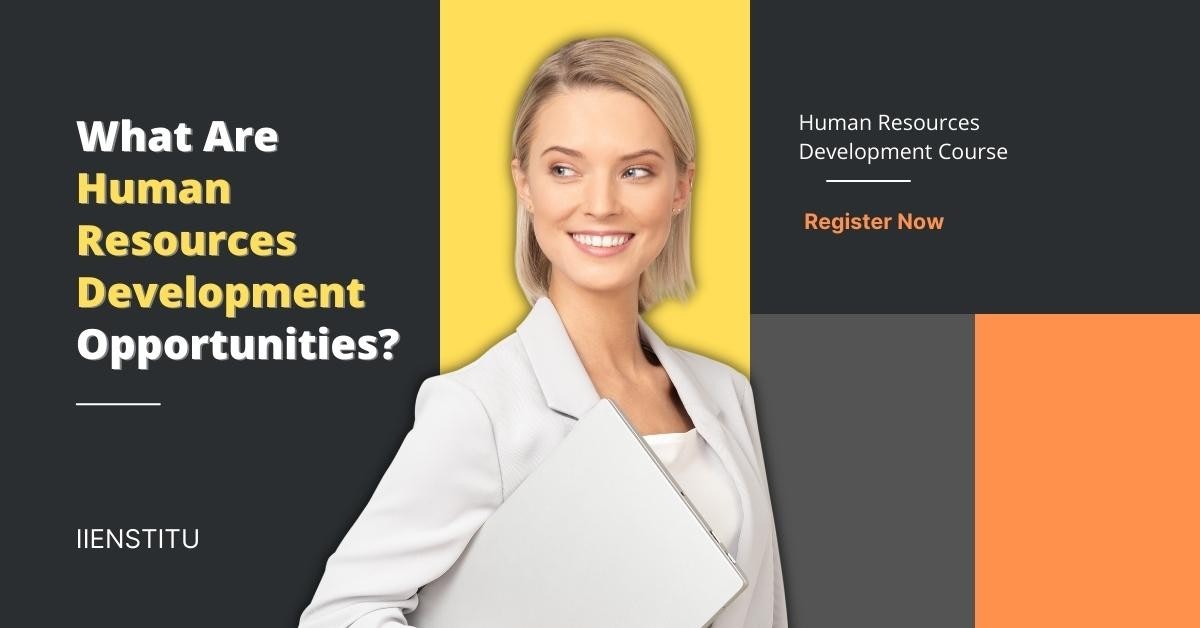 | Opportunity | Details | Benefits |
| --- | --- | --- |
| IIENSTITU's HR Development course | Provides certifications in Human Resources Development, which is internationally recognized. | Improves employability and advances you in the HR field. |
| Hands-on experience | Consultations, conferences, and internships in the HR field provide practical knowledge. | Provides a more comprehensive understanding of the field and real-life application of theories. |
| Training programs | Various organizations offer HR training programs. | Helps gain a deep understanding and essential skills required in the HR field. |
| Network connections | Establishing relationships with HR professionals worldwide provides the advantage of expert guidance. | Aids in gaining firsthand experience and insights into the HR field. |
| Human Resources Development Manager Role | Higher position with more responsibilities in the HR department. | Allows for creative decision-making and more independent work. |
| Online job postings | Regularly checking online job postings and applying to relevant HR roles. | Keeps you updated on job market trends and increases job prospects. |
| Study statistics and human behavior | Human Resources relies on statistical data and understanding human behavior. | Better decision making and strategy development. |
| HR consulting | Working in a consulting role for companies in need of HR expertise. | Extensive exposure to a variety of organizational structures and HR practices. |
| Team leadership | Leading an HR team provides essential managerial experience. | Develops leadership skills, which are crucial for HR manager roles. |
| Career counselling | Counselling employees on their career path and aspirations. | Helps build strong employee relations and contributes to employee satisfaction and retention. |
Almost anyone can become human resources development manager if they are willing to put in the time and effort.  It is one of those jobs that can easily be sustained without a college degree. Still, it requires lots of schooling, meetings with HR professionals, consultations, etc. Therefore, you need to consider all of this when you consider becoming a human resources development manager for your company.
If human resources development sounds like something you would like to do, there are some things you can do to get started down that career path.  First off, you can join a vocational course such as IIENSTITU. IIENSTITU has Human Resources Development Course, and when you join this course, you can get a certificate of achievement. Then, you can apply to work in this field with your certification. You can add your resume, and this certificate is valid internationally.
One of the most essential steps to becoming human resources development manager is gaining knowledge and experience with human resources management.  Many different organizations offer training programs for human resources professionals, including human resources development managers. If you can't find an organization near you, consider talking to someone already involved with human resources and see if they would be willing to teach you about what they do on their own time, outside work hours. And also, when you join the Human Resources Development course, you can learn about your instructor's experiences. These experiences belong entirely to Human Resources Development field.
Suppose human resources sound like the right career path for you. In that case, the human resources development manager is an even better place because it will give you a chance to use your human resource skills while also having some autonomy and creativity. You can always ask human resources managers or higher-ups in human resources what they think about human resources development managers just to get some more information on how this position may affect your life before getting too involved in the industry. Make sure that it is a good fit for you before going further down this path of employment.
How Can I Decision To Work in Human Resources Development?
Once you get further along in your human resource experience, consider looking at human resources development manager job postings online and see if anything fits.  In human resources, you would be working for a human resources department, which typically means that the human resources development manager is a step up from human resources worker or human resources assistant. You will be expected to take on real responsibilities and set realistic goals for the company by conducting seminars, going over personnel files with other human resource managers, etc.
Before getting too involved in human resources, you should contact some human resources development managers who work at different kinds of companies worldwide.  There are so many different kinds of organizations out there that have employees using their services, so it would be helpful if you could talk to as many as possible about what they do and how they go about doing it. They can give you first-hand experience with human resources development and management and human resources development manager .
Finally, human resources development and human resource development managers use a lot of scientific principles to make their decisions.  If you aren't familiar with statistics or human behavior, it would be worth your time to brush up on those topics before getting too deeply involved in human resources. This is especially true if you are thinking about human resources development as a career path that will use these kinds of knowledge extensively throughout the day. If you have any other questions about being a human resources development manager, feel free to join Human Resources Development Course at IIENSTITU.
What Are Human Resources Development Opportunities in Work Life?
Human resources development is the process of helping an individual develop their potential.
Human resource departments may undertake human resources development to help employees do well in their jobs. It can include training, coaching, mentoring, team building, and career counseling.
The main professionals who work with human resources development are human resource managers, team leaders, human resource coaches, and human resource consultants. These individuals manage the company's human resources department, which helps employees improve their practices to increase productivity, among other things. Human resource managers are responsible for finding ways to make money within a business while ensuring that its workforce has all the human resources development opportunities they need to succeed. For example, they may provide human resources development opportunities by helping employees improve their human capital, training them for new positions, or helping those laid off find a new job.
Human resource departments of various companies offer human resources development to help employees do well in their jobs and increase company productivity. In some cases, human resource management professionals can become human resource consultants who work with individuals outside of an organization to help them improve themselves through better human capital practices. Individuals who would like more information on how they can personally be involved in human resources development may seek a human resource consultant.
Related Course: Hr Certificate Course
There are human resources development opportunities available worldwide, but not all human resources development is done by formal organizations. In fact, human resources development has been taking place for centuries with no organization at all. For example, parents train their children in human resources development every day without ever signing up with an official human-resources-development agency or group.
This type of human resource training happens on three levels: individual skills training, life skills, and community service. It's important to note that none of these types of human resource developments necessarily require the involvement of a formal organization like a school or business. You can find human resources development opportunities everywhere.
Human Resource Development opportunities exist in any environment that provides room for growth. In human resources development, human resources professionals look for "variables of human behavior to be changed so that human beings can perform more effectively." These variables are known as human resource skills and tools. That makes the possibilities unlimited in terms of where human resources development opportunities exist.
The next time you're considering joining a human-resources-development organization, think about what behaviors they're trying to change and whether or not you have an environment at home, work, school, or in your community where you could focus on changing those behaviors yourself. The key is to find an environment where you can take these tools and use them to improve your own life.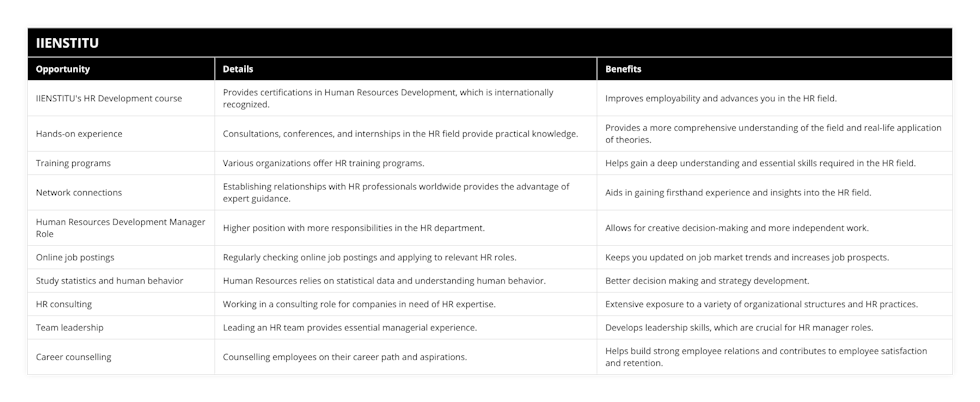 human resources development
human resources development course
what are human resources development opportunities
Bilal Şentürk
Blogger
He completed his undergraduate studies at Celal Bayar University, Anadolu University and Istanbul University, and a Master's degree with thesis on Human Resources Management at Yıldız Technical University and Business Management at Beykent University. He is currently writing a doctoral thesis on human resources and consulting businesses on human resources.
Related Posts
Our team of experts is passionate about providing accurate and helpful information, and we're always updating our blog with new articles and videos. So if you're looking for reliable advice and informative content, be sure to check out our blog today.