Human Resources Management
The Complexities of a HR Hierarchy
20 February 2023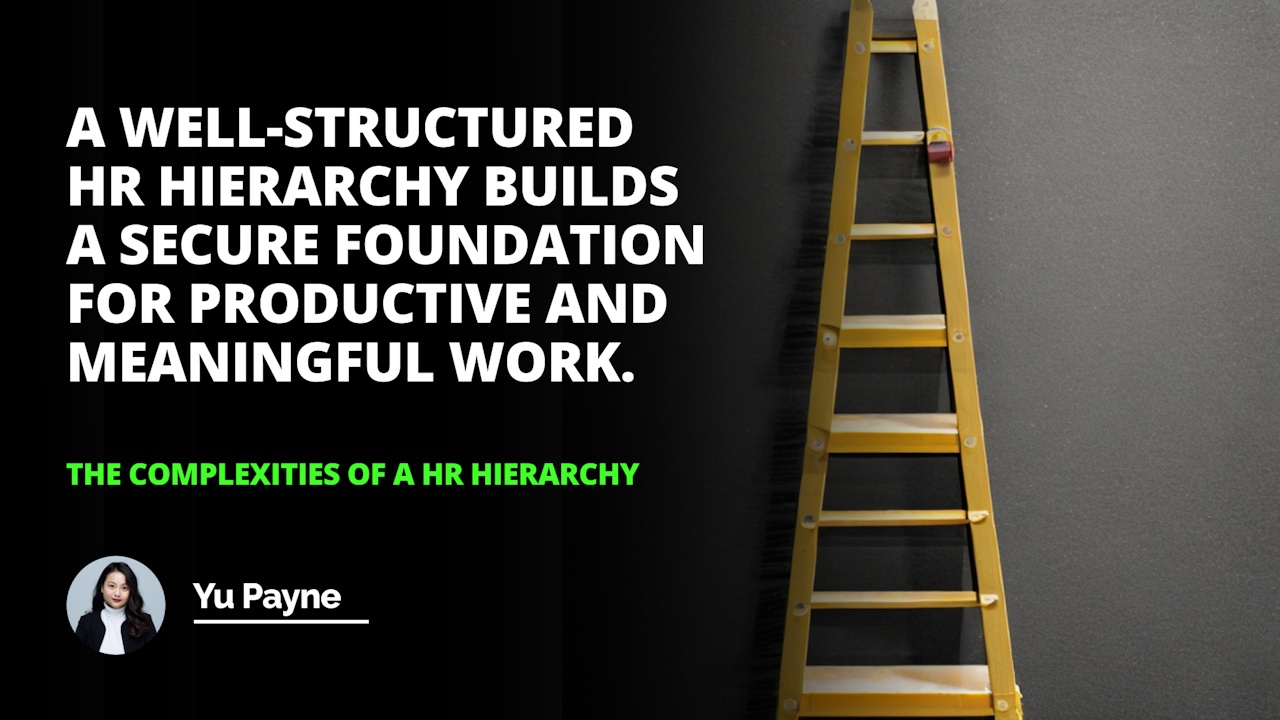 | Types of HR Hierarchies | Advantages | Disadvantages |
| --- | --- | --- |
| Traditional Hierarchy | Straightforward, tasks and responsibilities are easily divided, easy to understand and efficient. | Rigid and slow to respond to new organizational changes. |
| Matrix Hierarchy | Promotes inter-departmental collaboration, focuses on organizational performance. | Complex, requires a high level of dedication and focus, challenging to implement. |
| Complex Hierarchy | Fluid, promotes collaboration, allows for flexibility and adaptability. | Lacks clear lines of responsibility, can lead to confusion and miscommunication. |
| Hybrid Hierarchy | Allows for a custom structure, combines aspects from the other hierarchies, adaptable to the organization's unique needs. | Defining clear roles and responsibilities can be challenging, needs high coordination. |
| Examples from companies | Apple inc. - Hybrid Hierarchy, Netflix - Traditional Hierarchy | Not available |
| Significance of HR Hierarchy | Helps manage the complex tasks of HR departments, gives structure to HR teams. | The effectiveness of the hierarchies depends on the company's goals and resources. |
| The appropriate HR hierarchy | Choosing the right HR hierarchy can align with the company's goals and objectives. | A poorly chosen HR hierarchy can lead to inefficient management and execution of HR tasks. |
| The principle of a HR hierarchy | Clear allocation of responsibilities, visibility of reporting structure, enhances work efficiency. | Employees only report to their immediate superior leading to possible isolation. |
| Importance in company policy | HR hierarchy can guide the execution of company policies, help in reducing the complexities. | If not properly placed, might lead to policy misinterpretation. |
| Influence on company growth | Well structured HR Hierarchy can contribute to the growth of company. | A poorly structured HR hierarchy can affect company's productivity and cloud its growth. |
Types of HR Hierarchies

Advantages and Disadvantages of Each Hierarchy

Practical Examples
The Human Resources (HR) department plays a significant role in any organization, from selecting and onboarding new employees to developing company policies and setting compensation plans.
To help manage these responsibilities, many organizations create an HR hierarchy relevant to their unique needs. Therefore, it is essential to understand the different types of HR hierarchies and their advantages and disadvantages.
Types of HR Hierarchies
Organizations can adopt four standard types to determine the best hierarchy for a company, each with its unique characteristics.
Traditional Hierarchy
The traditional hierarchy is likely the most familiar, as it is similar to the one found in traditional management structures of various departments. In this hierarchy, HR tasks are designated to a team at the departmental level and have an overall HR manager at the top. This would be a clear top-down structure with one person responsible, with authority to make the ultimate decision.
Matrix Hierarchy
The matrix approach is slightly different and incorporates a more cross-functional approach to HR task management involving other teams responsible for other goals. The main focus is on organizational performance, and tasks are assigned according to their importance to that goal. This type of hierarchy is more complex and may require a higher level of dedication and focus from the HR team, but it can be helpful for larger organizations that have multiple goals to be reached.
Complex Hierarchy
The complex structure allows for a more fluid approach, as the goal here is to promote collaboration between different departments. It uses multiple teams and layers to encourage communication and resource-sharing between groups. This is also a good structure for constantly changing and adapting organizations, as it allows for flexibility.
Hybrid Hierarchy
The hybrid HR hierarchy combines aspects from the above to create a unique structure. This approach will depend on the organization and its goals, and it is essential to define a clear set of roles and responsibilities to keep the system organized.
Advantages and Disadvantageshierarchyerarchies
The traditional hierarchical structure is the most straightforward and clear-cut, as tasks and responsibilities are easily divided amongst the teams. It is easy to understand, efficient, and keeps the HR team accountable. The downside to this structure is that it can be too rigid and slow to respond to new organizational changes.
The matrix system promotes collaboration between different departments but also requires a high level of commitment from its team. Therefore, it can be challenging to implement and requires a lot of communication and coordination to ensure that the correct tasks are assigned to the right groups.
The complex hierarchy allows for more flexibility as it adapts to the organization's changing needs; this does not provide clear lines of responsibility and can lead to confusion and miscommunication.
The hybrid model allows for a unique structure that reflects the individual organization; however, it needs. With this approach, it is also important to note that defining clear roles and responsibilities will still be necessary to ensure it runs smoothly.
Practical Examples
Apple Inc. is an excellent example of a company that has adopted a hybrid HR hierarchy. Their HR team has three layers—an executive leadership group, a support staff, and a regional operations group. This allows different teams to operate at different levels while still having the ability to communicate and collaborate on essential tasks.
Related Course: Leadership Training Course
Netflix is an excellent example of a company that has adopted a traditional hierarchical structure. They have an HR team with a straightforward top-down design, and each section has a specific set of responsibilities that they are responsible for.
Conclusion: Creating and maintaining an effective HR hierarchy can be tricky and depends on the organization's goals and resources. Understanding the types of orders available and the advantages and disadvantages of each can help determine the best approach for a given organization. It is important to remember that there is no one-size-fits-all solution and that companies should be able to find a structure that works for them and best aligns with their goals and objectives.
A well-structured HR hierarchy builds a secure foundation for productive and meaningful work.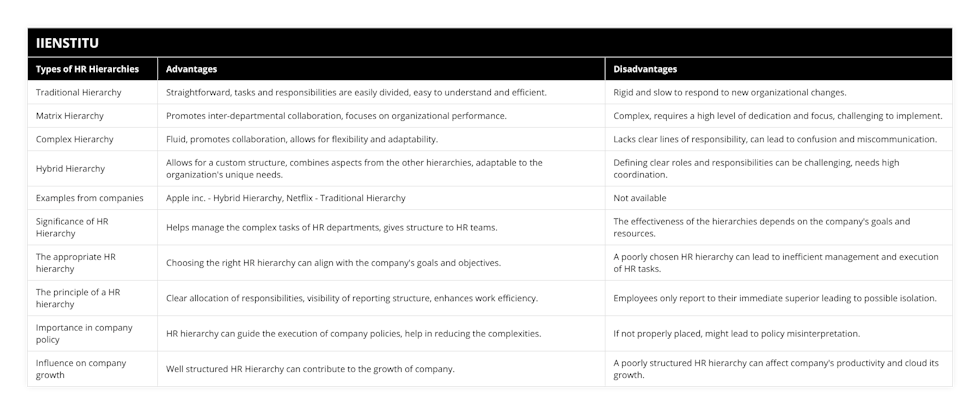 Human Resources
department
hierarchy
traditional
matrix
complex
hybrid
advantages
disadvantages
Apple Inc.
Netflix
organization
goals
resources
structure
team
cross-functional approach
management
authority
organization performance
communication
coordination
executive leadership
support staff
regional operation
roles
responsibilities
Yu Payne
Blogger
Yu Payne is an American professional who believes in personal growth. After studying The Art & Science of Transformational from Erickson College, she continuously seeks out new trainings to improve herself. She has been producing content for the IIENSTITU Blog since 2021. Her work has been featured on various platforms, including but not limited to: ThriveGlobal, TinyBuddha, and Addicted2Success. Yu aspires to help others reach their full potential and live their best lives.
Related Posts
Our team of experts is passionate about providing accurate and helpful information, and we're always updating our blog with new articles and videos. So if you're looking for reliable advice and informative content, be sure to check out our blog today.