Human Resources Development (HRD)
Unlock the gateway to global recognition in HR with an international certification in human resources development! Embark on a transformative journey that sets you apart, equipping you with globally esteemed skills and credentials.
Human Resources Development (HRD)
Unlock the gateway to global recognition in HR with an international certification in human resources development! Embark on a transformative journey that sets you apart, equipping you with globally esteemed skills and credentials.
Welcome to a groundbreaking journey through the field of Human Resources Development (HRD). Are you a visionary manager, an inspiring leader, or an individual committed to excellence in the realm of HRD? This course is meticulously designed to empower you with the essential skills to navigate the evolving landscape of HR development.
Imagine stepping into the world of your organization with a newly found confidence, equipped with the knowledge and innovative techniques that are shaping the future of the HRD process. Join us, and transform your professional life!
| Number | Step | How | Win |
| --- | --- | --- | --- |
| 1 | Register | Enroll online for our Human Resources Development Course. | Take the first step towards mastering HRD. Gain access to course materials, knowledgeable experts, and connect with a community of HR professionals. |
| 2 | Learn | Engage in learning through interactive sessions, practical tasks, webinars, and group discussions on HRD processes. | Acquire hands-on experience with proven HR development techniques, understanding HRD functions, leadership concepts, recruiting techniques, and more. Real-life examples and case studies illustrate course concepts. |
| 3 | Get Certified | Successfully complete assignments, meet course requirements, and pass assessments in human resource development management. | Achieve a recognized Human Resources Development Certification, enhancing your career growth journey and boosting your professional credibility in HRD. |
| 4 | Apply | Implement acquired HRD techniques and strategies in your organization. | Benefit from a more effective and strategic human resources management approach, fostering better teamwork, employee development, and organizational success. Use your knowledge to lead and inspire others in HR development. |
Why Choose this HRD Course?
In a world where change is constant, traditional methods are no longer sufficient. This course embraces the evolution of HRD, offering agile methodologies and more. Here's why it's your best choice:
Innovative Learning Approaches: We offer not just theoretical knowledge but hands-on learning with Scrum and other agile methods. Enhance your understanding of the HRD process like never before.

Learn from the Experts: Our seasoned HRD managers and industry leaders have not only written the textbooks but have transformed businesses. Benefit from their real-world insights and decades of experience.

Unmatched Tailored Curriculum: This isn't a one-size-fits-all approach. Our human resources development course aligns with individual career goals, ensuring that you excel in your specific area of interest within HR development.

More than an HR Training Program: With a satisfaction rate of over 95%, our participants testify that this course goes beyond traditional HR training, making it a game-changer for their careers.

State-of-the-Art Resources: Access to the latest tools and resources ensures you're at the forefront of HRD, with case studies and human resource development examples that bring concepts to life.

Proven Success Rate: Over 3,000 successful graduates are now leading in their respective fields, a testament to our quality and effectiveness in HR development. Your success could be next!

Flexible Learning Options: With both online and offline modules, our HRD courses adapt to your schedule, ensuring a seamless learning experience without compromising your other commitments.

Affordable Investment in Your Future: Offering unparalleled value, our competitive pricing guarantees that you invest in a course that pays dividends in your human resources and development career.
Enroll in our human resources development course today, and set yourself on the roadmap to success in HR development that others only dream of! It's more than a course; it's your future, redefined and empowered.
Course Content
Introduction to Human Resources Development: Understand the soul of HRD, its role, and its limitless potential.

Management Theories & HRD Managers Roles: Delve into the theoretical frameworks that have shaped the HRD process and learn how you can innovate and apply them.

Leadership Concepts and Importance: Become the leader that others follow. Understand the functions of HRD that make leaders extraordinary.

Strategic Human Resource Development: Navigate the strategic labyrinth of HRD with ease and finesse.

Executive Development in HRM: Elevate your managerial skills to executive levels, steering your organization towards success.

Human Resource Development Examples: Real-world examples that illuminate the principles of HRD, offering insights you can apply.

Evolution of HRD & Modern Trends: Stay ahead of the curve by understanding how HRD has evolved and where it's going.
Course Details
We understand that choosing the right HRD courses is a crucial decision. Our comprehensive approach ensures you have everything you need:
Flexible Schedule: Tailored to fit your busy life, this course offers both online and offline options, allowing you to learn at your convenience.

Comprehensive Coverage: From basic introduction to advanced human resources development strategies, we've got you covered. Our curriculum includes all vital aspects to help you excel.

Interactive Learning Experience: Engage with real-world scenarios, case studies, and projects to cement your understanding of the subject.

Access to Top Industry Experts: Our mentors, seasoned in the field, are available for guidance, ensuring a rich and immersive learning journey.

Certified and Recognized: Accredited by top industry bodies, this course adds a valuable credential to your professional profile.
How This Course Will Help Your Career
Imagine being the go-to expert in the room. With our course, you don't just learn; you transform:
Strategic Toolkit at Your Fingertips: Learn to develop and implement a powerful, adaptable HR development plan that aligns with organizational goals. Be ready for any challenge!

Inspire and Lead at All Levels: Whether you're a manager or aiming for an executive role, you'll have the skills to inspire and lead, thanks to our well-crafted modules on leadership.

Proven Career Growth: Participants have reported an average of 25% salary increase post-completion, testifying to the tangible benefits of our training.

Networking Opportunities: Connect with peers and industry leaders. Grow your network, opening doors to new career opportunities.

Continuous Support Post Course: Our relationship doesn't end with the course. We provide ongoing support and resources to ensure you continue to thrive in your human resources development career.
Enroll today, and turn your imagination into reality. With our human resource development management course, you'll be more than knowledgeable; you'll be capable, confident, and ready to take on the world!
Human resource development certificate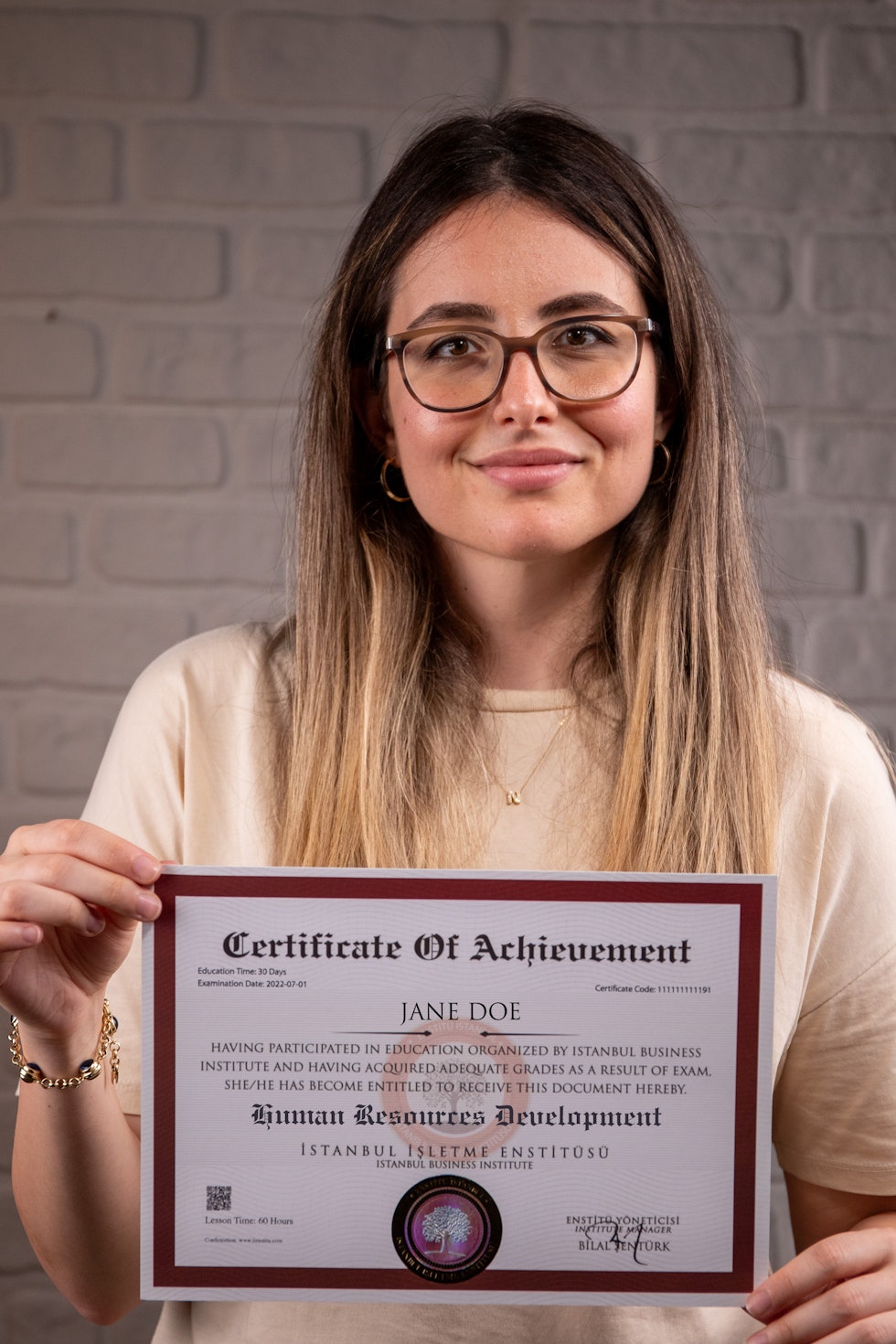 The Human Resource Development (HRD) certificate is a vital credential for professionals seeking to enhance their skills and knowledge in the field of human resources. Obtaining this certificate signifies a commitment to professional growth and provides tangible evidence of specialized expertise in HRD. Here's how earning a Human Resource Development certificate can lead to significant changes in your professional life:
Recognition and Credibility:
Professional Standing: The HRD certificate demonstrates your mastery of key HR concepts, methodologies, and practices. It signals to employers, colleagues, and clients that you possess a deep understanding of HRD.
Enhanced Reputation: With the certificate, you're not just an HR professional; you're a certified expert in HRD. This added credibility can set you apart from others in the field.
Career Advancement:
New Opportunities: Many organizations prioritize candidates with specialized certifications. The HRD certificate can open doors to new job opportunities, including leadership roles and specialized HR positions.
Salary Increase: Certification often leads to higher compensation. A survey by PayScale showed that HR professionals with relevant certifications, including HRD, earn on average 5-10% more than their non-certified counterparts.
Skill Enhancement:
Strategic Decision Making: The HRD certificate course equips you with the skills to develop strategic HR plans aligned with organizational goals. You become more adept at foreseeing and responding to HR challenges.
Leadership Development: With focused modules on leadership, you learn to inspire and lead HR teams more effectively, ensuring better collaboration and results.
Networking and Community Engagement:
Networking Opportunities: Being certified connects you with a community of HRD professionals, fostering collaboration, mentorship, and professional growth.
Ongoing Learning: Many HRD certificate programs provide continuous learning opportunities through seminars, workshops, and conferences, ensuring you stay up-to-date with the latest HR trends.
Impact on Organizational Growth:
Enhanced HR Practices: With your advanced knowledge and expertise, you can implement effective HRD processes that contribute to employee growth, higher retention rates, and overall organizational success.
Building a Positive Culture: Skills learned through the HRD certification allow you to foster a positive organizational culture, emphasizing growth, collaboration, and innovation.
Conclusion
Obtaining a Human Resource Development certificate is more than just an academic achievement; it's a career catalyst. It provides the tools, knowledge, and confidence to lead in the HR field, and it resonates with professional excellence. If you're committed to rising above the ordinary in the HR landscape, an HRD certificate is a vital step on that journey. Whether you are a seasoned professional or a newcomer, the insights and skills gained from this certification will be a game-changer in your HR career.
Human Resources Development Related Courses
The HR department offers a variety of courses to keep you up-to date with all the latest developments in your field.