Human Resources Management
The Corporate HR Role: Maximizing Training Development Results
21 February 2023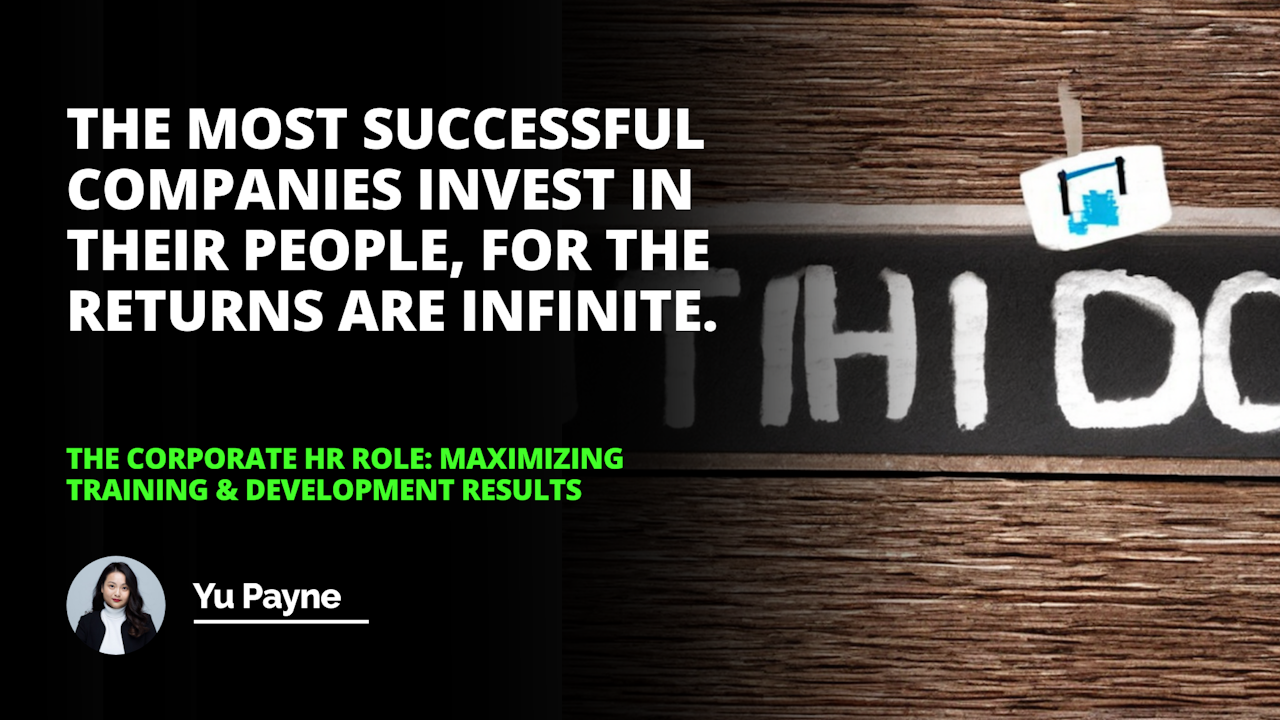 | Role of corporate HR | Strategy for maximizing results | Role in evaluation |
| --- | --- | --- |
| Understanding the scope of departmental training requirements | Engaging in holistic and collaborative approach | Appreciating the complexity of the training process |
| Maintaining the knowledge of best training and development practices | Continually exploring innovative and creative training solutions | Tracking progress through surveys, KPIs, or feedback analysis |
| Identifying training and development needs within the organization | Understanding performance gaps and critical skills for effective job performance | Analyzing individual and organizational performance improvements |
| Developing and implementing strategies and tactics | Selecting appropriate methods for delivering training | Determining whether the training activities achieved their objectives |
| Playing a fundamental role in evaluating success of training initiatives | Executing training via webinars, online courses, or in-person classes | Carefully analyzing objective and subjective data for evaluation |
| Reviewing the existing processes | Tailoring the training according to the company's needs and objectives | Ensuring the organization invests properly in training and development activities |
| Ensuring cooperation and collaboration between departments | Using creative ways to engage employees with the training material | Accurately identifying successes and areas for improvement of the training and development |
| Being forward-thinking and open to innovative approaches | Incorporating digital learning platforms for training | Using metrics to measure the achievements of the initiative |
| Leading the evaluation process for training and development activities | Identifying future training needs through performance gaps | Measures taken to improve performance based on feedback collected |
| Evolving the HR role in accordance with organizational needs | Implementing creative solutions for improving productivity | Alignment of HR's practices with overall organizational goals |
The Corporate HR Role

Maximizing Training & Development Results

Evaluating the Success of Training & Development
As the role of Human Resources (HR) evolves within organizations, the responsibility of training and development is one of the most critical duties HR must fulfill. Training and development are essential to any successful business, helping create an engaged and profitable workforce. As organizations emphasize training and development, it is Corporate HR's role to maximize the results.
The Corporate HR Role
A crucial part of HR's role in training and development is understanding the entire scope of the task. This includes appreciating the complexity of the training and development process, as it involves multiple departments and stakeholders. As a result, corporate HR must have a holistic approach to training and development, recognizing the need for collaboration and cooperation between departments. It is also crucial for HR to maintain up-to-date knowledge of best practices regarding the training and development process.
Exploring Creative Training Solutions
The best way to maximize training and development results is to push the envelope and explore creative solutions constantly. Therefore, corporate HR must be forward-thinking and open to innovative ideas and approaches. This could include trying different techniques to engage employees with the training material, incorporating digital learning platforms, and finding creative ways to measure the success of training and development initiatives.
Maximizing Training & Development Results
To determine whether or not training and development have been successful, it is necessary to accurately identify what training and development is required. To start, HR needs to review existing processes, understand performance gaps, and identify critical skills employees need to perform their jobs effectively. This evaluation process is essential to ensure your organization invests in the proper training and development activities tailored to the company's part company's needs and objectives.
Developing Strategies & Tactics
Once the specific training and development needs have been identified, Corporate HR's role is tHR'svelop and implement strategies and tactics to achieve these desired results. This involves selecting the appropriate methods of delivering the training materials, such as webinars, online courses, or in-person classes. It also requires consideration of how to track training and development progress, such as through surveys, key performance indicators (KPIs), or feedback analysis.
Evaluating the Success of Training & Development
Corporate HR plays a fundamental role in evaluating the success of training and development initiatives. This analysis helps determine whether the training and development activities achieved their objectives. Therefore, HR must carefully analyze objective and subjective data to measure individual and organizational performance improvements.

Conclusion: The role of Corporate HR in training and development is essential to achieve maximum results. This includes understanding the scope of training and development, exploring creative solutions, identifying training and development needs, developing strategies and tactics, and evaluating the success of the initiatives. Through this comprehensive process, Corporate HR can maximize the impact of training and development efforts.
The most successful companies invest in their people, for the returns are infinite.
Corporate HR Role
Training & Development
Complexity
Collaboration
Cooperation
Best Practices
Creative Solutions
Engage Employees
Digital Learning Platforms
Measure Success
Identifying Needs
Performance Gaps
Key Skills
Strategies & Tactics
Evaluating Success
Objective Data
Subjective Data
Maximize Impact
Yu Payne
Blogger
Yu Payne is an American professional who believes in personal growth. After studying The Art & Science of Transformational from Erickson College, she continuously seeks out new trainings to improve herself. She has been producing content for the IIENSTITU Blog since 2021. Her work has been featured on various platforms, including but not limited to: ThriveGlobal, TinyBuddha, and Addicted2Success. Yu aspires to help others reach their full potential and live their best lives.
Related Posts
Our team of experts is passionate about providing accurate and helpful information, and we're always updating our blog with new articles and videos. So if you're looking for reliable advice and informative content, be sure to check out our blog today.