Human Resources Management
Building Your HR Skills Portfolio: The Essentials
16 February 2023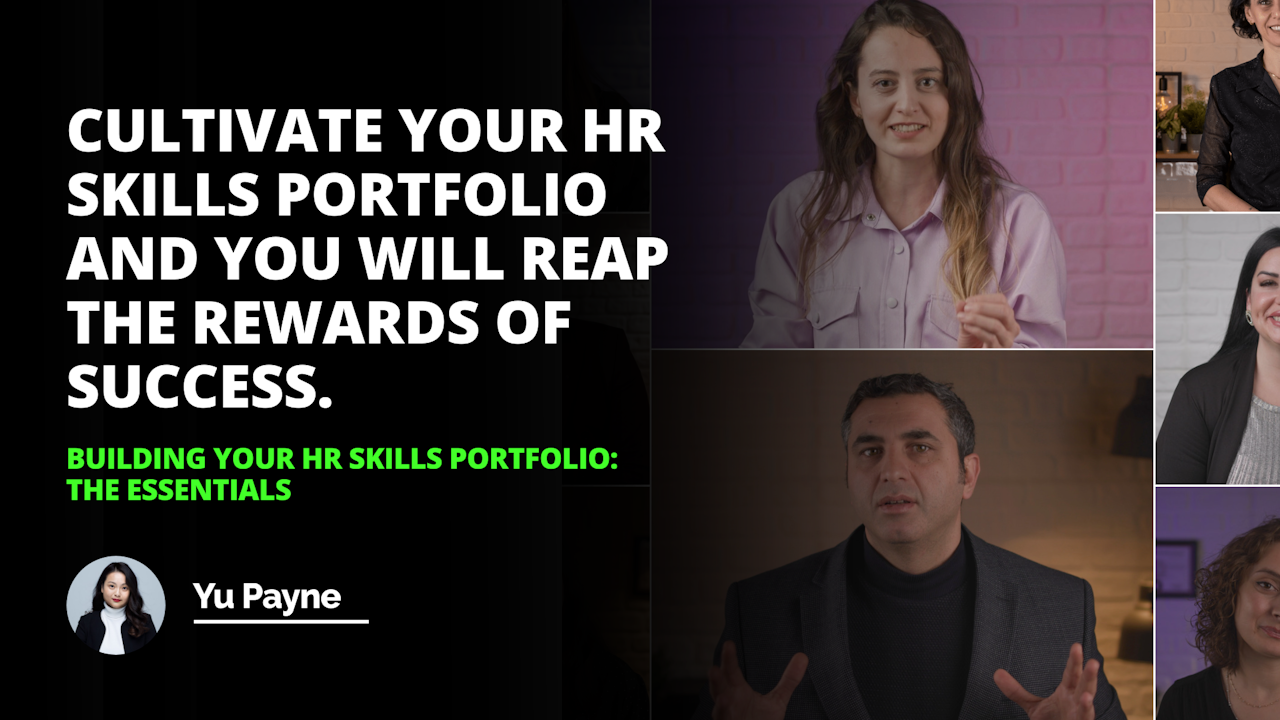 | Essential Elements | Description | Importance in HR Portfolio |
| --- | --- | --- |
| Organizing Experiences | Systematic presentation of skills including recruitment, policy development, employee relations, and more | Shows your understanding of the industry and the scope of your work |
| Relevant Certifications | Credentials obtained from professional HR organisations or universities | Shows your commitment to stay updated with HR best practices and demonstrate expertise in the field |
| Highlight Unique Qualities | Uniqueness like creativity and problem-solving sets you apart from other candidates | Makes you standout among other applicants and could bring something unique to your new role |
| Quantify Results & Outcomes | Include data showing cost savings, employees trained due to your initiatives | Gives employers an understanding of the potential results that you could bring, highlighting your success as a change-maker |
| Scope of Experience | Size and diversity of companies you have experience with | Shows your adaptability and suitability for different business environments |
| Technical Skills | Skills in HR-specific tools, technology, and software | Shows proficiency and adaptability with industry-standard technologies |
| Consistent Learning | Constantly updating your knowledge in the HR field | Shows your motivation to improve and stay updated with changing industry trends |
| Leadership Skills | Ability to motivate, lead and build harmonious teams | Highlights your ability to lead, essential for HR leadership and management roles |
| Interpersonal Skills | Ability to communicate effectively and build relationships | Shows your ability to work well with a variety of people, essential for HR roles |
| Critical Thinking | Ability to analyze situations and make decisions | Demonstrates problem-solving ability, crucial for managing HR issues |
Introduction

Organize Your Experiences

Include Relevant Certifications

Highlight Unique Qualities

Quantify Results & Outcomes

Conclusion
Introduction: The Human Resources (HR) profession is a critical component of any company, and having strong HR skills and competencies can help you stand out in the field. A solid HR skills portfolio is essential to keep your career progressing, as it serves as an avenue to prove your knowledge in the area. With that said, here are some important elements you should consider when building your HR skills portfolio.
Organize Your Experiences
One of the most critical aspects of creating a successful HR skills portfolio is organizing your experiences. This allows you to demonstrate essential competencies in recruitment, employee relations, policy development and management, training and development, Payroll Management, and more. It also helps potential employers gain better insight into how well you understand the industry. For instance, if you have experience working with both large enterprise-level companies and small businesses, potential employers can easily see your work's scope.
Include Relevant Certifications
You should also include any relevant certifications or credentials related to HR that you possess in your portfolio. This can consist of certifications from professional organizations such as Human Resource Management, certification programs from universities, or experienced online courses such as IIENSTITU. Doing so demonstrates your commitment to staying up-to-date on best practices related to human resources management - another plus for employers who are looking for someone with expertise in the field.
Related Course: Human Resource Management Course
Highlight Unique Qualities
When building an effective HR skills portfolio, it's essential to highlight qualities that set you apart from other applicants - such as creativity and problem-solving abilities. These qualities may matter more than technical skills when standing out among other applicants because they show an employer that they are hiring someone who can bring something unique to the role. So whether it's demonstrating initiative on past projects or taking the initiative on developing new initiatives at previous organizations - make sure these unique qualities come across clearly in your skill set portfolio too!
Quantify Results & Outcomes
Finally – make sure that you quantify results whenever possible to give potential employers a clear understanding of how successful projects were during your time at past organizations or business ventures. For example, including data such as cost savings associated with specific initiatives or several employees trained through certain programs can help demonstrate how successful you were at implementing change within those environments. Doing so not only shows potential employers what results in they could expect from hiring you but also highlights the level of impactful change-maker they could be getting if they chose you as their next hire!
Conclusion: In conclusion, building a successful HR skills portfolio requires you to showcase your field knowledge and experience while highlighting unique qualities that set you apart from other applicants. It would be best to organize your affairs, include relevant certifications and credentials, highlights creative problem-solving abilities or initiatives taken on past projects, and quantify results whenever possible. With these tips in mind, you'll be well on your way to creating an impressive HR skills portfolio that will help take your career to the next level!

HR
skills
portfolio
Human Resources
recruitment
training
development
compensation
benefits
employee relations
health
safety
reward
recognition
leadership
management
sales recruiter
counsellor
hatchet wielder
police officer
negotiator
teacher
organisation
strategy
goals
skills
experience
candidates
job
culture
support
personal
professional
issues
advice
solutions
conflict resolution
mediation
dismissal
redundancies
conversations
legislation
external organisations
benefits providers
training companies
angry directors
relationships
training
mentoring
guidance
managers
programmes
advice
support
Yu Payne
Blogger
Yu Payne is an American professional who believes in personal growth. After studying The Art & Science of Transformational from Erickson College, she continuously seeks out new trainings to improve herself. She has been producing content for the IIENSTITU Blog since 2021. Her work has been featured on various platforms, including but not limited to: ThriveGlobal, TinyBuddha, and Addicted2Success. Yu aspires to help others reach their full potential and live their best lives.
Related Posts
Our team of experts is passionate about providing accurate and helpful information, and we're always updating our blog with new articles and videos. So if you're looking for reliable advice and informative content, be sure to check out our blog today.