Human Resources Management
The Corporate HR Imperative: Achieving Total Quality Management
19 February 2023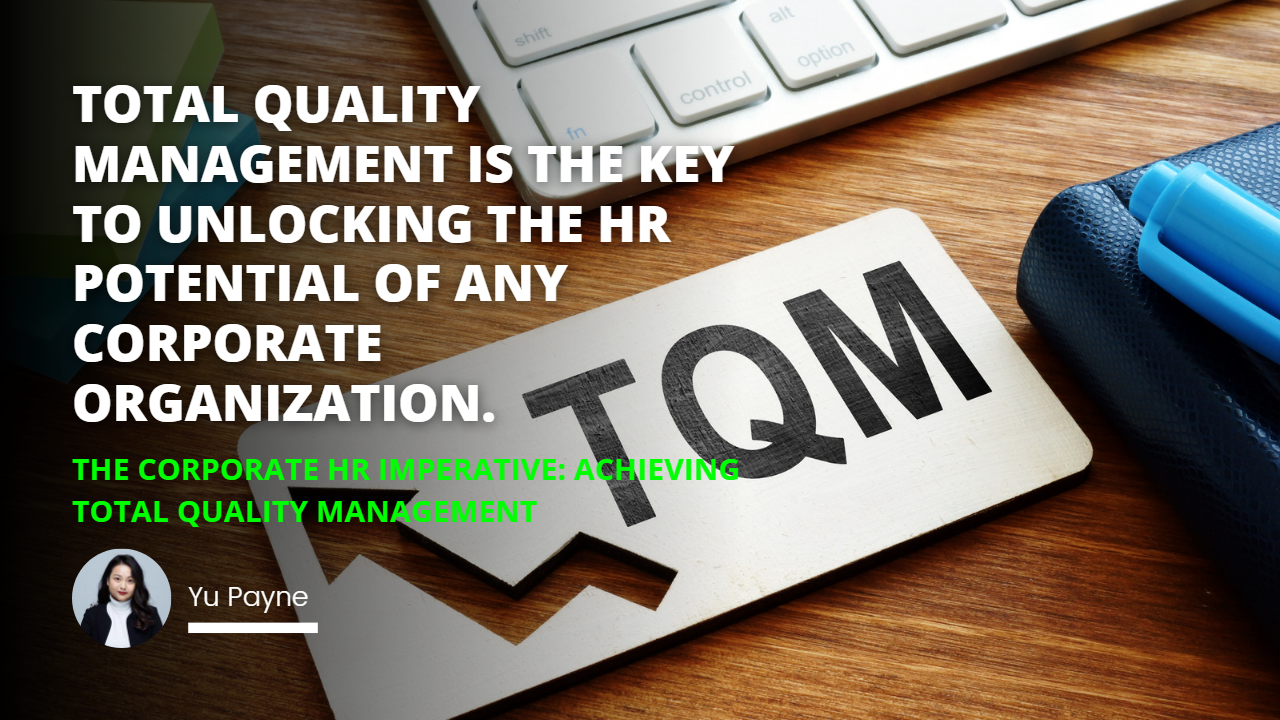 | Aspect | Description | Example/Implication |
| --- | --- | --- |
| TQM - Definition | An approach to achieving excellence in the workplace through continuous improvement and aligning HR strategies. | Improves organizational performance and employee development. |
| Benefits of TQM | Increased employee productivity, heightened team spirit, enhanced organizational efficiency. | Organizations practicing TQM are seen as effective, thus improving overall brand reputation in the market. |
| Challenges of Implementing TQM | Transforming corporate cultures, allocating necessary resources, requires time and patience. | Difficulty in shifting perspectives of organizational stakeholders, potential strains on company resources. |
| Strategies for Achieving TQM | Employing purposeful leadership, providing adequate training and development to employees. | Leadership models practices for continuous improvement, while employee training helps in comprehension and application of TQM practices. |
| HR role in TQM | Align HR practices and procedures with TQM, nurture an environment of constant improvement. | Employees feel valued and engaged, promoting positive work culture and increased productivity. |
| Leadership Development Course | Related course to improve leadership skills in implementing TQM. | Leaders equipped with the necessary skills and knowledge to guide their team towards achieving TQM. |
| Resourcing for Change | Organizations must allocate adequate resources for implementation of TQM practices. | Human, financial and time resources require proper administration for effective implementation of TQM. |
| Aligning Corporate Culture | Culture adaptation is essential for implementing TQM as it requires a change in attitudes and behaviors | Requires sensitivity, patience and commitment to change the mindset of all stakeholders. |
| Employee Productivity | An important benefit of applying TQM is increased employee productivity. | Motivated employees contribute more, leading to increased outputs and organizational success. |
| HR Imperative | Need to align HR practices, procedures, and strategies with TQM. | HR strategies and practices become integrated into the TQM framework, impacting overall organizational structure. |
The Benefits of TQM

Challenges of Implementing TQM

Strategies for Achieving TQM
Total Quality Management (TQM) is an approach to achieving excellence in the workplace, and the corporate HR imperative is the need to align HR practices, procedures, and strategies with TQM. The incorporation of TQM is driven by the need to improve the performance of the organization and its employees, nurture an environment of constant improvement, and ensure that the organization's human resources are part of the success equation.
The Benefits of TQM
The incorporation of TQM in the corporate HR arena brings with it numerous benefits. The most prominent result of the TQM framework is increased employee productivity. The organization that incorporates TQM as part of its HR strategy shows its employees that it is committed to their well-being and development, which empowers them to give their best. The experience, then, is one of motivation and team spirit, which yields an increase in productivity. Additionally, an organization that practices TQM is seen to be effective, as the practices are proven to increase efficiency.
Challenges of Implementing TQM
As beneficial as the incorporation of TQM into the corporate HR strategy is, it is not without its challenges. Aligning corporate cultures to TQM practices involves transforming the attitudes of all stakeholders, from executives and managers to staff. This process requires commitment, sensitivity, and patience and can be difficult for any HR team. Additionally, since TQM does require resources to realize its desired benefits, any organization must ensure that it is adequately prepared to resource for change.
Strategies for Achieving TQM
Achieving TQM requires consistent efforts and intentional strategies. Firstly, purposeful leadership should be employed in implementing TQM, as the leaders are responsible for modeling best practices and setting the tone for a culture of continuous improvement. Secondly, adequate training and development need to be provided to employees so that they can understand the benefits of TQM and its implications and associated practices.
Related Course: Leadership Development Course
Conclusion: The corporate HR imperative of achieving TQM involves aligning the HR practices and procedures of the organization with the TQM framework. The benefits of doing so include increased employee productivity and organizational effectiveness. Challenges can involve aligning corporate culture and resourcing for change. Strategies for achieving TQM include intentional leadership and training & development. In conclusion, taking the steps necessary to achieve TQM can result in an organization being seen as an effective and successful institution.
Total Quality Management is the key to unlocking the HR potential of any corporate organization.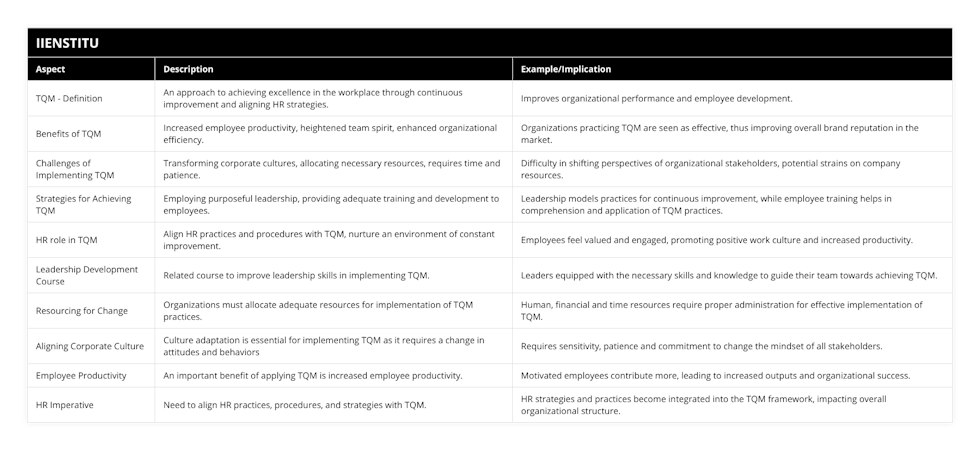 Total Quality Management (TQM)
Corporate HR
Excellence
Work Place
Alignment
Performance
Improvement
Human Resources
Productivity
Motivation
Team Spirit
Efficiency
Corporate Culture
Commitment
Sensitivity
Patience
Training & Development
Intentional Leadership
Continuous Improvement
Yu Payne
Blogger
Yu Payne is an American professional who believes in personal growth. After studying The Art & Science of Transformational from Erickson College, she continuously seeks out new trainings to improve herself. She has been producing content for the IIENSTITU Blog since 2021. Her work has been featured on various platforms, including but not limited to: ThriveGlobal, TinyBuddha, and Addicted2Success. Yu aspires to help others reach their full potential and live their best lives.
Related Posts
Our team of experts is passionate about providing accurate and helpful information, and we're always updating our blog with new articles and videos. So if you're looking for reliable advice and informative content, be sure to check out our blog today.