Human Resources Management
Tracing the Evolution of Personnel HR Through History
19 February 2023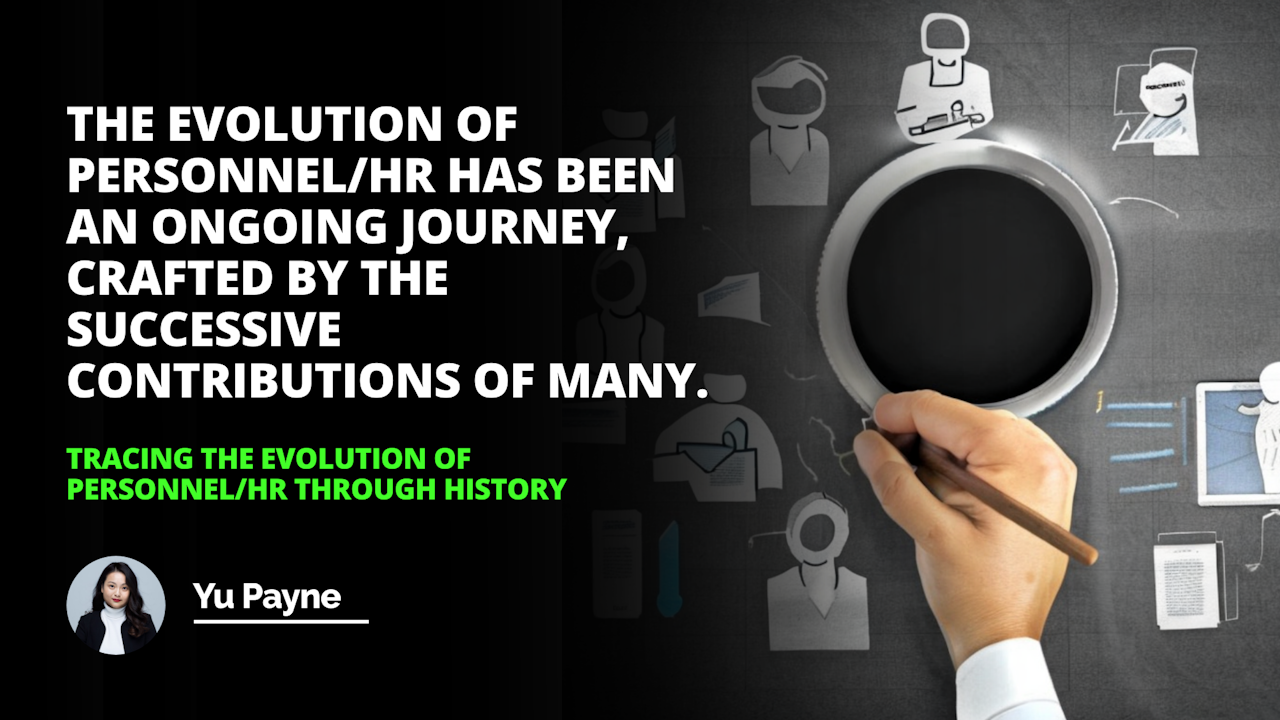 | Era | Key Developments in Personnel/HR | Impact on Organizations |
| --- | --- | --- |
| Ancient Origins (18th Century) | Introduction of Family Officer position for accounting and delegation of tasks | Brought structure and accountability to growing business operations |
| The Industrial Age (19th Century) | Development of personnel departments and policies to manage rapid growth; Emergence of Scientific Management | Streamlined organizational processes; Promoted efficiency but overlooked employee satisfaction |
| Post-Industrial Revolutions | Shift from Taylorist approach to HR; Emergence of industrial psychology and human relations approach | Increased focus on employee motivation and morale; Encouraged employee involvement in organizations |
| Organizational Development Era | Understanding business needs through research; Integration of HR into business objectives | Promoted a sense of ownership among employees, leading to improved performance and job satisfaction |
| Digital Age | Automation of processes, streamlined communication, use of analytical data | Efficiency improvement; Enhanced communication; Measurable success of personnel departments |
| Ancient Origins (18th Century) | Diversification and delegation of roles within the Guilds system in England | Promoted specialization and efficiency in craft and trade operations |
| The Industrial Age (19th Century) | Adoption of regulations and policies to manage the recruitment and employment of large numbers of staff | Supported growth and expansion of businesses, particularly in the railway sector |
| Post-Industrial Revolutions | Rise of 'human relations' approach to HR, prioritizing workers' needs and desires | Improved workforce morale and productivity; Increased employee engagement |
| Organizational Development Era | Emphasized evidence-based management and organizational development | Led to better decision making, improved operational efficacy, and sustainable business practices |
| Digital Age | Emergence of HR analytics and digitization of HR processes | Enhanced decision-making capabilities; Increased efficiency and accuracy of personnel management |
Ancient Origins of Personnel/HR

The Industrial Age & Personnel/HR

Post-Industrial Revolutions & the Development of Modern Personnel/HR
The role of personnel departments in organizations has changed dramatically over the years. It's interesting to trace the evolution of personnel/HR through history, as it offers insight into the various managerial approaches that have driven the development of HR and personnel management. In this blog post, we'll look at the ancient origins of personnel and HR, the industrial age and its influence on personnel, and the post-industrial revolutions and the development of modern HR and personnel management
Ancient Origins of Personnel/HR
The earliest origins of personnel date back to the 18th century when the Guilds and Family Officers system in England began to diversify and delegate roles due to expanding operations. A Family Officer, for example, was in charge of accounting and bookkeeping for a company or trade, delegation of tasks, Management of staff, and monitoring of the progress of the work undertaken by employees. This marked the beginning of 'personnel' approaches to regulating and managing people in a business.
The Industrial Age & Personnel/HR
In the 19th century, the industrial revolution led to significant changes in how personnel and HR operated, with the need for employees to cooperate and coordinate their efforts during such a massive change in the industry. For example, the rapid growth of railway networks led to many businesses recruiting large numbers of staff and developing personnel departments, regulations, and policies to manage this growth.
Flowing from this era, the scientific, or 'Taylorist' approach to personnel, also known as 'Scientific Management,' began to take hold, most famously associated with the views of Fredrick Winslow Taylor. Scientific Management was focused on technology and efficiency, where personnel departments ensured employees followed strict processes and regulations, with production aimed at maximizing output and minimizing cost while paying little attention to workers' skills and satisfaction.
Post-Industrial Revolutions & the Development of Modern Personnel/HR
With the decline of the industrial age came a significant shift in thinking, moving away from the Taylorist approach to personnel and HR and towards one that paid more attention to workers' needs and desires. This shift also brought the dawn of the industrial psychology movement and its 'human relations' approach. This focused on finding ways to motivate employees, improve morale and engage staff to concentrate on helping them reach their full potential.
The concept of 'organizational development' then emerged, focusing on understanding the needs of businesses through scientifically-founded evidence and research. This encouraged HR departments to increasingly develop as part of operations or business objectives, to look for ways to involve employees and give them a sense of ownership of their roles.
The increasing emergence of computers and technology has also revolutionized personnel administration. Automated processes in place of paperwork and manual data entry, streamlined communication between personnel, employees, and Management, and the addition of analytical data to measure the success of personnel departments have all drastically changed the face of personnel/HR.
Conclusion: The evolution of personnel and HR has come a long way since the days of Guilds and Family Officers, and the advances brought upon us by the industrial, post-industrial, and digital ages have revolutionized the way we manage resources, ensure business objectives are met, and manage people in our businesses. Each period has offered new and unique approaches to personnel and HR, and it's been amazing to see this evolution over the years.
The evolution of personnel has been an ongoing journey crafted by the successive contributions of many.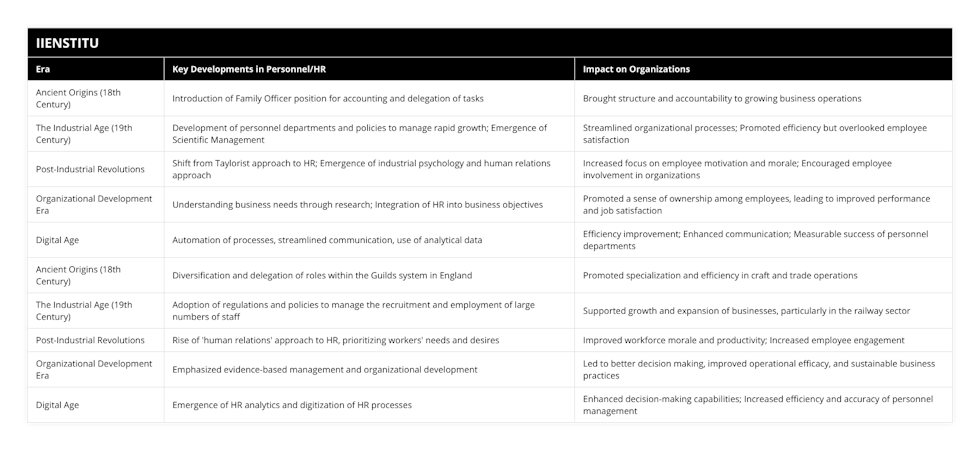 Personnel/HR
Ancient Origins
Industrial Age
Post-Industrial Revolutions
Fredrick Winslow Taylor
Taylorist Approach
Industrial Psychology
Human Relations
Organizational Development
Automated Processes
Analytical Data
Yu Payne
Blogger
Yu Payne is an American professional who believes in personal growth. After studying The Art & Science of Transformational from Erickson College, she continuously seeks out new trainings to improve herself. She has been producing content for the IIENSTITU Blog since 2021. Her work has been featured on various platforms, including but not limited to: ThriveGlobal, TinyBuddha, and Addicted2Success. Yu aspires to help others reach their full potential and live their best lives.
Related Posts
Our team of experts is passionate about providing accurate and helpful information, and we're always updating our blog with new articles and videos. So if you're looking for reliable advice and informative content, be sure to check out our blog today.