Personal Development
Letting Out Anger Only Reinforces It: A Guide To Effective Responses
23 February 2023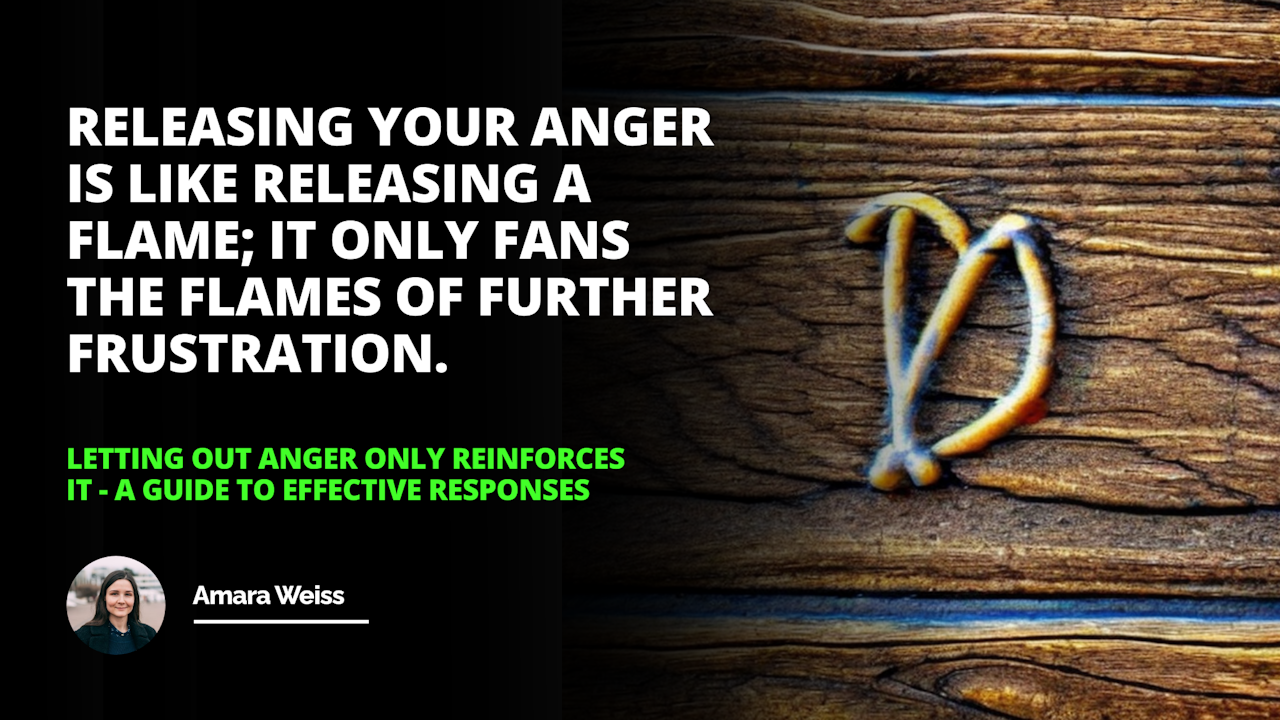 | Topics | Details | Benefits/Effects |
| --- | --- | --- |
| Reason for Letting Out Anger | Seen as a quick means of satisfaction, a mechanism for emotional expression, and an outlet for pent-up annoyances. | Immediate gratification and sense of release, but potentially escalates the situation and reinforces anger. |
| Alternative Response: Venting to a Trusted Source | Discussing your feelings with reliable figures or companions can reduce the feelings of anger and frustration. | Developing greater understanding, empathy, and gaining support from others, thus improving interpersonal relationships. |
| Alternative Response: Cognitive Reframing | Focusing on the positive aspects in an otherwise negative situation, to transform outlook and reaction. | Promotes a healthier mindset, reduces negativity, encourages optimism and improves overall perception. |
| Alternative Response: Taking a Break | Retreating from the anger-inducing situation provides the opportunity to cool off, analyze and return with a clearer mindset. | Reduces the likelihood of lashing out, improves rational thinking and the ability to constructively address issues. |
| Benefit: Enhanced Self-Control | Constructive response to anger habits can foster emotional regulation and self-discipline. | Greater emotional intelligence, understanding, and control over your own emotions. |
| Benefit: Healthier Relationships | Constructively expressing anger reduces conflicts and fosters mutual understanding. | Strengthens interpersonal bonds and promotes better ongoing relationships. |
| Benefit: Improvedoverall health | Implementing healthier mechanisms for anger management can have significant association with overall well-being. | Reduced stress levels, improved sleep quality, and increased life satisfaction. |
| Conclusion | The importance of not excessively expressing anger and opting for healthier alternatives. | Improved emotional control, stronger relationships, better physical and mental health. |
| Quote: Anger as a Flame | Letting out anger is compared to fanning flames, exacerbating an already stressful situation. | Encourages readers to reconsider their anger expression and emphasizes the importance of effective techniques. |
| First Step to a Healthier Mindset | Awareness of the destructive nature of anger expression and taking deliberate actions against it. | Paves the way for a healthier mindset, improved emotional control and overall better lifestyle. |
Reasons for Letting Out Anger

Alternative Responses to Anger

Benefits of Alternative Responses
We all experience anger. It's an emotion that everyone has dealt with at some point in their life. Sometimes we're tempted to express our rage aggressively, but this only reinforces it and does not lead to a resolution. In this guide, let's take a look at why it is essential to consider alternative responses to anger and the long-term benefits that are associated with it.
Reason for Letting Out Anger
The primary reason that some people may feel the urge to let out their anger is that it can cause positive reinforcement. It is seen as a way to get immediate gratification because it provides a sense of release and satisfaction. Additionally, some people may see it as a form of emotional expression as it helps to provide an outlet for pent-up frustration and anger.
Alternative Responses to Anger
To effectively manage anger, it is essential to think of alternative responses that do not involve lashing out. One approach is to talk with a trusted source such as a friend, partner, therapist, or pet to vent your feelings and gain support. Another method is to practice cognitive reframing, which involves focusing on the parts of a situation that we find positive instead of dwelling on the negative. Finally, it may be helpful to take a break from the case, go for a walk, or meditate and gain clarity on how to address the issue.
Benefits of Alternative Responses
The most significant benefit of constructively responding to anger is improved self-control. Finding healthier ways to respond reinforces awareness of our emotions and helps us build our emotional intelligence. Additionally, reacting constructively can do wonders for our relationships, as it will help us maintain strong connections with the people around us. Lastly, it can also benefit physical and mental health due to reduced stress levels, better sleep quality, and overall life satisfaction.
Conclusion: Letting out anger can have serious consequences, but healthier and more effective alternatives exist. As outlined in this guide, talking with a trusted source, cognitive reframing, and taking a break are all helpful techniques. Practicing these techniques can help improve our self-control and help foster better relationships, and improve our overall physical and mental well-being. Awareness and taking a stand against letting out our anger is the first step to creating a healthier mindset.
Releasing your anger is like removing a flame. Unfortunately, it only fans the flames of further frustration.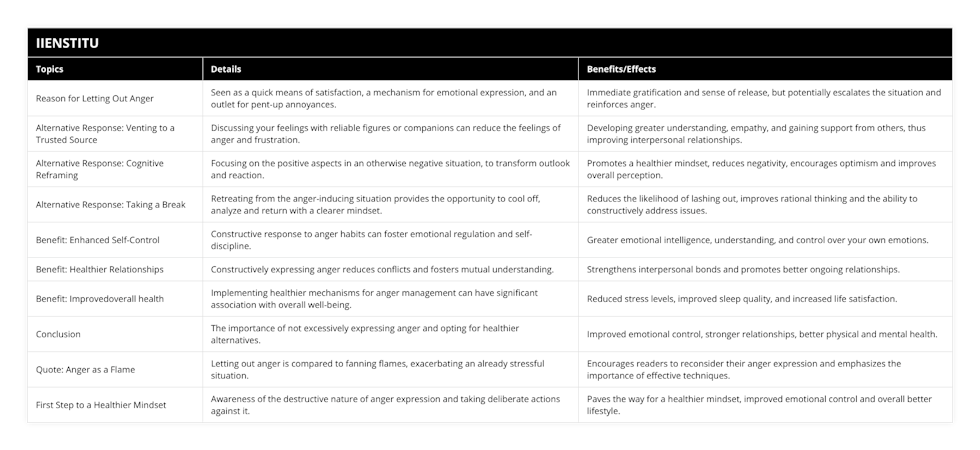 anger
emotion
positive reinforcement
emotional expression
vent
cognitive reframing
self-control
relationships
physical health
mental health
healthier mindset

Amara Weiss
Institute Secretary, Author
I am Amara Weiss and for many years I have worked in the field of education, specifically in the area of technology. I firmly believe that technology is a powerful tool that can help educators achieve their goals and improve student outcomes. That is why I currently work with IIENSTITU, an organization that supports more than 2 million students worldwide. In my role, I strive to contribute to its global growth and help educators make the most of available technologies.
Related Posts
Our team of experts is passionate about providing accurate and helpful information, and we're always updating our blog with new articles and videos. So if you're looking for reliable advice and informative content, be sure to check out our blog today.