Human Resources Management
Corporate HR Aligns Div/Unit HR: Guiding to Implement Plans Effectively
21 February 2023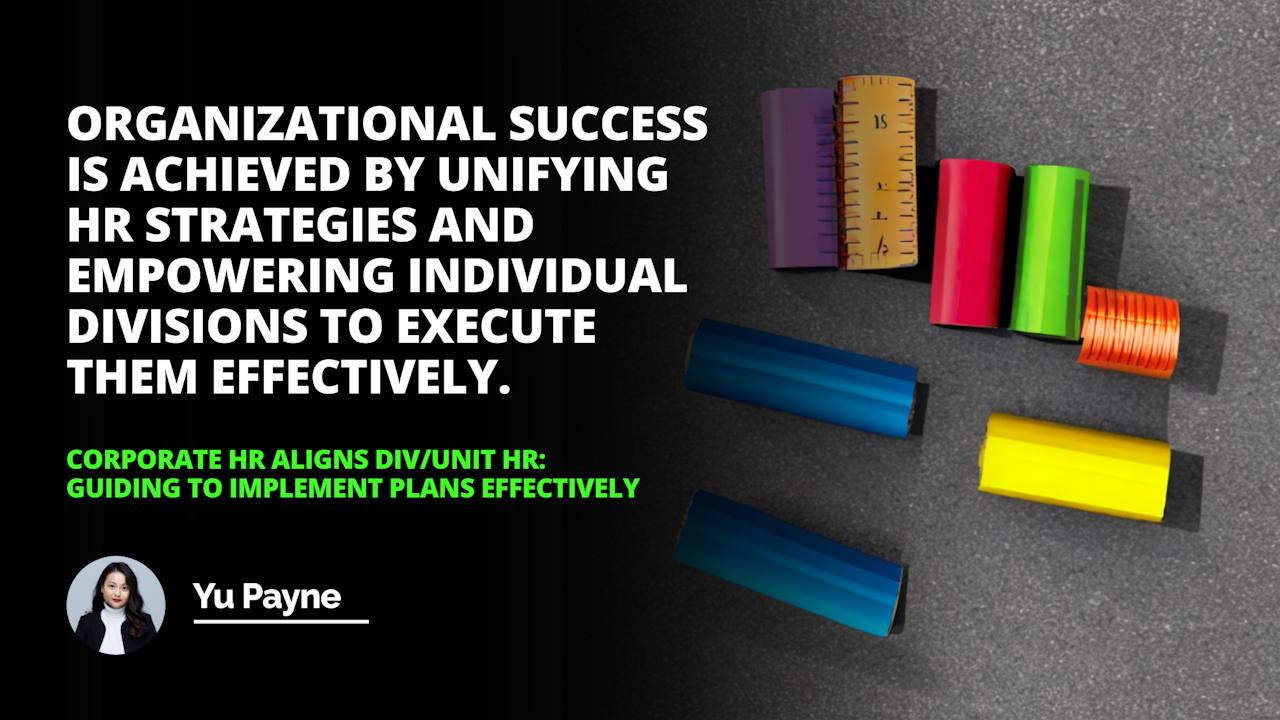 | Objectives | Implementation Strategies | Benefits |
| --- | --- | --- |
| Corporate HR Alignment | Establishing clear, measurable goals | Increased efficiency, improved performance |
| Division and Unit Strategy Integration | Creating Detailed Plan | Better control over performance and results |
| Unified Vision for Business | Monitoring and revising the plan | Effective response to changing business landscape |
| Proper Utilization of Resources | Maintaining a roadmap toward long-term success | Cost savings |
| Streamlining Processes | Eradicating redundant processes | Increased efficiency |
| Enhanced Decision-making | Maintaining a unified and clear strategy design | Improved organizational performance |
| Achieving business goals | Guiding to Implement plans effectively | Long term success |
| Improved Performance | Regular updating and revising of processes | Higher competitiveness in market |
| Increased accountability | Keeping a clear strategic direction | Higher Sustainability in performance |
| Empower people to reach their potential | Proper integration of divisional and unit strategies | Increased productivity and results |
The Need for Alignment in Corporate HR

Benefits of Alignment

How to Implement Alignment
Organizations that strive for success and look to the future must implement corporate human resource (HR) strategies that align with divisional and unit HR strategies. There is an inherent need to have HR strategies aligned across the board and work together to deliver sustainable performance. Failure to do so can result in inefficiency, lack of clear strategic direction, lack of accountability, and poor performance.
The Need for Alignment in Corporate HR
In an ever-changing and increasingly competitive business environment, an organization needs to be agile and responsive to changes in the market. The only way to ensure this is to ensure that the organization has a unified vision of reaching its goals. This vision must also consider the evolving needs and demands of the changing business landscape. To achieve this, corporate HR must have a clear and aligned idea of where the organization needs to be and what must be done to get there.
Looking at Div/Unit HR
Divisional and unit HR strategies are all aimed at the same overarching goal – to empower people to achieve their full potential. Therefore, these strategies must be carefully integrated, allowing divisions and units to work together while remaining separate. Otherwise, the organization's overall strategy may become fragmented, leading to misalignment, redundancy, and inefficiency.
Benefits of Alignment
When done correctly, aligning divisional and unit strategies in corporate HR can benefit an organization. Here, we look at a few of these.
When divisional and unit HR strategies are aligned, organizational performance and results can be more carefully planned and controlled through a unified set of KPIs and expected performance targets. Organizations can then use the aligned strategies to create a roadmap toward long-term success and better utilize their resources.
Improved Performance and Results
Aligning HR strategies across the board can also lead to improved organizational performance and results. By having a unified and clear design, divisions and units can work together more effectively and make better decisions to help the organization reach its goals.
Aligning strategies across the organization can also lead to increased efficiency. This is mainly due to eliminating redundant processes and creating a more streamlined approach to achieving goals. This can lead to cost savings and improved performance, enabling the organization to compete more effectively in the market.
How to Implement Alignment
Implementing an alignment of corporate HR strategies requires careful planning and thought. A few key steps need to be taken to ensure the strategy is cohesive and effective.
The first step is to establish clear, measurable goals for each of the divisions and units in the organization. These should be detailed and clearly define what is expected from each division or department.
Once the goals have been established, the next step is to create a detailed plan for achieving those goals. Again, the program should be tailored to each division or unit, involving milestones and stakeholders.
Finally, the plan should be monitored and regularly revised depending on the organization's needs. It should also be modified to consider changes in the external environment.
In conclusion, having a clear and effective corporate HR strategy is paramount for any organization that wants to be successful and reach its goals. To achieve corporate objectives, the divisional and unit strategy must be carefully aligned and integrated. This can lead to improved performance, increased efficiency, and better results. However, aligning strategies requires careful planning and thought and should involve establishing clear goals, creating a tailored plan, and monitoring and revising as needed.
Aligning corporate and divisional/unit HR strategies can lead to improved performance, increased efficiency, and better results.

Establishing goals, creating a detailed plan, monitoring, and revising should all be part of the process.

Implementing an alignment of corporate HR strategies requires careful planning and thought.
Organizational success is achieved by unifying HR strategies and empowering individual divisions to execute them effectively.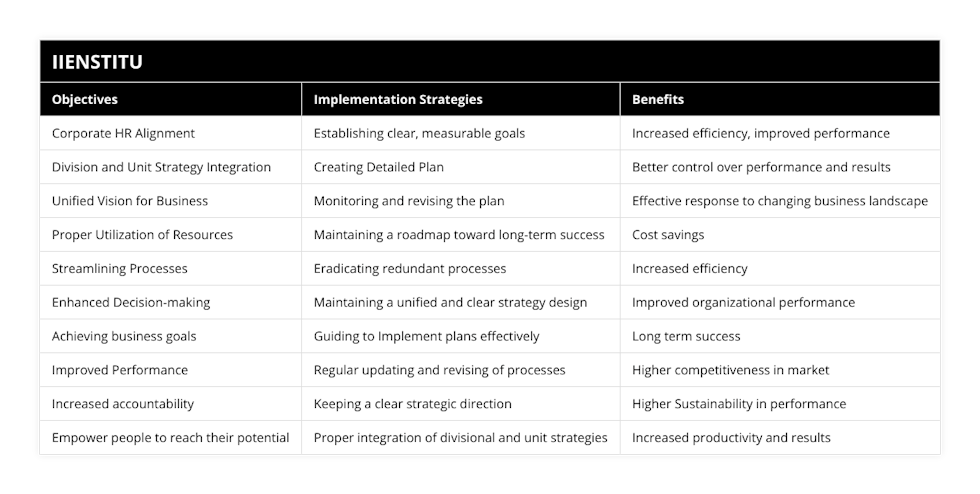 Corporate HR
Alignment
Divisional/Unit HR strategies
Goals
Plan
Monitoring
Revising
Performance
Efficiency
Results
Yu Payne
Blogger
Yu Payne is an American professional who believes in personal growth. After studying The Art & Science of Transformational from Erickson College, she continuously seeks out new trainings to improve herself. She has been producing content for the IIENSTITU Blog since 2021. Her work has been featured on various platforms, including but not limited to: ThriveGlobal, TinyBuddha, and Addicted2Success. Yu aspires to help others reach their full potential and live their best lives.
Related Posts
Our team of experts is passionate about providing accurate and helpful information, and we're always updating our blog with new articles and videos. So if you're looking for reliable advice and informative content, be sure to check out our blog today.