Human Resources Management
6 Ways to Improve Employee Morale
10 November 2022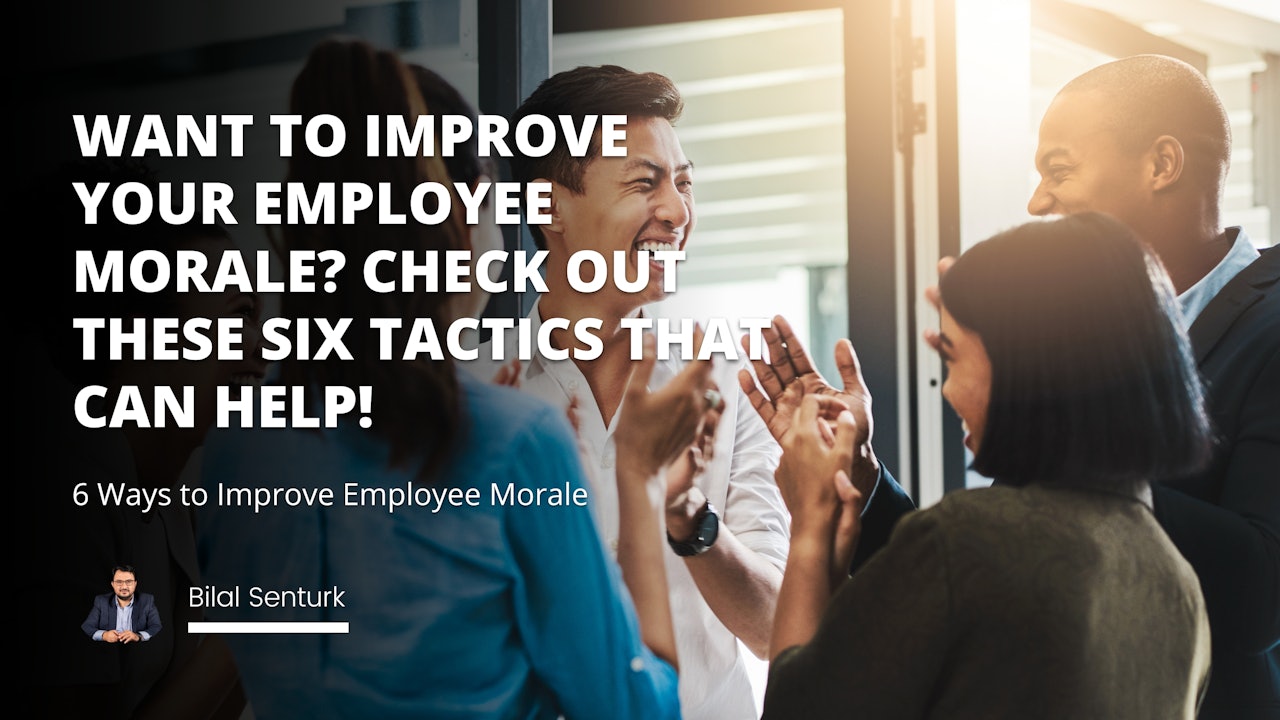 Employee morale is a hot topic in today's business world. A recent study by Gallup found that only 33% of employees are engaged in their work. That means that 67% of employees are either not engaged (53%) or actively disengaged (14%).
Low employee morale can lead to decreased productivity, lower quality work, and even staff turnover. So how can you improve employee morale and keep your team happy and productive? Here are six tips:
Implement a company-wide policy of recognition and appreciation
Employee recognition and appreciation has been consistently shown to improve workplace morale and increase productivity. Yet, many companies fail to have a formal policy in place for offering thanks and appreciation to their employees. This is a mistake - without clear guidelines for recognition, it can be easy for deserving employees to go without the acknowledgment they deserve.
That's why implementing a company-wide policy of recognition and appreciation can have a major impact on employee satisfaction and overall performance. Whether it's through regular team meetings where colleagues can give shoutouts, or an annual awards ceremony, finding ways to show gratitude and appreciation can boost employee engagement and create a positive work environment.
In today's competitive job market, taking the time to appreciate your staff sets you apart as a company that values its employees and understands the importance of making them feel valued. So, let's make recognition and appreciation a priority in our workplace culture. We'll all reap the benefits.
Encourage employees to take breaks and relax throughout the day
As the demands of work continue to increase, it can be tempting to power through long hours and take minimal breaks. However, research has shown that taking regular breaks throughout the day can actually improve productivity and overall well-being. It's important for employers to encourage their employees to step away from their desks, move around, and relax. This can mean encouraging workers to take short walks or offering a quiet space for meditation.
In addition, providing snacks or regularly scheduled breaks can help employees reenergize and come back to their tasks with renewed focus. Creating a culture where employees feel comfortable taking necessary breaks is not only good for individual employees, but it can also benefit the company as a whole.
Employees who are able to recharge will likely be more motivated and productive in the long run. So don't be afraid to take a break - it's good for your mind and your body!
Celebrate successes together as a team
Working as part of a team can be both challenging and rewarding. One way to make teamwork even more successful is to celebrate accomplishments together. This can boost morale, improve communication, and increase motivation. Rather than focusing solely on individual successes, acknowledging the contributions of every team member helps to strengthen the sense of camaraderie and unity.
It also fosters a positive environment in which everyone feels appreciated and valued. Celebrating successes as a team not only brings joy in the moment, but it can also drive future success by encouraging collaboration and teamwork.
So next time your team achieves something great, take a moment to come together and celebrate the victory. Chances are it will only bring you closer and lead to even more successes down the road.
Provide opportunities for growth and development
In today's competitive job market, it's important for employees to continually strive for growth and development. This not only benefits the individual, but it can also have a positive impact on the organization as a whole. Providing opportunities for growth and development shows that you value your employees' professional growth and want them to succeed in their careers. This in turn can result in higher job satisfaction and retention rates, as well as improved job performance and productivity.
Some ways to provide these opportunities include offering training and education programs, promoting mentorship relationships, and giving employees the opportunity to take on new challenges and responsibilities. By making a commitment to employee growth and development, organizations can create a thriving workplace environment.
Show genuine interest in your employees' lives outside of work
A happy and fulfilled employee is often a more productive and motivated one. Showing genuine interest in employees' lives outside of work can not only improve morale, but also strengthen the bond between managers and their team members. This can be something as simple as asking about weekend plans or inquiring about a recent vacation. It's important to genuinely listen to the responses and follow up on previous discussions.
In return, employees may feel appreciated and valued as individuals, rather than just workers. Additionally, learning about an employee's hobbies or interests opens up the opportunity for team building activities outside of the office setting. Overall, taking a genuine interest in employees' lives outside of work can positively impact overall company culture and success.
Acknowledge that everyone makes mistakes, and offer support when needed
As humans, we are all prone to making mistakes. Whether it's a small typo in an email or a major miscalculation at work, it's important to remember that we are all imperfect and mistakes happen. It's how we respond to those mistakes that truly defines us. Instead of immediately jumping to criticism or judgment, offer support and assistance in finding solutions.
We are often our own worst critics, and offering kindness and understanding can go a long way in helping someone learn from their mistake and move forward. Remember, none of us are immune to errors - let's strive to be there for each other during challenging moments instead of adding to the negativity. At the end of the day, we're all just trying our best and sometimes things don't go as planned. Let's focus on growth rather than fault-finding.
A happy and engaged workforce is a productive one, so it's in your best interest as a business owner or manager to create a work environment that promotes positivity and collaboration.
Fortunately, there are many simple ways to do this. Implementing a company-wide policy of recognition and appreciation, encouraging employees to take breaks, celebrating successes together and showing genuine interest in your employees' lives outside of work are just a few of the things you can do to make sure your team is happy and motivated. If you want to learn more about effective management strategies, join our HR management course today!
hr management
human resources
employee
Bilal Şentürk
Blogger
He completed his undergraduate studies at Celal Bayar University, Anadolu University and Istanbul University, and a Master's degree with thesis on Human Resources Management at Yıldız Technical University and Business Management at Beykent University. He is currently writing a doctoral thesis on human resources and consulting businesses on human resources.
Related Posts
Our team of experts is passionate about providing accurate and helpful information, and we're always updating our blog with new articles and videos. So if you're looking for reliable advice and informative content, be sure to check out our blog today.