Logistic Management
Adding Value Through Logistical Services
02 March 2023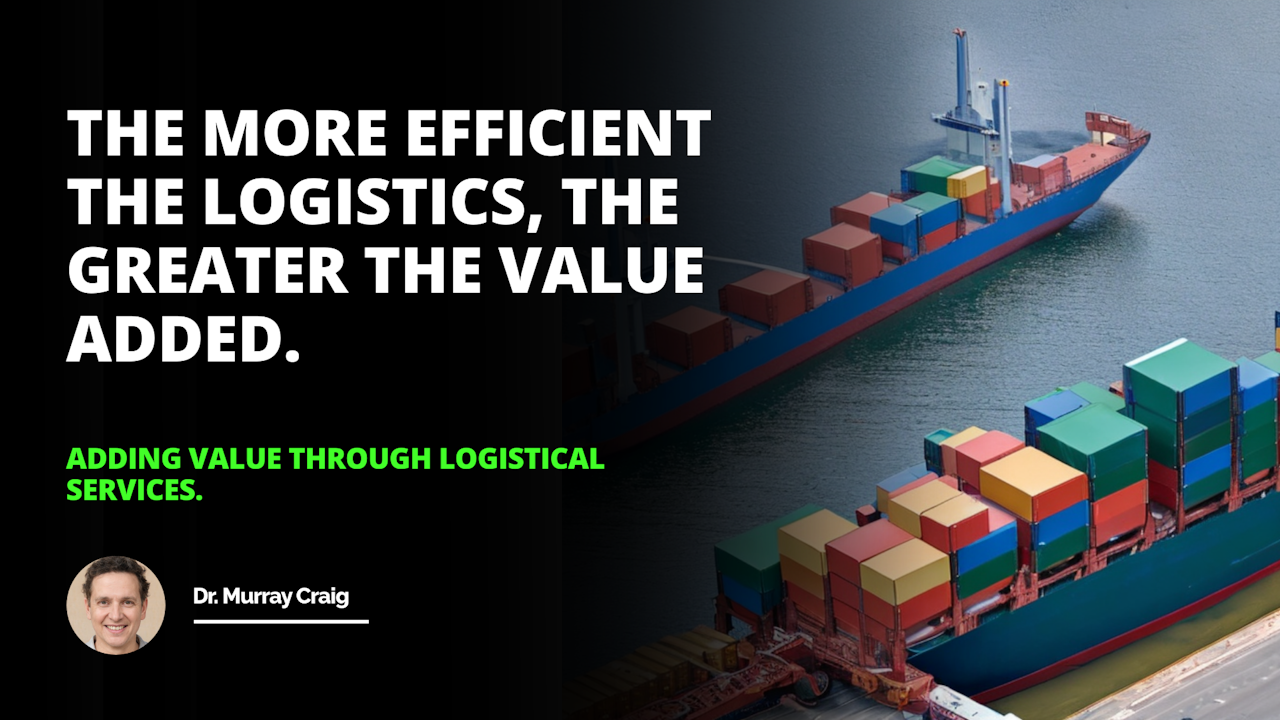 | Aspects of Logistical Services | Benefits | Challenges |
| --- | --- | --- |
| Streamlining Processes | Saves time; directs focus on value-added activities | Requires the development of new algorithms and platforms |
| Incorporation of Latest Technologies | Enhances reliability and efficiency of operations | Involves significant initial investments and training efforts |
| Supply Chain Optimization | Reduces transportation and inventory management costs | Requires ongoing maintenance and monitoring |
| Inventory Management | Improves revenue management; ensures products are accounted for accurately | Monitoring and continuous tracking of inventory levels |
| Customer Satisfaction | Improves service quality; timely and accurate deliveries | Maintaining consistency in services |
| Improved Efficiency | Minimizes the administrative tasks; maximizes operational productivity | Requires continuous improvement efforts |
| Revenue Management | Generates more profits due to optimized operations and efficiency | Requires effective forecasting and planning |
| Transportation Management | Ensures timely delivery of products; reduces shipping delays | Dealing with external factors like weather, traffic, etc |
| Order Processing | Enhances customer experience through timely order fulfillment | Managing high volumes of orders efficiently |
| Implementation of Best Practices | Promotes a culture of excellence and continuous improvement | Driving change and adaptation within the organization |
How Logistical Services Add Value

Benefits of Logistical Services

Challenges of Implementing Logistical Services
Logistical services provide an essential component for businesses that are trying to increase their operating efficiency. Logistical services can range from transportation to inventory management and offer enterprises significant advantages. By incorporating these services within a company, businesses can increase their value significantly and create a framework for future growth.
How Logistical Services Add Value
Logistical services can add value to businesses by streamlining processes and increasing the accuracy of operations. By leveraging the latest technology and best practices, logistical services provide companies with a reliable and efficient system for dealing with their operations. Additionally, logistical services can reduce the costs associated with transportation and inventory management by optimizing the supply chain. This can save high costs for businesses looking to increase their operating efficiency.
Benefits of Logistical Services
The implementation of logistical services can provide businesses with several advantages. One of the significant advantages of using logistical services is improved efficiency. By streamlining operations, companies can reduce the time they spend on administrative tasks and shift their focus to activities that increase the value of the business. Additionally, logistical services can increase customer satisfaction by ensuring orders are processed promptly and delivered accurately. Finally, companies can benefit from improved revenue management by providing their inventory is managed correctly and accounted for accurately.
Challenges of Implementing Logistical Services
While logistical services can benefit businesses, some challenges are associated with their implementation. One such challenge is the development of new technologies. Logistical services can be highly complex and require the development of new algorithms and platforms to ensure that their processes are efficient and accurate. Additionally, there is the cost of services, which can be a significant financial burden for businesses.
Overall, logistical services are invaluable for businesses looking to increase operating efficiency. By leveraging the latest technology and best practices in the industry, companies can improve their processes and reduce transportation and inventory management costs. Additionally, logistical services can provide many benefits, such as improved efficiency, increased customer satisfaction, and improved revenue management. Despite these benefits, some challenges should be considered when implementing logistical services, such as developing new technologies and the cost of services. Nevertheless, with the right approach, businesses can benefit significantly from implementing logistical services.
The more efficient the logistics, the greater the value added.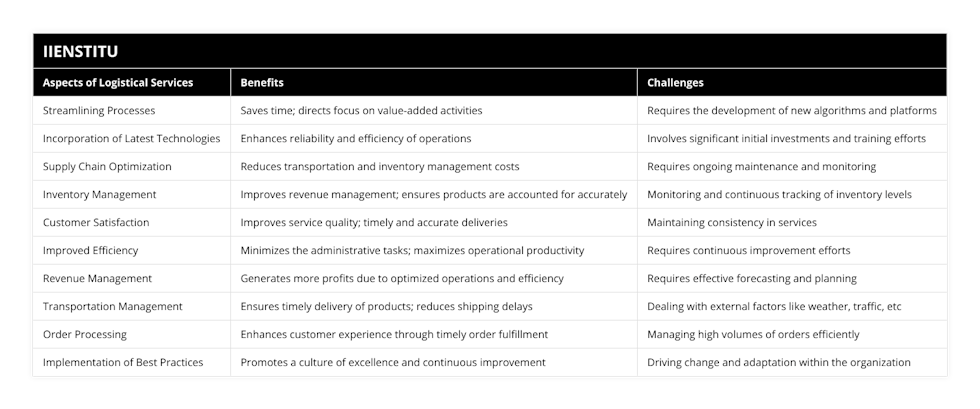 Logistical services
operating efficiency
transportation
inventory management
value
technology
best practices
supply chain
efficiency
administrative tasks
customer satisfaction
revenue management
algorithms
platforms
cost

Dr. Murray Craig
Academic
Dr. Murray Craig is an academic and researcher who has dedicated his life to the study of human behavior. He has a particular interest in how people interact with their environment, and how that interaction can be used to improve their lives. Dr. Craig has spent many years teaching and conducting research at universities all over the world, and he is widely respected for his work in the field of behavioral science.
Related Posts
Our team of experts is passionate about providing accurate and helpful information, and we're always updating our blog with new articles and videos. So if you're looking for reliable advice and informative content, be sure to check out our blog today.